 National dish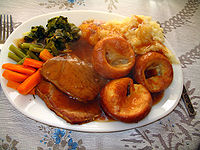 A national dish is a
dish
Recipe
A recipe is a set of instructions that describe how to prepare or make something, especially a culinary dish.-Components:Modern culinary recipes normally consist of several components*The name of the dish...
,
food
Food
Food is any substance consumed to provide nutritional support for the body. It is usually of plant or animal origin, and contains essential nutrients, such as carbohydrates, fats, proteins, vitamins, or minerals...
or a
drink
Drink
A drink, or beverage, is a liquid which is specifically prepared for human consumption. In addition to fulfilling a basic human need, beverages form part of the culture of human society.-Water:...
that is considered to represent a particular
country
Country
A country is a region legally identified as a distinct entity in political geography. A country may be an independent sovereign state or one that is occupied by another state, as a non-sovereign or formerly sovereign political division, or a geographic region associated with a previously...
, nation or region.
A dish can become a national dish for a variety of reasons. It can be the national dish because it is a staple daily food for the majority of the population. It can also be the national dish because it represents the regions and ethnicities of the whole country. In addition, it can be the national dish because it incorporates locally produced ingredients. National dishes are part of a nation's identity and self-image. During the age of European empire-building, nations consciously developed a national cuisine as a matter of distinction from their rivals.
In
Latin America
Latin America
Latin America is a region of the Americas where Romance languages – particularly Spanish and Portuguese, and variably French – are primarily spoken. Latin America has an area of approximately 21,069,500 km² , almost 3.9% of the Earth's surface or 14.1% of its land surface area...
, such dishes are both officially and unofficially designated as "
plato nacional
". Ironically, in many case they transcend national borders. Both Peru and Ecuador claim
ceviche
Ceviche
Ceviche is a seafood dish popular in the coastal regions of the Americas, especially Central and South America. The dish is typically made from fresh raw fish marinated in citrus juices such as lemon or lime and spiced with chilli peppers. Additional seasonings such as onion, salt,...
as their national dish. Cuban
ajiaco
Ajiaco
Ajiaco is a Colombian potato soup, and is eaten in Colombia.The soup is typically served with table cream, capers and avocado all mixed in just before eating in the proportions each individual prefers. Ajiaco is so heavy that it is usually considered a full meal...
and the
sancocho
Sancocho
Sancocho is a traditional soup in several Spanish and Latin American cuisines. Variations represent popular national dishes in the Canary Islands of Spain, Mexico, Ecuador, Colombia, Panama, Peru, Dominican Republic, Puerto Rico, and Venezuela...
of the Dominican Republic, Colombia, and Panama, all of which are stews of meats, plaintains, and
root vegetable
Root vegetable
Root vegetables are plant roots used as vegetables. Here "root" means any underground part of a plant.Root vegetables are generally storage organs, enlarged to store energy in the form of carbohydrates. They differ in the concentration and the balance between sugars, starches, and other types of...
s are the
plato nacional
of them all. Zilka Janer, lecturer on Latin American culture at
Hofstra University
Hofstra University
Hofstra University is a private, nonsectarian institution of higher learning located in the Village of Hempstead, New York, United States, about east of New York City: less than an hour away by train or car...
observes that this sharing of the same
plato nacional
by different countries calls into question the idea that every country has a unique national dish that is special to that country, and indicates, rather, that cuisine is something that does not respect national and geopolitical borders.
Janer also observes that it is "impossible" to choose a single national dish, even unofficially, for countries such as Mexico, because of their broad diversity of ethnic populations and cultures. The cuisine of such countries simply cannot be represented by one, single, national dish. Furthermore, the fact that national dishes are so interwoven with a nation's sense of identity, strong emotions and conflicts can arise over what a country's national dish actually is.
The identification of Latin American national dishes is stronger, Janer notes, amongst expatriate communities in North America. In Latin American countries, the
plato nacional
is usually part of the cuisine of rural and peasant communities, and not part of the everyday cuisine of city dwellers at all. But in expatriate communities, they are strongly reclaimed in order to retain the communities' senses of national identity, and ties to one's homeland, and proudly served in homes and restaurants. This is a reaction on the parts of those communities that is attempting to resist social pressures that push to homogenize such ethnically and culturally diverse communities into single all-encompassing group identities such as
Latino
Latino
The demonyms Latino and Latina , are defined in English language dictionaries as:* "a person of Latin-American descent."* "A Latin American."* "A person of Hispanic, especially Latin-American, descent, often one living in the United States."...
s or
Hispanic American
Hispanic and Latino Americans
Hispanic or Latino Americans are Americans with origins in the Hispanic countries of Latin America or in Spain, and in general all persons in the United States who self-identify as Hispanic or Latino.1990 Census of Population and Housing: A self-designated classification for people whose origins...
s.
For the culturally and
ethnically
Ethnic groups in Indonesia
There are over 300 ethnic groups in Indonesia. 95% of those are of Native Indonesians ancestry.The largest ethnic group in Indonesia is the Javanese who make up 41% of the total population. The Javanese are concentrated on the island of Java but millions have migrated to other islands throughout...
diverse nation such as
Indonesia
Indonesia
Indonesia , officially the Republic of Indonesia , is a country in Southeast Asia and Oceania. Indonesia is an archipelago comprising approximately 13,000 islands. It has 33 provinces with over 238 million people, and is the world's fourth most populous country. Indonesia is a republic, with an...
, the national dishes are not just staple, popular or ubiquitous dishes such as
nasi goreng
Nasi goreng
Nasi goreng, literally meaning "fried rice" in Indonesian, can refer simply to fried pre-cooked rice, a meal including stir fried rice in small amount of cooking oil or margarine, typically spiced with kecap manis , shallot, garlic, tamarind and chilli and accompanied with other ingredients,...
or
gado-gado
Gado-gado
Gado-gado , also called Lotek for its cooked version - differed from lotek atah or karedok for its fresh and raw version of the vegetable covered with peanut sauce and pecel is an Indonesian dish comprising a vegetable salad served with a peanut sauce dressing...
. It may also be considered as the dishes that transcend cultural and ethnics differences, yet still retain common Indonesian cuisine traits. It has to be able to cross boundaries of diverse Indonesian culture and ethnic groups. As a result, it is impossible to nominate a single national dish of Indonesia.
sate (satay)
Satay
Satay , or sate, is a dish of marinated, skewered and grilled meat, served with a sauce. Satay may consist of diced or sliced chicken, goat, mutton, beef, pork, fish, other meats, or tofu; the more authentic version uses skewers from the midrib of the coconut palm frond, although bamboo skewers are...
and
soto
Soto (food)
Soto, sroto, tauto or coto is a common dish, found in many regional variations of Indonesian cuisine. It is a traditional soup mainly composed of broth, meat and vegetables. There is no clear definition of what makes a soto, but normally many traditional soups are called soto, whereas foreign and...
are good examples of Indonesian national dishes, since there is no singular satay or soto recipes. Both dishes have myriad variations and recipes and are adopted regionally across Indonesia. However, culinary influence is not a concept that respects national boundaries, since satay is also popular in neighboring
Malaysia
,
Singapore
Singapore
Singapore , officially the Republic of Singapore, is a Southeast Asian city-state off the southern tip of the Malay Peninsula, north of the equator. An island country made up of 63 islands, it is separated from Malaysia by the Straits of Johor to its north and from Indonesia's Riau Islands by the...
, and
Thailand
Thailand
Thailand , officially the Kingdom of Thailand , formerly known as Siam , is a country located at the centre of the Indochina peninsula and Southeast Asia. It is bordered to the north by Burma and Laos, to the east by Laos and Cambodia, to the south by the Gulf of Thailand and Malaysia, and to the...
.
National dishes and foods by country
As per the above, this is not a definitive list of national dishes, but rather a list of some foods that have been suggested to be national dishes.
National liquors
A national liquor is an alcoholic drink considered a standard and respected adult beverage in a given country. While many such drinks status may be informal, there is usually a general consensus in a given country that a specific drink has national status or is the "most popular liquor" in said nation.