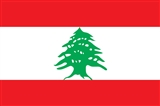 Lebanon
Lebanon
officially the
Republic of Lebanon
Republic of Lebanon is the most common term used by Lebanese government agencies. The term Lebanese Republic, a literal translation of the official Arabic and French names that is not used in today's world. Arabic is the most common language spoken among the citizens of Lebanon.
(Arabic: ; French: ), is a country in the East Mediterranean.
1867 Maronite nationalist leader Youssef Karam leaves Lebanon on board a French ship for Algeria
1941 World War II: Allies invade Syria and Lebanon.
1943 Lebanon gains independence from France.
1948 Following the demise of the British Mandate of Palestine, Egypt, Transjordan, Lebanon, Syria, Iraq and Saudi Arabia invade the territory partitioned for the Arab state by the British Mandate of Palestine thus starting the 1948 Arab-Israeli War.
1975 Bus Massacre in Lebanon: Attack by the Phalangist resistance kill 26 militia members of the P.F.L. of Palestine, marking the start of the 15-year Lebanese Civil War.
1976 Battle of Aishiya in Lebanon.
1978 The Israeli Defense Force invades and occupies southern Lebanon, in Operation Litani.
1978 UN Security Council Resolution 425 is passed, calling upon Israel immediately to cease its military action and withdraw its forces from all Lebanese territory (Operation Litani), and establishing the United Nations Interim Force in Lebanon (UNIFIL).
1978 The first UNIFIL troops arrived in Lebanon for peacekeeping mission along the Blue Line.
1978 Israeli Defense Forces withdraw from Lebanon.