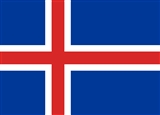 Iceland
Iceland
described as the
Republic of Iceland
, is a
Nordic
Nordic countries
The Nordic countries make up a region in Northern Europe and the North Atlantic which consists of Denmark, Finland, Iceland, Norway and Sweden and their associated territories, the Faroe Islands, Greenland and Åland...
and
Europe
Europe
Europe is, by convention, one of the world's seven continents. Comprising the westernmost peninsula of Eurasia, Europe is generally 'divided' from Asia to its east by the watershed divides of the Ural and Caucasus Mountains, the Ural River, the Caspian and Black Seas, and the waterways connecting...
an island country in the North Atlantic Ocean, on the
Mid-Atlantic Ridge
Mid-Atlantic Ridge
The Mid-Atlantic Ridge is a mid-ocean ridge, a divergent tectonic plate boundary located along the floor of the Atlantic Ocean, and part of the longest mountain range in the world. It separates the Eurasian Plate and North American Plate in the North Atlantic, and the African Plate from the South...
.
Iceland
also refers to the main island of the country, which contains almost all the population and almost all the land area. The country has a population of about 320,000 and a total area of 103000 km² (39,769 sq mi). The capital and the largest city is
Reykjavík
Reykjavík
Reykjavík is the capital and largest city in Iceland.Its latitude at 64°08' N makes it the world's northernmost capital of a sovereign state. It is located in southwestern Iceland, on the southern shore of Faxaflói Bay...
, with the surrounding areas in the southwestern region of the country being home to two-thirds of the country's population.
1783 The volcano Laki, in Iceland, begins an eight-month eruption which kills over 9,000 people and starts a seven-year famine.
1783 A poisonous cloud caused by the eruption of the Laki volcano in Iceland reaches Le Havre in France.
1899 Knattspyrnufélag Reykjavíkur Iceland's first football club is founded.
1918 Iceland becomes a sovereign state, yet remains a part of the Danish kingdom.
1935 Iceland becomes the first Western country to legalize therapeutic abortion.
1941 World War II: U.S. forces land in Iceland, taking over from an earlier British occupation.
1941 World War II: The destroyer USS ''Reuben James'' is torpedoed by a German U-boat near Iceland, killing more than 100 United States Navy sailors. It is the first U.S. Navy vessel sunk by enemy action in WWII.
1944 Iceland declares independence from Denmark and becomes a republic.
1946 Afghanistan, Iceland and Sweden join the United Nations.
1949 A riot breaks out in Austurvöllur square in Reykjavík, when Iceland joins NATO.