 Ajiaco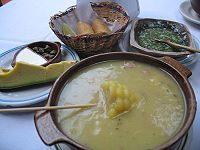 Ajiaco
is a
Colombian
Colombia
Colombia, officially the Republic of Colombia , is a unitary constitutional republic comprising thirty-two departments. The country is located in northwestern South America, bordered to the east by Venezuela and Brazil; to the south by Ecuador and Peru; to the north by the Caribbean Sea; to the...
potato
Potato
The potato is a starchy, tuberous crop from the perennial Solanum tuberosum of the Solanaceae family . The word potato may refer to the plant itself as well as the edible tuber. In the region of the Andes, there are some other closely related cultivated potato species...
soup
Soup
Soup is a generally warm food that is made by combining ingredients such as meat and vegetables with stock, juice, water, or another liquid. Hot soups are additionally characterized by boiling solid ingredients in liquids in a pot until the flavors are extracted, forming a broth.Traditionally,...
, and is eaten in Colombia.
The soup is typically served with table
cream
Cream
Cream is a dairy product that is composed of the higher-butterfat layer skimmed from the top of milk before homogenization. In un-homogenized milk, over time, the lighter fat rises to the top. In the industrial production of cream this process is accelerated by using centrifuges called "separators"...
, capers and
avocado
Avocado
The avocado is a tree native to Central Mexico, classified in the flowering plant family Lauraceae along with cinnamon, camphor and bay laurel...
all mixed in just before eating in the proportions each individual prefers. Ajiaco is so heavy that it is usually considered a full meal. In the highly regional
Colombian cuisine
Colombian cuisine
Colombian cuisine refers to the cooking traditions and practices of Colombia. Along with other cultural expressions of national identity, Colombian cuisine varies among its many distinct regions. Colombians typically eat three meals a day: a large breakfast, a medium lunch between 12-2, and a light...
, this is most representative dish of Colombia, especially areas like Santa Fe de Bogota.
See also