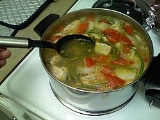 Sinigang
Sinigang
is a Filipino
soup
Soup
Soup is a generally warm food that is made by combining ingredients such as meat and vegetables with stock, juice, water, or another liquid. Hot soups are additionally characterized by boiling solid ingredients in liquids in a pot until the flavors are extracted, forming a broth.Traditionally,...
or
stew
Stew
A stew is a combination of solid food ingredients that have been cooked in liquid and served in the resultant gravy. Ingredients in a stew can include any combination of vegetables , meat, especially tougher meats suitable for slow-cooking, such as beef. Poultry, sausages, and seafood are also used...
characterized by its sour
flavor
Flavor
Flavor or flavour is the sensory impression of a food or other substance, and is determined mainly by the chemical senses of taste and smell. The "trigeminal senses", which detect chemical irritants in the mouth and throat as well as temperature and texture, are also very important to the overall...
most often associated with
tamarind
Tamarind
Tamarind is a tree in the family Fabaceae. The genus Tamarindus is monotypic .-Origin:...
(
sampalok
).
Ingredients
Sinigang is traditionally tamarind based. Other versions of the dish derive their sourness from ingredients such as
guava
Guava
Guavas are plants in the myrtle family genus Psidium , which contains about 100 species of tropical shrubs and small trees. They are native to Mexico, Central America, and northern South America...
, calamansi,
bilimbi
Bilimbi
Averrhoa bilimbi is a fruit-bearing tree of the genus Averrhoa, family Oxalidaceae. It is a close relative of the carambola.-Nomenclature:...
, or raw mango among others. Powdered soup base or
bouillon
Bouillon
Bouillon is a municipality in Belgium. It lies in the country's Walloon Region and Luxembourg Province.The municipality, which covers 149.09 km², had 5,477 inhabitants, giving a population density of 36.7 inhabitants per km².- History :...
cubes for sinigang based on tamarind or calamondin are also used in place of natural fruits.
Vinegar
Vinegar
Vinegar is a liquid substance consisting mainly of acetic acid and water, the acetic acid being produced through the fermentation of ethanol by acetic acid bacteria. Commercial vinegar is produced either by fast or slow fermentation processes. Slow methods generally are used with traditional...
is not used for making sinigang sour. A similar dish made with vinegar as the primary souring ingredient would tend to be categorized as
paksiw
in Philippine cuisine.
Meat in sinigang (e.g., fish, pork, shrimp, or beef) is often stewed with tamarinds, tomatoes, and onions. Other vegetables commonly used in the making of sinigang include
okra
Okra
Okra is a flowering plant in the mallow family. It is valued for its edible green seed pods. The geographical origin of okra is disputed, with supporters of South Asian, Ethiopian and West African origins...
,
taro corms
Corm
A corm is a short, vertical, swollen underground plant stem that serves as a storage organ used by some plants to survive winter or other adverse conditions such as summer drought and heat ....
(
gabi
Corm
A corm is a short, vertical, swollen underground plant stem that serves as a storage organ used by some plants to survive winter or other adverse conditions such as summer drought and heat ....
), daikon (
labanos
Daikon
Daikon , Raphanus sativus var. longipinnatus, also called White Radish, Japanese radish, Oriental radish, Chinese radish, lo bok and Mooli , is a mild flavoured, very large, white East Asian radish...
), water spinach (
kangkong
), yardlong beans (
sitaw
Yardlong bean
Vigna unguiculata subsp. sesquipedalis, the yardlong bean, is also known as bora, the long-podded cowpea, asparagus bean, snake bean, or Chinese long bean...
) and eggplant (talong). Most Filipinos like to cook sinigang with green finger pepper in order to enhance the taste while adding a little spice to the dish.
A common variation of chicken sinigang is called
sinampalukang manok
or
sinampalukan
(from
sampalok
,
Filipino
Filipino language
This move has drawn much criticism from other regional groups.In 1987, a new constitution introduced many provisions for the language.Article XIV, Section 6, omits any mention of Tagalog as the basis for Filipino, and states that:...
for tamarind).
Sinampalukan
is distinguished by its use of shredded tamarind leaves. It is also made with
ginger
Ginger
Ginger is the rhizome of the plant Zingiber officinale, consumed as a delicacy, medicine, or spice. It lends its name to its genus and family . Other notable members of this plant family are turmeric, cardamom, and galangal....
, onions, and tomatoes.
Sinampalukan
is sometimes prepared to be a little spicier than the other sinigang dishes.
It bears some similarities to Indonesian
sayur asem
Sayur Asem
Sayur asem or sayur asam is a popular Indonesian tamarind dish. Common ingredients are peanuts, young jackfruit, melinjo, bilimbi, chayote, long beans, all cooked in tamarind-based soups and sometimes enriched with beef stock. Quite often, the recipe also includes corn.The origin of the dish can be...
, Vietnamese
canh chua
Canh chua
Canh chua is a sour soup indigenous to the Mekong Delta region of southern Vietnam. It is typically made with fish from the Mekong River Delta, pineapple, tomatoes , and bean sprouts, in a tamarind-flavored broth...
, and Thai
tom yam
. Sinigang shares some characteristics—but should not be confused with—
singgang
, a tamarind soup dish from Terengganu, Malaysia.
Classification
Formal Filipino restaurants commonly list sinigang as a soup and serve it as such. It is, however, traditionally and typically transferred from the bowl to the plate and eaten with rice in a similar manner to a main dish.
Sinigang variations
Further reading
Eckhardt, Robyn and David Hagerman. (2007-02-15). Why Not Sinigang?. Retrieved 2010-08-02 from the EatingAsia food blog.
Fernandez, Doreen

Doreen Fernandez

Doreen Gamboa Fernandez was a noted food critic, author, and columnist who wrote extensively about the arts and Filipino cuisine.-Newspaper columns:* "Pot-au-feu" for the Manila Chronicle...


. (1976). Why Sinigang?. In Gilda Cordero-Fernando. The Culinary Culture of the Philippines. Manila: Bancom Audiovision Corporation. pp. 24–29.
Perez, Irene C. (2010-07-01). Why piping-hot 'sinigang' is the national dish. Philippine Daily Inquirer

Philippine Daily Inquirer

The Philippine Daily Inquirer, popularly known as the Inquirer, is the most widely read broadsheet newspaper in the Philippines, with a daily circulation of 260,000 copies. It is one of the Philippines' newspapers of record...


. Retrieved 2010-08-02.
External links