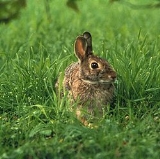 Rabbit
Rabbits
are small
mammal
Mammal
Mammals are members of a class of air-breathing vertebrate animals characterised by the possession of endothermy, hair, three middle ear bones, and mammary glands functional in mothers with young...
s in the
family
Family (biology)
In biological classification, family is* a taxonomic rank. Other well-known ranks are life, domain, kingdom, phylum, class, order, genus, and species, with family fitting between order and genus. As for the other well-known ranks, there is the option of an immediately lower rank, indicated by the...
Leporidae
Leporidae
Leporids are the approximately 50 species of rabbits and hares which form the family Leporidae. The leporids, together with the pikas, constitute the mammalian order Lagomorpha. Leporids differ from pikas in having short furry tails, and elongated ears and hind legs...
of the order
Lagomorpha
Lagomorpha
The lagomorphs are the members of the taxonomic order Lagomorpha, of which there are two living families, the Leporidae , and the Ochotonidae...
, found in several parts of the world. There are eight different
genera
Genus
In biology, a genus is a low-level taxonomic rank used in the biological classification of living and fossil organisms, which is an example of definition by genus and differentia...
in the family
classified
Taxonomy
Taxonomy is the science of identifying and naming species, and arranging them into a classification. The field of taxonomy, sometimes referred to as "biological taxonomy", revolves around the description and use of taxonomic units, known as taxa...
as rabbits, including the
European rabbit
European Rabbit
The European Rabbit or Common Rabbit is a species of rabbit native to south west Europe and north west Africa . It has been widely introduced elsewhere often with devastating effects on local biodiversity...
(
Oryctolagus cuniculus
),
cottontail rabbit
Cottontail rabbit
The cottontail rabbits are among the 16 lagomorph species in the genus Sylvilagus, found in the Americas.In appearance, most cottontail rabbits closely resemble the wild European Rabbit...
s (genus
Sylvilagus
; 13
species
Species
In biology, a species is one of the basic units of biological classification and a taxonomic rank. A species is often defined as a group of organisms capable of interbreeding and producing fertile offspring. While in many cases this definition is adequate, more precise or differing measures are...
), and the
Amami rabbit
Amami Rabbit
The Amami Rabbit , or , also known as the Ryukyu Rabbit, is a primitive dark-furred rabbit which is only found in Amami Ōshima and Toku-no-Shima, two small islands in between southern Kyūshū and Okinawa in Kagoshima Prefecture in Japan...
(
Pentalagus furnessi
, an
endangered species
Endangered species
An endangered species is a population of organisms which is at risk of becoming extinct because it is either few in numbers, or threatened by changing environmental or predation parameters...
on
Amami Ōshima
Amami Oshima
is a semi-tropical island in the Amami Islands, which is part of the larger Nansei Islands in Japan. Ōshima literally means big island, and it is the largest of the Amami Islands. It lies roughly halfway between the islands of Okinawa and Kyūshū. Briefly part of the Ryūkyū Kingdom, in 1624 it was...
,
Japan
Japan
Japan is an island nation in East Asia. Located in the Pacific Ocean, it lies to the east of the Sea of Japan, China, North Korea, South Korea and Russia, stretching from the Sea of Okhotsk in the north to the East China Sea and Taiwan in the south...
). There are many other species of rabbit, and these, along with
pika
Pika
The pika is a small mammal, with short limbs, rounded ears, and short tail. The name pika is used for any member of the Ochotonidae, a family within the order of lagomorphs, which also includes the Leporidae . One genus, Ochotona, is recognised within the family, and it includes 30 species...
s and
hare
Hare
Hares and jackrabbits are leporids belonging to the genus Lepus. Hares less than one year old are called leverets. Four species commonly known as types of hare are classified outside of Lepus: the hispid hare , and three species known as red rock hares .Hares are very fast-moving...
s, make up the
order
Order (biology)
In scientific classification used in biology, the order is# a taxonomic rank used in the classification of organisms. Other well-known ranks are life, domain, kingdom, phylum, class, family, genus, and species, with order fitting in between class and family...
Lagomorpha
Lagomorpha
The lagomorphs are the members of the taxonomic order Lagomorpha, of which there are two living families, the Leporidae , and the Ochotonidae...
. The male is called a
buck
and the female is a
doe
; a young rabbit is a
kitten
or
kit
.
Rabbit habitats include
meadow
Meadow
A meadow is a field vegetated primarily by grass and other non-woody plants . The term is from Old English mædwe. In agriculture a meadow is grassland which is not grazed by domestic livestock but rather allowed to grow unchecked in order to make hay...
s,
woods
Woodland
Ecologically, a woodland is a low-density forest forming open habitats with plenty of sunlight and limited shade. Woodlands may support an understory of shrubs and herbaceous plants including grasses. Woodland may form a transition to shrubland under drier conditions or during early stages of...
,
forest
Forest
A forest, also referred to as a wood or the woods, is an area with a high density of trees. As with cities, depending where you are in the world, what is considered a forest may vary significantly in size and have various classification according to how and what of the forest is composed...
s,
grassland
Grassland
Grasslands are areas where the vegetation is dominated by grasses and other herbaceous plants . However, sedge and rush families can also be found. Grasslands occur naturally on all continents except Antarctica...
s,
desert
Desert
A desert is a landscape or region that receives an extremely low amount of precipitation, less than enough to support growth of most plants. Most deserts have an average annual precipitation of less than...
s and
wetland
Wetland
A wetland is an area of land whose soil is saturated with water either permanently or seasonally. Wetlands are categorised by their characteristic vegetation, which is adapted to these unique soil conditions....
s.