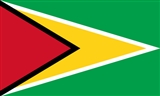 Guyana
Guyana
officially the
Co-operative Republic of Guyana
, previously the colony of
British Guiana
British Guiana
British Guiana was the name of the British colony on the northern coast of South America, now the independent nation of Guyana.The area was originally settled by the Dutch at the start of the 17th century as the colonies of Essequibo, Demerara, and Berbice...
, is a sovereign state on the northern coast of
South America
South America
South America is a continent situated in the Western Hemisphere, mostly in the Southern Hemisphere, with a relatively small portion in the Northern Hemisphere. The continent is also considered a subcontinent of the Americas. It is bordered on the west by the Pacific Ocean and on the north and east...
that is culturally part of the
Anglophone Caribbean
Anglophone Caribbean
The term Commonwealth Caribbean is used to refer to the independent English-speaking countries of the Caribbean region. Upon a country's full independence from the United Kingdom, Anglophone Caribbean or Commonwealth Caribbean traditionally becomes the preferred sub-regional term as a replacement...
. Guyana was a former colony of the Dutch and (for over 200 years) of the British. It is the only state of the
Commonwealth of Nations
Commonwealth of Nations
The Commonwealth of Nations, normally referred to as the Commonwealth and formerly known as the British Commonwealth, is an intergovernmental organisation of fifty-four independent member states...
on mainland South America, and it is also a member of the
Caribbean Community
Caribbean Community
The Caribbean Community is an organisation of 15 Caribbean nations and dependencies. CARICOM's main purposes are to promote economic integration and cooperation among its members, to ensure that the benefits of integration are equitably shared, and to coordinate foreign policy...
(CARICOM), which has its secretariat headquarters in Guyana's capital,
Georgetown
Georgetown, Guyana
Georgetown, estimated population 239,227 , is the capital and largest city of Guyana, located in the Demerara-Mahaica region. It is situated on the Atlantic Ocean coast at the mouth of the Demerara River and it was nicknamed 'Garden City of the Caribbean.' Georgetown is located at . The city serves...
.