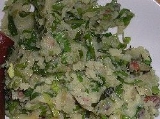 Stamppot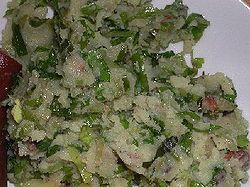 Stamppot
is a traditional Dutch dish made from a combination of
potato
Potato
The potato is a starchy, tuberous crop from the perennial Solanum tuberosum of the Solanaceae family . The word potato may refer to the plant itself as well as the edible tuber. In the region of the Andes, there are some other closely related cultivated potato species...
es mashed with one or several other vegetables, sometimes also with bacon. These vegetable pairings traditionally include
sauerkraut
Sauerkraut
Sauerkraut , directly translated from German: "sour cabbage", is finely shredded cabbage that has been fermented by various lactic acid bacteria, including Leuconostoc, Lactobacillus, and Pediococcus. It has a long shelf-life and a distinctive sour flavor, both of which result from the lactic acid...
,
endive
Endive
Endive , Cichorium endivia, is a leaf vegetable belonging to the daisy family. Endive can be cooked or used raw in salads.-Background:Endive is also a common name for some types of chicory...
,
kale
Kale
Kale is very high in beta carotene, vitamin K, vitamin C, lutein, zeaxanthin, and reasonably rich in calcium. Kale, as with broccoli and other brassicas, contains sulforaphane , a chemical with potent anti-cancer properties. Boiling decreases the level of sulforaphane; however, steaming,...
,
spinach
Spinach
Spinach is an edible flowering plant in the family of Amaranthaceae. It is native to central and southwestern Asia. It is an annual plant , which grows to a height of up to 30 cm. Spinach may survive over winter in temperate regions...
,
turnip
Turnip
The turnip or white turnip is a root vegetable commonly grown in temperate climates worldwide for its white, bulbous taproot. Small, tender varieties are grown for human consumption, while larger varieties are grown as feed for livestock...
greens, or
carrot
Carrot
The carrot is a root vegetable, usually orange in colour, though purple, red, white, and yellow varieties exist. It has a crisp texture when fresh...
and
onion
Onion
The onion , also known as the bulb onion, common onion and garden onion, is the most widely cultivated species of the genus Allium. The genus Allium also contains a number of other species variously referred to as onions and cultivated for food, such as the Japanese bunching onion The onion...
(the combination of the latter two is known as
hutspot
Hutspot
Hotchpotch Hotchpotch Hotchpotch (or in Dutch: Hutspot is a dish of boiled and mashed potatoes, carrots and onions with a long history in traditional Dutch cuisine.-History of the dish:...
in the Netherlands and as
wortelstoemp
Stoemp
Stoemp is a dish in the cuisine of Belgium and the Netherlands. It consists of pureed or mashed potatoes, other root vegetables and can also include cream, bacon, onion or shallot, herbs, and spices....
in Belgium). It is usually served with sausage (in the Netherlands often smoked, in Belgium rather fried) or stewed meat. Stamppot can be purchased premade from shops and supermarkets. It can also be ordered in cafe style restaurants, but the combination of more strict recent regulations about allowed foods in taverns versus restaurants (and since July 2011 about smoking), tend to halt the custom of offering simple dishes in many Belgian pubs.
The origin of stamppot is unknown but it is a widely known Dutch dish and can be a cheap, hearty and filling meal.
Making stamppot
There are two methods of preparing stamppot, the first being the more modern form:
Stamppot is prepared by boiling the vegetables and potatoes separately. Once done the potatoes are added to the same pot as the vegetables and all are thoroughly mashed together. Some people add applesauce to this mix for extra flavor and/or to soften the mix. A smoked sausage (rookworst

Rookworst

Rookworst is a type of Dutch sausage in which ground meat is mixed with spices and salt and stuffed into a casing . Rookworst is a traditional ingredient in stamppot...


) is the preferred piece of meat to be added to the dish. Most Dutch people make a small 'pond' of gravy in the middle of the vegetable mix.
Stamppot can also be made in a single pot. Potatoes, onions, and the vegetable of choice are peeled and placed in the pot with the sausage. Water is added, and the mixture is left to boil. After the vegetables are cooked and drained, some milk, butter and salt are added, and the vegetables are mashed together. An example is hutspot

Hutspot

Hotchpotch Hotchpotch Hotchpotch (or in Dutch: Hutspot is a dish of boiled and mashed potatoes, carrots and onions with a long history in traditional Dutch cuisine.-History of the dish:...


.
Lardon

Lardon

Lardon is a small strip or cube of pork fat used in a wide variety of cuisines to flavor savory foods and salads. In French cuisine, lardons are also used for larding, by threading them with a needle into meats that are to be braised or roasted...


s (kaantjes) are often added for flavoring.
Similar dishes