 Borscht
Borscht
is a soup of
Ukrainian
Ukrainian cuisine
Ukrainian cuisine has significant diversity, historical traditions. "Cuisine - Flavors and Colors of Ukrainian Culture."] . Accessed July 2011. Common foods used include meats, vegetables, mushrooms, fruits, berries and herbs...
origin that is popular in many Eastern and Central European countries. In most of these countries, it is made with
beetroot
Beetroot
The beetroot, also known as the table beet, garden beet, red beet or informally simply as beet, is one of the many cultivated varieties of beets and arguably the most commonly encountered variety in North America, Central America and Britain.-Consumption:The usually deep-red roots of beetroot are...
as the main ingredient, giving it a deep reddish-purple color. In some countries, tomato may occur as the main ingredient, while beetroot acts as a secondary ingredient. Other, nonbeet varieties also exist, such as the
tomato paste
Tomato paste
Tomato paste is a thick paste that is made by cooking tomatoes for several hours to reduce moisture, straining them to remove the seeds and skin, and cooking them again to reduce them to a thick, rich concentrate...
-based orange borscht and the green borscht (
sorrel soup
Sorrel soup
Sorrel soup is a soup made from water or broth, sorrel leaves, and salt. Other possible ingredients are egg yolks or eggs , potatoes, carrots, parsley root, rice . It can be served hot or cold, and usually with sour cream. It is known in Russian, Polish, Ukrainian, Lithuanian, and Eastern European...
).
History
The soup began its existence from trimmings of cellared vegetables consumed throughout the winter months. Most families had a container, usually a kettle or stove pot, kept outside to store those trimmings. Around the first spring thaw, that pot was placed on the fire and cooked into a soup-like meal. One of the primary vegetables of the Slavic diet consumed during the winter months was beets. Hence, the recipe changed into what is traditionally known as a beet soup.
Etymology
The soup is a staple part of the local culinary heritage of many
Eastern
Eastern Europe
Eastern Europe is the eastern part of Europe. The term has widely disparate geopolitical, geographical, cultural and socioeconomic readings, which makes it highly context-dependent and even volatile, and there are "almost as many definitions of Eastern Europe as there are scholars of the region"...
and
Central Europe
Central Europe
Central Europe or alternatively Middle Europe is a region of the European continent lying between the variously defined areas of Eastern and Western Europe...
an nations.
It made its way into North American
cuisine
Cuisine
Cuisine is a characteristic style of cooking practices and traditions, often associated with a specific culture. Cuisines are often named after the geographic areas or regions that they originate from...
and English
vernacular
Vernacular
A vernacular is the native language or native dialect of a specific population, as opposed to a language of wider communication that is not native to the population, such as a national language or lingua franca.- Etymology :The term is not a recent one...
by way of Slavic and Ashkenazi Jewish immigrants from Central and Eastern Europe. Alternative spellings are
borshch
and
borsch
.
It is called in various languages: , ,
boršč
, , , , , , , , ,
borshch
, , (due to the emigration of
White Russians
White Emigre
A white émigré was a Russian who emigrated from Russia in the wake of the Russian Revolution and Russian Civil War, and who was in opposition to the contemporary Russian political climate....
to Turkey after their defeat in the
Russian Civil War
Russian Civil War
The Russian Civil War was a multi-party war that occurred within the former Russian Empire after the Russian provisional government collapsed to the Soviets, under the domination of the Bolshevik party. Soviet forces first assumed power in Petrograd The Russian Civil War (1917–1923) was a...
), ,
borshch
, and ,
borsht
.
The name was earlier applied to hogweed soup, and originally to the
hogweed
Common Hogweed
Heracleum sphondylium, common names Common Hogweed or Cow parsnip, is a herbaceous perennial or biennial plant of the family Apiaceae. It is an umbelliferous plant, in the same group as fennel, cow parsley, ground elder and giant hogweed...
plant itself.
Hot and cold borscht
The two main variants of borscht are generally referred to as hot and cold. Both are based on beets, but are otherwise prepared and served differently.
Hot borscht
Hot borscht, the kind most popular in the majority of
culture
Culture
Culture is a term that has many different inter-related meanings. For example, in 1952, Alfred Kroeber and Clyde Kluckhohn compiled a list of 164 definitions of "culture" in Culture: A Critical Review of Concepts and Definitions...
s, is a hearty soup. It is almost always made with a broth made of beets. It usually contains heavy starchy vegetables including
potato
Potato
The potato is a starchy, tuberous crop from the perennial Solanum tuberosum of the Solanaceae family . The word potato may refer to the plant itself as well as the edible tuber. In the region of the Andes, there are some other closely related cultivated potato species...
es and
beet
Beet
The beet is a plant in the Chenopodiaceae family which is now included in Amaranthaceae family. It is best known in its numerous cultivated varieties, the most well known of which is the purple root vegetable known as the beetroot or garden beet...
s, but may also contain carrots, spinach, and meat. It may be eaten as a meal in itself, but is usually eaten as an appetizer with thick, dark bread.
Cold borscht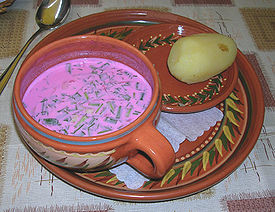 Cold borscht exists in many different culinary traditions, including Lithuanian (
šaltibarščiai
), Belarusian, Polish and Ukrainian (
Chłodnik
, literally 'cooler') and Russian (
swekolnik
). As a traditional European cold soup, it is akin to preparations like
gazpacho
Gazpacho
Gazpacho is a cold Spanish/Portuguese tomato-based raw vegetable soup, originating in the southern region of Andalucía. Gazpacho is widely consumed throughout Spain, neighboring Portugal and parts of Latin America...
, Hungarian cold tomato and/or cucumber soups, and
meggyleves
.
In these countries it is called: or
Chłodnik litewski
"khaladnik"
svekol'nik
kholodnyk
Its preparation starts with young
beet
Beet
The beet is a plant in the Chenopodiaceae family which is now included in Amaranthaceae family. It is best known in its numerous cultivated varieties, the most well known of which is the purple root vegetable known as the beetroot or garden beet...
s being chopped and boiled, together with their leaves, when available. After cooling down, the soup is usually mixed with
sour cream
Sour cream
Sour cream is a dairy product rich in fats obtained by fermenting a regular cream by certain kinds of lactic acid bacteria. The bacterial culture, which is introduced either deliberately or naturally, sours and thickens the cream. Its name stems from the production of lactic acid by bacterial...
,
soured milk
Soured milk
Soured milk is a food product, distinguished from spoiled milk, and is a general term for milk that has acquired a tart taste, either through the addition of an acid, such as lemon juice or vinegar, or through bacterial fermentation. The acid causes milk to coagulate and form a thicker consistency...
,
kefir
Kefir
Kefir is a fermented milk drink that originated with shepherds of the North Caucasus region, who discovered that fresh milk carried in leather pouches would occasionally ferment into an effervescent beverage...
or
yoghurt
Yoghurt
Yoghurt, yogurt or yogourt is a dairy product produced by bacterial fermentation of milk. The bacteria used to make yoghurt are known as "yoghurt cultures"...
(depending on regional preferences). Typically, raw chopped
vegetable
Vegetable
The noun vegetable usually means an edible plant or part of a plant other than a sweet fruit or seed. This typically means the leaf, stem, or root of a plant....
s, such as
radish
Radish
The radish is an edible root vegetable of the Brassicaceae family that was domesticated in Europe, in pre-Roman times. They are grown and consumed throughout the world. Radishes have numerous varieties, varying in size, color and duration of required cultivation time...
es or
cucumber
Cucumber
The cucumber is a widely cultivated plant in the gourd family Cucurbitaceae, which includes squash, and in the same genus as the muskmelon. The plant is a creeping vine which bears cylindrical edible fruit when ripe. There are three main varieties of cucumber: "slicing", "pickling", and...
s, are added and the soup is garnished and flavored with
dill
Dill
Dill is a perennial herb. It is the sole species of the genus Anethum, though classified by some botanists in a related genus as Peucedanum graveolens C.B.Clarke.-Growth:...
or
parsley
Parsley
Parsley is a species of Petroselinum in the family Apiaceae, native to the central Mediterranean region , naturalized elsewhere in Europe, and widely cultivated as an herb, a spice and a vegetable.- Description :Garden parsley is a bright green hairless biennial herbaceous plant in temperate...
. Chopped, hard-boiled eggs are often added. The soup has a rich pink color which varies in intensity depending on the ratio of beets to dairy ingredients.
Polish variants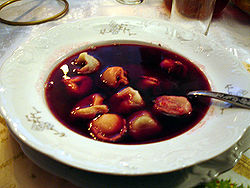 The basic
Polish
Poland
Poland , officially the Republic of Poland , is a country in Central Europe bordered by Germany to the west; the Czech Republic and Slovakia to the south; Ukraine, Belarus and Lithuania to the east; and the Baltic Sea and Kaliningrad Oblast, a Russian exclave, to the north...
borscht (
barszcz
) recipe includes red beetroot, onions,
garlic
Garlic
Allium sativum, commonly known as garlic, is a species in the onion genus, Allium. Its close relatives include the onion, shallot, leek, chive, and rakkyo. Dating back over 6,000 years, garlic is native to central Asia, and has long been a staple in the Mediterranean region, as well as a frequent...
, and other vegetables, such as carrots and celery or root parsley. The ingredients are cooked for some time together to produce a clear broth (when strained), and the soup is then served as boullion in cups or in other ways. Some recipes include
bacon
Bacon
Bacon is a cured meat prepared from a pig. It is first cured using large quantities of salt, either in a brine or in a dry packing; the result is fresh bacon . Fresh bacon may then be further dried for weeks or months in cold air, boiled, or smoked. Fresh and dried bacon must be cooked before eating...
, as well, which gives the soup a distinctive "smoky" taste.
Other versions are richer and include meat and cut vegetables of various kinds, with beetroot not necessarily in the majority (though this soup is not always called
barszcz
, but rather beetroot soup). This variation of
barszcz
is not strained, and the vegetable contents are left in. Such soup can constitute the main course of a Polish
obiad
(the main meal eaten in the early afternoon).
Barszcz
in its strictly vegetarian version is the first course during the
Christmas Eve
Christmas Eve
Christmas Eve refers to the evening or entire day preceding Christmas Day, a widely celebrated festival commemorating the birth of Jesus of Nazareth that takes place on December 25...
feast, served with ravioli-type dumplings called
uszka
Uszka
Uszka, , are small dumplings usually filled with flavoursome wild forest mushrooms and/or minced meat. They are usually served with barszcz, though they can be eaten simply with melted butter and herbs sprinkled over...
(lit. "little ears") with mushroom filling (
sauerkraut
Sauerkraut
Sauerkraut , directly translated from German: "sour cabbage", is finely shredded cabbage that has been fermented by various lactic acid bacteria, including Leuconostoc, Lactobacillus, and Pediococcus. It has a long shelf-life and a distinctive sour flavor, both of which result from the lactic acid...
can be used, as well, again depending on the family tradition). Typically, this version does not include any meat ingredients, although some variants do.
A key component to the taste of
barszcz
is acidity. While it can be made easily within a few hours by simply cooking the ingredients and adding vinegar, lemon juice, or citric acid, the traditional way is to prepare
barszcz
several days in advance and to allow it to naturally sour. Depending on the technique, the level of acidity required, and the ingredients available,
barszcz
takes three to seven days to prepare in this way.
Romanian borș
The word
borș
is used in
Romanian
Romanian language
Romanian Romanian Romanian (or Daco-Romanian; obsolete spellings Rumanian, Roumanian; self-designation: română, limba română ("the Romanian language") or românește (lit. "in Romanian") is a Romance language spoken by around 24 to 28 million people, primarily in Romania and Moldova...
to refer to a kind of sour
soup
Soup
Soup is a generally warm food that is made by combining ingredients such as meat and vegetables with stock, juice, water, or another liquid. Hot soups are additionally characterized by boiling solid ingredients in liquids in a pot until the flavors are extracted, forming a broth.Traditionally,...
(which is an important part of Romanian cuisine) made from
fermented
Fermentation (food)
Fermentation in food processing typically is the conversion of carbohydrates to alcohols and carbon dioxide or organic acids using yeasts, bacteria, or a combination thereof, under anaerobic conditions. Fermentation in simple terms is the chemical conversion of sugars into ethanol...
wheat
bran
Bran
Bran is the hard outer layer of grain and consists of combined aleurone and pericarp. Along with germ, it is an integral part of whole grains, and is often produced as a by-product of milling in the production of refined grains. When bran is removed from grains, the grains lose a portion of their...
. To refer to the traditional borscht made from beetroot, Romanians generally say
borș rusesc
(Russian borscht) or
borș de sfeclă
(beetroot borscht).
Other regional recipes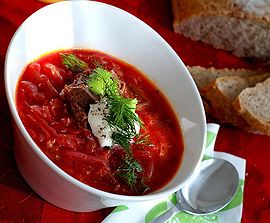 There are local variations in the basic borscht recipe:
In Belarus

Belarus

Belarus , officially the Republic of Belarus, is a landlocked country in Eastern Europe, bordered clockwise by Russia to the northeast, Ukraine to the south, Poland to the west, and Lithuania and Latvia to the northwest. Its capital is Minsk; other major cities include Brest, Grodno , Gomel ,...


ian cuisine

Belarusian cuisine

Belarusian cuisine shares the same roots with cuisines of other Eastern and Northern European countries, basing predominantly on meat and various vegetables typical for the region.-History:...


, the tomatoes are standard, sometimes in addition to beets. It is usually served with smetana (Eastern European-style sour cream) and a traditional accompaniment of pampushki (sing. pampushka), small hot breads topped with fresh chopped garlic.
In Polish cuisine

Polish cuisine

Polish cuisine is a style of cooking and food preparation originating from Poland. It has evolved over the centuries due to historical circumstances. Polish national cuisine shares some similarities with other Central European and Eastern European traditions as well as French and Italian...


, the beet basis is not required. Besides the beet-based soup, Polish people enjoy a sour wheat or rye soup, commonly known as barszcz biały or żur. White borsch is made from a base of fermented wheat

Wheat

Wheat is a cereal grain, originally from the Levant region of the Near East, but now cultivated worldwide. In 2007 world production of wheat was 607 million tons, making it the third most-produced cereal after maize and rice...


, and żur is made from a base of fermented rye

Rye

Rye is a grass grown extensively as a grain and as a forage crop. It is a member of the wheat tribe and is closely related to barley and wheat. Rye grain is used for flour, rye bread, rye beer, some whiskeys, some vodkas, and animal fodder...


- both usually added to a broth of boiled white fresh kiełbasa. It is served hot with cubed rye bread and diced hard-boiled eggs added to the broth, and horseradish is often added to taste.
In Russian cuisine

Russian cuisine

Russian cuisine is diverse, as Russia is the largest country in the world. Russian cuisine derives its varied character from the vast and multi-cultural expanse of Russia. Its foundations were laid by the peasant food of the rural population in an often harsh climate, with a combination of...


, it usually includes beets, meat, cabbage

Cabbage

Cabbage is a popular cultivar of the species Brassica oleracea Linne of the Family Brassicaceae and is a leafy green vegetable...


, and optionally, potatoes.
In East Prussia

East Prussia

East Prussia is the main part of the region of Prussia along the southeastern Baltic Coast from the 13th century to the end of World War II in May 1945. From 1772–1829 and 1878–1945, the Province of East Prussia was part of the German state of Prussia. The capital city was Königsberg.East Prussia...


(now parts of northeast Poland and Kaliningrad

Kaliningrad

Kaliningrad is a seaport and the administrative center of Kaliningrad Oblast, the Russian exclave between Poland and Lithuania on the Baltic Sea...


, Russia), sour cream (schmand) and beef is served with the Beetenbartsch (lit. beetroot borscht).
In Lithuanian cuisine

Lithuanian cuisine

Lithuanian cuisine features the products suited to the cool and moist northern climate of Lithuania: barley, potatoes, rye, beets, greens, berries, and mushrooms are locally grown, and dairy products are one of its specialities...


, dried mushroom

Mushroom

A mushroom is the fleshy, spore-bearing fruiting body of a fungus, typically produced above ground on soil or on its food source. The standard for the name "mushroom" is the cultivated white button mushroom, Agaricus bisporus; hence the word "mushroom" is most often applied to those fungi that...


s are often added.
In Romanian cuisine

Romanian cuisine

Romanian cuisine is a diverse blend of different dishes from several traditions with which it has come into contact, but it also maintains its own character...


, it is the name for any sour soup, prepared usually with fermented wheat bran

Bran

Bran is the hard outer layer of grain and consists of combined aleurone and pericarp. Along with germ, it is an integral part of whole grains, and is often produced as a by-product of milling in the production of refined grains. When bran is removed from grains, the grains lose a portion of their...


(which is also called borș), which gives it a sour taste. In fact, Romanian gastronomy uses with no discrimination the words ciorbă

Ciorba

Ciorbă , from Persian, via the Turkish word çorba is a general Romanian word describing sour soups consisting of various vegetables and meat...


, borș or, sometimes, zeamă/acritură. One ingredient required in all recipes by Romanian tradition is lovage

Lovage

Lovage is a tall perennial plant, the sole species in the genus Levisticum, in the family Apiaceae, subfamily Apioideae, tribe Apieae.-Distribution:...


. The lovage leaves give a special taste, enhancing the palate experience, which makes the Romanian borș so appreciated by international travelers.
In Armenian cuisine

Armenian cuisine

Armenian cuisine includes the foods and cooking techniques of the Armenian people, the Armenian diaspora and traditional Armenian foods and dishes. The cuisine reflects the history and geography where Armenians have lived as well as incorporating outside influences...


, it is served warm with fresh sour cream.
In Azerbaijani cuisine, it is served hot and it usually includes beets, potatoes and cabbage, and optionally, beef. One soup spoon of plain yogurt is added on top, as typically served in Azerbaijan.
In Doukhobor

Doukhobor

The Doukhobors or Dukhobors , earlierDukhobortsy are a group of Russian origin.The Doukhobors were one of the sects - later defined as a religious philosophy, ethnic group, social movement, or simply a "way of life" - known generically as Spiritual Christianity. The origin of the Doukhobors is...


cuisine, the main ingredient is cabbage, and the soup also contains beets, potatoes, tomatoes and heavy cream, along with dill and leeks. This style of borscht is orange in colour, and is always eaten hot.
In Mennonite

Mennonite

The Mennonites are a group of Christian Anabaptist denominations named after the Frisian Menno Simons , who, through his writings, articulated and thereby formalized the teachings of earlier Swiss founders...


cuisine, borscht is a cabbage, beef, potato and tomato soup flavoured with onions, dill and black pepper. This soup is part of the cuisine absorbed by Mennonites in Ukraine and Russia. Mennonite "summer borscht" contains beet leaves, potatoes, dill, and sausage. It is made with a pork stock, usually made by boiling the sausage contained in the soup.
In Chinese cuisine

Chinese cuisine

Chinese cuisine is any of several styles originating in the regions of China, some of which have become highly popular in other parts of the world – from Asia to the Americas, Australia, Western Europe and Southern Africa...


, tomatoes and tomato paste are used instead of beets, in addition to beef, cabbage, potatoes, and carrots. It is similar to the Russian beet-based borscht.
In northern Chinese cuisine, particularly found in and around the city of Harbin

Harbin

Harbin ; Manchu language: , Harbin; Russian: Харби́н Kharbin ), is the capital and largest city of Heilongjiang Province in Northeast China, lying on the southern bank of the Songhua River...


in Heilongjiang province, an area with a long history of trade with Eastern Russia, the soup known as hóngtāng ("red soup") is mainly made with red cabbage.
In Ukrainian cuisine

Ukrainian cuisine

Ukrainian cuisine has significant diversity, historical traditions. "Cuisine - Flavors and Colors of Ukrainian Culture."] . Accessed July 2011. Common foods used include meats, vegetables, mushrooms, fruits, berries and herbs...


, it can be a vegetable soup or based on either chicken or other meat bouillon

Broth

Broth is a liquid food preparation, typically consisting of either water or an already flavored stock, in which bones, meat, fish, cereal grains, or vegetables have been simmered. Broth is used as a basis for other edible liquids such as soup, gravy, or sauce. It can be eaten alone or with garnish...


. Traditionally borshch is served with pampushki and smetana. Main ingredients include specially prepared red beets, potatoes, carrots, beans (e.g. broad beans, green runner beans, butter beans or other varieties), celery, fresh or dried mushrooms (optional), herbs (e.g. fresh dill and/ or parsley), chopped cabbage, chopped fresh tomatoes or tomato sauce .
External links