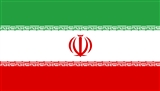 Iran
Iran
officially the
Islamic Republic of Iran
(
Jomhuri-ye Eslāmi-ye Irān
), is a country in
Southern
South Asia
South Asia, also known as Southern Asia, is the southern region of the Asian continent, which comprises the sub-Himalayan countries and, for some authorities , also includes the adjoining countries to the west and the east...
and Western Asia. The name "Iran" has been in use natively since the
Sassanian era
Sassanid Empire
The Sassanid Empire , known to its inhabitants as Ērānshahr and Ērān in Middle Persian and resulting in the New Persian terms Iranshahr and Iran , was the last pre-Islamic Persian Empire, ruled by the Sasanian Dynasty from 224 to 651...
and came into use internationally in 1935, before which the country was known to the
Western world
Western world
The Western world, also known as the West and the Occident , is a term referring to the countries of Western Europe , the countries of the Americas, as well all countries of Northern and Central Europe, Australia and New Zealand...
as
Persia
(icon or ˈ). Both "Persia" and "Iran" are used interchangeably in cultural contexts; however, "Iran" is the name used officially in political contexts.
The 18th largest country in the world in terms of area at 1648195 km² (636,371.6 sq mi), Iran has a population of around 78 million.
539 BC King Cyrus The Great of Persia marches into the city of Babylon, releasing the Jews from almost 70 years of exile and making the first Human Rights Declaration.
1256 Hulagu Khan captures and destroys the Hashshashin stronghold at Alamut in present-day Iran as part of the Mongol offensive on Islamic southwest Asia.
1722 The Safavid Empire of Iran is defeated by an army from Afghanistan at The Battle of Gulnabad, pushing Iran into anarchy.
1856 The Iranian city of Bushehr surrenders to occupying British forces.
1908 At Masjed Soleyman (مسجد سليمان) in southwest Persia, the first major commercial oil strike in the Middle East is made. The rights to the resource are quickly acquired by the United Kingdom.
1924 Teheran, Persia comes under martial law after the American vice-consul, Robert Imbrie, is killed by a religious mob enraged by rumors he had poisoned a fountain and killed several people.
1928 Boris Bazhanov defects through Iran. He is the only assistant of Joseph Stalin's secretariat to have defected from the Eastern Bloc.
1935 Shah Reza Pahlavi formally asks the international community to call Persia by its native name, Iran, which means 'Land of the Aryans.'
1946 Iran: Qazi Muhammad declares the independent people's Republic of Mahabad at Chuwarchira Square in the Kurdish city of Mahabad. He is the new president; Hadschi Baba Scheich is the prime minister.
1953 Cold War: the CIA helps to overthrow the government of Mohammed Mossadegh in Iran and reinstate the Shah Mohammad Reza Pahlavi.
1960 A severe earthquake shakes Lar in Fars province, Iran and kills more than 200 people.