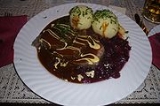 Sauerbraten
Sauerbraten
is a German
pot roast
Pot roast (beef)
Pot roast is a braised beef dish. Pot roast is typically made by browning a roast-sized piece of beef to induce a Maillard reaction, then slow-cooking in or over liquid in a covered dish....
, usually of
beef
Beef
Beef is the culinary name for meat from bovines, especially domestic cattle. Beef can be harvested from cows, bulls, heifers or steers. It is one of the principal meats used in the cuisine of the Middle East , Australia, Argentina, Brazil, Europe and the United States, and is also important in...
(but other meats such as
venison
Venison
Venison is the meat of a game animal, especially a deer but also other animals such as antelope, wild boar, etc.-Etymology:The word derives from the Latin vēnor...
, lamb, mutton,
pork
Pork
Pork is the culinary name for meat from the domestic pig , which is eaten in many countries. It is one of the most commonly consumed meats worldwide, with evidence of pig husbandry dating back to 5000 BC....
, and
horse
Horse meat
Horse meat is the culinary name for meat cut from a horse. It is a major meat in only a few countries, notably in Central Asia, but it forms a significant part of the culinary traditions of many others, from Europe to South America to Asia. The top eight countries consume about 4.7 million horses...
are sometimes used), marinated before cooking in a mixture of vinegar, water, spices and seasonings.
Sauerbraten is traditionally served with
red cabbage
Red Cabbage
The red cabbage is a sort of cabbage, also known as Red Kraut or Blue Kraut after preparation....
, potato dumplings (Kartoffelklöße),
Spätzle
Spätzle
Spätzle are a type of egg noodle of soft texture found in the cuisine of Germany and of Austria, Switzerland, Hungary, Alsace and South Tyrol.-History:The geographic origin of spätzle is not precisely...
, boiled potatoes, or pasta. While many German-style restaurants in America pair potato pancakes with sauerbraten, this is common only in a small part of Germany.
Sauerbraten has been described as one of the
national dish
National dish
A national dish is a dish, food or a drink that is considered to represent a particular country, nation or region.A dish can become a national dish for a variety of reasons. It can be the national dish because it is a staple daily food for the majority of the population. It can also be the national...
es of Germany. Sauerbraten is one of the best known German dishes and several regions boast local versions including:
Franconia
Franconia
Franconia is a region of Germany comprising the northern parts of the modern state of Bavaria, a small part of southern Thuringia, and a region in northeastern Baden-Württemberg called Tauberfranken...
,
Rhineland
Rhineland
Historically, the Rhinelands refers to a loosely-defined region embracing the land on either bank of the River Rhine in central Europe....
,
Saarland
Saarland
Saarland is one of the sixteen states of Germany. The capital is Saarbrücken. It has an area of 2570 km² and 1,045,000 inhabitants. In both area and population, it is the smallest state in Germany other than the city-states...
,
Silesia
Silesia
Silesia is a historical region of Central Europe located mostly in Poland, with smaller parts also in the Czech Republic, and Germany.Silesia is rich in mineral and natural resources, and includes several important industrial areas. Silesia's largest city and historical capital is Wrocław...
, and
Swabia
Swabia
Swabia is a cultural, historic and linguistic region in southwestern Germany.-Geography:Like many cultural regions of Europe, Swabia's borders are not clearly defined...
. Regional variations of sauerbraten differ in the ingredients of their marinade, gravy, and traditional accompaniments.
Preparation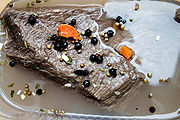 A solid cut from the bottom
round
Round steak
A round steak is a steak from the round primal cut of beef. Specifically, a round steak is the eye round, bottom round, and top round still connected, with or without the "round" bone , and may include the knuckle , depending on how the round is separated from the loin. This is a lean cut and it...
or rump is marinated for three or four days, or as many as 10, before cooking.
Red wine vinegar, wine, and/or water typically forms the basis of the marinade, which also includes earthy aromatic spices such as peppercorns, juniper berries, cloves,
nutmeg
Nutmeg
The nutmeg tree is any of several species of trees in genus Myristica. The most important commercial species is Myristica fragrans, an evergreen tree indigenous to the Banda Islands in the Moluccas of Indonesia...
, and bay leaves and less commonly
coriander
Coriander
Coriander is an annual herb in the family Apiaceae. Coriander is native to southern Europe and North Africa to southwestern Asia. It is a soft, hairless plant growing to tall. The leaves are variable in shape, broadly lobed at the base of the plant, and slender and feathery higher on the...
,
mustard seed
Mustard seed
Mustard seeds are the small round seeds of various mustard plants. The seeds are usually about 1 or 2 mm in diameter. Mustard seeds may be colored from yellowish white to black. They are important spices in many regional foods. The seeds can come from three different plants: black mustard , brown...
,
cinnamon
Cinnamon
Cinnamon is a spice obtained from the inner bark of several trees from the genus Cinnamomum that is used in both sweet and savoury foods...
, mace,
ginger
Ginger
Ginger is the rhizome of the plant Zingiber officinale, consumed as a delicacy, medicine, or spice. It lends its name to its genus and family . Other notable members of this plant family are turmeric, cardamom, and galangal....
, and
thyme
Thyme
Thyme is a culinary and medicinal herb of the genus Thymus.-History:Ancient Egyptians used thyme for embalming. The ancient Greeks used it in their baths and burnt it as incense in their temples, believing it was a source of courage...
. The marinade may also include vegetables such as onions, celery, and carrots. The acidic marinade helps tenderize the meat (which is typically a tougher cut) before it cooks.
Buttermilk
Buttermilk
Buttermilk refers to a number of dairy drinks. Originally, buttermilk was the liquid left behind after churning butter out of cream. It also refers to a range of fermented milk drinks, common in warm climates where unrefrigerated fresh milk otherwise sours quickly...
is also used as a marinade in certain regional varieties.
It is frequently advised to marinate the meat in an
earthenware
Earthenware
Earthenware is a common ceramic material, which is used extensively for pottery tableware and decorative objects.-Types of earthenware:Although body formulations vary between countries and even between individual makers, a generic composition is 25% ball clay, 28% kaolin, 32% quartz, and 15%...
, glass, plastic, or
enamel
Vitreous enamel
Vitreous enamel, also porcelain enamel in U.S. English, is a material made by fusing powdered glass to a substrate by firing, usually between 750 and 850 °C...
container rather than one made of metal, so the acidic marinade does not react with the vessel during the extended marinating process.
After the meat is removed from the marinade and dried, it is first browned in oil or lard and then braised with the strained marinade in a covered dish in a medium oven or on the stovetop. After simmering for four hours or more, depending on the size of the roast, the marinade will continue to flavor the roast, and as the meat cooks, its juices will also be released resulting in a very tender roast.
After the roast is cooked, the marinade is strained and returned to a saucepan where it is thickened (often with crushed
gingerbread
Gingerbread
Gingerbread is a term used to describe a variety of sweet food products, which can range from a soft, moist loaf cake to something close to a ginger biscuit. What they have in common are the predominant flavors of ginger and a tendency to use honey or molasses rather than just sugar...
,
lebkuchen
Lebkuchen
Lebkuchen is a traditional German baked Christmas treat, somewhat resembling gingerbread.Lebkuchen were invented by Medieval monks in Franconia, Germany in the 13th century. Lebkuchen bakers were recorded as early as 1296 in Ulm, and 1395 in Nürnberg...
, or gingersnaps, flour, sour cream, brown sugar, and/or
roux
Roux
Roux is a cooked mixture of wheat flour and fat, traditionally butter. It is the thickening agent of three of the mother sauces of classical French cooking: sauce béchamel, sauce velouté and sauce espagnole. Clarified butter, vegetable oils, or lard are commonly used fats. It is used as a...
) which brings both body and flavor to the sauce. Before it closed its doors in 1982,
Luchow's
Luchow's
Lüchow's was a restaurant located at 110 East 14th Street at Irving Place near Union Square in Manhattan, New York City, with the property running clear through the block to 13th Street...
famous German restaurant in
New York City
New York City
New York is the most populous city in the United States and the center of the New York Metropolitan Area, one of the most populous metropolitan areas in the world. New York exerts a significant impact upon global commerce, finance, media, art, fashion, research, technology, education, and...
used crushed gingersnap cookies to season and thicken the gravy of its sauerbraten, one of the favored dishes. This style was made popular in the U.S. after the publication of "Luchow's German Cookbook: The Story and the Favorite Dishes of America's Most Famous German Restaurant" by Jan Mitchell in 1952. In the popular Rhineland version (Rheinischer Sauerbraten), sugar and raisins are added to the gravy to give the dish some countering sweetness.
Venison
Venison
Venison is the meat of a game animal, especially a deer but also other animals such as antelope, wild boar, etc.-Etymology:The word derives from the Latin vēnor...
or other game are often prepared as sauerbraten as the spices and vinegar take away the "wild" taste of the meat.
Sauerbraten can be made with any of kind of roasting meat.
History
Sauerbraten was originally made with horse meat but today it is almost always made with beef The town of
Eschweiler
Eschweiler
Eschweiler is a municipality in the district of Aachen in North Rhine-Westphalia in Germany on the river Inde, near the German-Belgian-Dutch frontier, and about 15 km east of Aachen and 50 km west of Cologne.- History :...
, Germany has a long horse butcher tradition, and sauerbraten is one of its culinary specialities.
Several sources believe sauerbraten was invented by
Charlemagne
Charlemagne
Charlemagne was King of the Franks from 768 and Emperor of the Romans from 800 to his death in 814. He expanded the Frankish kingdom into an empire that incorporated much of Western and Central Europe. During his reign, he conquered Italy and was crowned by Pope Leo III on 25 December 800...
in the ninth century AD as a means of using leftover roasted meat. Saint Albertus Magnus, also known as Saint Albert the Great and Albert of Cologne, is also credited with popularizing the dish in the thirteenth century.
Julius Caesar
Julius Caesar
Gaius Julius Caesar was a Roman general and statesman and a distinguished writer of Latin prose. He played a critical role in the gradual transformation of the Roman Republic into the Roman Empire....
has been assigned a role in the inspiration for sauerbraten as he purportedly sent
amphora
Amphora
An amphora is a type of vase-shaped, usually ceramic container with two handles and a long neck narrower than the body...
s filled with beef marinated in wine over the
Alps
Alps
The Alps is one of the great mountain range systems of Europe, stretching from Austria and Slovenia in the east through Italy, Switzerland, Liechtenstein and Germany to France in the west....
to the newly founded Roman colony of
Cologne
Cologne
Cologne is Germany's fourth-largest city , and is the largest city both in the Germany Federal State of North Rhine-Westphalia and within the Rhine-Ruhr Metropolitan Area, one of the major European metropolitan areas with more than ten million inhabitants.Cologne is located on both sides of the...
. According to this legend, this inspired the residents of Cologne to imitate the Roman import. While quite common, these claims are largely unsubstantiated.
Other
Sauerbraten seasonings are available in pre-made packets from
Unilever
Unilever
Unilever is a British-Dutch multinational corporation that owns many of the world's consumer product brands in foods, beverages, cleaning agents and personal care products....
as Knorr Sauerbraten (Pot Roast) recipe mix and from Alba Gewürze GmbH & Co. KG.
While sauerbraten is most traditionally eaten with beer, it does pair well with the following wine varietals:
Burgundy
Burgundy wine
Burgundy wine is wine made in the Burgundy region in eastern France, in the valleys and slopes west of the Saône River, a tributary of the Rhône. The most famous wines produced here - those commonly referred to as "Burgundies" - are red wines made from Pinot Noir grapes or white wines made from...
,
Cabernet Franc
Cabernet Franc
Cabernet Franc is one of the major black grape varieties worldwide. It is principally grown for blending with Cabernet Sauvignon and Merlot in the Bordeaux style, but can also be vinified alone - as in the Loire's Chinon...
,
Cabernet Sauvignon
Cabernet Sauvignon
Cabernet Sauvignon is one of the world's most widely recognized red wine grape varieties. It is grown in nearly every major wine producing country among a diverse spectrum of climates from Canada's Okanagan Valley to Lebanon's Beqaa Valley...
,
Gewürztraminer
Gewürztraminer
Gewürztraminer is an aromatic wine grape variety that performs best in cooler climates. It is sometimes referred to colloquially as Gewürz, and in French it is written '...
,
Pinot Noir
Pinot Noir
Pinot noir is a black wine grape variety of the species Vitis vinifera. The name may also refer to wines created predominantly from Pinot noir grapes...
,
Riesling
Riesling
Riesling is a white grape variety which originated in the Rhine region of Germany. Riesling is an aromatic grape variety displaying flowery, almost perfumed, aromas as well as high acidity. It is used to make dry, semi-sweet, sweet and sparkling white wines. Riesling wines are usually varietally...
, and
Shiraz
Shiraz
Shiraz may refer to:* Shiraz, Iran, a city in Iran* Shiraz County, an administrative subdivision of Iran* Vosketap, Armenia, formerly called ShirazPeople:* Hovhannes Shiraz, Armenian poet* Ara Shiraz, Armenian sculptor...
.
Venues
Sauerbraten was a staple at
Luchow's
Luchow's
Lüchow's was a restaurant located at 110 East 14th Street at Irving Place near Union Square in Manhattan, New York City, with the property running clear through the block to 13th Street...
German restaurant in New York City (1882–1982).