 Cepelinai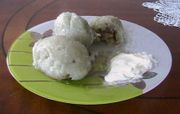 Cepelinai
or
Didžkukuliai
are a
Lithuania
Lithuania
Lithuania , officially the Republic of Lithuania is a country in Northern Europe, the biggest of the three Baltic states. It is situated along the southeastern shore of the Baltic Sea, whereby to the west lie Sweden and Denmark...
n national dish. They are a type of
dumpling
Dumpling
Dumplings are cooked balls of dough. They are based on flour, potatoes or bread, and may include meat, fish, vegetables, or sweets. They may be cooked by boiling, steaming, simmering, frying, or baking. They may have a filling, or there may be other ingredients mixed into the dough. Dumplings may...
made from grated
potato
Potato
The potato is a starchy, tuberous crop from the perennial Solanum tuberosum of the Solanaceae family . The word potato may refer to the plant itself as well as the edible tuber. In the region of the Andes, there are some other closely related cultivated potato species...
es and usually stuffed with minced meat, although sometimes dry
cottage cheese
Cottage cheese
Cottage cheese is a cheese curd product with a mild flavor. It is drained, but not pressed, so some whey remains and the individual curds remain loose. The curd is usually washed to remove acidity, giving sweet curd cheese. It is not aged or colored. Different styles of cottage cheese are made from...
(
curd
Curd
Curds are a dairy product obtained by curdling milk with rennet or an edible acidic substance such as lemon juice or vinegar, and then draining off the liquid portion. The increased acidity causes the milk proteins to tangle into solid masses, or curds. The remaining liquid, which contains only...
) or mushrooms are used instead.
So named because their shape resembles that of a
Zeppelin airship
Zeppelin
A Zeppelin is a type of rigid airship pioneered by the German Count Ferdinand von Zeppelin in the early 20th century. It was based on designs he had outlined in 1874 and detailed in 1893. His plans were reviewed by committee in 1894 and patented in the United States on 14 March 1899...
,
cepelinai
are typically around 10–20 cm long, although the size depends on where they are made: in the western counties of Lithuania
cepelinai
are made bigger than in the east.
After boiling, the
cepelinai
are served with
sour cream
Sour cream
Sour cream is a dairy product rich in fats obtained by fermenting a regular cream by certain kinds of lactic acid bacteria. The bacterial culture, which is introduced either deliberately or naturally, sours and thickens the cream. Its name stems from the production of lactic acid by bacterial...
sauce and
bacon
Bacon
Bacon is a cured meat prepared from a pig. It is first cured using large quantities of salt, either in a brine or in a dry packing; the result is fresh bacon . Fresh bacon may then be further dried for weeks or months in cold air, boiled, or smoked. Fresh and dried bacon must be cooked before eating...
or
pork rind
Pork rind
Pork rind , is the fried or roasted skin of a pig. Frying melts most of the fat from the pork rind...
s.
External links