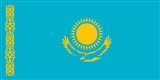 Kazakhstan
Kazakhstan
, officially the
Republic of Kazakhstan
, is a
transcontinental country
Transcontinental country
This is a list of countries spanning more than one continent, known as transcontinental states. While there are many countries with non-contiguous overseas territories fitting this definition, only a limited number of countries have territory spanning an overland continental...
in
Central Asia
Central Asia
Central Asia is a core region of the Asian continent from the Caspian Sea in the west, China in the east, Afghanistan in the south, and Russia in the north...
and
Eastern Europe
Eastern Europe
Eastern Europe is the eastern part of Europe. The term has widely disparate geopolitical, geographical, cultural and socioeconomic readings, which makes it highly context-dependent and even volatile, and there are "almost as many definitions of Eastern Europe as there are scholars of the region"...
. Ranked as the
ninth largest
country in the world, it is also the world's largest landlocked country; its territory of 2727300 square kilometres (1,053,016.4 sq mi) is greater than
Western Europe
Western Europe
Western Europe is a loose term for the collection of countries in the western most region of the European continents, though this definition is context-dependent and carries cultural and political connotations. One definition describes Western Europe as a geographic entity—the region lying in the...
. It is neighbored clockwise from the north by
Russia
Russia
Russia or , officially known as both Russia and the Russian Federation , is a country in northern Eurasia. It is a federal semi-presidential republic, comprising 83 federal subjects...
,
China
China
Chinese civilization may refer to:* China for more general discussion of the country.* Chinese culture* Greater China, the transnational community of ethnic Chinese.* History of China* Sinosphere, the area historically affected by Chinese culture...
,
Kyrgyzstan
Kyrgyzstan
Kyrgyzstan , officially the Kyrgyz Republic is one of the world's six independent Turkic states . Located in Central Asia, landlocked and mountainous, Kyrgyzstan is bordered by Kazakhstan to the north, Uzbekistan to the west, Tajikistan to the southwest and China to the east...
,
Uzbekistan
Uzbekistan
Uzbekistan , officially the Republic of Uzbekistan is a doubly landlocked country in Central Asia and one of the six independent Turkic states. It shares borders with Kazakhstan to the west and to the north, Kyrgyzstan and Tajikistan to the east, and Afghanistan and Turkmenistan to the south....
,
Turkmenistan
Turkmenistan
Turkmenistan , formerly also known as Turkmenia is one of the Turkic states in Central Asia. Until 1991, it was a constituent republic of the Soviet Union, the Turkmen Soviet Socialist Republic . Turkmenistan is one of the six independent Turkic states...
, and also borders on a significant part of the
Caspian Sea
Caspian Sea
The Caspian Sea is the largest enclosed body of water on Earth by area, variously classed as the world's largest lake or a full-fledged sea. The sea has a surface area of and a volume of...
.