 Pot-au-feu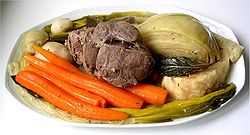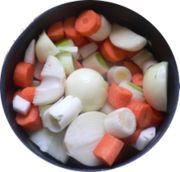 The
pot-au-feu
is a
French
France
The French Republic , The French Republic , The French Republic , (commonly known as France , is a unitary semi-presidential republic in Western Europe with several overseas territories and islands located on other continents and in the Indian, Pacific, and Atlantic oceans. Metropolitan France...
beef stew. According to
chef
Chef
A chef is a person who cooks professionally for other people. Although over time the term has come to describe any person who cooks for a living, traditionally it refers to a highly skilled professional who is proficient in all aspects of food preparation.-Etymology:The word "chef" is borrowed ...
Raymond Blanc
Raymond Blanc
Raymond Blanc OBE is a French chef, born in Besançon, France. Today he is one of the Britain's most respected chefs. Blanc is the owner and chef at Le Manoir aux Quat' Saisons, a hotel-restaurant in Great Milton, Oxfordshire, England. The restaurant has two Michelin stars and scored 9/10 in the...
, the pot-au feu is "the quintessence of French family cuisine, it is the most celebrated dish in France. It honours the tables of the rich and poor alike."
There are variations as to the cuts of beef and the vegetables involved, but a typical pot-au-feu contains:
low-cost cuts of beef that need long cooking;

usually some kind of cartilaginous

Cartilage

Cartilage is a flexible connective tissue found in many areas in the bodies of humans and other animals, including the joints between bones, the rib cage, the ear, the nose, the elbow, the knee, the ankle, the bronchial tubes and the intervertebral discs...


meat, such as oxtail

Oxtail

Oxtail is the culinary name for the tail of cattle. Formerly, it referred only to the tail of an ox or steer, a castrated male. An oxtail typically weighs 2 to 4 lbs. and is skinned and cut into short lengths for sale.Oxtail is a bony, gelatinous meat, and is usually slow-cooked, often stewed or...


and marrowbone

Bone marrow

Bone marrow is the flexible tissue found in the interior of bones. In humans, bone marrow in large bones produces new blood cells. On average, bone marrow constitutes 4% of the total body mass of humans; in adults weighing 65 kg , bone marrow accounts for approximately 2.6 kg...


;

sausage: such as a Morteau sausage, or other strongly flavoured, uncooked smoked sausage
vegetables: carrot

Carrot

The carrot is a root vegetable, usually orange in colour, though purple, red, white, and yellow varieties exist. It has a crisp texture when fresh...


s, turnip

Turnip

The turnip or white turnip is a root vegetable commonly grown in temperate climates worldwide for its white, bulbous taproot. Small, tender varieties are grown for human consumption, while larger varieties are grown as feed for livestock...


s, leeks, celery

Celery

Apium graveolens is a plant species in the family Apiaceae commonly known as celery or celeriac , depending on whether the petioles or roots are eaten: celery refers to the former and celeriac to the latter. Apium graveolens grows to 1 m tall...


, and onion

Onion

The onion , also known as the bulb onion, common onion and garden onion, is the most widely cultivated species of the genus Allium. The genus Allium also contains a number of other species variously referred to as onions and cultivated for food, such as the Japanese bunching onion The onion...


s;
spices: bouquet garni

Bouquet garni

The bouquet garni is a bundle of herbs usually tied together with string and mainly used to prepare soup, stock, and various stews. The bouquet is cooked with the other ingredients, but is removed prior to consumption....


, salt

Salt

In chemistry, salts are ionic compounds that result from the neutralization reaction of an acid and a base. They are composed of cations and anions so that the product is electrically neutral...


, black pepper

Black pepper

Black pepper is a flowering vine in the family Piperaceae, cultivated for its fruit, which is usually dried and used as a spice and seasoning. The fruit, known as a peppercorn when dried, is approximately in diameter, dark red when fully mature, and, like all drupes, contains a single seed...


and clove

Clove

Cloves are the aromatic dried flower buds of a tree in the family Myrtaceae. Cloves are native to the Maluku islands in Indonesia and used as a spice in cuisines all over the world...


s.
Cooking cartilaginous meat in the stew will result in
gelatin
Gelatin
Gelatin is a translucent, colorless, brittle , flavorless solid substance, derived from the collagen inside animals' skin and bones. It is commonly used as a gelling agent in food, pharmaceuticals, photography, and cosmetic manufacturing. Substances containing gelatin or functioning in a similar...
being dissolved into the broth. If the stew is allowed to cool, the broth may turn into a
jelly
Thickening agent
Thickening agents, or thickeners, is the term applied to substances which increase the viscosity of a solution or liquid/solid mixture without substantially modifying its other properties; although most frequently applied to foods where the target property is taste, the term also is applicable to...
, resulting in an interesting texture. Allowing the stew to cool also allows the removal of excess
fat
Fat
Fats consist of a wide group of compounds that are generally soluble in organic solvents and generally insoluble in water. Chemically, fats are triglycerides, triesters of glycerol and any of several fatty acids. Fats may be either solid or liquid at room temperature, depending on their structure...
, which floats on the surface and congeals.
The dish is often served with coarse
salt
Salt
In chemistry, salts are ionic compounds that result from the neutralization reaction of an acid and a base. They are composed of cations and anions so that the product is electrically neutral...
and strong
Dijon
Dijon
Dijon is a city in eastern France, the capital of the Côte-d'Or département and of the Burgundy region.Dijon is the historical capital of the region of Burgundy. Population : 151,576 within the city limits; 250,516 for the greater Dijon area....
mustard
Mustard (condiment)
Mustard is a condiment made from the seeds of a mustard plant...
and sometimes also with
gherkin
Gherkin
The gherkin is a fruit similar in form and nutritional value to a cucumber. Gherkins and cucumbers belong to the same species , but are from different cultivar groups....
s pickled in vinegar.
The pot-au-feu broth may be used as a
soup
Soup
Soup is a generally warm food that is made by combining ingredients such as meat and vegetables with stock, juice, water, or another liquid. Hot soups are additionally characterized by boiling solid ingredients in liquids in a pot until the flavors are extracted, forming a broth.Traditionally,...
(often enriched with
rice
Rice
Rice is the seed of the monocot plants Oryza sativa or Oryza glaberrima . As a cereal grain, it is the most important staple food for a large part of the world's human population, especially in East Asia, Southeast Asia, South Asia, the Middle East, and the West Indies...
,
pasta
Pasta
Pasta is a staple food of traditional Italian cuisine, now of worldwide renown. It takes the form of unleavened dough, made in Italy, mostly of durum wheat , water and sometimes eggs. Pasta comes in a variety of different shapes that serve for both decoration and to act as a carrier for the...
or toasted bread), as a base for
sauce
Sauce
In cooking, a sauce is liquid, creaming or semi-solid food served on or used in preparing other foods. Sauces are not normally consumed by themselves; they add flavor, moisture, and visual appeal to another dish. Sauce is a French word taken from the Latin salsus, meaning salted...
s, or for cooking vegetables or pasta. There are ready-to-use concentrated cubes to make what purports to be pot-au-feu broth when water is added.
A pot-au-feu could be a
continuous affair
Perpetual stew
A perpetual stew is a pot into which whatever one can find is placed and cooked. The pot is never emptied all the way, as ingredients are replenished as necessary. The concept is often a common element in descriptions of medieval inns. Perpetual stew can also be called a "hunter's stew".- Examples...
in the past, with new ingredients added as some is used; nowadays houses do not have a permanent fire in cold weather, and the dish is cooked for a specific meal.
Many countries have similar dishes with local ingredients.
See also
Eintopf

Eintopf

Eintopf is a traditional type of German stew which can consist of a great number of different ingredients. Technically, the term refers to a way of cooking all ingredients in one pot, not to any specific recipe....



Hot pot

Hot pot

Hot pot , less commonly Chinese fondue or steamboat, refers to several East Asian varieties of stew, consisting of a simmering metal pot of stock at the center of the dining table. While the hot pot is kept simmering, ingredients are placed into the pot and are cooked at the table...


(Steamboat)
New England boiled dinner

New England boiled dinner

New England boiled dinner is the basis of a traditional New England meal, consisting of corned beef or a smoked "picnic ham" shoulder, with cabbage and added vegetable items, often including potato, rutabaga, parsnip, carrot, white turnip and onion. When using a beef roast, this meal is often known...



Cocido
Oden

Oden

Oden is a Japanese winter dish consisting of several ingredients such as boiled eggs, daikon radish, konnyaku, and processed fish cakes stewed in a light, soy-flavoured dashi broth. Ingredients vary according to region and between each household...



Pho

PHO

PHO may refer to:* Primary Health Organisation* Potentially hazardous object, an asteroid or comet that could potentially collide with Earth...



Stew

Stew

A stew is a combination of solid food ingredients that have been cooked in liquid and served in the resultant gravy. Ingredients in a stew can include any combination of vegetables , meat, especially tougher meats suitable for slow-cooking, such as beef. Poultry, sausages, and seafood are also used...



Cozido à Portuguesa

Cozido à portuguesa

Cozido or cocido is one of the traditional dishes of Portuguese and Spanish cuisine. A stew made with different meats and vegetables, numerous regional variations exist throughout Portugal and Spain.-Portugal's cozido:...



Kig ha farz

Kig ha farz

Kig ha farz is a cooked dished consisting of various meats simmered in a broth with a buckwheat flour based pudding. It is eaten traditionally in Brittany, more specifically around Léon in the region situated west from Morlaix to Brest.. This dish, which is quite similar to a pot-au-feu, was once...



Jjigae

Jjigae

Jjigae is a Korean dish similar to a Western stew. There are many different varieties but it is typically made with meat, seafood or vegetables in a broth seasoned with gochujang, doenjang, ganjang or saeujeot. Jjigae is typically served in a communal dish and boiling hot.A Korean meal almost...



Pot roast