 Mohinga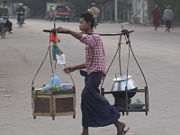 Mohinga
is
Rice noodles
Rice noodles
Rice noodles are noodles that are made from rice. Their principal ingredients are rice flour and water. However, sometimes other ingredients such as tapioca or corn starch are also added in order to improve the transparency or increase the gelatinous and chewy texture of the noodles.Rice noodles...
in fish soup and considered by many to be the national dish of Burma. It is readily available in most parts of the country. In major cities, street hawkers and roadside stalls sell dozens of dishes of mohinga to the locals and passers-by. Although mohinga is available throughout the day, it is usually eaten as
breakfast
Breakfast
Breakfast is the first meal taken after rising from a night's sleep, most often eaten in the early morning before undertaking the day's work...
.
Preparation
There are different varieties of mohinga in various regions of Burma such as
Rakhine
Rakhine State
Rakhine State is a Burmese state. Situated on the western coast, it is bordered by Chin State in the north, Magway Region, Bago Region and Ayeyarwady Region in the east, the Bay of Bengal to the west, and the Chittagong Division of Bangladesh to the northwest. It is located approximately between...
mohinga with more
fish paste
Ngapi
Ngapi is a generic term for pungent pastes made of either fish or shrimp in Myanmar. It is usually made from the fermentation of salted ground fish or shrimp, which is then sun dried. Ngapi is a main ingredient of Lower Burmese cooking, used as a condiment and additive in most dishes...
and less soup. Its ingredients depend on their availability. However, the standard dish comes from southern Burma, where fresh fish is more readily available. The main ingredients of mohinga are chickpea flour and/or crushed toasted rice,
garlic
Garlic
Allium sativum, commonly known as garlic, is a species in the onion genus, Allium. Its close relatives include the onion, shallot, leek, chive, and rakkyo. Dating back over 6,000 years, garlic is native to central Asia, and has long been a staple in the Mediterranean region, as well as a frequent...
, onions, lemongrass,
banana tree stem
Banana
Banana is the common name for herbaceous plants of the genus Musa and for the fruit they produce. Bananas come in a variety of sizes and colors when ripe, including yellow, purple, and red....
,
ginger
Ginger
Ginger is the rhizome of the plant Zingiber officinale, consumed as a delicacy, medicine, or spice. It lends its name to its genus and family . Other notable members of this plant family are turmeric, cardamom, and galangal....
, fish paste,
fish sauce
Fish sauce
Fish sauce is a condiment that is derived from fish that have been allowed to ferment. It is an essential ingredient in many curries and sauces. Fish sauce is a staple ingredient in numerous cultures in Southeast Asia and the coastal regions of East Asia, and features heavily in Thai and Vietnamese...
and
catfish
Catfish
Catfishes are a diverse group of ray-finned fish. Named for their prominent barbels, which resemble a cat's whiskers, catfish range in size and behavior from the heaviest and longest, the Mekong giant catfish from Southeast Asia and the second longest, the wels catfish of Eurasia, to detritivores...
in a rich broth cooked and kept on the boil in a cauldron. It is served with
rice vermicelli
Rice vermicelli
Rice vermicelli are thin noodles made from rice and are a form of rice noodles. They are sometimes referred to as rice noodles or rice sticks, but they should not be confused with cellophane noodles, which is another type of vermicelli....
, dressed and garnished with fish sauce, a squeeze of lime, crispfried onions,
coriander
Coriander
Coriander is an annual herb in the family Apiaceae. Coriander is native to southern Europe and North Africa to southwestern Asia. It is a soft, hairless plant growing to tall. The leaves are variable in shape, broadly lobed at the base of the plant, and slender and feathery higher on the...
, spring onions, crushed dried chilli and, as optional extras, crispy fried fritters such as split chickpeas (
pè gyaw
) , urad dal (
baya gyaw
) or gourd (
bu thee gyaw
) as well as boiled egg and fried
nga hpè
Notopteridae
The family Notopteridae contains eight species of osteoglossiform fishes, commonly known as featherbacks and knifefishes. They are small fishes living in freshwater or brackish environments in Africa and South-east Asia....
fish cake (Burmese: ငါးဖယ်ကြော်).
Availability
It is perhaps the most popular
breakfast
Breakfast
Breakfast is the first meal taken after rising from a night's sleep, most often eaten in the early morning before undertaking the day's work...
dish of all, now available as an "all-day breakfast" in many towns and cities. Mohinga is also served with all the trimmings at formal functions and nowadays it is also sold in dry packets as a ready-made powder that is used for making the broth. Street hawkers are the original purveyors of this popular dish doing the rounds through neighbourhoods where they have regular customers. They carry the soup cauldron on a stove on one side of a shoulder pole and rice vermicelli and other ingredients along with bowls and spoons on the other. It used to be available only early in the morning and at street
pwè
s or open air stage performances and
zat pwè
s or itinerant theatres at night. Trishaw peddlers began to appear in the 1960s and some of them set up pavement stalls making mohinga available all day. Finally cafes and restaurants also added mohinga to their menus.
External links