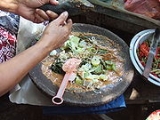 Gado-gado
Gado-gado
also called
Lotek
(in
Sundanese
Sundanese
The Sundanese are an ethnic group native to the western part of the Indonesian island of Java. They number approximately 31 million, and are the second most populous of all the nation's ethncities. The Sundanese are predominantly Muslim...
) for its cooked version - differed from
lotek atah or karedok

Karedok

Karedok is a raw vegetable salad in peanut sauce from West Java, Indonesia. It is one of the Sundanese signature dish. It is made from cucumbers, bean sprouts, cabbage, legumes, Thai basil, and small green eggplant, covered in peanut sauce dressing...



for its fresh and raw version of the vegetable covered with peanut sauce and
pecel
(
Javanese
Javanese language
Javanese language is the language of the Javanese people from the central and eastern parts of the island of Java, in Indonesia. In addition, there are also some pockets of Javanese speakers in the northern coast of western Java...
language) is an Indonesian dish comprising a vegetable salad served with a
peanut sauce
Peanut sauce
Peanut sauce, satay sauce, bumbu kacang, or sambal kacang is a sauce widely used in the cuisines of Indonesia, Malaysia, Thailand, Vietnam, China and Africa. It is also used, to a lesser extent, in European and Middle Eastern cuisine.-Ingredients:The main ingredient is ground roasted peanuts, for...
dressing. It is thought to have originally been a
Sundanese
Sundanese
The Sundanese are an ethnic group native to the western part of the Indonesian island of Java. They number approximately 31 million, and are the second most populous of all the nation's ethncities. The Sundanese are predominantly Muslim...
dish. It is widely served from hawkers carts, stalls (
warung
) as well as in restaurants and hotel both in
Indonesia
Indonesia
Indonesia , officially the Republic of Indonesia , is a country in Southeast Asia and Oceania. Indonesia is an archipelago comprising approximately 13,000 islands. It has 33 provinces with over 238 million people, and is the world's fourth most populous country. Indonesia is a republic, with an...
and worldwide.
Gado-gado is part of a wide range of Indonesian dressing & salad combinations, along with
lotek
,
pecel
and
karedok
. In many places, to retain authenticity in both the production and flavor, the peanut sauce is made in individual batches, in front of the customers. However, since the dish has gained popularity (because of the increase of Asian-themed restaurants) Gado-gado sauce is now mostly made ahead of time and cooked in bulk, although this is probably more common in Western restaurants rather than in Indonesia. Compared to Western and Indonesian salads, Gado-gado has much more sauce in it. Instead of being used as a light dressing, the vegetables should be well coated in the sauce.
Many stores now offer Gado-Gado dressing in dried blocks to which you simply add hot water, making it easier and cheaper to cook at home.
Vegetable salad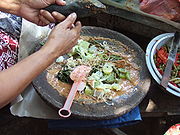 The exact composition of the vegetable salad varies, but usually comprises some form of mixture of
blanched - shredded, chopped, or sliced green vegetables (such as cabbage, kang-kung), bean sprouts, young boiled jack fruit, string bean, bitter melon

Bitter melon

Momordica charantia, called bitter melon or bitter gourd in English, is a tropical and subtropical vine of the family Cucurbitaceae, widely grown in Asia, Africa, and the Caribbean for its edible fruit, which is among the most bitter of all fruits...


, and corn

Maize

Maize known in many English-speaking countries as corn or mielie/mealie, is a grain domesticated by indigenous peoples in Mesoamerica in prehistoric times. The leafy stalk produces ears which contain seeds called kernels. Though technically a grain, maize kernels are used in cooking as a vegetable...


(outside of Indonesia, people improvise with whatever vegetables that are available).
uncooked - sliced cucumber

Cucumber

The cucumber is a widely cultivated plant in the gourd family Cucurbitaceae, which includes squash, and in the same genus as the muskmelon. The plant is a creeping vine which bears cylindrical edible fruit when ripe. There are three main varieties of cucumber: "slicing", "pickling", and...


and lettuce

Lettuce

Lettuce is a temperate annual or biennial plant of the daisy family Asteraceae. It is most often grown as a leaf vegetable. It is eaten either raw, notably in salads, sandwiches, hamburgers, tacos, and many other dishes, or cooked, as in Chinese cuisine in which the stem becomes just as important...


.
fried tofu

Tofu

is a food made by coagulating soy milk and then pressing the resulting curds into soft white blocks. It is part of East Asian and Southeast Asian cuisine such as Chinese, Japanese, Korean, Indonesian, Vietnamese, and others. There are many different varieties of tofu, including fresh tofu and tofu...


and tempeh

Tempeh

Tempeh , or tempe , is a traditional soy product originally from Indonesia. It is made by a natural culturing and controlled fermentation process that binds soybeans into a cake form, similar to a very firm vegetarian burger patty...


.
sliced boiled potatoes.
peeled and sliced boiled egg

Egg (food)

Eggs are laid by females of many different species, including birds, reptiles, amphibians, and fish, and have probably been eaten by mankind for millennia. Bird and reptile eggs consist of a protective eggshell, albumen , and vitellus , contained within various thin membranes...


s.
The authentic gado-gado does not have carrot and tomatoes. Only the aforementioned vegetables are added to the dish.
Peanut sauce dressing
What distinguishes gado-gado from a plain vegetable salad is the peanut sauce dressing, which is poured on top of the vegetable salad before serving. The composition of this peanut sauce varies as well. One may use a commercial Indonesian peanut sauce or satay sauce, or make the sauce oneself. For making the sauce, the common primary ingredients are as follows:
ground fried peanut

Peanut

The peanut, or groundnut , is a species in the legume or "bean" family , so it is not a nut. The peanut was probably first cultivated in the valleys of Peru. It is an annual herbaceous plant growing tall...


s (kidney beans may be substituted for a richer taste)
coconut sugar

Coconut sugar

Coconut sugar is a sugar produced from the sap of cut flower buds of coconuts. Coconut sugar has been used as a traditional sweetener for thousands of years in the South and SouthEast Asian regions where the coconut tree is in abundant supply. The world's largest producer of coconut is the...


/palm sugar

Palm sugar

Palm sugar was originally made from the sugary sap of the Palmyra palm, the date palm or sugar date palm . Now it is also made from the sap of the sago, arenga pinnata and coconut palms, and may be sold as "arenga sugar" or "coconut sugar".-Description:It is quickly gaining popularity in the...


(can substitute brown sugar

Brown sugar

Brown sugar is a sucrose sugar product with a distinctive brown color due to the presence of molasses. It is either an unrefined or partially refined soft sugar consisting of sugar crystals with some residual molasses content, or it is produced by the addition of molasses to refined white...


)
chillies

Chili pepper

Chili pepper is the fruit of plants from the genus Capsicum, members of the nightshade family, Solanaceae. The term in British English and in Australia, New Zealand, India, Malaysia and other Asian countries is just chilli without pepper.Chili peppers originated in the Americas...


(according to taste)
lime juice
terasi (dried shrimp paste)
tamarind

Tamarind

Tamarind is a tree in the family Fabaceae. The genus Tamarindus is monotypic .-Origin:...


water
water to dilute
Note the above is for Jakarta style gado-gado.
Gado-gado is always served with some kind of crackers, usually
tapioca
Tapioca
Tapioca is a starch extracted Manihot esculenta. This species, native to the Amazon, Brazil, Colombia, Venezuela, Cuba, Puerto Rico, Haiti, the Dominican Republic, Honduras, and most of the West Indies, is now cultivated worldwide and has many names, including cassava, manioc, aipim,...
crackers, or also with emping (Indonesian style fried crackers, which are made from
melinjo
). In Indonesia, Gado-gado is usually served with rice or
lontong
Lontong
Lontong is an Asian dish made of compressed rice wrapped inside banana leaf that is then cut into small cakes as staple food replacement of steamed rice...
(rice cake wrapped in
banana leaf
Banana leaf
Banana leaf is the leaf of the Banana plant. It is used for various functions, such as for decorative elements, wrappings, plate mat, and employed in cooking method....
).
External links