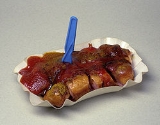 Currywurst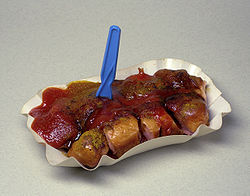 Currywurst
(ˈkœʁiˌvʊʁst) is a fast-food dish of German origin consisting of hot
pork
Pork
Pork is the culinary name for meat from the domestic pig , which is eaten in many countries. It is one of the most commonly consumed meats worldwide, with evidence of pig husbandry dating back to 5000 BC....
sausage
Sausage
A sausage is a food usually made from ground meat , mixed with salt, herbs, and other spices, although vegetarian sausages are available. The word sausage is derived from Old French saussiche, from the Latin word salsus, meaning salted.Typically, a sausage is formed in a casing traditionally made...
cut into slices and seasoned with
curry ketchup
Curry ketchup
Curry ketchup, curry gewürz ketchup or simply curry is a spiced variant on ketchup and a common sauce in Belgium, Germany and the Netherlands....
, regularly consisting of
ketchup
Ketchup
Ketchup is a sweet-and-tangy condiment typically made from tomatoes, vinegar, sugar or high-fructose corn syrup and an assortment of...
or
tomato paste
Tomato paste
Tomato paste is a thick paste that is made by cooking tomatoes for several hours to reduce moisture, straining them to remove the seeds and skin, and cooking them again to reduce them to a thick, rich concentrate...
blended with generous amounts of
curry powder
Curry powder
Curry powder is a mixture of spices of widely varying composition based on South Asian cuisine. Curry powder, and the contemporary English use of the word curry are Western inventions and do not reflect any specific Indian food, though a similar mixture of spices used in north India is called...
, or a ready-made ketchup-based sauce seasoned with curry and other spices. It is frequently served at German 'Imbissbuden' and from food trucks.
The invention of currywurst is attributed to
Herta Heuwer
Herta Heuwer
Herta Charlotte Heuwer invented the take-out dish that would become the world-renowned currywurst on September 4, 1949. The day before what would have been her 90th birthday, a plaque was dedicated in her honour on the corner of Kant and Kaiser Friedrich Streets, Berlin where she first produced...
in
Berlin
Berlin
Berlin is the capital city of Germany and is one of the 16 states of Germany. With a population of 3.45 million people, Berlin is Germany's largest city. It is the second most populous city proper and the seventh most populous urban area in the European Union...
in 1949 after she obtained ketchup,
Worcestershire sauce
Worcestershire sauce
Worcestershire sauce , or Worcester sauce is a fermented liquid condiment; primarily used to flavour meat or fish dishes.First made at 60 Broad Street, Worcester, England, by two dispensing chemists, John Wheeley Lea and William Henry Perrins, the Lea & Perrins brand was commercialised in 1837 and...
and curry powder from British soldiers. She mixed these ingredients with other spices and poured it over grilled pork sausage. Heuwer started selling the cheap but filling snack at a street stand in the
Charlottenburg
Charlottenburg
Charlottenburg is a locality of Berlin within the borough of Charlottenburg-Wilmersdorf, named after Queen consort Sophia Charlotte...
district of Berlin where it became popular with construction workers rebuilding the devastated city. She patented her sauce, called Chillup, in 1951. At its height the stand was selling 10,000 servings per week. She later opened a small restaurant which operated until 1974.
Today, currywurst is often sold as a
take-out/take-away food
Take-out
Take-out or takeout , carry-out , take-away , parcel , or tapau , is food purchased at a...
, Schnellimbisse (snacks), at
diner
Diner
A diner, also spelled dinor in western Pennsylvania is a prefabricated restaurant building characteristic of North America, especially in the Midwest, in New York City, in Pennsylvania and in New Jersey, and in other areas of the Northeastern United States, although examples can be found throughout...
s or "
greasy spoon
Greasy spoon
Greasy spoon is a colloquial or slang term originating in the United States to mean a small, especially cheap, archetypal working class restaurant or diner. The term is now used in many English speaking countries to mean the same thing...
s," on children's menus in
restaurant
Restaurant
A restaurant is an establishment which prepares and serves food and drink to customers in return for money. Meals are generally served and eaten on premises, but many restaurants also offer take-out and food delivery services...
s, or as a
street food
Street food
Street food is ready-to-eat food or drink sold in a street or other public place, such as a market or fair, by a hawker or vendor, often from a portable stall. While some street foods are regional, many are not, having spread beyond their region of origin. Most street food are both finger and fast...
. Usually served with
french fries
French fries
French fries , chips, fries, or French-fried potatoes are strips of deep-fried potato. North Americans tend to refer to any pieces of deep-fried potatoes as fries or French fries, while in the United Kingdom, Australia, Ireland and New Zealand, long, thinly cut slices of deep-fried potatoes are...
or
bread roll
Bread roll
A bread roll is a piece of bread, usually small and round and is commonly considered a side dish. Bread rolls are often used in the same way as sandwiches are—cut transversely, with fillings placed between the two halves.-Various forms:...
s (Brötchen), it is popular all over Germany but particularly popular in the metropolitan areas of Berlin,
Hamburg
Hamburg
-History:The first historic name for the city was, according to Claudius Ptolemy's reports, Treva.But the city takes its modern name, Hamburg, from the first permanent building on the site, a castle whose construction was ordered by the Emperor Charlemagne in AD 808...
and the
Ruhr Area
Ruhr Area
The Ruhr, by German-speaking geographers and historians more accurately called Ruhr district or Ruhr region , is an urban area in North Rhine-Westphalia, Germany. With 4435 km² and a population of some 5.2 million , it is the largest urban agglomeration in Germany...
. Considerable variation both in the type of sausage used and the ingredients of the sauce occurs between these areas. Common variations include the addition of
paprika
Paprika
Paprika is a spice made from the grinding of dried fruits of Capsicum annuum . In many European languages, the word paprika refers to bell peppers themselves. The seasoning is used in many cuisines to add color and flavor to dishes. Paprika can range from mild to hot...
or chopped onions. Often currywurst is sold in
food booth
Food booth
A food booth is generally a temporary structure used to prepare and sell food to the general public, usually where large groups of people are situated outdoors in a park, at a parade, near a stadium or otherwise...
s, sometimes using a special machine to slice it into pieces, and served on a paper plate with a little wooden or plastic fork. It is also sold as a
supermarket
Supermarket
A supermarket, a form of grocery store, is a self-service store offering a wide variety of food and household merchandise, organized into departments...
-shelf product to prepare at home.
An estimated 800 million servings are sold in Germany each year.
In popular culture
The currywurst is an icon of German popular culture. Former Chancellor
Gerhard Schröder
Gerhard Schröder
Gerhard Fritz Kurt Schröder is a German politician, and was Chancellor of Germany from 1998 to 2005. A member of the Social Democratic Party of Germany , he led a coalition government of the SPD and the Greens. Before becoming a full-time politician, he was a lawyer, and before becoming Chancellor...
is a noted fan of currywurst. By tradition, every candidate for Bürgermeister (mayor) of Berlin is photographed by a currywurst stand.
The song "Currywurst" on
Herbert Grönemeyer
Herbert Grönemeyer
Herbert Grönemeyer is a German musician and actor, popular in Germany, Austria and Switzerland. He starred as war correspondent Lieutenant Werner in Wolfgang Petersen's movie Das Boot, but later concentrated on his musical career...
's 1982 album
Total Egal
is a tribute to the snack.
The 1993 novel
Die Entdeckung der Currywurst
("The Discovery of the Currywurst") by
Uwe Timm
Uwe Timm
-Life and work:Uwe Timm was the youngest son in his family. His brother, 16 years his senior, was a soldier in the Waffen SS and died in Ukraine in 1943...
was made into a 2008 film of the same name. The plot is based on an alternative but unproven theory that currywurst was invented in
Hamburg
Hamburg
-History:The first historic name for the city was, according to Claudius Ptolemy's reports, Treva.But the city takes its modern name, Hamburg, from the first permanent building on the site, a castle whose construction was ordered by the Emperor Charlemagne in AD 808...
.
The Deutsches Currywurst Museum opened in Berlin on August 15, 2009, commemorating the 60th anniversary of its creation. Curator Martin Loewer said "No other national German dish inspires so much history and has so many well-known fans".
The currywurst is also regularly featured in school books and nursery books.
External links