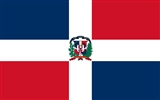 Dominican Republic
The
Dominican Republic
is a nation on the island of La Hispaniola, part of the
Greater Antilles
Greater Antilles
The Greater Antilles are one of three island groups in the Caribbean. Comprising Cuba, Jamaica, Hispaniola , and Puerto Rico, the Greater Antilles constitute almost 90% of the land mass of the entire West Indies.-Greater Antilles in context :The islands of the Caribbean Sea, collectively known as...
archipelago in the Caribbean region. The western third of the island is occupied by the nation of
Haiti
Haiti
Haiti , officially the Republic of Haiti , is a Caribbean country. It occupies the western, smaller portion of the island of Hispaniola, in the Greater Antillean archipelago, which it shares with the Dominican Republic. Ayiti was the indigenous Taíno or Amerindian name for the island...
, making Hispaniola one of two Caribbean islands that are
shared
by two countries. Both by area and population, the Dominican Republic is the second largest Caribbean nation (after
Cuba
Cuba
The Republic of Cuba is an island nation in the Caribbean. The nation of Cuba consists of the main island of Cuba, the Isla de la Juventud, and several archipelagos. Havana is the largest city in Cuba and the country's capital. Santiago de Cuba is the second largest city...
), with 48442 square kilometres (18,703.6 sq mi) and an estimated 10 million people.
Taíno
Taíno people
The Taínos were pre-Columbian inhabitants of the Bahamas, Greater Antilles, and the northern Lesser Antilles. It is thought that the seafaring Taínos are relatives of the Arawak people of South America...
s inhabited what is now the Dominican Republic since the 7th century.
1492 Christopher Columbus becomes the first European to set foot on the island of Hispaniola, now Haiti and the Dominican Republic.
1844 The Dominican Republic gains independence from Haiti.
1844 The first constitution of the Dominican Republic is adopted.
1865 Restoration Day in the Dominican Republic: The Dominican Republic regains its independence after 4 years of fighting against the Spanish Annexation.
1883 The first public performance of the Dominican Republic's national anthem, ''Himno Nacional''.
1922 In Washington D. C., Charles Evans Hughes signs the Hughes-Peynado agreement, that ends the occupation of Dominican Republic by the United States.
1924 American occupying forces leave the Dominican Republic.
1946 An earthquake of magnitude 8.0 hits northern Dominican Republic. 100 are killed and 20,000 are left homeless.
1959 A group of Dominican exiles with leftist tendencies that departed from Cuba land in the Dominican Republic with the intent of deposing Rafael Leónidas Trujillo Molina. Save for four of them, all are killed and/or executed by Trujillo's army.
1960 The Mirabal sisters of the Dominican Republic are assassinated.