 Tafelspitz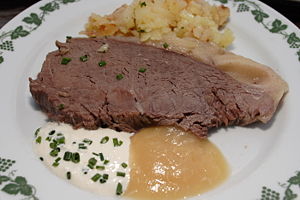 Tafelspitz
is boiled beef in
broth
Broth
Broth is a liquid food preparation, typically consisting of either water or an already flavored stock, in which bones, meat, fish, cereal grains, or vegetables have been simmered. Broth is used as a basis for other edible liquids such as soup, gravy, or sauce. It can be eaten alone or with garnish...
Viennese
Vienna
Vienna is the capital and largest city of the Republic of Austria and one of the nine states of Austria. Vienna is Austria's primary city, with a population of about 1.723 million , and is by far the largest city in Austria, as well as its cultural, economic, and political centre...
style.
The dish
Tafelspitz - boiled
tri-tip
Tri-tip
The tri-tip is a cut of beef from the bottom sirloin primal cut. It is a small triangular muscle, usually 1.5 to 2.5 lbs. per side of beef....
- is a typical
Austria
Austria
Austria , officially the Republic of Austria , is a landlocked country of roughly 8.4 million people in Central Europe. It is bordered by the Czech Republic and Germany to the north, Slovakia and Hungary to the east, Slovenia and Italy to the south, and Switzerland and Liechtenstein to the...
n dish. The beef is simmered along with
root vegetable
Root vegetable
Root vegetables are plant roots used as vegetables. Here "root" means any underground part of a plant.Root vegetables are generally storage organs, enlarged to store energy in the form of carbohydrates. They differ in the concentration and the balance between sugars, starches, and other types of...
s and spices in the broth. It is usually served with roasted slices of potato and a mix of minced apples and horseradish or sour cream mixed with horseradish.
Franz Joseph I
Franz Joseph I of Austria
Franz Joseph I or Francis Joseph I was Emperor of Austria, King of Bohemia, King of Croatia, Apostolic King of Hungary, King of Galicia and Lodomeria and Grand Duke of Cracow from 1848 until his death in 1916.In the December of 1848, Emperor Ferdinand I of Austria abdicated the throne as part of...
,
Emperor
Emperor
An emperor is a monarch, usually the sovereign ruler of an empire or another type of imperial realm. Empress, the female equivalent, may indicate an emperor's wife or a woman who rules in her own right...
of Austria, was a great lover of Tafelspitz. According to the 1912 official cookery textbook used in domestic science schools of the Austro-Hungarian Empire, "His Majesty's private table is never without a fine piece of boiled beef, which is one of his favorite dishes."
Tafelspitz is considered to be the national dish of Austria.
The cut
Tafelspitz is the name of the
meat
Meat
Meat is animal flesh that is used as food. Most often, this means the skeletal muscle and associated fat and other tissues, but it may also describe other edible tissues such as organs and offal...
cut which is used, usually from a young
ox
Ox
An ox , also known as a bullock in Australia, New Zealand and India, is a bovine trained as a draft animal. Oxen are commonly castrated adult male cattle; castration makes the animals more tractable...
. The meat for Tafelspitz is well-aged pieces of beef, a cut of beef from the bottom sirloin primal cut. This cut is typically known in the
United States
United States
The United States of America is a federal constitutional republic comprising fifty states and a federal district...
as the
tri-tip
Tri-tip
The tri-tip is a cut of beef from the bottom sirloin primal cut. It is a small triangular muscle, usually 1.5 to 2.5 lbs. per side of beef....
.
Austrian
butcher
Butcher
A butcher is a person who may slaughter animals, dress their flesh, sell their meat or any combination of these three tasks. They may prepare standard cuts of meat, poultry, fish and shellfish for sale in retail or wholesale food establishments...
s gave almost every muscle of beef a separate name. The hind leg alone is parted into 16 cuts: there is for example the
Hueferscherzl, Hueferschwanzl, Nuss, Wadlstutzen, Gschnatter, Schwarzes Scherzl, Weisses Scherzl, Duennes Kuegerl, Schalblattel
also called
Fledermaus
Alternatively, a similar cut of beef from a young ox, properly hung, with firm white fat (not yellow). The fat can be left on to prevent the meat from becoming dry.
External links