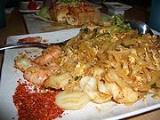 Pad Thai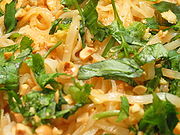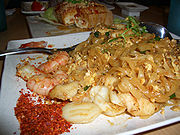 Pad Thai
or
Phat Thai
is a dish of stir-fried
rice noodles
Rice noodles
Rice noodles are noodles that are made from rice. Their principal ingredients are rice flour and water. However, sometimes other ingredients such as tapioca or corn starch are also added in order to improve the transparency or increase the gelatinous and chewy texture of the noodles.Rice noodles...
with
eggs
Egg (food)
Eggs are laid by females of many different species, including birds, reptiles, amphibians, and fish, and have probably been eaten by mankind for millennia. Bird and reptile eggs consist of a protective eggshell, albumen , and vitellus , contained within various thin membranes...
,
fish sauce
Fish sauce
Fish sauce is a condiment that is derived from fish that have been allowed to ferment. It is an essential ingredient in many curries and sauces. Fish sauce is a staple ingredient in numerous cultures in Southeast Asia and the coastal regions of East Asia, and features heavily in Thai and Vietnamese...
,
tamarind
Tamarind
Tamarind is a tree in the family Fabaceae. The genus Tamarindus is monotypic .-Origin:...
juice, red chilli pepper, plus any combination of bean sprouts,
shrimp
Shrimp
Shrimp are swimming, decapod crustaceans classified in the infraorder Caridea, found widely around the world in both fresh and salt water. Adult shrimp are filter feeding benthic animals living close to the bottom. They can live in schools and can swim rapidly backwards. Shrimp are an important...
,
chicken
Chicken (food)
Chicken is the most common type of poultry in the world, and is prepared as food in a wide variety of ways, varying by region and culture.- History :...
, or
tofu
Tofu
is a food made by coagulating soy milk and then pressing the resulting curds into soft white blocks. It is part of East Asian and Southeast Asian cuisine such as Chinese, Japanese, Korean, Indonesian, Vietnamese, and others. There are many different varieties of tofu, including fresh tofu and tofu...
, garnished with crushed
peanut
Peanut
The peanut, or groundnut , is a species in the legume or "bean" family , so it is not a nut. The peanut was probably first cultivated in the valleys of Peru. It is an annual herbaceous plant growing tall...
s,
coriander
Coriander
Coriander is an annual herb in the family Apiaceae. Coriander is native to southern Europe and North Africa to southwestern Asia. It is a soft, hairless plant growing to tall. The leaves are variable in shape, broadly lobed at the base of the plant, and slender and feathery higher on the...
and
lime
Lime (fruit)
Lime is a term referring to a number of different citrus fruits, both species and hybrids, which are typically round, green to yellow in color, 3–6 cm in diameter, and containing sour and acidic pulp. Limes are a good source of vitamin C. Limes are often used to accent the flavors of foods and...
, the
juice
Juice
Juice is the liquid that is naturally contained in fruit or vegetable tissue.Juice is prepared by mechanically squeezing or macerating fruit or vegetable flesh without the application of heat or solvents. For example, orange juice is the liquid extract of the fruit of the orange tree...
of which can be added along with Thai
condiment
Condiment
A condiment is an edible substance, such as sauce or seasoning, added to food to impart a particular flavor, enhance its flavor, or in some cultures, to complement the dish. Many condiments are available packaged in single-serving sachets , like mustard or ketchup, particularly when supplied with...
s (crushed peanuts, garlic chives, pickled turnip, cilantro, lime, spicy chili oil, chili powder, vinegar, fish sauce, sugar). It is usually served with
scallion
Scallion
Scallions , are the edible plants of various Allium species, all of which are "onion-like", having hollow green leaves and lacking a fully developed root bulb.-Etymology:The words...
s and pieces of raw banana flower.
It is listed at number 5 on World's 50 most delicious foods readers' poll compiled by CNN Go in 2011.
History
The dish had been known in ancient Siam in various forms for centuries. The variant of noodle was brought to the ancient Thai capital of
Ayuthaya
Ayutthaya (city)
Ayutthaya city is the capital of Ayutthaya province in Thailand. Located in the valley of the Chao Phraya River. The city was founded in 1350 by King U Thong, who went there to escape a smallpox outbreak in Lop Buri and proclaimed it the capital of his kingdom, often referred to as the Ayutthaya...
by Vietnamese traders. However, it was first made popular as a national dish by Luang Phibunsongkhram when he was
prime minister
Prime minister
A prime minister is the most senior minister of cabinet in the executive branch of government in a parliamentary system. In many systems, the prime minister selects and may dismiss other members of the cabinet, and allocates posts to members within the government. In most systems, the prime...
during the 1930s and 1940s, partly as an element of his campaign for Thai nationalism and centralization, and partly for a campaign to reduce rice consumption in Thailand. The Thai economy at this time was heavily dependent on rice exports; Phibunsongkhram hoped to increase the amount available for export by launching a campaign to educate the poor in the production of rice noodles, as well as in the preparation of these noodles with other ingredients to sell in small cafes and from street carts.
Nowadays Pad Thai has become a widespread staple food and is one of
Thailand
Thailand
Thailand , officially the Kingdom of Thailand , formerly known as Siam , is a country located at the centre of the Indochina peninsula and Southeast Asia. It is bordered to the north by Burma and Laos, to the east by Laos and Cambodia, to the south by the Gulf of Thailand and Malaysia, and to the...
's
national dish
National dish
A national dish is a dish, food or a drink that is considered to represent a particular country, nation or region.A dish can become a national dish for a variety of reasons. It can be the national dish because it is a staple daily food for the majority of the population. It can also be the national...
es