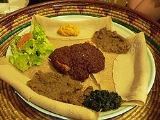 Injera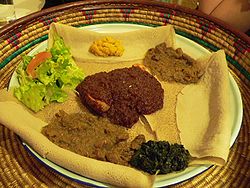 Injera
is a
yeast
Yeast
Yeasts are eukaryotic micro-organisms classified in the kingdom Fungi, with 1,500 species currently described estimated to be only 1% of all fungal species. Most reproduce asexually by mitosis, and many do so by an asymmetric division process called budding...
-risen
flatbread
Flatbread
A flatbread is a simple bread made with flour, water, and salt and then thoroughly rolled into flattened dough. Many flatbreads are unleavened: made without yeast or sourdough culture: although some flatbread is made with yeast, such as pita bread....
with a unique, slightly spongy texture. Traditionally made out of
teff
Teff
Eragrostis tef, known as teff, taf , or khak shir , is an annual grass, a species of lovegrass native to the northern Ethiopian Highlands of Northeast Africa....
flour
Flour
Flour is a powder which is made by grinding cereal grains, other seeds or roots . It is the main ingredient of bread, which is a staple food for many cultures, making the availability of adequate supplies of flour a major economic and political issue at various times throughout history...
, it is a national dish in
Ethiopia
Ethiopia
Ethiopia , officially known as the Federal Democratic Republic of Ethiopia, is a country located in the Horn of Africa. It is the second-most populous nation in Africa, with over 82 million inhabitants, and the tenth-largest by area, occupying 1,100,000 km2...
and
Eritrea
Eritrea
Eritrea , officially the State of Eritrea, is a country in the Horn of Africa. Eritrea derives it's name from the Greek word Erethria, meaning 'red land'. The capital is Asmara. It is bordered by Sudan in the west, Ethiopia in the south, and Djibouti in the southeast...
. A similar variant is eaten in
Somalia
Somalia
Somalia , officially the Somali Republic and formerly known as the Somali Democratic Republic under Socialist rule, is a country located in the Horn of Africa. Since the outbreak of the Somali Civil War in 1991 there has been no central government control over most of the country's territory...
(where it is called
canjeero
or
lahooh
) and
Yemen
Yemen
The Republic of Yemen , commonly known as Yemen , is a country located in the Middle East, occupying the southwestern to southern end of the Arabian Peninsula. It is bordered by Saudi Arabia to the north, the Red Sea to the west, and Oman to the east....
(where it is known as
lahoh
).
Ingredients and cooking method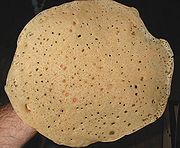 The most valued
grain
Cereal
Cereals are grasses cultivated for the edible components of their grain , composed of the endosperm, germ, and bran...
used to make injera is from the tiny, iron-rich
teff
Teff
Eragrostis tef, known as teff, taf , or khak shir , is an annual grass, a species of lovegrass native to the northern Ethiopian Highlands of Northeast Africa....
. However, its production is limited to certain middle elevations and regions with adequate rainfall, so it is relatively expensive for the average household. Because the overwhelming majority of highland Ethiopians are poor farming households that grow their own subsistence grain,
wheat
Wheat
Wheat is a cereal grain, originally from the Levant region of the Near East, but now cultivated worldwide. In 2007 world production of wheat was 607 million tons, making it the third most-produced cereal after maize and rice...
,
barley
Barley
Barley is a major cereal grain, a member of the grass family. It serves as a major animal fodder, as a base malt for beer and certain distilled beverages, and as a component of various health foods...
,
corn
Maize
Maize known in many English-speaking countries as corn or mielie/mealie, is a grain domesticated by indigenous peoples in Mesoamerica in prehistoric times. The leafy stalk produces ears which contain seeds called kernels. Though technically a grain, maize kernels are used in cooking as a vegetable...
, and/or
rice
Rice
Rice is the seed of the monocot plants Oryza sativa or Oryza glaberrima . As a cereal grain, it is the most important staple food for a large part of the world's human population, especially in East Asia, Southeast Asia, South Asia, the Middle East, and the West Indies...
flour are sometimes used to replace some or all of the teff content. There are also different varieties of injera in Ethiopia, such as
nech
(white),
kay
(red) and
tikur
(black).
In making injera, teff flour is mixed with water and allowed to
ferment
Fermentation (food)
Fermentation in food processing typically is the conversion of carbohydrates to alcohols and carbon dioxide or organic acids using yeasts, bacteria, or a combination thereof, under anaerobic conditions. Fermentation in simple terms is the chemical conversion of sugars into ethanol...
for several days, as with
sourdough
Sourdough
Sourdough is a dough containing a Lactobacillus culture, usually in symbiotic combination with yeasts. It is one of two principal means of biological leavening in bread baking, along with the use of cultivated forms of yeast . It is of particular importance in baking rye-based breads, where yeast...
starter
Bread starter
A pre-ferment is a fermentation starter used in bread making, and is referred to as an indirect method. It may also be called mother dough....
. As a result of this process, injera has a mildly sour taste. The injera is then ready to
bake
Baking
Baking is the technique of prolonged cooking of food by dry heat acting by convection, and not by radiation, normally in an oven, but also in hot ashes, or on hot stones. It is primarily used for the preparation of bread, cakes, pastries and pies, tarts, quiches, cookies and crackers. Such items...
into large flat pancakes, done either on a specialized electric stove or, more commonly, on a clay plate (Amharic
mittad
, Tigrinya
mogogo
) placed over a fire. Unusual for a yeast bread, the dough has sufficient liquidity to be poured onto the baking surface, rather than rolled out. In terms of shape, injera compares to the French
crêpe
Crêpe
A crêpe or crepe , is a type of very thin pancake, usually made from wheat flour or buckwheat flour . The word is of French origin, deriving from the Latin crispa, meaning "curled". While crêpes originate from Brittany, a region in the northwest of France, their consumption is widespread in France...
and the South Indian dosai as a
flatbread
Flatbread
A flatbread is a simple bread made with flour, water, and salt and then thoroughly rolled into flattened dough. Many flatbreads are unleavened: made without yeast or sourdough culture: although some flatbread is made with yeast, such as pita bread....
cooked in a circle and used as a base for other foods. The taste and texture, however, are unique and unlike the crêpe and dosai. The bottom surface of the injera, which touches the heating surface, will have a relatively smooth texture, while the top will become porous. This porous structure allows the injera to be a good bread to scoop up sauces and dishes.
Consumption
In Eritrea & Ethiopia, a variety of
stew
Stew
A stew is a combination of solid food ingredients that have been cooked in liquid and served in the resultant gravy. Ingredients in a stew can include any combination of vegetables , meat, especially tougher meats suitable for slow-cooking, such as beef. Poultry, sausages, and seafood are also used...
s, sometimes
salad
Salad
Salad is any of a wide variety of dishes, including vegetable salads; salads of pasta, legumes, eggs, or grains; mixed salads incorporating meat, poultry, or seafood; and fruit salads. They may include a mixture of cold and hot, often including raw vegetables or fruits.Green salads include leaf...
s (during
Ethiopian Orthodox
Ethiopian Orthodox Tewahedo Church
The Ethiopian Orthodox Tewahedo Church is the predominant Oriental Orthodox Christian church in Ethiopia. The Ethiopian Church was administratively part of the Coptic Orthodox Church until 1959, when it was granted its own Patriarch by Coptic Orthodox Pope of Alexandria and Patriarch of All...
fasting
Fasting
Fasting is primarily the act of willingly abstaining from some or all food, drink, or both, for a period of time. An absolute fast is normally defined as abstinence from all food and liquid for a defined period, usually a single day , or several days. Other fasts may be only partially restrictive,...
, for which believers abstain from most animal products) or simply more injera (called
injera firfir
), are placed upon the injera for serving. Using one's right hand, small pieces of injera are torn and used to grasp the stews and salads for eating. The injera under these stews soaks up the juices and flavours of the foods and, after the stews and salads are gone, this bread is also consumed. Injera is thus simultaneously food, eating utensil, and
plate
Plate (dishware)
A plate is a broad, concave, but mainly flat vessel on which food can be served. A plate can also be used for ceremonial or decorative purposes.-Materials:...
. When the entire "tablecloth" of injera is gone, the meal is over.
In Somalia, at lunch (referred to as
qaddo
), the main meal of the day, injera might also be eaten with a stew (
maraq
) or soup.
Contemporary use
In Eritrea and Ethiopia, injera is eaten daily in virtually every household. Preparing injera requires considerable time and resources. The bread is cooked on a large, black, clay plate over a fire. This set-up is a stove called a
mitad
(in Amharic) or
mogogo
(in Tigrinya), which is difficult to use, produces large amounts of smoke, and can be dangerous to children. Because of this inefficient cooking method, much of the area's limited fuel resources are wasted. However in 2003, a research group was given the Ashden award for designing a new type of stove for cooking injera. The new stove uses available fuel sources (including dung, locally called
kubet
) for cooking injera and other foods efficiently, saving the heat from the fuel. Several parts are made in the central cities of each country, while other parts are molded from clay by women of local areas.
Outside of the Ethiopian and Eritrean Plateau, injera may be found in
groceries
Grocery store
A grocery store is a store that retails food. A grocer, the owner of a grocery store, stocks different kinds of foods from assorted places and cultures, and sells these "groceries" to customers. Large grocery stores that stock products other than food, such as clothing or household items, are...
and
restaurant
Restaurant
A restaurant is an establishment which prepares and serves food and drink to customers in return for money. Meals are generally served and eaten on premises, but many restaurants also offer take-out and food delivery services...
s specializing in Eritrean,
Ethiopian
Cuisine of Ethiopia
Ethiopian cuisine and Eritrean cuisine characteristically consist of spicy vegetable and meat dishes, usually in the form of wat , a thick stew, served atop injera, a large sourdough flatbread, which is about 50 centimeters in diameter and made out of fermented teff flour...
, or Somali foods.
See also
External links