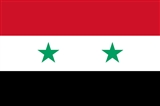 Syria
Syria
(ˈsɪriə ; or ; ; ), officially the
Syrian Arab Republic
( ), is a country in Western Asia, bordering
Lebanon
Lebanon
Lebanon , officially the Republic of LebanonRepublic of Lebanon is the most common term used by Lebanese government agencies. The term Lebanese Republic, a literal translation of the official Arabic and French names that is not used in today's world. Arabic is the most common language spoken among...
and the
Mediterranean Sea
Mediterranean Sea
The Mediterranean Sea is a sea connected to the Atlantic Ocean surrounded by the Mediterranean region and almost completely enclosed by land: on the north by Anatolia and Europe, on the south by North Africa, and on the east by the Levant...
to the West,
Turkey
Turkey
Turkey , known officially as the Republic of Turkey , is a Eurasian country located in Western Asia and in East Thrace in Southeastern Europe...
to the north,
Iraq
Iraq
Iraq ; officially the Republic of Iraq is a country in Western Asia spanning most of the northwestern end of the Zagros mountain range, the eastern part of the Syrian Desert and the northern part of the Arabian Desert....
to the east,
Jordan
Jordan
Jordan , officially the Hashemite Kingdom of Jordan , Al-Mamlaka al-Urduniyya al-Hashemiyya) is a kingdom on the East Bank of the River Jordan. The country borders Saudi Arabia to the east and south-east, Iraq to the north-east, Syria to the north and the West Bank and Israel to the west, sharing...
to the south, and
Israel
Israel
The State of Israel is a parliamentary republic located in the Middle East, along the eastern shore of the Mediterranean Sea...
to the southwest.
In English, the name
Syria
was formerly synonymous with the
Levant
Levant
The Levant or ) is the geographic region and culture zone of the "eastern Mediterranean littoral between Anatolia and Egypt" . The Levant includes most of modern Lebanon, Syria, Jordan, Israel, the Palestinian territories, and sometimes parts of Turkey and Iraq, and corresponds roughly to the...
, known in Arabic as
Sham
, while the modern state encompasses the sites of several ancient kingdoms and empires, including the
Ebla
Ebla
Ebla Idlib Governorate, Syria) was an ancient city about southwest of Aleppo. It was an important city-state in two periods, first in the late third millennium BC, then again between 1800 and 1650 BC....
n civilization of the third millennium BC.