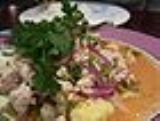 Larb
Larb
is a type of Laotian and
Isan
Isan
Isan is the northeastern region of Thailand. It is located on the Khorat Plateau, bordered by the Mekong River to the north and east, by Cambodia to the southeast and the Prachinburi mountains south of Nakhon Ratchasima...
(Northeast
Thailand
Thailand
Thailand , officially the Kingdom of Thailand , formerly known as Siam , is a country located at the centre of the Indochina peninsula and Southeast Asia. It is bordered to the north by Burma and Laos, to the east by Laos and Cambodia, to the south by the Gulf of Thailand and Malaysia, and to the...
) meat salad that is regarded as the national dish of
Laos
Laos
Laos Lao: ສາທາລະນະລັດ ປະຊາທິປະໄຕ ປະຊາຊົນລາວ Sathalanalat Paxathipatai Paxaxon Lao, officially the Lao People's Democratic Republic, is a landlocked country in Southeast Asia, bordered by Burma and China to the northwest, Vietnam to the east, Cambodia to the south and Thailand to the west...
. Larb is a creation of the
Lao people
Lao people
The Lao are an ethnic subgroup of Tai/Dai in Southeast Asia.-Names:The etymology of the word Lao is uncertain, although it may be related to tribes known as the Ai Lao who appear in Han Dynasty records in China and Vietnam as a people of what is now Yunan Province...
, with 20 million living in the Isan region of Thailand, and 4.5 million in Laos. Larb originated in Laos and is one of the most famous dishes from Laos. Since larb is eaten all over Laos, including the southern half of Laos, which formerly included present-day Isan region of Thailand, published books regarding Southeast Asian cuisines generally refer to larb as simply a Lao-style (Laotian-style) salad.
Types of larb
Larb is most often made with
chicken
Chicken
The chicken is a domesticated fowl, a subspecies of the Red Junglefowl. As one of the most common and widespread domestic animals, and with a population of more than 24 billion in 2003, there are more chickens in the world than any other species of bird...
,
beef
Beef
Beef is the culinary name for meat from bovines, especially domestic cattle. Beef can be harvested from cows, bulls, heifers or steers. It is one of the principal meats used in the cuisine of the Middle East , Australia, Argentina, Brazil, Europe and the United States, and is also important in...
,
duck
Duck
Duck is the common name for a large number of species in the Anatidae family of birds, which also includes swans and geese. The ducks are divided among several subfamilies in the Anatidae family; they do not represent a monophyletic group but a form taxon, since swans and geese are not considered...
,
turkey
Turkey
Turkey , known officially as the Republic of Turkey , is a Eurasian country located in Western Asia and in East Thrace in Southeastern Europe...
,
pork
Pork
Pork is the culinary name for meat from the domestic pig , which is eaten in many countries. It is one of the most commonly consumed meats worldwide, with evidence of pig husbandry dating back to 5000 BC....
or even
fish
Fish
Fish are a paraphyletic group of organisms that consist of all gill-bearing aquatic vertebrate animals that lack limbs with digits. Included in this definition are the living hagfish, lampreys, and cartilaginous and bony fish, as well as various extinct related groups...
, flavored with
fish sauce
Fish sauce
Fish sauce is a condiment that is derived from fish that have been allowed to ferment. It is an essential ingredient in many curries and sauces. Fish sauce is a staple ingredient in numerous cultures in Southeast Asia and the coastal regions of East Asia, and features heavily in Thai and Vietnamese...
,
lime
Lime (fruit)
Lime is a term referring to a number of different citrus fruits, both species and hybrids, which are typically round, green to yellow in color, 3–6 cm in diameter, and containing sour and acidic pulp. Limes are a good source of vitamin C. Limes are often used to accent the flavors of foods and...
juice and fresh herbs. The meat can be either raw or cooked; it is
mince
Mince
Mińce is a village in the administrative district of Gmina Choroszcz, within Białystok County, Podlaskie Voivodeship, in north-eastern Poland....
d and mixed with chilli,
mint
Mentha
Mentha is a genus of flowering plants in the family Lamiaceae . The species are not clearly distinct and estimates of the number of species varies from 13 to 18. Hybridization between some of the species occurs naturally...
and, optionally, assorted
vegetable
Vegetable
The noun vegetable usually means an edible plant or part of a plant other than a sweet fruit or seed. This typically means the leaf, stem, or root of a plant....
s. Roughly ground toasted rice (
khao khua
) is also a very important component of the dish. The dish is served at room temperature and usually with a serving of sticky rice and raw vegetables. Fresh Thai holy basil (
bai kraphao
) is also one of the standard accompaniments for larb in Thailand.
There are several kinds of larb from
Northern Thailand
Northern Thailand
Thailand's northern region is geographically characterised by multiple mountain ranges which continue from the Shan Hills in bordering Myanmar and Laos, and the river valleys which cut through them...
which do not use lime or fish sauce, but rather other local condiments for flavor and seasoning. "Larb pla" is a kind of larb which is made of minced fish mixed with spices. There is also a kind of larb called
lu
, which is made of minced raw beef or pork mixed with blood, bile and spices. Lu is usually eaten with vegetables and often served with
beer
Beer
Beer is the world's most widely consumed andprobably oldest alcoholic beverage; it is the third most popular drink overall, after water and tea. It is produced by the brewing and fermentation of sugars, mainly derived from malted cereal grains, most commonly malted barley and malted wheat...
or the local moonshine called
lao khao
.
Nam tok
Nam tok is a Lao and Thai word meaning
waterfall
Waterfall
A waterfall is a place where flowing water rapidly drops in elevation as it flows over a steep region or a cliff.-Formation:Waterfalls are commonly formed when a river is young. At these times the channel is often narrow and deep. When the river courses over resistant bedrock, erosion happens...
. It refers to a popular Laotian and
Isan
Isan
Isan is the northeastern region of Thailand. It is located on the Khorat Plateau, bordered by the Mekong River to the north and east, by Cambodia to the southeast and the Prachinburi mountains south of Nakhon Ratchasima...
(northeastern Thai) meat dish commonly known as
Ping Sin Nam Tok
(Laos) or
Nuea Yang Nam Tok
(Thailand) meaning "Grilled Waterfall Beef". This dish can be regarded as a variation on larb, however the meat used in nam tok is sliced instead of using ground beef as is the case with larb. It can also be made with pork and it is then called
mu nam tok
. In the modern quick version the meat is not grilled and then sliced but first sliced and then boiled or fried for a very short time. The name is derived either from the dripping of the meat juices during the grilling or from the juices running out of the
medium rare
Medium Rare
The Medium is Singapore's first full-length English language film. It was released in local cinemas in late 1991 and produced by Singaporean Errol Pang. It was initially supposed to be directed by a Singaporean, Tony Yeow, then by an American, Stan Barret, and finally by Arthur Smith, who was...
beef as it is sliced.