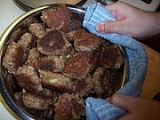 Frikadeller
Frikadeller
are flat, pan-fried dumplings of minced meat, often likened to the
Danish
Danish language
Danish is a North Germanic language spoken by around six million people, principally in the country of Denmark. It is also spoken by 50,000 Germans of Danish ethnicity in the northern parts of Schleswig-Holstein, Germany, where it holds the status of minority language...
version of
meatball
Meatball
A meatball is made from an amount of ground meat rolled into a small ball, sometimes along with other ingredients, such as breadcrumbs, minced onion, spices, and possibly eggs...
s. They are a popular dish in
Germany
Germany
Germany , officially the Federal Republic of Germany , is a federal parliamentary republic in Europe. The country consists of 16 states while the capital and largest city is Berlin. Germany covers an area of 357,021 km2 and has a largely temperate seasonal climate...
, where they are known as
Frikadellen
,
Denmark
Denmark
Denmark is a Scandinavian country in Northern Europe. The countries of Denmark and Greenland, as well as the Faroe Islands, constitute the Kingdom of Denmark . It is the southernmost of the Nordic countries, southwest of Sweden and south of Norway, and bordered to the south by Germany. Denmark...
, the
Faroe Islands
Faroe Islands
The Faroe Islands are an island group situated between the Norwegian Sea and the North Atlantic Ocean, approximately halfway between Scotland and Iceland. The Faroe Islands are a self-governing territory within the Kingdom of Denmark, along with Denmark proper and Greenland...
,
Norway
Norway
Norway , officially the Kingdom of Norway, is a Nordic unitary constitutional monarchy whose territory comprises the western portion of the Scandinavian Peninsula, Jan Mayen, and the Arctic archipelago of Svalbard and Bouvet Island. Norway has a total area of and a population of about 4.9 million...
,
Poland
Poland
Poland , officially the Republic of Poland , is a country in Central Europe bordered by Germany to the west; the Czech Republic and Slovakia to the south; Ukraine, Belarus and Lithuania to the east; and the Baltic Sea and Kaliningrad Oblast, a Russian exclave, to the north...
,
Russia
Russia
Russia or , officially known as both Russia and the Russian Federation , is a country in northern Eurasia. It is a federal semi-presidential republic, comprising 83 federal subjects...
,
Ukraine
Ukraine
Ukraine is a country in Eastern Europe. It has an area of 603,628 km², making it the second largest contiguous country on the European continent, after Russia...
and the
Netherlands
Netherlands
The Netherlands is a constituent country of the Kingdom of the Netherlands, located mainly in North-West Europe and with several islands in the Caribbean. Mainland Netherlands borders the North Sea to the north and west, Belgium to the south, and Germany to the east, and shares maritime borders...
. In
Sweden
Sweden
Sweden , officially the Kingdom of Sweden , is a Nordic country on the Scandinavian Peninsula in Northern Europe. Sweden borders with Norway and Finland and is connected to Denmark by a bridge-tunnel across the Öresund....
, poached
quenelle
Quenelle
A quenelle is mixture of creamed fish, chicken, or meat, sometimes combined with breadcrumbs, with a light egg binding. It can also be served vegetarian, or "nature". It is usually poached. Formerly, quenelles were often used as a garnish in haute cuisine; today, they are usually served on their own...
s are called frikadeller and are usually served in soup.
Many variations of frikadeller exist but traditionally they are made of minced
pork
Pork
Pork is the culinary name for meat from the domestic pig , which is eaten in many countries. It is one of the most commonly consumed meats worldwide, with evidence of pig husbandry dating back to 5000 BC....
,
veal
Veal
Veal is the meat of young cattle , as opposed to meat from older cattle. Though veal can be produced from a calf of either sex and any breed, most veal comes from male calves of dairy cattle breeds...
, or beef; chopped
onion
Onion
The onion , also known as the bulb onion, common onion and garden onion, is the most widely cultivated species of the genus Allium. The genus Allium also contains a number of other species variously referred to as onions and cultivated for food, such as the Japanese bunching onion The onion...
s;
eggs
Egg (food)
Eggs are laid by females of many different species, including birds, reptiles, amphibians, and fish, and have probably been eaten by mankind for millennia. Bird and reptile eggs consist of a protective eggshell, albumen , and vitellus , contained within various thin membranes...
; milk (or water); bread crumbs (or oatmeal or flour);
salt
Edible salt
Salt, also known as table salt, or rock salt, is a mineral that is composed primarily of sodium chloride , a chemical compound belonging to the larger class of ionic salts. It is essential for animal life in small quantities, but is harmful to animals and plants in excess...
; and
pepper
Black pepper
Black pepper is a flowering vine in the family Piperaceae, cultivated for its fruit, which is usually dried and used as a spice and seasoning. The fruit, known as a peppercorn when dried, is approximately in diameter, dark red when fully mature, and, like all drupes, contains a single seed...
; then formed into balls and flattened somewhat. They are then pan-fried in
pork fat
Lard
Lard is pig fat in both its rendered and unrendered forms. Lard was commonly used in many cuisines as a cooking fat or shortening, or as a spread similar to butter. Its use in contemporary cuisine has diminished because of health concerns posed by its saturated-fat content and its often negative...
, or more commonly in modern times in
butter
Butter
Butter is a dairy product made by churning fresh or fermented cream or milk. It is generally used as a spread and a condiment, as well as in cooking applications, such as baking, sauce making, and pan frying...
,
margarine
Margarine
Margarine , as a generic term, can indicate any of a wide range of butter substitutes, typically composed of vegetable oils. In many parts of the world, the market share of margarine and spreads has overtaken that of butter...
or even vegetable oil. Another popular variation is
fiskefrikadeller
replacing the meat with fish as the main ingredient and often served with
remoulade
Remoulade
Remoulade or rémoulade, invented in France, is a popular condiment in many countries. Very much like the tartar sauce of some English-speaking cultures, remoulade is often aioli- or mayonnaise-based. Although similar to tartar sauce, it is often more yellowish , often flavored with curry, and...
.
As a main dish they are most often served with boiled white potatoes and gravy (
brun sovs
) accompanied by pickled
beetroot
Beetroot
The beetroot, also known as the table beet, garden beet, red beet or informally simply as beet, is one of the many cultivated varieties of beets and arguably the most commonly encountered variety in North America, Central America and Britain.-Consumption:The usually deep-red roots of beetroot are...
or cooked
red cabbage
Red Cabbage
The red cabbage is a sort of cabbage, also known as Red Kraut or Blue Kraut after preparation....
. Alternatively they can be served with creamed, white cabbage.
Frikadeller are also a popular choice on the
Danish lunch buffet
Smörgåsbord
Smörgåsbord is a type of Scandinavian meal served buffet-style with multiple dishes of various foods on a table, originating in Sweden. In Norway it is called koldtbord, in Denmark it is called det kolde bord, in Finland seisova pöytä and in Estonia rootsi laud...
, eaten on
rugbrød
Rugbrød
Rugbrød is a very commonly used bread in Denmark. The common rugbrød usually resembles a long brown rectangle, no more than 12 cm high, and 30–35 cm wide, although shapes and sizes may vary, as well as the ingredients...
with red
cabbage
Cabbage
Cabbage is a popular cultivar of the species Brassica oleracea Linne of the Family Brassicaceae and is a leafy green vegetable...
or pickle slices. They can also be served cold, sliced thinly as a base for open face sandwiches on
rye bread
Rye bread
Rye bread is a type of bread made with various percentages of flour from rye grain. It can be light or dark in color, depending on the type of flour used and the addition of coloring agents, and is typically denser than bread made from wheat flour...
.
The combination of frikadeller and a cold
potato salad
Potato salad
Potato salad is a dish made from boiled potatoes, the versions of which vary throughout different regions and countries of the world. Although called a salad, it is generally considered a side dish, as it generally accompanies the main course....
is very popular at
picnic
Picnic
In contemporary usage, a picnic can be defined simply as a pleasure excursion at which a meal is eaten outdoors , ideally taking place in a beautiful landscape such as a park, beside a lake or with an interesting view and possibly at a public event such as before an open air theatre performance,...
s or
potluck
Potluck
A potluck is a gathering of people where each person or group of people contributes a dish of food prepared by the person or the group of people, to be shared among the group...
s, due to the ease of transporting either component after cooking.
Vegetarian version
Lacto-ovo vegetarians
Lacto-ovo vegetarianism
A Lacto-ovo-vegetarian is a vegetarian who does not eat animal flesh of any kind, but is willing to consume dairy and egg products...
can also make
vegetarfrikadeller
with grated parsnip, beetroot and carrots as fake meat. Feta cheese can be added to the frikadeller to make them 'greek' frikadeller.
Frikadeller is also known in Indonesian cuisine through
Dutch cuisine
Dutch cuisine
Dutch cuisine is shaped by the practice of fishing and farming, including the cultivation of the soil for raising crops and the raising of domesticated animals, and the history of the Netherlands.-History:...
influence and called
perkedel
, however the ingredients is not meat, but mostly fried
mashed potato
Mashed potato
Mashed potato is made by mashing freshly boiled potatoes with a ricer, fork, potato masher, food mill, or whipping them with a hand beater. Dehydrated and frozen mashed potatoes are available in many places...
patties, sometimes added with only small amount of mashed meat or
corned beef
Corned beef
Corned beef is a type of salt-cured beef products present in many beef-eating cultures. The English term is used interchangeably in modernity to refer to three distinct types of cured beef:...
. Other than mashed potato, peeled
corn
Maize
Maize known in many English-speaking countries as corn or mielie/mealie, is a grain domesticated by indigenous peoples in Mesoamerica in prehistoric times. The leafy stalk produces ears which contain seeds called kernels. Though technically a grain, maize kernels are used in cooking as a vegetable...
or mashed
tofu
Tofu
is a food made by coagulating soy milk and then pressing the resulting curds into soft white blocks. It is part of East Asian and Southeast Asian cuisine such as Chinese, Japanese, Korean, Indonesian, Vietnamese, and others. There are many different varieties of tofu, including fresh tofu and tofu...
fritters are also common as perkedel ingredients.