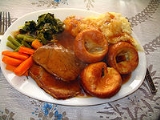 Sunday roast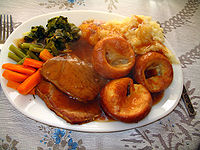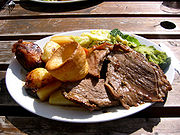 The
Sunday roast
is a traditional
British
British cuisine
English cuisine encompasses the cooking styles, traditions and recipes associated with England. It has distinctive attributes of its own, but also shares much with wider British cuisine, largely due to the importation of ingredients and ideas from places such as North America, China, and India...
main meal served on
Sunday
Sunday
Sunday is the day of the week between Saturday and Monday. For most Christians, Sunday is observed as a day for worship of God and rest, due to the belief that it is Lord's Day, the day of Christ's resurrection....
s (usually in the early
afternoon
Afternoon
Afternoon is the time of day from noon to about 18:00.The term should not be confused with "after noon" , which is a translation of the Latin "post meridiem" as used in the 12-hour clock, meaning a time of day from noon to midnight.In Australia and New Zealand, the word "arvo" is a slang term for...
for lunch), consisting of roasted
meat
Meat
Meat is animal flesh that is used as food. Most often, this means the skeletal muscle and associated fat and other tissues, but it may also describe other edible tissues such as organs and offal...
, roast potato or
mashed potato
Mashed potato
Mashed potato is made by mashing freshly boiled potatoes with a ricer, fork, potato masher, food mill, or whipping them with a hand beater. Dehydrated and frozen mashed potatoes are available in many places...
, with accompaniments such as
Yorkshire pudding
Yorkshire pudding
Yorkshire Pudding is a dish that originated in Yorkshire, England. It is made from batter and usually served with roast meat and gravy.-History:...
,
stuffing
Stuffing
In cooking, stuffing or filling is an edible substance or mixture, often a starch, used to fill a cavity in another food item...
,
vegetable
Vegetable
The noun vegetable usually means an edible plant or part of a plant other than a sweet fruit or seed. This typically means the leaf, stem, or root of a plant....
s and
gravy
Gravy
Gravy is a sauce made often from the juices that run naturally from meat or vegetables during cooking. In North America the term can refer to a wider variety of sauces and gravy is often thicker than in Britain...
.
It is popular throughout the
United Kingdom
United Kingdom
The United Kingdom of Great Britain and Northern IrelandIn the United Kingdom and Dependencies, other languages have been officially recognised as legitimate autochthonous languages under the European Charter for Regional or Minority Languages...
, the
United States
United States
The United States of America is a federal constitutional republic comprising fifty states and a federal district...
,
Canada
Canada
Canada is a North American country consisting of ten provinces and three territories. Located in the northern part of the continent, it extends from the Atlantic Ocean in the east to the Pacific Ocean in the west, and northward into the Arctic Ocean...
,
Australia
Australia
Australia , officially the Commonwealth of Australia, is a country in the Southern Hemisphere comprising the mainland of the Australian continent, the island of Tasmania, and numerous smaller islands in the Indian and Pacific Oceans. It is the world's sixth-largest country by total area...
,
New Zealand
New Zealand
New Zealand is an island country in the south-western Pacific Ocean comprising two main landmasses and numerous smaller islands. The country is situated some east of Australia across the Tasman Sea, and roughly south of the Pacific island nations of New Caledonia, Fiji, and Tonga...
and
Ireland
Ireland
Ireland is an island to the northwest of continental Europe. It is the third-largest island in Europe and the twentieth-largest island on Earth...
. Other names for this meal are
Sunday dinner
,
Sunday lunch
,
Sunday tea
,
Roast dinner
, and
Sunday joint
, joint being a word that specifically refers to the joint of meat. The meal is often comparable to a less grand version of a traditional
Christmas dinner
Christmas dinner
Christmas dinner is the primary meal traditionally eaten on Christmas Eve or Christmas Day. In many ways the meal is similar to a standard Sunday dinner. Christmas feasts have traditionally been luxurious and abundant...
in these cultures.
Origin
There are (at least) two opinions on the origins of the Sunday Roast. One holds that, during the industrial revolution, Yorkshire families left a cut of meat in the oven before going to church on a Sunday morning, which was then ready to eat by the time they arrived home at lunchtime. The second opinion holds that the Sunday Roast dates back to medieval times, when the village serfs served the squire for six days a week. Then on the Sunday, after the morning church service, serfs would assemble in a field and practice their battle techniques and were rewarded with a feast of oxen roasted on a spit.
Meat
Typical meats used for a Sunday roast are
beef
Beef
Beef is the culinary name for meat from bovines, especially domestic cattle. Beef can be harvested from cows, bulls, heifers or steers. It is one of the principal meats used in the cuisine of the Middle East , Australia, Argentina, Brazil, Europe and the United States, and is also important in...
,
chicken
Chicken (food)
Chicken is the most common type of poultry in the world, and is prepared as food in a wide variety of ways, varying by region and culture.- History :...
, lamb or
pork
Pork
Pork is the culinary name for meat from the domestic pig , which is eaten in many countries. It is one of the most commonly consumed meats worldwide, with evidence of pig husbandry dating back to 5000 BC....
, although seasonally
duck
Duck
Duck is the common name for a large number of species in the Anatidae family of birds, which also includes swans and geese. The ducks are divided among several subfamilies in the Anatidae family; they do not represent a monophyletic group but a form taxon, since swans and geese are not considered...
,
goose
Goose
The word goose is the English name for a group of waterfowl, belonging to the family Anatidae. This family also includes swans, most of which are larger than true geese, and ducks, which are smaller....
,
gammon
Ham
Ham is a cut of meat from the thigh of the hind leg of certain animals, especiallypigs. Nearly all hams sold today are fully cooked or cured.-Etymology:...
,
turkey
Turkey
Turkey , known officially as the Republic of Turkey , is a Eurasian country located in Western Asia and in East Thrace in Southeastern Europe...
or (rarely) other game birds may be used.
Vegetables
Sunday roasts can be served with a range of boiled, steamed and roasted
vegetable
Vegetable
The noun vegetable usually means an edible plant or part of a plant other than a sweet fruit or seed. This typically means the leaf, stem, or root of a plant....
s. The vegetables served vary seasonally and regionally, but will usually include roast potatoes, roasted in meat
dripping
Dripping
Dripping, also known usually as beef dripping or more rarely, as pork dripping, is an animal fat produced from the fatty or otherwise unusable parts of cow or pig carcasses...
or (more recently, due to the unhealthy nature of
saturated fat
Saturated fat
Saturated fat is fat that consists of triglycerides containing only saturated fatty acids. Saturated fatty acids have no double bonds between the individual carbon atoms of the fatty acid chain. That is, the chain of carbon atoms is fully "saturated" with hydrogen atoms...
s) vegetable oil, and also
gravy
Gravy
Gravy is a sauce made often from the juices that run naturally from meat or vegetables during cooking. In North America the term can refer to a wider variety of sauces and gravy is often thicker than in Britain...
made from juices released by the roasting meat, perhaps supplemented by one or more
stock cube
Bouillon cube
A bouillon cube [ˈbuːjɒn kjuːb] or stock cube is dehydrated bouillon or stock formed into a small cube about 15 mm wide. It is made by dehydrating vegetables, meat stock, a small portion of fat, salt and seasonings and shaping them into a small cube...
s,
gravy browning/thickening
Bisto
Bisto is a well-known brand of traditional British foods in the United Kingdom, most famous for its gravy products.-History:The very first Bisto product, in 1908, was a meat-flavoured gravy powder, which rapidly became a bestseller in the UK. It was added to gravies to give a richer taste and aroma...
,
roux
Roux
Roux is a cooked mixture of wheat flour and fat, traditionally butter. It is the thickening agent of three of the mother sauces of classical French cooking: sauce béchamel, sauce velouté and sauce espagnole. Clarified butter, vegetable oils, or lard are commonly used fats. It is used as a...
or corn flour. Often strips of bacon are put over the meat while it cooks, so that the bacon is crispy and the roast has absorbed the fat of the bacon. The potatoes can be cooked around the meat itself, absorbing the juices and fat directly (as in a traditional Cornish under-roast). However, many cooks prefer to cook the potatoes and the Yorkshire Pudding in a hotter oven than that used for the joint and so remove the meat beforehand to rest and "settle" in a warm place.
Other vegetable dishes served with roast dinner can include mashed
swede
Rutabaga
The rutabaga, swede , turnip or yellow turnip is a root vegetable that originated as a cross between the cabbage and the turnip; see Triangle of U...
or
turnip
Turnip
The turnip or white turnip is a root vegetable commonly grown in temperate climates worldwide for its white, bulbous taproot. Small, tender varieties are grown for human consumption, while larger varieties are grown as feed for livestock...
, roast
parsnip
Parsnip
The parsnip is a root vegetable related to the carrot. Parsnips resemble carrots, but are paler than most carrots and have a sweeter taste, especially when cooked. The buttery, slightly spicy, sweet flavor of cooked mature parsnips is reminiscent of butterscotch, honey, and subtle cardamom...
, boiled or steamed
cabbage
Cabbage
Cabbage is a popular cultivar of the species Brassica oleracea Linne of the Family Brassicaceae and is a leafy green vegetable...
,
broccoli
Broccoli
Broccoli is a plant in the cabbage family, whose large flower head is used as a vegetable.-General:The word broccoli, from the Italian plural of , refers to "the flowering top of a cabbage"....
,
green bean
Green bean
Green beans , also known as French beans , are the unripe fruit of any kind of bean, including the yardlong bean, the hyacinth bean, the winged bean, and especially the common bean , whose pods are also usually called string beans in the northeastern and western United States, but can also be...
s and boiled
carrot
Carrot
The carrot is a root vegetable, usually orange in colour, though purple, red, white, and yellow varieties exist. It has a crisp texture when fresh...
s and
peas
PEAS
P.E.A.S. is an acronym in artificial intelligence that stands for Performance, Environment, Actuators, Sensors.-Performance:Performance is a function that measures the quality of the actions the agent did....
. It is also not uncommon for leftover composite vegetable dishes — such as
cauliflower cheese
Cauliflower cheese
Cauliflower cheese, sometimes called cauliflower and cheese, is a British dish. It can be eaten as a main course, for lunch or dinner, or as a side dish, commonly accompanying roast meats such as beef or pork....
and stewed
red cabbage
Red Cabbage
The red cabbage is a sort of cabbage, also known as Red Kraut or Blue Kraut after preparation....
— to be served alongside the more usual assortment of plainly-cooked seasonal vegetables.
Accompaniments
Common traditional accompaniments include:
Preparation
It takes a considerable amount of domestic cooking skill, flair and experience to have all the elements, with their separate cooking and preparation methods and timings, ready together to serve at their best, especially to a large gathering.
Left-over food from the Sunday roast has traditionally formed the basis of meals served on other days of the week. For example, meats might be used as
sandwich
Sandwich
A sandwich is a food item, typically consisting of two or more slices of :bread with one or more fillings between them, or one slice of bread with a topping or toppings, commonly called an open sandwich. Sandwiches are a widely popular type of lunch food, typically taken to work or school, or...
fillings, lamb might be used in the filling for a
shepherd's pie
Shepherd's pie
Cottage pie or shepherd's pie is a meat pie with a crust of mashed potato.The term cottage pie is known to have been in use in 1791, when the potato was being introduced as an edible crop affordable for the poor Cottage pie or shepherd's pie is a meat pie with a crust of mashed potato.The term...
, and vegetables might form the basis for
bubble and squeak
Bubble and squeak
Bubble and squeak is a traditional English dish made with the shallow-fried leftover vegetables from a roast dinner. The main ingredients are potato and cabbage, but carrots, peas, brussels sprouts, and other vegetables can be added...
.
Sunday roast in pubs and restaurants
In the UK, many pubs serving food have a Sunday menu that features a Sunday roast, usually with a variety of meats and often a vegetarian option such as a
nut roast
Nut roast
A nut roast or roasted nut loaf is a rich and savoury vegetarian dish consisting of nuts, grains, vegetable oils, broth or butter, and seasonings formed into a firm loaf shape or long casserole dish before roasting and often eaten as an alternative to a traditional British style roast dinner. It is...
. This is often cheaper than the normal menu, which may or may not be available on Sundays.