 List of largest cities and second largest cities by country
This is a list of the largest and second-largest cities by population in each
country
Country
A country is a region legally identified as a distinct entity in political geography. A country may be an independent sovereign state or one that is occupied by another state, as a non-sovereign or formerly sovereign political division, or a geographic region associated with a previously...
. If a territory or region of a certain country is listed, the name of the country will be specified in parentheses immediately after the name of the territory.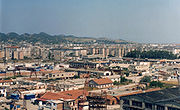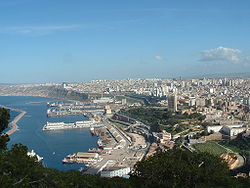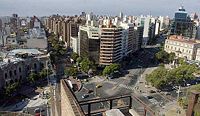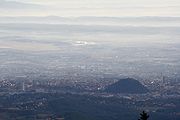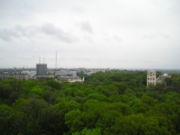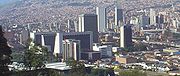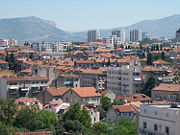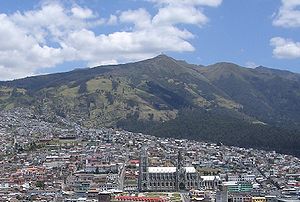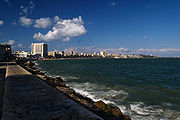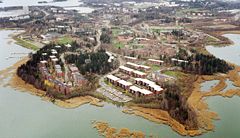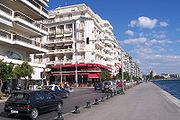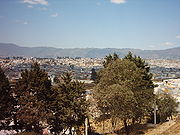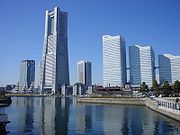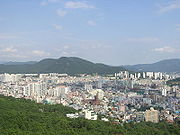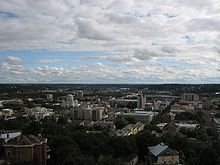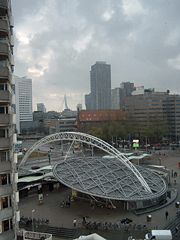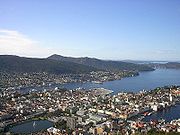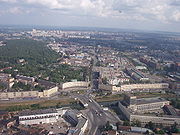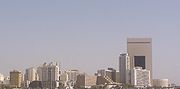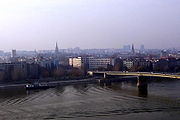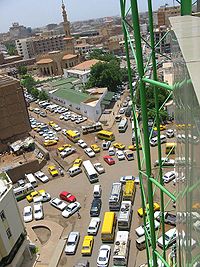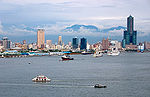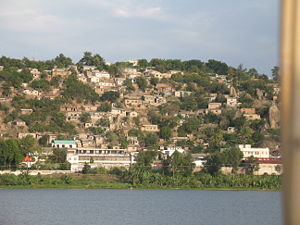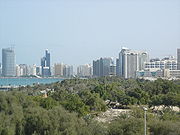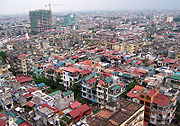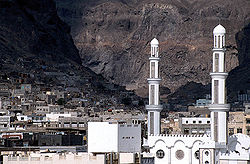 Capital cities
Capital City
Capital City was a television show produced by Euston Films which focused on the lives of investment bankers in London living and working on the corporate trading floor for the fictional international bank Shane-Longman....
are in bold.
Country or territory
Largest city
Second largest city
Source
A
 Abkhazia (Georgia)
Sukhumi

Sukhumi

Sukhumi is the capital of Abkhazia, a disputed region on the Black Sea coast. The city suffered heavily during the Georgian-Abkhaz conflict in the early 1990s.-Naming:...



Gagra

Gagra

Gagra is a town in Abkhazia, Georgia's breakaway republic, sprawling for 5 km on the northeast coast of the Black Sea, at the foot of the Caucasus Mountains...



 Afghanistan
Kabul

Kabul

Kabul , spelt Caubul in some classic literatures, is the capital and largest city of Afghanistan. It is also the capital of the Kabul Province, located in the eastern section of Afghanistan...



Kandahar

Kandahar

Kandahar is the second largest city in Afghanistan, with a population of about 512,200 as of 2011. It is the capital of Kandahar Province, located in the south of the country at about 1,005 m above sea level...



http://world-gazetteer.com/wg.php?x=&men=gcis&lng=en&des=wg&geo=-13&srt=31nn&col=abcdefghinoq&msz=1500&pt=c&va=&srt=p31nn
Akrotiri and Dhekelia

Akrotiri and Dhekelia

The Sovereign Base Areas of Akrotiri and Dhekelia are two British-administered areas comprising a British Overseas Territory on the island of Cyprus administered as Sovereign Base Areas of the United Kingdom...


(UK)
Episkopi Cantonment

Episkopi Cantonment

Episkopi Cantonment is the capital of Akrotiri and Dhekelia, a British Overseas Territory on the island of Cyprus, administered as a Sovereign Base Area. It is located in the middle of the Western Sovereign Base Area, one of the two areas which comprise the territory. It is located at...



Ayios Nikolaos
 Åland Islands (Finland)
Mariehamn

Mariehamn

Mariehamn is the capital of Åland, an autonomous territory under Finnish sovereignty. Mariehamn is the seat of the Government and Parliament of Åland, and 40% of the population of Åland live in the city...



Jomala

Jomala

Jomala is a municipality of Åland, an autonomous territory of Finland.The municipality has a population of and covers an area of of which is water...



 Albania
Tirana

Tirana

Tirana is the capital and the largest city of Albania. Modern Tirana was founded as an Ottoman town in 1614 by Sulejman Bargjini, a local ruler from Mullet, although the area has been continuously inhabited since antiquity. Tirana became Albania's capital city in 1920 and has a population of over...



Durrës

Durrës

Durrës is the second largest city of Albania located on the central Albanian coast, about west of the capital Tirana. It is one of the most ancient and economically important cities of Albania. Durres is situated at one of the narrower points of the Adriatic Sea, opposite the Italian ports of Bari...



http://world-gazetteer.com/wg.php?x=1265406184&men=gcis&lng=en&des=wg&geo=-16&srt=p32n&col=abcdefghinoq&msz=1500&pt=c&va=&srt=p32n
 Algeria
Algiers

Algiers

' is the capital and largest city of Algeria. According to the 1998 census, the population of the city proper was 1,519,570 and that of the urban agglomeration was 2,135,630. In 2009, the population was about 3,500,000...



Oran

Oran

Oran is a major city on the northwestern Mediterranean coast of Algeria, and the second largest city of the country.It is the capital of the Oran Province . The city has a population of 759,645 , while the metropolitan area has a population of approximately 1,500,000, making it the second largest...



http://world-gazetteer.com/wg.php?x=&men=gcis&lng=en&des=wg&srt=p31n&col=abcdefghinoq&msz=1500&geo=-66
 American Samoa (US)
Tafuna

Tafuna, American Samoa

Tafuna is a village on the east coast of Tutuila Island, American Samoa. It is located on a peninsular a mile north of Pago Pago International Airport and one mile south of Nu'uuli, American Samoa. Tafuna is the largest village in American Samoa, with a population of 8,209 according to the US...



Nu'uuli

Nu'uuli, American Samoa

Nu'uuli is a village on the central east coast of Tutuila Island, American Samoa. It is located on a peninsula several miles up from Pago Pago International Airport....



http://world-gazetteer.com/wg.php?x=&men=gcis&lng=en&des=wg&srt=p31n&col=abcdefghinoq&msz=1500&geo=-22
 Andorra
Andorra la Vella

Andorra la Vella

Andorra la Vella is the capital of the Co-principality of Andorra, and is located high in the east Pyrenees between France and Spain. It is also the name of the parish that surrounds the capital....



Les Escaldes

Les Escaldes

Les Escaldes or briefly Escaldes is an urban area in Escaldes-Engordany parish, Andorra. It is located near the nation's capital, Andorra la Vella.-Overview:...



http://world-gazetteer.com/wg.php?x=&men=gcis&lng=en&des=wg&srt=1p3n&col=abcdefghinoq&msz=1500&geo=-11
 Angola
Luanda

Luanda

Luanda, formerly named São Paulo da Assunção de Loanda, is the capital and largest city of Angola. Located on Angola's coast with the Atlantic Ocean, Luanda is both Angola's chief seaport and its administrative center. It has a population of at least 5 million...



Cabinda

Cabinda (city)

Cabinda or Tchiowa, as it is called by the Cabindans, is a city that is located in the Cabinda Province, an exclave of Angola. Angolan sovereignty over Cabinda is disputed by the Republic of Cabinda...



http://world-gazetteer.com/wg.php?x=&men=gcis&lng=en&des=wg&srt=1p3n&col=abcdefghinoq&msz=1500&geo=-19
 Anguilla (UK)
North Side

North Side, Anguilla

North Side is one of the fourteen Districts of Anguilla. Its population as of the 2001 census was 1,195.-Reference:...



The Valley

The Valley, Anguilla

-Population:-References:...



http://world-gazetteer.com/wg.php?x=&men=gcis&lng=en&des=wg&srt=1p3n&col=abcdefghinoq&msz=1500&geo=-15
 Antigua and Barbuda
St. John's

St. John's, Antigua and Barbuda

St John's is the capital and largest city of Antigua and Barbuda, a country located in the West Indies in the Caribbean Sea. St John's is located at...



All Saints

All Saints, Antigua and Barbuda

All Saints is the third-largest town in Antigua and Barbuda, with a population of 3,412. It's located in the middle of Antigua, at . Just 5 miles SE of here is the capital, St. John's....



http://world-gazetteer.com/wg.php?x=&men=gcis&lng=en&des=wg&geo=-14&srt=1pnn&col=abcdefghinoq&msz=1500&pt=c&va=&srt=1pnn
 Argentina
Buenos Aires

Buenos Aires

Buenos Aires is the capital and largest city of Argentina, and the second-largest metropolitan area in South America, after São Paulo. It is located on the western shore of the estuary of the Río de la Plata, on the southeastern coast of the South American continent...



Córdoba

Córdoba, Argentina

Córdoba is a city located near the geographical center of Argentina, in the foothills of the Sierras Chicas on the Suquía River, about northwest of Buenos Aires. It is the capital of Córdoba Province. Córdoba is the second-largest city in Argentina after the federal capital Buenos Aires, with...



http://world-gazetteer.com/wg.php?x=&men=gcis&lng=en&des=wg&srt=1pnn&col=abcdefghinoq&msz=1500&geo=-21
 Armenia
Yerevan

Yerevan

Yerevan is the capital and largest city of Armenia and one of the world's oldest continuously-inhabited cities. Situated along the Hrazdan River, Yerevan is the administrative, cultural, and industrial center of the country...



Gyumri

Gyumri

Gyumri is the capital and largest city of the Shirak Province in northwest Armenia. It is located about 120 km from the capital Yerevan, and, with a population of 168,918 , is the second-largest city in Armenia.The name of the city has been changed many times in history...



http://world-gazetteer.com/wg.php?x=&men=gcis&lng=en&des=wg&srt=1pnn&col=abcdefghinoq&msz=1500&geo=-17
 Aruba (Netherlands)
Oranjestad

Oranjestad, Aruba

Oranjestad is the capital and largest city of Aruba, which is in the Caribbean north of Venezuela. Oranjestad is located on the southern coast near the western end of the island country...



Sint Nicolaas
http://world-gazetteer.com/wg.php?x=&men=gcis&lng=en&des=wg&srt=1pnn&col=abcdefghinoq&msz=1500&geo=-25
 Australia
Sydney

Sydney

Sydney is the most populous city in Australia and the state capital of New South Wales. Sydney is located on Australia's south-east coast of the Tasman Sea. As of June 2010, the greater metropolitan area had an approximate population of 4.6 million people...



Melbourne

Melbourne

Melbourne is the capital and most populous city in the state of Victoria, and the second most populous city in Australia. The Melbourne City Centre is the hub of the greater metropolitan area and the Census statistical division—of which "Melbourne" is the common name. As of June 2009, the greater...



http://world-gazetteer.com/wg.php?x=&men=gcis&lng=en&des=wg&srt=1pnn&col=abcdefghinoq&msz=1500&geo=-24
 Austria
Vienna

Vienna

Vienna is the capital and largest city of the Republic of Austria and one of the nine states of Austria. Vienna is Austria's primary city, with a population of about 1.723 million , and is by far the largest city in Austria, as well as its cultural, economic, and political centre...



Graz

Graz

The more recent population figures do not give the whole picture as only people with principal residence status are counted and people with secondary residence status are not. Most of the people with secondary residence status in Graz are students...



http://world-gazetteer.com/wg.php?x=&men=gcis&lng=en&des=wg&srt=1pnn&col=abcdefghinoq&msz=1500&geo=-23
 Azerbaijan
Baku

Baku

Baku , sometimes spelled as Baki or Bakou, is the capital and largest city of Azerbaijan, as well as the largest city on the Caspian Sea and of the Caucasus region. It is located on the southern shore of the Absheron Peninsula, which projects into the Caspian Sea. The city consists of two principal...



Ganja

Ganja, Azerbaijan

Ganja is Azerbaijan's second-largest city with a population of around 313,300. It was named Yelizavetpol in the Russian Empire period. The city regained its original name—Ganja—from 1920–1935 during the first part of its incorporation into the Soviet Union. However, its name was changed again and...



http://world-gazetteer.com/wg.php?x=&men=gcis&lng=en&des=wg&srt=1pnn&col=abcdefghinoq&msz=1500&geo=-26
B
 The Bahamas
Nassau

Nassau, Bahamas

Nassau is the capital, largest city, and commercial centre of the Commonwealth of the Bahamas. The city has a population of 248,948 , 70 percent of the entire population of The Bahamas...



Freeport

Freeport, Bahamas

Freeport is a city, district and free trade zone located on the island of Grand Bahama of the North-west Bahamas. In 1955, Wallace Groves, a Virginian financier with lumber interests in Grand Bahama, was granted 50,000 acres Freeport is a city, district and free trade zone located on the island of...



http://world-gazetteer.com/wg.php?x=&men=gcis&lng=en&des=wg&srt=1pnn&col=abcdefghinoq&msz=1500&geo=-40
 Bahrain
Manama

Manama

Manama is the capital and largest city of Bahrain, with an approximate population of 155,000 people.Long an important trading center in the Persian Gulf, Manama is home to a very diverse population...



Riffa
http://world-gazetteer.com/wg.php?x=&men=gcis&lng=en&des=wg&srt=1pnn&col=abcdefghinoq&msz=1500&geo=-33
 Bangladesh
Dhaka

Dhaka

Dhaka is the capital of Bangladesh and the principal city of Dhaka Division. Dhaka is a megacity and one of the major cities of South Asia. Located on the banks of the Buriganga River, Dhaka, along with its metropolitan area, had a population of over 15 million in 2010, making it the largest city...



Chittagong

Chittagong

Chittagong ) is a city in southeastern Bangladesh and the capital of an eponymous district and division. Built on the banks of the Karnaphuli River, the city is home to Bangladesh's busiest seaport and has a population of over 4.5 million, making it the second largest city in the country.A trading...



http://world-gazetteer.com/wg.php?x=&men=gcis&lng=en&des=wg&srt=1pnn&col=abcdefghinoq&msz=1500&geo=-29
 Barbados
Bridgetown

Bridgetown

The city of Bridgetown , metropolitan pop 96,578 , is the capital and largest city of the nation of Barbados. Formerly, the Town of Saint Michael, the Greater Bridgetown area is located within the parish of Saint Michael...



Speightstown

Speightstown

Speightstown , also known as Little Bristol, is the second largest town centre of Barbados. It is situated north of the capital city of Bridgetown, in the northern parish of Saint Peter....



http://world-gazetteer.com/wg.php?x=&men=gcis&lng=en&des=wg&srt=1pnn&col=abcdefghinoq&msz=1500&geo=-28
 Belarus
Minsk

Minsk

- Ecological situation :The ecological situation is monitored by Republican Center of Radioactive and Environmental Control .During 2003–2008 the overall weight of contaminants increased from 186,000 to 247,400 tons. The change of gas as industrial fuel to mazut for financial reasons has worsened...



Homel
http://world-gazetteer.com/wg.php?x=&men=gcis&lng=en&des=wg&srt=1pnn&col=abcdefghinoq&msz=1500&geo=-43
 Belgium
Brussels

Brussels

Brussels , officially the Brussels Region or Brussels-Capital Region , is the capital of Belgium and the de facto capital of the European Union...



Antwerp
http://world-gazetteer.com/wg.php?x=&men=gcis&lng=en&des=wg&srt=1pnn&col=abcdefghinoq&msz=1500&geo=-30
 Belize
Belize City

Belize City

Belize City is the largest city in the Central American nation of Belize. Unofficial estimates place the population of Belize City at 70,000 or more. It is located at the mouth of the Belize River on the coast of the Caribbean. The city is the country's principal port and its financial and...



San Ignacio
http://world-gazetteer.com/wg.php?x=&men=gcis&lng=en&des=wg&geo=-44&srt=13nn&col=abcdefghinoq&msz=1500&pt=c&va=&srt=31nn
 Benin
Cotonou

Cotonou

-Demographics:*1979: 320,348 *1992: 536,827 *2002: 665,100 *2005: 690,584 The main languages spoken in Cotonou include the Fon language, Aja language, Yoruba language and French.-Transport:...



Abomey-Calavi

Abomey-Calavi

Abomey-Calavi is a city, arrondissement, and commune located in the Atlantique Department of Benin. It is a suburb of Cotonou and is located approximately 18 km from the city centre of Cotonou....



http://world-gazetteer.com/wg.php?x=&men=gcis&lng=en&des=wg&geo=-35&srt=21pn&col=abcdefghinoq&msz=1500&sbj=pg&pt=c&va=&srt=12pn
 Bermuda (UK)
St. George's

St. George's, Bermuda

St. George's , located on the island and within the parish of the same names, was the first permanent settlement on the islands of Bermuda, and is often described as the third successful English settlement in the Americas, after St. John's, Newfoundland, and Jamestown, Virginia. However, St...



Hamilton

Hamilton, Bermuda

Hamilton is the capital of the British Overseas Territory of Bermuda. It is the territory's financial centre and a major port and tourist destination.-Geography:...



http://world-gazetteer.com/wg.php?x=&men=gcis&lng=en&des=wg&srt=31nn&col=abcdefghinoq&msz=1500&geo=-36
 Bhutan
Thimphu

Thimphu

Thimphu also spelt Thimpu, is the capital and largest city of Bhutan. It is situated in the western central part of Bhutan and the surrounding valley is one of Bhutan's dzongkhags, the Thimphu District. The city became the capital of Bhutan in 1961...



Phuntsholing

Phuntsholing

Phuentsholing is a border town in southern Bhutan, and is the administrative seat of Chukha District. The town occupies parts of both Phuentsholing Gewog and Sampheling Gewog. Phuentsholing lies opposite the Indian town of Jaigaon, and cross-border trade has resulted in a thriving local economy...



http://world-gazetteer.com/wg.php?x=&men=gcis&lng=en&des=wg&srt=31nn&col=abcdefghinoq&msz=1500&geo=-41
 Bolivia
Santa Cruz de la Sierra

Santa Cruz de la Sierra

Santa Cruz de la Sierra, commonly known as Santa Cruz, is the capital of the Santa Cruz department in eastern Bolivia and the largest city in the country...



La Paz

La Paz

Nuestra Señora de La Paz is the administrative capital of Bolivia, as well as the departmental capital of the La Paz Department, and the second largest city in the country after Santa Cruz de la Sierra...



http://world-gazetteer.com/wg.php?x=&men=gcis&lng=en&des=wg&srt=31nn&col=abcdefghinoq&msz=1500&geo=-38
 Bosnia and Herzegovina
Sarajevo

Sarajevo

Sarajevo |Bosnia]], surrounded by the Dinaric Alps and situated along the Miljacka River in the heart of Southeastern Europe and the Balkans....



Banja Luka

Banja Luka

-History:The name "Banja Luka" was first mentioned in a document dated February 6, 1494, but Banja Luka's history dates back to ancient times. There is a substantial evidence of the Roman presence in the region during the first few centuries A.D., including an old fort "Kastel" in the centre of...



http://world-gazetteer.com/wg.php?x=&men=gcis&lng=en&des=gamelan&geo=-27&srt=13nn&col=abcdefghinoq&msz=1500&pt=c&va=&srt=p13nn
 Botswana
Gaborone

Gaborone

' is the capital and largest city of Botswana with a population of 191,776 based on a 2006 survey, about 10% of the total population of Botswana....



Francistown

Francistown

Francistown or Nyangabgwe is the second largest city in Botswana, with a population of about 85,363, and often described as the "Capital of the North". It is located in eastern Botswana, about north-northeast from the capital, Gaborone...



http://world-gazetteer.com/wg.php?x=&men=gcis&lng=en&des=wg&geo=-42&srt=p13n&col=abcdefghinoq&msz=1500&pt=c&va=&srt=1p3n
 Brazil
São Paulo

São Paulo

São Paulo is the largest city in Brazil, the largest city in the southern hemisphere and South America, and the world's seventh largest city by population. The metropolis is anchor to the São Paulo metropolitan area, ranked as the second-most populous metropolitan area in the Americas and among...



Rio de Janeiro

Rio de Janeiro

Rio de Janeiro , commonly referred to simply as Rio, is the capital city of the State of Rio de Janeiro, the second largest city of Brazil, and the third largest metropolitan area and agglomeration in South America, boasting approximately 6.3 million people within the city proper, making it the 6th...



http://world-gazetteer.com/wg.php?x=&men=gcis&lng=en&des=wg&geo=-39&srt=1pnn&col=abcdefghinoq&msz=1500&pt=c&va=&srt=1pnn
 Brunei
Kampong Ayer
Bandar Seri Begawan

Bandar Seri Begawan

Bandar Seri Begawan, with an estimated population 140,000 , is the capital and largest city of the Sultanate of Brunei...



http://world-gazetteer.com/wg.php?x=&men=gcis&lng=en&des=wg&geo=-37&srt=p21n&col=abcdefghinoq&msz=1500&pt=c&va=&srt=p21n
 Kingdom of Bulgaria
Sofia

Sofia

Sofia is the capital and largest city of Bulgaria and the 12th largest city in the European Union with a population of 1.27 million people. It is located in western Bulgaria, at the foot of Mount Vitosha and approximately at the centre of the Balkan Peninsula.Prehistoric settlements were excavated...



Plovdiv

Plovdiv

Plovdiv is the second-largest city in Bulgaria after Sofia with a population of 338,153 inhabitants according to Census 2011. Plovdiv's history spans some 6,000 years, with traces of a Neolithic settlement dating to roughly 4000 BC; it is one of the oldest cities in Europe...



http://world-gazetteer.com/wg.php?x=&men=gcis&lng=en&des=wg&srt=p21n&col=abcdefghinoq&msz=1500&geo=-32
 Burkina Faso
Ouagadougou

Ouagadougou

Ouagadougou is the capital of Burkina Faso and the administrative, communications, cultural and economic center of the nation. It is also the country's largest city, with a population of 1,475,223 . The city's name is often shortened to Ouaga. The inhabitants are called ouagalais...



Bobo-Dioulasso

Bobo-Dioulasso

Bobo-Dioulasso is a city with a population of about 435,543 , the second largest city in Burkina Faso, Africa, after Ouagadougou, the nation's capital. The name means literally, "home of the Jula who speak Bobo," and is possibly a creation of the French who misunderstood the identity complexities...



http://world-gazetteer.com/wg.php?x=&men=gcis&lng=en&des=wg&srt=p21n&col=abcdefghinoq&msz=1500&geo=-31
 Burundi
Bujumbura

Bujumbura

-Education:The University of Burundi is located in Bujumbura.Hope Africa University is located in BujumburaUniversité du Lac Tanganyika is located in Bujumbura-External links:**...



Muyinga

Muyinga

Muyinga is a city located in northern Burundi. It is the capital city of Muyinga Province. It lies at an altitude of 1731 m and has a population of 48,997....



http://world-gazetteer.com/wg.php?x=&men=gcis&lng=en&des=wg&srt=p21n&col=abcdefghinoq&msz=1500&geo=-34
C
 Cambodia
Phnom Penh

Phnom Penh

Phnom Penh is the capital and largest city of Cambodia. Located on the banks of the Mekong River, Phnom Penh has been the national capital since the French colonized Cambodia, and has grown to become the nation's center of economic and industrial activities, as well as the center of security,...



Battambang

Battambang

Battambang is the capital city of Battambang province in northwestern Cambodia.Battambang is the second-largest city in Cambodia with a population of over 250,000. Founded in the 11th century by the Khmer Empire, Battambang is well known for being the leading rice-producing province of the country...



http://world-gazetteer.com/wg.php?x=&men=gcis&lng=en&des=wg&srt=p12n&col=abcdefghinoq&msz=1500&geo=-114
 Cameroon
Douala

Douala

Douala is the largest city in Cameroon and the capital of Cameroon's Littoral Province. Home to Cameroon's largest port and its major international airport, Douala International Airport, it is the commercial capital of the country...



Yaoundé

Yaoundé

-Transportation:Yaoundé Nsimalen International Airport is a major civilian hub, while nearby Yaoundé Airport is used by the military. Railway lines run west to the port city of Douala and north to N'Gaoundéré. Many bus companies operate from the city; particularly in the Nsam and Mvan neighborhoods...



http://world-gazetteer.com/wg.php?x=&men=gcis&lng=en&des=wg&srt=p12n&col=abcdefghinoq&msz=1500&geo=-53
 Canada
Toronto

Toronto

Toronto is the provincial capital of Ontario and the largest city in Canada. It is located in Southern Ontario on the northwestern shore of Lake Ontario. A relatively modern city, Toronto's history dates back to the late-18th century, when its land was first purchased by the British monarchy from...



Montreal

Montreal

Montreal is a city in Canada. It is the largest city in the province of Quebec, the second-largest city in Canada and the seventh largest in North America...



http://world-gazetteer.com/wg.php?x=&men=gcis&lng=en&des=wg&srt=p12n&col=abcdefghinoq&msz=1500&geo=-45
 Cape Verde
Praia

Praia

Praia , is the capital and largest city of Cape Verde, an island nation in the Atlantic Ocean west of Senegal. It lies on the southern coast of Santiago island in the Sotavento Islands group. It is the island's ferry port and is home to one of the nation's four international airports...



Mindelo

Mindelo

For the parish in Portugal, see Mindelo, PortugalMindelo , is a port city in the northern part of the island of São Vicente in Cape Verde. Mindelo is also the seat of the parish of Nossa Senhora da Luz, and this island's municipality...



http://world-gazetteer.com/wg.php?x=&men=gcis&lng=en&des=wg&srt=p12n&col=abcdefghinoq&msz=1500&geo=-58
 Cayman Islands (UK)
George Town

George Town, Cayman Islands

George Town, Grand Cayman, is the capital of the Cayman Islands, in the British West Indies. The city has a population of 35,600 and is the largest city on Grand Cayman....



West Bay

West Bay, Cayman Islands

West Bay is a district located on Grand Cayman Island in the British West Indies.-Politics:West Bay is one of the two largest electoral districts on Grand Cayman, along with George Town...



http://world-gazetteer.com/wg.php?x=&men=gcis&lng=en&des=wg&srt=p12n&col=abcdefghinoq&msz=1500&geo=-121
 Central African Republic
Bangui

Bangui

-Law and government:Bangui is an autonomous commune of the Central African Republic. With an area of 67 km², it is by far the smallest high-level administrative division of the CAR in area but the highest in population...



Bimbo

Bimbo, Central African Republic

Bimbo is the capital of Ombella-M'poko, one of the 14 prefectures of the Central African Republic. It has a population of 124,176 .-References:...



http://world-gazetteer.com/wg.php?x=&men=gcis&lng=en&des=wg&srt=p12n&col=abcdefghinoq&msz=1500&geo=-47
 Chad
N'Djamena

N'Djamena

N'Djamena is the capital and largest city of Chad. A port on the Chari River, near the confluence with the Logone River, it directly faces the Cameroonian town of Kousséri, to which the city is connected by a bridge. It is also a special statute region, divided in 10 arrondissements. It is a...



Moundou

Moundou

Moundou is the second largest city in Chad, and is the capital of the region of Logone Occidental.The city lies on the Logone River some 475 kilometres south of the capital N'Djamena. It is the main city of the Ngambai people...



http://world-gazetteer.com/wg.php?x=&men=gcis&lng=en&des=wg&srt=p12n&col=abcdefghinoq&msz=1500&geo=-205
 Chile
Santiago

Santiago, Chile

Santiago , also known as Santiago de Chile, is the capital and largest city of Chile, and the center of its largest conurbation . It is located in the country's central valley, at an elevation of above mean sea level...



Puente Alto

Puente Alto

Puente Alto is a city and commune of Chile. It is the capital of the Cordillera Province in the Santiago Metropolitan Region. Located at the south of the Greater Santiago conurbation, it houses 492,603 inhabitants , making it the largest city in Chile...


(city proper)
Concepción

Concepción, Chile

Concepción is a city in Chile, capital of Concepción Province and of the Biobío Region or Region VIII. Greater Concepción is the second-largest conurbation in the country, with 889,725 inhabitants...


(metropolitan area)
http://world-gazetteer.com/wg.php?x=&men=gcis&lng=en&des=wg&srt=p12n&col=abcdefghinoq&msz=1500&geo=-52
http://world-gazetteer.com/wg.php?x=&men=gcis&lng=en&des=wg&geo=-52&srt=1pnn&col=abcdefghinoq&msz=1500&pt=a&va=&srt=p1nn
 Mainland China
Shanghai

Shanghai

Shanghai is the largest city by population in China and the largest city proper in the world. It is one of the four province-level municipalities in the People's Republic of China, with a total population of over 23 million as of 2010...



Beijing

Beijing

Beijing , also known as Peking , is the capital of the People's Republic of China and one of the most populous cities in the world, with a population of 19,612,368 as of 2010. The city is the country's political, cultural, and educational center, and home to the headquarters for most of China's...



http://world-gazetteer.com/wg.php?x=&men=gcis&lng=en&des=wg&srt=p1nn&col=abcdefghinoq&msz=1500&geo=-54
 Christmas Island (Australia)
Flying Fish Cove

Flying Fish Cove

Flying Fish Cove is the main settlement of Australia's Christmas Island. Many maps simply label it "The Settlement". It was the first British settlement on the island, established in 1888. The cove is named after the survey vessel ....



Drumsite
 Cocos (Keeling) Islands (Australia)
Bantam

Bantam, Cocos (Keeling) Islands

Bantam Village is the largest settlement on the Cocos Islands. It is located on Home Island and has a population of about 500, mainly Cocos Malays....



West Island

West Island, Cocos (Keeling) Islands

West Island is the capital of the Cocos Islands. The population is roughly 120. It is the less populous of the two inhabited islands . It was part of the Clunies-Ross plantation and an airstrip was built here during World War II...



 Colombia
Bogotá

Bogotá

Bogotá, Distrito Capital , from 1991 to 2000 called Santa Fé de Bogotá, is the capital, and largest city, of Colombia. It is also designated by the national constitution as the capital of the department of Cundinamarca, even though the city of Bogotá now comprises an independent Capital district...



Medellín

Medellín

Medellín , officially the Municipio de Medellín or Municipality of Medellín, is the second largest city in Colombia. It is in the Aburrá Valley, one of the more northerly of the Andes in South America. It has a population of 2.3 million...



http://world-gazetteer.com/wg.php?x=&men=gcis&lng=en&des=wg&srt=p1nn&col=abcdefghinoq&msz=1500&geo=-55
 Comoros
Moroni

Moroni, Comoros

-References:...



Mutsamudu

Mutsamudu

Mutsamudu is the second largest city in the Comoros, founded in 1482. It is also the capital and largest city on the island of Anjouan as well the former home of the current Comoron Union president Ahmed Abdallah Mohamed Sambi...



http://world-gazetteer.com/wg.php?x=&men=gcis&lng=en&des=wg&srt=p1nn&col=abcdefghinoq&msz=1500&geo=-116
 Democratic Republic of the Congo
Kinshasa

Kinshasa

Kinshasa is the capital and largest city of the Democratic Republic of the Congo. The city is located on the Congo River....



Lubumbashi

Lubumbashi

Lubumbashi is the second largest city in the Democratic Republic of the Congo, second only to the nation's capital Kinshasa, and the hub of the southeastern part of the country. The copper-mining city serves as the capital of the relatively prosperous Katanga Province, lying near the Zambian border...



http://world-gazetteer.com/wg.php?x=&men=gcis&lng=en&des=wg&srt=p1nn&col=abcdefghinoq&msz=1500&geo=-46
 Republic of the Congo
Brazzaville

Brazzaville

-Transport:The city is home to Maya-Maya Airport and a railway station on the Congo-Ocean Railway. It is also an important river port, with ferries sailing to Kinshasa and to Bangui via Impfondo...



Pointe-Noire

Pointe-Noire

Pointe-Noire is the second largest city in the Republic of the Congo, following the capital of Brazzaville, and an autonomous department since 2004. Before this date it was the capital of the Kouilou region . It is situated on a headland between Pointe-Noire Bay and the Atlantic Ocean...



http://world-gazetteer.com/wg.php?x=&men=gcis&lng=en&des=wg&srt=p1nn&col=abcdefghinoq&msz=1500&geo=-48
 Cook Islands (New Zealand)
Avarua

Avarua

Avarua is a town and district in the north of Rarotonga Island, the national capital of the Cook Islands...



Amuri

Amuri, Cook Islands

Amuri is a town on Aitutaki in the Cook Islands. It is located at 18°52'0S 159°46'0W....



http://world-gazetteer.com/wg.php?x=1274215450&men=gcis&lng=en&des=wg&geo=-51&srt=3pnn&col=abcdefghinoq&msz=1500&pt=c&va=&srt=p3nn
 Costa Rica
San José

San José, Costa Rica

San José is the capital and largest city of Costa Rica. Located in the Central Valley, San José is the seat of national government, the focal point of political and economic activity, and the major transportation hub of this Central American nation.Founded in 1738 by order of Cabildo de León, San...



Limón

Limón

Puerto Limón, commonly known as Limón , is the capital city and main hub of Limón province, as well as of the cantón of Limón in Costa Rica. It has a population of about 60,000 , and is home to a thriving Afro-Caribbean community...



http://world-gazetteer.com/wg.php?x=&men=gcis&lng=en&des=wg&geo=-56&srt=p1nn&col=abcdefghinoq&msz=1500&pt=c&va=&srt=1pnn
 Côte d'Ivoire
Abidjan

Abidjan

Abidjan is the economic and former official capital of Côte d'Ivoire, while the current capital is Yamoussoukro. it was the largest city in the nation and the third-largest French-speaking city in the world, after Paris, and Kinshasa but before Montreal...



Bouaké

Bouaké

Bouaké is the second largest city in Côte d'Ivoire, with a population of 775,300 . It is the main urban settlement of the Bouaké Department with a population exceeding 1.2 million, in the Vallée du Bandama Region...



http://world-gazetteer.com/wg.php?x=&men=gcis&lng=en&des=wg&srt=p1nn&col=abcdefghinoq&msz=1500&geo=-50
 Independent State of Croatia
Zagreb

Zagreb

Zagreb is the capital and the largest city of the Republic of Croatia. It is in the northwest of the country, along the Sava river, at the southern slopes of the Medvednica mountain. Zagreb lies at an elevation of approximately above sea level. According to the last official census, Zagreb's city...



Split

Split (city)

Split is a Mediterranean city on the eastern shores of the Adriatic Sea, centered around the ancient Roman Palace of the Emperor Diocletian and its wide port bay. With a population of 178,192 citizens, and a metropolitan area numbering up to 467,899, Split is by far the largest Dalmatian city and...



http://world-gazetteer.com/wg.php?x=&men=gcis&lng=en&des=wg&srt=p1nn&col=abcdefghinoq&msz=1500&geo=-98
 Cuba
Havana

Havana

Havana is the capital city, province, major port, and leading commercial centre of Cuba. The city proper has a population of 2.1 million inhabitants, and it spans a total of — making it the largest city in the Caribbean region, and the most populous...



Santiago de Cuba

Santiago de Cuba

Santiago de Cuba is the second largest city of Cuba and capital city of Santiago de Cuba Province in the south-eastern area of the island, some south-east of the Cuban capital of Havana....



http://world-gazetteer.com/wg.php?x=&men=gcis&lng=en&des=wg&srt=p1nn&col=abcdefghinoq&msz=1500&geo=-57
 Cyprus
Nicosia

Nicosia

Nicosia from , known locally as Lefkosia , is the capital and largest city in Cyprus, as well as its main business center. Nicosia is the only divided capital in the world, with the southern and the northern portions divided by a Green Line...



Limassol

Limassol

Limassol is the second-largest city in Cyprus, with a population of 228,000 . It is the largest city in geographical size, and the biggest municipality on the island. The city is located on Akrotiri Bay, on the island's southern coast and it is the capital of Limassol District.Limassol is the...



http://world-gazetteer.com/wg.php?x=&men=gcis&lng=en&des=wg&srt=p1nn&col=abcdefghinoq&msz=1500&geo=-59
 Czech Republic
Prague

Prague

Prague is the capital and largest city of the Czech Republic. Situated in the north-west of the country on the Vltava river, the city is home to about 1.3 million people, while its metropolitan area is estimated to have a population of over 2.3 million...



Brno

Brno

Brno by population and area is the second largest city in the Czech Republic, the largest Moravian city, and the historical capital city of the Margraviate of Moravia. Brno is the administrative centre of the South Moravian Region where it forms a separate district Brno-City District...


(city proper)
Ostrava

Ostrava

Ostrava is the third largest city in the Czech Republic and the second largest urban agglomeration after Prague. Located close to the Polish border, it is also the administrative center of the Moravian-Silesian Region and of the Municipality with Extended Competence. Ostrava was candidate for the...


(metropolitan area

Ostrava metropolitan area

The Ostrava metropolitan area is the metropolitan area with the city of Ostrava in the Czech Republic at its center. The Ostrava urban area is the largest urban area in the metropolitan area with a population of 365,000. The metropolitan area roughly corresponds to the administrative...


)
http://world-gazetteer.com/wg.php?x=&men=gcis&lng=en&des=wg&srt=12pn&col=abcdefghinoq&msz=1500&geo=-60
http://world-gazetteer.com/wg.php?x=&men=gcis&lng=en&des=wg&geo=-60&srt=p1nn&col=abcdefghinoq&msz=1500&pt=a&va=&srt=p1nn
D
 Denmark
Copenhagen

Copenhagen

Copenhagen is the capital and largest city of Denmark, with an urban population of 1,199,224 and a metropolitan population of 1,930,260 . With the completion of the transnational Øresund Bridge in 2000, Copenhagen has become the centre of the increasingly integrating Øresund Region...



Aarhus

Aarhus

Aarhus or Århus is the second-largest city in Denmark. The principal port of Denmark, Aarhus is on the east side of the peninsula of Jutland in the geographical center of Denmark...



http://world-gazetteer.com/wg.php?x=&men=gcis&lng=en&des=wg&geo=-63&srt=p1nn&col=abcdefghinoq&msz=1500&pt=c&va=&srt=3p1nn
 Djibouti
Djibouti

Djibouti (city)

The City of Djibouti is the capital and largest city in the Republic of Djibouti, a nation in the Horn of Africa. The biggest settlement on the Gulf of Tadjoura, it lies on a peninsula that separates that basin from the Gulf of Aden.-History:...



`Ali Sabieh
http://world-gazetteer.com/wg.php?x=&men=gcis&lng=en&des=wg&srt=3p1n&col=abcdefghinoq&msz=1500&geo=-62
 Dominica
Roseau

Roseau

-Architecture:The central district of Roseau is tightly packed with small and large houses and even larger modern concrete structures. There is little green or open space situated within the city, and this is even more so today, as many of the courtyards which was once commonplace within the city...



Canefield

Canefield

Canefield is a town located on the west coast of Dominica, north of Roseau and south of Massacre, overlooking Pringle's Bay.The largest settlement in St. Paul Parish, it has a population of 2,803. It is home to an industrial estate with Harris Paints Dominica Ltd., a branch of the Jehovah's...



http://world-gazetteer.com/wg.php?x=&men=gcis&lng=en&des=wg&geo=-64&srt=3p1n&col=abcdefghinoq&msz=1500&pt=c&va=&srt=p31n
 Dominican Republic
Santo Domingo

Santo Domingo

Santo Domingo, known officially as Santo Domingo de Guzmán, is the capital and largest city in the Dominican Republic. Its metropolitan population was 2,084,852 in 2003, and estimated at 3,294,385 in 2010. The city is located on the Caribbean Sea, at the mouth of the Ozama River...



Santiago de los Caballeros

Santiago de los Caballeros

Santiago de los Caballeros is a city in the Dominican Republic. Founded in 1495 during the first wave of European colonization of the New World, today Santiago is the second largest metropolis in the Dominican Republic, located in the north-central region of the Republic known as Cibao valley...



http://world-gazetteer.com/wg.php?x=&men=gcis&lng=en&des=wg&srt=3p1n&col=abcdefghinoq&msz=1500&geo=-65
E
 East Timor
Dili

Dili

Dili, spelled Díli in Portuguese, is the capital, largest city, chief port and commercial centre of East Timor.-Geography and Administration:Dili lies on the northern coast of Timor island, the easternmost of the Lesser Sunda Islands....



Dare
http://world-gazetteer.com/wg.php?x=&men=gcis&lng=en&des=wg&srt=3p1n&col=abcdefghinoq&msz=1500&geo=-214
 Ecuador
Guayaquil

Guayaquil

Guayaquil , officially Santiago de Guayaquil , is the largest and the most populous city in Ecuador,with about 2.3 million inhabitants in the city and nearly 3.1 million in the metropolitan area, as well as that nation's main port...



Quito

Quito

San Francisco de Quito, most often called Quito , is the capital city of Ecuador in northwestern South America. It is located in north-central Ecuador in the Guayllabamba river basin, on the eastern slopes of Pichincha, an active stratovolcano in the Andes mountains...



http://world-gazetteer.com/wg.php?x=&men=gcis&lng=en&des=wg&srt=3p1n&col=abcdefghinoq&msz=1500&geo=-67
 Egypt
Cairo

Cairo

Cairo , is the capital of Egypt and the largest city in the Arab world and Africa, and the 16th largest metropolitan area in the world. Nicknamed "The City of a Thousand Minarets" for its preponderance of Islamic architecture, Cairo has long been a centre of the region's political and cultural life...



Alexandria

Alexandria

Alexandria is the second-largest city of Egypt, with a population of 4.1 million, extending about along the coast of the Mediterranean Sea in the north central part of the country; it is also the largest city lying directly on the Mediterranean coast. It is Egypt's largest seaport, serving...



http://world-gazetteer.com/wg.php?x=&men=gcis&lng=en&des=wg&srt=3p1n&col=abcdefghinoq&msz=1500&geo=-69
 El Salvador
San Salvador

San Salvador

The city of San Salvador the capital and largest city of El Salvador, which has been designated a Gamma World City. Its complete name is La Ciudad de Gran San Salvador...



Santa Ana

Santa Ana, El Salvador

Santa Ana is the second largest city in El Salvador, located 64 kilometers west of San Salvador, the capital city. Santa Ana has approximately 274,830 inhabitants and serves both as the capital of the department of Santa Ana and...



http://world-gazetteer.com/wg.php?x=&men=gcis&lng=en&des=wg&srt=3p1n&col=abcdefghinoq&msz=1500&geo=-201
 Equatorial Guinea
Bata

Bata, Equatorial Guinea

Bata is a port city in the Litoral Province of Equatorial Guinea. With a 2005 estimated population of 173,046, it is the largest city in Equatorial Guinea. It lies on the Atlantic Ocean coast of Río Muni....



Malabo

Malabo

Malabo is the capital of Equatorial Guinea, located on the northern coast of Bioko Island on the rim of a sunken volcano....



http://world-gazetteer.com/wg.php?x=&men=gcis&lng=en&des=wg&srt=3p1n&col=abcdefghinoq&msz=1500&geo=-91
 Eritrea
Asmara

Asmara

Asmara is the capital city and largest settlement in Eritrea, home to a population of around 579,000 people...



Assab

Assab

Assab is a port city in the Southern Red Sea Region of Eritrea on the west coast of the Red Sea. In 1989, it had a population of 39,600. Assab possesses an oil refinery, which was shut down in 1997 for economic reasons...



http://world-gazetteer.com/wg.php?x=&men=gcis&lng=en&des=wg&geo=-71&srt=3pnn&col=abcdefghinoq&msz=1500&pt=c&va=&srt=p3nn
 Estonia
Tallinn

Tallinn

Tallinn is the capital and largest city of Estonia. It occupies an area of with a population of 414,940. It is situated on the northern coast of the country, on the banks of the Gulf of Finland, south of Helsinki, east of Stockholm and west of Saint Petersburg. Tallinn's Old Town is in the list...



Tartu

Tartu

Tartu is the second largest city of Estonia. In contrast to Estonia's political and financial capital Tallinn, Tartu is often considered the intellectual and cultural hub, especially since it is home to Estonia's oldest and most renowned university. Situated 186 km southeast of Tallinn, the...



http://world-gazetteer.com/wg.php?x=&men=gcis&lng=en&des=wg&srt=3p1n&col=abcdefghinoq&msz=1500&geo=-68
 Ethiopia
Addis Ababa

Addis Ababa

Addis Ababa is the capital city of Ethiopia...



Dire Dawa

Dire Dawa

Dire Dawa is one of two chartered cities in Ethiopia . This chartered city is divided administratively into two woredas, the city proper and the non-urban woreda of Gurgura....



http://world-gazetteer.com/wg.php?x=&men=gcis&lng=en&des=wg&srt=3p1n&col=abcdefghinoq&msz=1500&geo=-73
F
 Falkland Islands (UK)
Stanley

Stanley, Falkland Islands

Stanley is the capital and only true cityin the Falkland Islands. It is located on the isle of East Falkland, on a north-facing slope in one of the wettest parts of the islands. At the 2006 census, the city had a population of 2,115...



Goose Green

Goose Green

Goose Green is a settlement in Lafonia on East Falkland in the Falkland Islands. It lies on Choiseul Sound, on the east side of the island's central isthmus, south-southwest of Darwin. With a population of about 70, it is the second largest settlement of the Falkland Islands.Goose Green has a shop...



http://world-gazetteer.com/wg.php?x=&men=gcis&lng=en&des=wg&srt=3p1n&col=abcdefghinoq&msz=1500&geo=-76
 Faroe Islands (Denmark)
Tórshavn

Tórshavn

Tórshavn is the capital and largest town of the Faroe Islands. It is located in the southern part on the east coast of Streymoy. To the north west of the town lies the high mountain Húsareyn, and to the southwest, the high Kirkjubøreyn...



Klaksvík

Klaksvík

Klaksvík is the second largest town of the Faroe Islands.The town is located on Borðoy, which is one of the northernmost islands ....



http://world-gazetteer.com/wg.php?x=&men=gcis&lng=en&des=wg&srt=3p1n&col=abcdefghinoq&msz=1500&geo=-78
 Fiji
Nasinu

Nasinu

Nasinu is an urban area on the island Viti Levu in Fiji. It is officially designated a "Town" despite its population . Nasinu is the most populous municipality in Fiji, having overtaken that of Suva , and is one of Fiji's fastest-growing towns...



Suva

Suva

Suva features a tropical rainforest climate under the Koppen climate classification. The city sees a copious amount of precipitation during the course of the year. Suva averages 3,000 mm of precipitation annually with its driest month, July averaging 125 mm of rain per year. In fact,...



http://world-gazetteer.com/wg.php?x=&men=gcis&lng=en&des=wg&srt=3p1n&col=abcdefghinoq&msz=1500&geo=-75
 Finland
Helsinki

Helsinki

Helsinki is the capital and largest city in Finland. It is in the region of Uusimaa, located in southern Finland, on the shore of the Gulf of Finland, an arm of the Baltic Sea. The population of the city of Helsinki is , making it by far the most populous municipality in Finland. Helsinki is...



Espoo

Espoo

Espoo is the second largest city and municipality in Finland. The population of the city of Espoo is . It is part of the Helsinki Metropolitan Area along with the cities of Helsinki, Vantaa, and Kauniainen. Espoo shares its eastern border with Helsinki and Vantaa, while enclosing Kauniainen....


(city proper)
Tampere

Tampere

Tampere is a city in southern Finland. It is the most populous inland city in any of the Nordic countries. The city has a population of , growing to approximately 300,000 people in the conurbation and over 340,000 in the metropolitan area. Tampere is the third most-populous municipality in...


(metropolitan area)
http://world-gazetteer.com/wg.php?x=&men=gcis&lng=en&des=wg&srt=3p1n&col=abcdefghinoq&msz=1500&geo=-74
http://world-gazetteer.com/wg.php?x=&men=gcis&lng=en&des=wg&geo=-74&srt=3pdn&col=abcdefghinoq&msz=1500&pt=a&va=&srt=p3dn
 Early Modern France
Paris

Paris

Paris is the capital and largest city in France, situated on the river Seine, in northern France, at the heart of the Île-de-France region...



Marseille

Marseille

Marseille , known in antiquity as Massalia , is the second largest city in France, after Paris, with a population of 852,395 within its administrative limits on a land area of . The urban area of Marseille extends beyond the city limits with a population of over 1,420,000 on an area of...


(city proper)
Lyon

Lyon

Lyon , is a city in east-central France in the Rhône-Alpes region, situated between Paris and Marseille. Lyon is located at from Paris, from Marseille, from Geneva, from Turin, and from Barcelona. The residents of the city are called Lyonnais....


(metropolitan area

Urban Community of Lyon

The Urban Community of Lyon , also known as Grand Lyon or by its former acronym COURLY, is the intercommunal structure gathering the city of Lyon and some of its suburbs....


)
http://world-gazetteer.com/wg.php?x=&men=gcis&lng=en&des=wg&srt=3p1n&col=abcdefghinoq&msz=1500&geo=-79
http://world-gazetteer.com/wg.php?x=&men=gcis&lng=en&des=wg&geo=-79&srt=p3nn&col=abcdefghinoq&msz=1500&pt=a&va=&srt=1p3nn
 French Guiana (France)
Cayenne

Cayenne

Cayenne is the capital of French Guiana, an overseas region and department of France located in South America. The city stands on a former island at the mouth of the Cayenne River on the Atlantic coast. The city's motto is "Ferit Aurum Industria" which means "Work brings wealth"...



Saint-Laurent-du-Maroni

Saint-Laurent-du-Maroni

Saint-Laurent-du-Maroni is a commune of French Guiana, an overseas region and department of France located in South America. Saint-Laurent-du-Maroni is one of the two sub-prefectures of French Guiana and the seat of the Arrondissement of Saint-Laurent-du-Maroni...



http://world-gazetteer.com/wg.php?x=&men=gcis&lng=en&des=wg&geo=-84&srt=p1nn&col=abcdefghinoq&msz=1500&pt=c&va=&srt=1pnn
 French Polynesia (France)
Papeete

Papeete

-Sights:* Interactive Google map of Papeete, to discover the 30 major tourist attractions in Papeete downtown.*The waterfront esplanade*Bougainville Park -Sights:* Interactive Google map of Papeete, to discover the 30 major tourist attractions in Papeete downtown.*The waterfront...



Mahina

Mahina, French Polynesia

Mahina is a commune in the suburbs of Papeete in French Polynesia, an overseas territory of France in the Pacific Ocean. Mahina is located on the island of Tahiti, in the administrative subdivision of the Windward Islands, themselves part of the Society Islands. Mahina is the 3rd largest city in...



http://world-gazetteer.com/wg.php?x=&men=gcis&lng=en&des=gamelan&geo=-169&srt=p13n&col=abcdefghinoq&msz=1500&pt=a&va=&srt=p13n
G
 Gabon
Libreville

Libreville

Libreville is the capital and largest city of Gabon, in west central Africa. The city is a port on the Komo River, near the Gulf of Guinea, and a trade center for a timber region. As of 2005, it has a population of 578,156.- History :...



Port-Gentil

Port-Gentil

Port-Gentil or Mandji is the second-largest city of Gabon and a leading seaport. It is the center of Gabon's petroleum and timber industries. Although it lies inshore, the nearby mainland is a remote forest area and it is not connected by road to the rest of the nation...



http://world-gazetteer.com/wg.php?x=&men=gcis&lng=en&des=gamelan&geo=-80&srt=13nn&col=abcdefghinoq&msz=1500&pt=c&va=&srt=p13nn
Serekunda
Brikama

Brikama

Brikama is one of the largest cities in The Gambia, lying south of Banjul in the Western Division. It is known for wood carving and for its musicians...



http://world-gazetteer.com/wg.php?x=&men=gcis&lng=en&des=wg&geo=-88&srt=p1nn&col=abcdefghinoq&msz=1500&sbj=pg&pt=c&va=&srt=p1nn
 Georgia (country)
Tbilisi

Tbilisi

Tbilisi is the capital and the largest city of Georgia, lying on the banks of the Mt'k'vari River. The name is derived from an early Georgian form T'pilisi and it was officially known as Tiflis until 1936...



Kutaisi

Kutaisi

Kutaisi is Georgia's second largest city and the capital of the western region of Imereti. It is 221 km to the west of Tbilisi.-Geography:...



http://world-gazetteer.com/wg.php?x=&men=gcis&lng=en&des=wg&srt=p1nn&col=abcdefghinoq&msz=1500&sbj=pg&geo=-83
 Germany
Berlin

Berlin

Berlin is the capital city of Germany and is one of the 16 states of Germany. With a population of 3.45 million people, Berlin is Germany's largest city. It is the second most populous city proper and the seventh most populous urban area in the European Union...



Hamburg

Hamburg

-History:The first historic name for the city was, according to Claudius Ptolemy's reports, Treva.But the city takes its modern name, Hamburg, from the first permanent building on the site, a castle whose construction was ordered by the Emperor Charlemagne in AD 808...



http://world-gazetteer.com/wg.php?x=&men=gcis&lng=en&des=wg&srt=p1nn&col=abcdefghinoq&msz=1500&sbj=pg&geo=-61
 Ghana
Accra

Accra

Accra is the capital and largest city of Ghana, with an urban population of 1,658,937 according to the 2000 census. Accra is also the capital of the Greater Accra Region and of the Accra Metropolitan District, with which it is coterminous...



Kumasi

Kumasi

Kumasi is a city in southern central Ghana's Ashanti region. It is located near Lake Bosomtwe, in the Rain Forest Region about northwest of Accra. Kumasi is approximately north of the Equator and north of the Gulf of Guinea...



http://world-gazetteer.com/wg.php?x=&men=gcis&lng=en&des=wg&srt=p1nn&col=abcdefghinoq&msz=1500&sbj=pg&geo=-85
 Gibraltar (UK)
Gibraltar

Gibraltar

Gibraltar is a British overseas territory located on the southern end of the Iberian Peninsula at the entrance of the Mediterranean. A peninsula with an area of , it has a northern border with Andalusia, Spain. The Rock of Gibraltar is the major landmark of the region...


is the only city
http://world-gazetteer.com/wg.php?x=&men=gcis&lng=en&des=wg&srt=p1nn&col=abcdefghinoq&msz=1500&sbj=pg&geo=-86
 Greece
Athens

Athens

Athens , is the capital and largest city of Greece. Athens dominates the Attica region and is one of the world's oldest cities, as its recorded history spans around 3,400 years. Classical Athens was a powerful city-state...



Thessaloniki

Thessaloniki

Thessaloniki , historically also known as Thessalonica, Salonika or Salonica, is the second-largest city in Greece and the capital of the region of Central Macedonia as well as the capital of the Decentralized Administration of Macedonia and Thrace...



http://world-gazetteer.com/wg.php?x=&men=gcis&lng=en&des=wg&srt=p1nn&col=abcdefghinoq&msz=1500&sbj=pg&geo=-92
 Greenland (Denmark)
Nuuk

Nuuk

Nuuk, is the capital of Greenland, the northernmost capital in North America and the largest city in Greenland. Located in the Nuup Kangerlua fjord, the city lies on the eastern shore of the Labrador Sea and on the west coast of Sermersooq. Nuuk is the largest cultural and economic center in...



Sisimiut

Sisimiut

Sisimiut is a town in central-western Greenland, located on the coast of Davis Strait, approximately north of Nuuk. It is the administrative center of the Qeqqata Municipality and the second-largest town in Greenland, with a population of 5,460 people as of 2010. The site of the present-day town...



http://world-gazetteer.com/wg.php?x=&men=gcis&lng=en&des=wg&srt=p1nn&col=abcdefghinoq&msz=1500&sbj=pg&geo=-87
 Grenada
St. George's

St. George's, Grenada

St. George's, population 89,018 , with an agglomeration of 4,500 people , is the capital of Grenada, . The city is surrounded by a hillside of an old volcano crater and is on a horseshoe-shaped harbor....



Gouyave

Gouyave

Gouyave is the third-largest fishing town in Grenada Gouyave is the third-largest fishing town in Grenada Gouyave is the third-largest fishing town in Grenada (behind the capital, St. George's, with a population of 4,378. It is located on the west coast of the Grenada and is the capital of the...



http://world-gazetteer.com/wg.php?x=&men=gcis&lng=en&des=wg&srt=p1nn&col=abcdefghinoq&msz=1500&sbj=pg&geo=-82
 Guam (US)
Tamuning
Mangilao
http://world-gazetteer.com/wg.php?x=&men=gcis&lng=en&des=wg&geo=-94&srt=p1nn&col=abcdefghinoq&msz=1500&pt=c&va=&srt=1pnn
 Guatemala
Guatemala City

Guatemala City

Guatemala City , is the capital and largest city of the Republic of Guatemala and Central America...



Quetzaltenango

Quetzaltenango

Quetzaltenango, also commonly known by its indigenous name, Xelajú , or more commonly, Xela , is the second largest city of Guatemala. It is both the capital of Quetzaltenango Department and the municipal seat of Quetzaltenango municipality....



http://world-gazetteer.com/wg.php?x=&men=gcis&lng=en&des=wg&geo=-93&srt=1pnn&col=abcdefghinoq&msz=1500&va=&pt=a
 Guernsey (UK)
Saint Peter Port
Vale

Vale, Guernsey

Vale is one of the ten parishes of Guernsey.Until 1806 the parish occupied territory on the mainland of Guernsey, the Vingtaine de l'Epine, as well as the whole of Le Clos du Valle, a tidal island forming the northern extremity of Guernsey separated from the mainland by La Braye du Valle, a tidal...



http://world-gazetteer.com/wg.php?x=&men=gcis&lng=en&des=wg&geo=-241&srt=p1nn&col=abcdefghinoq&msz=1500&pt=c&va=&srt=1pnn
 Guinea
Conakry

Conakry

Conakry is the capital and largest city of Guinea. Conakry is a port city on the Atlantic Ocean and serves as the economic, financial and cultural centre of Guinea with a 2009 population of 1,548,500...



Guéckédou
http://world-gazetteer.com/wg.php?x=&men=gcis&lng=en&des=wg&geo=-89&srt=1pnn&col=abcdefghinoq&msz=1500&pt=c&va=&srt=p1nn
 Guinea-Bissau
Bissau

Bissau

Bissau is the capital city of Guinea-Bissau. The city's borders are conterminous with the Bissau Autonomous Sector. In 2007, the city had an estimated population of 407,424 according to the Instituto Nacional de Estatística e Censos...



Gabú

Gabú

Gabú is the largest town in eastern Guinea-Bissau and capital of the Gabú Region. Population 14,336 .The town is known for its Fula population and dominant Muslim religion. It was originally the centre of the Kaabu empire until the Fouta Djallon came to dominate it in the nineteenth century. Gabú...



http://world-gazetteer.com/wg.php?x=&men=gcis&lng=en&des=wg&srt=p12n&col=abcdefghinoq&msz=1500&geo=-95
 Guyana
Georgetown

Georgetown, Guyana

Georgetown, estimated population 239,227 , is the capital and largest city of Guyana, located in the Demerara-Mahaica region. It is situated on the Atlantic Ocean coast at the mouth of the Demerara River and it was nicknamed 'Garden City of the Caribbean.' Georgetown is located at . The city serves...



Linden

Linden, Guyana

Linden is the second largest town in Guyana after Georgetown, and capital of the Upper Demerara-Berbice region, located at , altitude 48 metres . It was declared a town in 1970, and includes the communities of MacKenzie and Wismar. It lies on the Demerara River and has a population of roughly...



http://world-gazetteer.com/wg.php?x=&men=gcis&lng=en&des=wg&srt=p21n&col=abcdefghinoq&msz=1500&geo=-96
H
 Haiti
Port-au-Prince

Port-au-Prince

Port-au-Prince is the capital and largest city of the Caribbean nation of Haiti. The city's population was 704,776 as of the 2003 census, and was officially estimated to have reached 897,859 in 2009....



Gonaïves

Gonaïves

Gonaïves is a city in northern Haiti, the capital of the Artibonite Department. It has a population of about 104,825 people . The city's name derives from the original Amerindian name of Gonaibo. It is also known as Haïti's "independence city"...



http://world-gazetteer.com/wg.php?x=&men=gcis&lng=en&des=wg&geo=-99&srt=p21n&col=abcdefghinoq&msz=1500&va=&pt=a
 Honduras
Tegucigalpa

Tegucigalpa

Tegucigalpa , and commonly referred as Tegus , is the capital of Honduras and seat of government of the Republic, along with its twin sister Comayagüela. Founded on September 29, 1578 by the Spanish, it became the country's capital on October 30, 1880 under President Marco Aurelio Soto...



San Pedro Sula

San Pedro Sula

San Pedro Sula is a city in Honduras. It is located in the northwest corner of the country, in the Valle de Sula , about 60 km south of Puerto Cortés on the Caribbean. With an estimated population of 638,259 people in the main municipality, and 802,598 in its metro area , it is the second...



http://world-gazetteer.com/wg.php?x=&men=gcis&lng=en&des=wg&srt=p21n&col=abcdefghinoq&msz=1500&geo=-97
 Hungary
Budapest

Budapest

Budapest is the capital of Hungary. As the largest city of Hungary, it is the country's principal political, cultural, commercial, industrial, and transportation centre. In 2011, Budapest had 1,733,685 inhabitants, down from its 1989 peak of 2,113,645 due to suburbanization. The Budapest Commuter...



Debrecen

Debrecen

Debrecen , is the second largest city in Hungary after Budapest. Debrecen is the regional centre of the Northern Great Plain region and the seat of Hajdú-Bihar county.- Name :...



http://world-gazetteer.com/wg.php?x=&men=gcis&lng=en&des=wg&srt=p21n&col=abcdefghinoq&msz=1500&geo=-100
I
 Iceland
Reykjavík

Reykjavík

Reykjavík is the capital and largest city in Iceland.Its latitude at 64°08' N makes it the world's northernmost capital of a sovereign state. It is located in southwestern Iceland, on the southern shore of Faxaflói Bay...



Akureyri

Akureyri

Akureyri is a town in northern Iceland. It is Iceland's second largest urban area and fourth largest municipality ....



http://world-gazetteer.com/wg.php?x=&men=gcis&lng=en&des=wg&geo=-107&srt=p2nn&col=abcdefghinoq&msz=1500&va=&pt=a
 India
Mumbai

Mumbai

Mumbai , formerly known as Bombay in English, is the capital of the Indian state of Maharashtra. It is the most populous city in India, and the fourth most populous city in the world, with a total metropolitan area population of approximately 20.5 million...



Delhi

Delhi

Delhi , officially National Capital Territory of Delhi , is the largest metropolis by area and the second-largest by population in India, next to Mumbai. It is the eighth largest metropolis in the world by population with 16,753,265 inhabitants in the Territory at the 2011 Census...



http://world-gazetteer.com/wg.php?x=&men=gcis&lng=en&des=wg&srt=p2nn&col=abcdefghinoq&msz=1500&geo=-104
 Indonesia
Jakarta

Jakarta

Jakarta is the capital and largest city of Indonesia. Officially known as the Special Capital Territory of Jakarta, it is located on the northwest coast of Java, has an area of , and a population of 9,580,000. Jakarta is the country's economic, cultural and political centre...



Surabaya

Surabaya

Surabaya is Indonesia's second-largest city with a population of over 2.7 million , and the capital of the province of East Java...


(city proper)
Bandung

Bandung

Bandung is the capital of West Java province in Indonesia, and the country's third largest city, and 2nd largest metropolitan area in Indonesia, with a population of 7.4 million in 2007. Located 768 metres above sea level, approximately 140 km southeast of Jakarta, Bandung has cooler...


(metropolitan area

Bandung Metropolitan Area

Bandung Metropolitan Area is the metropolitan area surrounds the city of Bandung, West Java, Indonesia. It is less than 20 km from the edge of the metropolitan area of Greater Jakarta , and is contiguous with the border of the Jabodetabek-Cirangkarta definition for metropolitan area of Jakarta...


)
http://world-gazetteer.com/wg.php?x=&men=gcis&lng=en&des=wg&srt=p2nn&col=abcdefghinoq&msz=1500&geo=-101
http://world-gazetteer.com/wg.php?x=&men=gcis&lng=en&des=wg&geo=-101&srt=p2nn&col=abcdefghinoq&msz=1500&pt=a&va=&srt=p2nn
 Iran
Tehran

Tehran

Tehran , sometimes spelled Teheran, is the capital of Iran and Tehran Province. With an estimated population of 8,429,807; it is also Iran's largest urban area and city, one of the largest cities in Western Asia, and is the world's 19th largest city.In the 20th century, Tehran was subject to...



Mashhad

Mashhad

Mashhad , is the second largest city in Iran and one of the holiest cities in the Shia Muslim world. It is also the only major Iranian city with an Arabic name. It is located east of Tehran, at the center of the Razavi Khorasan Province close to the borders of Afghanistan and Turkmenistan. Its...


(city proper)
Isfahan (metropolitan area)
http://world-gazetteer.com/wg.php?x=&men=gcis&lng=en&des=wg&srt=p2nn&col=abcdefghinoq&msz=1500&geo=-106
http://world-gazetteer.com/wg.php?x=&men=gcis&lng=en&des=wg&geo=-106&srt=p2nn&col=abcdefghinoq&msz=1500&pt=a&va=&srt=p2nn
 Iraq
Baghdad

Baghdad

Baghdad is the capital of Iraq, as well as the coterminous Baghdad Governorate. The population of Baghdad in 2011 is approximately 7,216,040...



Mosul

Mosul

Mosul , is a city in northern Iraq and the capital of the Ninawa Governorate, some northwest of Baghdad. The original city stands on the west bank of the Tigris River, opposite the ancient Assyrian city of Nineveh on the east bank, but the metropolitan area has now grown to encompass substantial...



http://world-gazetteer.com/wg.php?x=&men=gcis&lng=en&des=wg&srt=p2nn&col=abcdefghinoq&msz=1500&geo=-105
 Republic of Ireland
Dublin
Cork

Cork (city)

Cork is the second largest city in the Republic of Ireland and the island of Ireland's third most populous city. It is the principal city and administrative centre of County Cork and the largest city in the province of Munster. Cork has a population of 119,418, while the addition of the suburban...



http://world-gazetteer.com/wg.php?x=&men=gcis&lng=en&des=wg&srt=p2nn&col=abcdefghinoq&msz=1500&geo=-102
 Isle of Man (UK)
Douglas

Douglas, Isle of Man

right|thumb|250px|Douglas Promenade, which runs nearly the entire length of beachfront in Douglasright|thumb|250px|Sea terminal in DouglasDouglas is the capital and largest town of the Isle of Man, with a population of 26,218 people . It is located at the mouth of the River Douglas, and a sweeping...



Onchan

Onchan

Onchan , is a village in the parish of Onchan on the Isle of Man. It is at the north end of Douglas Bay. Although administratively a village, it has the second largest population on the island, after Douglas, with which it forms a conurbation....



http://world-gazetteer.com/wg.php?x=&men=gcis&lng=en&des=wg&srt=p2nn&col=abcdefghinoq&msz=1500&geo=-239
 Israel
Jerusalem (city proper)
Tel Aviv-Yafo (metropolitan area)
Tel Aviv-Yafo (city proper)
Jerusalem (metropolitan area)
http://world-gazetteer.com/wg.php?x=&men=gcis&lng=en&des=wg&srt=p2nn&col=abcdefghinoq&msz=1500&geo=-103
http://world-gazetteer.com/wg.php?x=1269410954&men=gcis&lng=en&des=wg&geo=-103&srt=p3nn&col=abcdefghinoq&msz=1500&pt=a&va=&srt=p3nn
 Italy
Rome

Rome

Rome is the capital of Italy and the country's largest and most populated city and comune, with over 2.7 million residents in . The city is located in the central-western portion of the Italian Peninsula, on the Tiber River within the Lazio region of Italy.Rome's history spans two and a half...


(city proper)
Milan

Milan

Milan is the second-largest city in Italy and the capital city of the region of Lombardy and of the province of Milan. The city proper has a population of about 1.3 million, while its urban area, roughly coinciding with its administrative province and the bordering Province of Monza and Brianza ,...


(metropolitan area

Milan metropolitan area

The Milan metropolitan area, known as Grande Milano , is the urban agglomeration around the city of Milan, Italy.The spatial spread of the Milan metropolitan area has greatly accelerated over recent decades...


)
Milan

Milan

Milan is the second-largest city in Italy and the capital city of the region of Lombardy and of the province of Milan. The city proper has a population of about 1.3 million, while its urban area, roughly coinciding with its administrative province and the bordering Province of Monza and Brianza ,...


(city proper)
Rome

Rome

Rome is the capital of Italy and the country's largest and most populated city and comune, with over 2.7 million residents in . The city is located in the central-western portion of the Italian Peninsula, on the Tiber River within the Lazio region of Italy.Rome's history spans two and a half...


(metropolitan area

Rome metropolitan area

The Rome metropolitan area is the urban agglomeration centred around the city of Rome, the Italian capital, in Lazio, Italy.The total population of Province of Rome is 4,184,293, the second metropolitan area in Italy after Milan, 2,745,000 coincides with the city of Rome.The metropolitan area is...


)
http://world-gazetteer.com/wg.php?x=&men=gcis&lng=en&des=wg&srt=p2nn&col=abcdefghinoq&msz=1500&geo=-108
http://world-gazetteer.com/wg.php?x=1279900902&men=gcis&lng=en&des=gamelan&geo=-108&srt=31nn&col=abcdefghinoq&msz=1500&pt=a&va=&srt=p31nn
J
 Jamaica
Kingston

Kingston, Jamaica

Kingston is the capital and largest city of Jamaica, located on the southeastern coast of the island. It faces a natural harbour protected by the Palisadoes, a long sand spit which connects the town of Port Royal and the Norman Manley International Airport to the rest of the island...



Spanish Town

Spanish Town

Spanish Town is the capital and the largest town in the parish of St. Catherine in the county of Middlesex, Jamaica. It was the former Spanish and English capital of Jamaica from the 16th to the 19th century...



http://world-gazetteer.com/wg.php?x=&men=gcis&lng=en&des=wg&srt=p2nn&col=abcdefghinoq&msz=1500&geo=-109
 Japan
Tokyo

Tokyo

, ; officially , is one of the 47 prefectures of Japan. Tokyo is the capital of Japan, the center of the Greater Tokyo Area, and the largest metropolitan area of Japan. It is the seat of the Japanese government and the Imperial Palace, and the home of the Japanese Imperial Family...



Yokohama

Yokohama

is the capital city of Kanagawa Prefecture and the second largest city in Japan by population after Tokyo and most populous municipality of Japan. It lies on Tokyo Bay, south of Tokyo, in the Kantō region of the main island of Honshu...


(city proper)
Osaka-Kobe-Kyoto

Osaka-Kobe-Kyoto

is a Japanese metropolitan region encompassing the metropolitan areas of the cities of Osaka in Osaka prefecture, Kobe in Hyōgo Prefecture, and Kyoto in Kyoto prefecture. The entire region has a population of 18,644,000 over an area of 11,170 km²...


(metropolitan area)
http://world-gazetteer.com/wg.php?x=&men=gcis&lng=en&des=wg&geo=-111&srt=p2nn&col=abcdefghinoq&msz=1500&pt=c&va=&srt=1p2nn
http://world-gazetteer.com/wg.php?x=1267277850&men=gcis&lng=en&des=wg&geo=-111&srt=pxnn&col=abcdefghinoq&msz=600&va=&pt=a
 Jersey (UK)
Saint Helier

Saint Helier

Saint Helier is one of the twelve parishes of Jersey, the largest of the Channel Islands in the English Channel. St. Helier has a population of about 28,000, roughly 31.2% of the total population of Jersey, and is the capital of the Island . The urban area of the parish of St...



Saint Saviour

Saint Saviour, Jersey

-Notable sites:*Highlands College*De La Salle College*St. Michael's Preparatory School*Hautlieu School*Grainville Cricket Ground*Grainville School*Jersey Evening Post offices and printing works-External links:**...



http://world-gazetteer.com/wg.php?x=&men=gcis&lng=en&des=wg&geo=-238&srt=1pnn&col=abcdefghinoq&msz=1500&pt=c&va=&srt=p1nn
 Jordan
Amman

Amman

Amman is the capital of Jordan. It is the country's political, cultural and commercial centre and one of the oldest continuously inhabited cities in the world. The Greater Amman area has a population of 2,842,629 as of 2010. The population of Amman is expected to jump from 2.8 million to almost...



Zarqa

Zarqa

Az-Zarqāʔ is a city in Jordan located to the northeast of Amman. With a population of more than one million 1000,000. It is the country's second largest city after Amman. Zarqa is the capital of Zarqa Governorate . Its name means "the blue one".- Overview :Zarqa is Jordan's industrial centre, home...



http://world-gazetteer.com/wg.php?x=1270500695&men=gcis&lng=en&des=wg&geo=-110&srt=1pnn&col=abcdefghinoq&msz=1500&pt=c&va=&srt=p1nn
K
 Kazakhstan
Almaty

Almaty

Almaty , also known by its former names Verny and Alma-Ata , is the former capital of Kazakhstan and the nation's largest city, with a population of 1,348,500...



Shymkent

Shymkent

Shymkent , formerly known as Chimkent , is the capital city of South Kazakhstan Province, the most populated region in Kazakhstan. It is the third most populous city in Kazakhstan behind Almaty and Astana with a population of 629,600 . A major railroad junction on the Turkestan-Siberia Railway, the...



http://world-gazetteer.com/wg.php?x=&men=gcis&lng=en&des=wg&srt=p1nn&col=abcdefghinoq&msz=1500&geo=-122
 Kenya
Nairobi

Nairobi

Nairobi is the capital and largest city of Kenya. The city and its surrounding area also forms the Nairobi County. The name "Nairobi" comes from the Maasai phrase Enkare Nyirobi, which translates to "the place of cool waters". However, it is popularly known as the "Green City in the Sun" and is...



Mombasa

Mombasa

Mombasa is the second-largest city in Kenya. Lying next to the Indian Ocean, it has a major port and an international airport. The city also serves as the centre of the coastal tourism industry....



http://world-gazetteer.com/wg.php?x=&men=gcis&lng=en&des=gamelan&srt=p1nn&col=abcdefghinoq&msz=1500&geo=-112
 Kiribati
Bairiki
Taburao

Taburao

Taburao is a settlement in Kiribati. It is located on an atoll; the nearest locations are Turaubu, to the east; Morikao and Kuria, to the north; and Tabuiroa, to the south....



http://world-gazetteer.com/wg.php?x=&men=gcis&lng=en&des=wg&srt=p1nn&col=abcdefghinoq&msz=1500&geo=-115
 North Korea
Pyongyang

Pyongyang

Pyongyang is the capital of the Democratic People's Republic of Korea, commonly known as North Korea, and the largest city in the country. Pyongyang is located on the Taedong River and, according to preliminary results from the 2008 population census, has a population of 3,255,388. The city was...



Hamhung

Hamhung

Hamhŭng is North Korea's second largest city, and the capital of South Hamgyŏng Province. In late 2005, nearby Hŭngnam was made a ward within Hamhŭng-si. It has a population of 768,551 as of 2008.-Geography:...



http://world-gazetteer.com/wg.php?x=&men=gcis&lng=en&des=wg&srt=p1nn&col=abcdefghinoq&msz=1500&geo=-118
 South Korea
Seoul

Seoul

Seoul , officially the Seoul Special City, is the capital and largest metropolis of South Korea. A megacity with a population of over 10 million, it is the largest city proper in the OECD developed world...



Busan

Busan

Busan , formerly spelled Pusan is South Korea's second largest metropolis after Seoul, with a population of around 3.6 million. The Metropolitan area population is 4,399,515 as of 2010. It is the largest port city in South Korea and the fifth largest port in the world...



http://world-gazetteer.com/wg.php?x=&men=gcis&lng=en&des=wg&srt=p1nn&col=abcdefghinoq&msz=1500&geo=-119
 Republic of Kosovo (Serbia)
Pristina

Pristina

Pristina, also spelled Prishtina and Priština is the capital and largest city of Kosovo. It is the administrative centre of the homonymous municipality and district....



Prizren

Prizren

Prizren is a historical city located in southern Kosovo. It is the administrative center of the eponymous municipality and district.The city has a population of around 131,247 , mostly Albanians...



http://world-gazetteer.com/wg.php?x=&men=gcis&lng=en&des=wg&srt=p1nn&col=abcdefghinoq&msz=1500&geo=-248
 Kuwait
Kuwait City

Kuwait City

-Suburbs:Although the districts below are not usually recognized as suburbs, the following is a list of a few areas surrounding Kuwait city:Al-Salam ""السلام"" -Economy:...



Al Jahra

Al Jahra

Al Jahra is a city located north-west of Kuwait City in Kuwait . Al Jahra is the capital of the Al Jahra Governorate of Kuwait as well as the surrounding Al Jahra District which is agriculturally based. Encyclopædia Britannica recorded the population in 1980 as 67,311...



http://world-gazetteer.com/wg.php?x=1268532016&men=gcis&lng=en&des=gamelan&geo=-120&srt=p1nn&col=abcdefghinoq&msz=1500&va=&pt=a
 Kyrgyzstan
Bishkek

Bishkek

Bishkek , formerly Pishpek and Frunze, is the capital and the largest city of Kyrgyzstan.Bishkek is also the administrative centre of Chuy Province which surrounds the city, even though the city itself is not part of the province but rather a province-level unit of Kyrgyzstan.The name is thought to...



Osh

Osh

Osh is the second largest city in Kyrgyzstan, located in the Fergana Valley in the south of the country and often referred to as the "capital of the south". The city is at least 3,000 years old, and has served as the administrative center of Osh Province since 1939...



http://world-gazetteer.com/wg.php?x=&men=gcis&lng=en&des=wg&geo=-113&srt=p1nn&col=abcdefghinoq&msz=1500&pt=c&va=&srt=p1nn
L
 Laos
Vientiane

Vientiane

-Geography:Vientiane is situated on a bend of the Mekong river, which forms the border with Thailand at this point.-Climate:Vientiane features a tropical wet and dry climate with a distinct monsoon season and a dry season. Vientiane's dry season spans from November through March. April marks the...



Pakxe

Pakxe

Pakxe or Pakse is a city of 70,000 in southern Laos, situated at the confluence of the Xedone and Mekong Rivers. It is the largest city in Champasak province and its capital. It is served by Pakse International Airport and is the gateway to the Bolaven Plateau...



http://world-gazetteer.com/wg.php?x=&men=gcis&lng=en&des=wg&srt=p1nn&col=abcdefghinoq&msz=1500&geo=-123
 Latvia
Riga

Riga

Riga is the capital and largest city of Latvia. With 702,891 inhabitants Riga is the largest city of the Baltic states, one of the largest cities in Northern Europe and home to more than one third of Latvia's population. The city is an important seaport and a major industrial, commercial,...



Daugavpils

Daugavpils

Daugavpils is a city in southeastern Latvia, located on the banks of the Daugava River, from which the city gets its name. Daugavpils literally means "Daugava Castle". With a population of over 100,000, it is the second largest city in the country after the capital Riga, which is located some...



http://world-gazetteer.com/wg.php?x=&men=gcis&lng=en&des=wg&srt=p1nn&col=abcdefghinoq&msz=1500&geo=-132
 Lebanon
Beirut

Beirut

Beirut is the capital and largest city of Lebanon, with a population ranging from 1 million to more than 2 million . Located on a peninsula at the midpoint of Lebanon's Mediterranean coastline, it serves as the country's largest and main seaport, and also forms the Beirut Metropolitan...



Tripoli

Tripoli, Lebanon

Tripoli is the largest city in northern Lebanon and the second-largest city in Lebanon. Situated 85 km north of the capital Beirut, Tripoli is the capital of the North Governorate and the Tripoli District. Geographically located on the east of the Mediterranean, the city's history dates back...



http://world-gazetteer.com/wg.php?x=&men=gcis&lng=en&des=wg&srt=p1nn&col=abcdefghinoq&msz=1500&geo=-124
 Lesotho
Maseru

Maseru

Maseru is the capital of Lesotho. It is also the capital of the Maseru District. Located on the Caledon River, bordering South Africa, Maseru is Lesotho's only sizable city, with a population of approximately 227,880 . The city was established as a police camp and assigned as the capital after the...



Hlotse

Hlotse

Hlotse is an important market town in Lesotho. It is situated on the Hlotse River, near the South African border. The town was founded in 1876 by a British missionary, Reverend John Widdicombe. It was a colonial center until Lesotho gained its independence...



http://world-gazetteer.com/wg.php?x=&men=gcis&lng=en&des=wg&srt=p1nn&col=abcdefghinoq&msz=1500&geo=-129
 Liberia
Monrovia

Monrovia

Monrovia is the capital city of the West African nation of Liberia. Located on the Atlantic Coast at Cape Mesurado, it lies geographically within Montserrado County, but is administered separately...



Ganta

Ganta

Ganta, also known as Gompa City, is a town in Nimba County of northern Liberia, lying just south of the Guinean border. It is the second largest city in Liberia, with a population of 41,106....



http://world-gazetteer.com/wg.php?x=&men=gcis&lng=en&des=wg&srt=p1nn&col=abcdefghinoq&msz=1500&geo=-128
 Libya
Tripoli

Tripoli

Tripoli is the capital and largest city in Libya. It is also known as Western Tripoli , to distinguish it from Tripoli, Lebanon. It is affectionately called The Mermaid of the Mediterranean , describing its turquoise waters and its whitewashed buildings. Tripoli is a Greek name that means "Three...



Benghazi

Benghazi

Benghazi is the second largest city in Libya, the main city of the Cyrenaica region , and the former provisional capital of the National Transitional Council. The wider metropolitan area is also a district of Libya...



http://world-gazetteer.com/wg.php?x=&men=gcis&lng=en&des=wg&srt=p1nn&col=abcdefghinoq&msz=1500&geo=-133
 Liechtenstein
Schaan

Schaan

Schaan is the largest municipality of Liechtenstein. It is located to the north of Vaduz, the capital, in the central part of the country. As of 2005 it has a population of making it the largest administrative district in Liechtenstein, and covers an area of 26.8 km², including mountains and...



Vaduz

Vaduz

Vaduz is the capital of the principality of Liechtenstein and the seat of the national parliament. The town, located along the Rhine, has about 5,100 inhabitants , most of whom are Roman Catholic. Its cathedral is the seat of a Roman Catholic archbishop....



http://world-gazetteer.com/wg.php?x=&men=gcis&lng=en&des=wg&srt=p1nn&col=abcdefghinoq&msz=1500&geo=-126
 Lithuania
Vilnius

Vilnius

Vilnius is the capital of Lithuania, and its largest city, with a population of 560,190 as of 2010. It is the seat of the Vilnius city municipality and of the Vilnius district municipality. It is also the capital of Vilnius County...



Kaunas

Kaunas

Kaunas is the second-largest city in Lithuania and has historically been a leading centre of Lithuanian economic, academic, and cultural life. Kaunas was the biggest city and the center of a powiat in Trakai Voivodeship of the Grand Duchy of Lithuania since 1413. During Russian Empire occupation...



http://world-gazetteer.com/wg.php?x=&men=gcis&lng=en&des=wg&srt=p1nn&col=abcdefghinoq&msz=1500&geo=-130
 Luxembourg
Luxembourg City
Esch-sur-Alzette

Esch-sur-Alzette

Esch-sur-Alzette is a commune with city status, in south-western Luxembourg. It is the country's second city, and its second-most populous commune, with a population of 29,853 people...



http://world-gazetteer.com/wg.php?x=&men=gcis&lng=en&des=wg&srt=p1nn&col=abcdefghinoq&msz=1500&geo=-131
M
 Republic of Macedonia
Skopje

Skopje

Skopje is the capital and largest city of the Republic of Macedonia with about a third of the total population. It is the country's political, cultural, economic, and academic centre...



Kumanovo

Kumanovo

Kumanovo is a city in the Republic of Macedonia and is the seat of Kumanovo Municipality which is the largest municipality in the country. Municipal institutions include a city council, mayor and other administrative bodies.-Name:...



http://world-gazetteer.com/wg.php?x=&men=gcis&lng=en&des=wg&srt=p1nn&col=abcdefghinoq&msz=1500&geo=-139
 Madagascar
Antananarivo

Antananarivo

Antananarivo , formerly Tananarive , is the capital and largest city in Madagascar. It is also known by its French colonial shorthand form Tana....



Toamasina

Toamasina

Toamasina , meaning "like salt" or "salty", unofficially and in French also Tamatave, is a city on the east coast of Madagascar on the Indian Ocean. The city is the chief seaport of the country, situated northeast of its capital and biggest city Antananarivo, near the centre of the eastern coast...



http://world-gazetteer.com/wg.php?x=&men=gcis&lng=en&des=wg&srt=p1nn&col=abcdefghinoq&msz=1500&geo=-137
 Malawi
Lilongwe

Lilongwe

Lilongwe, estimated population 902,388 as of 2009, is the capital and largest city of Malawi. It lies in the country's central region, on the Lilongwe River, near the border of Malawi, Mozambique, and Zambia, and on the main north-south highway of Malawi, the M1.-History:The city started life as a...



Blantyre

Blantyre, Malawi

Blantyre or Mandala is Malawi's centre of finance and commerce, the largest city with an estimated 732,518 inhabitants . It is sometimes referred to as the commercial capital of Malawi as opposed to the political capital, Lilongwe...



http://world-gazetteer.com/wg.php?x=&men=gcis&lng=en&des=wg&srt=p1nn&col=abcdefghinoq&msz=1500&geo=-150
 Malaysia
Subang Jaya

Subang Jaya

Subang Jaya is a suburban city in the Klang Valley, Selangor, Malaysia. It comprises the southern third of the district of Petaling, and is home to a third of the district population of 1.78 million. Subang Jaya comprises , Bandar Sunway, UEP Subang Jaya, Putra Heights and Batu Tiga...


(city proper)
Kuala Lumpur

Kuala Lumpur

Kuala Lumpur is the capital and the second largest city in Malaysia by population. The city proper, making up an area of , has a population of 1.4 million as of 2010. Greater Kuala Lumpur, also known as the Klang Valley, is an urban agglomeration of 7.2 million...


(metropolitan area)
Kuala Lumpur

Kuala Lumpur

Kuala Lumpur is the capital and the second largest city in Malaysia by population. The city proper, making up an area of , has a population of 1.4 million as of 2010. Greater Kuala Lumpur, also known as the Klang Valley, is an urban agglomeration of 7.2 million...


(city proper)
Johor Bahru

Johor Bahru

Johor Bahru is the capital city of Johor in southern Malaysia. Johor Bahru is the southernmost city of the Eurasian mainland...


(metropolitan area)
http://world-gazetteer.com/wg.php?x=&men=gcis&lng=en&des=wg&geo=-152&srt=p1nn&col=abcdefghinoq&msz=1500&va=&pt=c
http://world-gazetteer.com/wg.php?x=&men=gcis&lng=en&des=wg&geo=-152&srt=p1nn&col=abcdefghinoq&msz=1500&va=&pt=a
 Maldives
Malé

Malé

Malé , is the capital and most populous city in the Republic of Maldives. It is located at the southern edge of North Malé Atoll . It is also one of the Administrative divisions of the Maldives. Traditionally it was the King's Island, from where the ancient Maldive Royal dynasties ruled and where...



Hithadhoo

Hithadhoo (Seenu Atoll)

Hithaadhoo is a district of Addu City, in the Maldives. Hithadhoo is the main administrative district of Addu City, with many of the administrative buildings in this district. The town is situated on the island of the same name, the westernmost of Seenu...



http://world-gazetteer.com/wg.php?x=&men=gcis&lng=en&des=wg&srt=p1nn&col=abcdefghinoq&msz=1500&geo=-149
 Mali
Bamako

Bamako

Bamako is the capital of Mali and its largest city with a population of 1.8 million . Currently, it is estimated to be the fastest growing city in Africa and sixth fastest in the world...



Sikasso

Sikasso

Sikasso is a city in the south of Mali and the capital of the Sikasso Region. With 130,700 residents, Sikasso recently passed Ségou to become Mali's second-largest city.-Geography:...



http://world-gazetteer.com/wg.php?x=&men=gcis&lng=en&des=wg&srt=p1nn&col=abcdefghinoq&msz=1500&geo=-140
 Malta
Birkirkara

Birkirkara

Birkirkara or B'Kara is a city of 25,858 inhabitants in central Malta. It is the most populated town on the island and consists of four autonomous parishes: St Helen, St Joseph, Our Lady of Mount Carmel and St Mary. It also houses one of the most famous colleges in Malta, St Aloysius' College...


(city proper)
Valletta

Valletta

Valletta is the capital of Malta, colloquially known as Il-Belt in Maltese. It is located in the central-eastern portion of the island of Malta, and the historical city has a population of 6,098. The name "Valletta" is traditionally reserved for the historic walled citadel that serves as Malta's...


(metropolitan area)
Mosta

Mosta

Mosta is a town situated in the middle of the island of Malta, to the north-west of Valletta. It had a population of 19,018 people in 2010. Mosta celebrates the feast of Saint Mary the Assumption on the 15th August. This is a very popular feast among the Mostin and tourists alike...



http://world-gazetteer.com/wg.php?x=&men=gcis&lng=en&des=wg&srt=1pnn&col=abcdefghinoq&msz=1500&geo=-147
http://world-gazetteer.com/wg.php?x=&men=gcis&lng=en&des=wg&geo=-147&srt=p1nn&col=abcdefghinoq&msz=1500&va=&pt=a
 Marshall Islands
Rita
Ebeye

Ebeye

Ebeye is the most populous island of Kwajalein Atoll in the Marshall Islands, as well as the center for Marshallese culture in the Ralik Chain of the archipelago. Settled on 80 acres of land, it has a population of more than 15,000. Over 50% of the population is estimated to be under the age of...



http://world-gazetteer.com/wg.php?x=&men=gcis&lng=en&des=wg&srt=1pnn&col=abcdefghinoq&msz=1500&geo=-138
 Mauritania
Nouakchott

Nouakchott

-Government:The town was first divided into districts in 1973. First it was divided into four. From 1986, the city has been split into nine districts.* Arafat* Dar Naim* El Mina* Ksar* Riad* Sebkha* Tevragh-Zeina* Teyarett* Toujounine...



Kiffa

Kiffa

Kiffa is a city and department in south-central Mauritania. Kiffa is capital of Assaba Region. It is located at around .It is famous for its antique Kiffa beads....



http://world-gazetteer.com/wg.php?x=&men=gcis&lng=en&des=wg&geo=-145&srt=1pnn&col=abcdefghinoq&msz=1500&pt=c&va=&srt=p1nn
 Mauritius
Port Louis

Port Louis

-Economy:The economy is dominated by its port, which handles Mauritius' international trade. The port was founded by the French who preferred Port Louis as the City is shielded by the Port Louis/Moka mountain range. It is the largest container handling facility in the Indian Ocean and can...



Beau Bassin-Rose Hill
http://world-gazetteer.com/wg.php?x=&men=gcis&lng=en&des=wg&srt=p31n&col=abcdefghinoq&msz=1500&geo=-148
 Mayotte (France)
Mamoudzou

Mamoudzou

Mamoudzou is the capital of the French overseas region and department of Mayotte, in the Indian Ocean. Mamoudzou, known as Momoju in the local Shimaore language, is the most populated commune of Mayotte. It is located on Grande-Terre , the main island of Mayotte...



Dzaoudzi

Dzaoudzi

Dzaoudzi is a commune in the French overseas department of Mayotte, in the Indian Ocean. The commune of Dzaoudzi , made up of the twin towns of Dzaoudzi and Labattoir, is located on the small island of Petite-Terre...



 Mexico
Mexico City

Mexico City

Mexico City is the Federal District , capital of Mexico and seat of the federal powers of the Mexican Union. It is a federal entity within Mexico which is not part of any one of the 31 Mexican states but belongs to the federation as a whole...



Guadalajara

Guadalajara, Jalisco

Guadalajara is the capital of the Mexican state of Jalisco, and the seat of the municipality of Guadalajara. The city is located in the central region of Jalisco in the western-pacific area of Mexico. With a population of 1,564,514 it is Mexico's second most populous municipality...



http://world-gazetteer.com/wg.php?x=&men=gcis&lng=en&des=wg&geo=-151&srt=p1nn&col=abcdefghinoq&msz=1500&pt=c&va=&srt=1pnn
 Federated States of Micronesia
Weno

Weno

Weno is an island municipality of Chuuk State of the Federated States of Micronesia. It is located in the Chuuk Lagoon and serves as the main center of commerce and is also the state capital. It has a population of approximately 6,000 to 7,000 people.-External links:*...



Palikir

Palikir

Palikir is the capital of the Federated States of Micronesia since 1989, when it replaced Kolonia, the other large settlement on the island.It has a population of 4,645 and is located on the island of Pohnpei.-External links:* *...



http://world-gazetteer.com/wg.php?x=&men=gcis&lng=en&des=wg&srt=p1nn&col=abcdefghinoq&msz=1500&geo=-77
 Moldova
Chişinău

Chisinau

Chișinău is the capital and largest municipality of Moldova. It is also its main industrial and commercial centre and is located in the middle of the country, on the river Bîc...



Tiraspol

Tiraspol

Tiraspol is the second largest city in Moldova and is the capital and administrative centre of the unrecognized Pridnestrovian Moldavian Republic . The city is located on the eastern bank of the Dniester River...



http://world-gazetteer.com/wg.php?x=&men=gcis&lng=en&des=wg&srt=p1nn&col=abcdefghinoq&msz=1500&geo=-136
 Monaco
Monte Carlo

Monte Carlo

Monte Carlo is an administrative area of the Principality of Monaco....



La Condamine

La Condamine

La Condamine is the second oldest district in Monaco, after Monaco-Ville. It is known for its distinctive wide harbor and moored expensive yachts.- Location in Monaco :By broad definition, it is one of the four traditional quartiers...



http://world-gazetteer.com/wg.php?x=&men=gcis&lng=en&des=wg&srt=p1nn&col=abcdefghinoq&msz=1500&geo=-135
 Mongolia
Ulan Bator
Erdenet

Erdenet

Erdenet is the third-largest city in Mongolia and the capital of the aimag of Orkhon.Located in the northern part of the country, it lies in a valley between the Selenge and Orkhon rivers about 150 miles northwest of Ulan Bator, the capital...



http://world-gazetteer.com/wg.php?x=&men=gcis&lng=en&des=wg&srt=p1nn&col=abcdefghinoq&msz=1500&geo=-142
 Kingdom of Montenegro
Podgorica

Podgorica

Podgorica , is the capital and largest city of Montenegro.Podgorica's favourable position at the confluence of the Ribnica and Morača rivers and the meeting point of the fertile Zeta Plain and Bjelopavlići Valley has encouraged settlement...



Nikšić

Nikšić

Nikšić is a city in Montenegro . In 2003 the city had a total population about 75,000.Nikšić is located in Nikšić plain, at the foot of Mount Trebjesa. It is the center of the municipality , which is the largest in Montenegro by area...



http://world-gazetteer.com/wg.php?x=&men=gcis&lng=en&des=wg&srt=p1nn&col=abcdefghinoq&msz=1500&geo=-240
 Montserrat (UK)
Brades

Brades

Brades is a village and de facto capital of the Caribbean island of Montserrat since 1998. Brades is located in the Carr's Bay/Little Bay vicinity at the northwest end of Montserrat. The official capital Plymouth in the south of the island has been abandoned since 1997 due to the eruption of...



Saint Peter's
http://world-gazetteer.com/wg.php?x=&men=gcis&lng=en&des=wg&srt=p1nn&col=abcdefghinoq&msz=1500&geo=-146
 Morocco
Casablanca

Casablanca

Casablanca is a city in western Morocco, located on the Atlantic Ocean. It is the capital of the Grand Casablanca region.Casablanca is Morocco's largest city as well as its chief port. It is also the biggest city in the Maghreb. The 2004 census recorded a population of 2,949,805 in the prefecture...



Rabat

Rabat

Rabat , is the capital and third largest city of the Kingdom of Morocco with a population of approximately 650,000...



http://world-gazetteer.com/wg.php?x=&men=gcis&lng=en&des=wg&srt=p1nn&col=abcdefghinoq&msz=1500&geo=-134
 Mozambique
Maputo

Maputo

Maputo, also known as Lourenço Marques, is the capital and largest city of Mozambique. It is known as the City of Acacias in reference to acacia trees commonly found along its avenues and the Pearl of the Indian Ocean. It was famous for the inscription "This is Portugal" on the walkway of its...



Nampula

Nampula

Nampula is the capital city of Nampula Province in Mozambique.It has a population of 471,717 making it the third largest city in Mozambique after Maputo and Beira. It is home to the Mozambique National Ethnographic Museum, several markets, cathedrals and mosques.It is also the center of business...



http://world-gazetteer.com/wg.php?x=&men=gcis&lng=en&des=wg&geo=-153&srt=2pnn&col=abcdefghinoq&msz=1500&pt=a&va=&srt=p2nn
 Myanmar
Yangon

Yangon

Yangon is a former capital of Burma and the capital of Yangon Region . Although the military government has officially relocated the capital to Naypyidaw since March 2006, Yangon, with a population of over four million, continues to be the country's largest city and the most important commercial...



Mandalay

Mandalay

Mandalay is the second-largest city and the last royal capital of Burma. Located north of Yangon on the east bank of the Irrawaddy River, the city has a population of one million, and is the capital of Mandalay Region ....



http://world-gazetteer.com/wg.php?x=&men=gcis&lng=en&des=wg&srt=p1nn&col=abcdefghinoq&msz=1500&geo=-141
N
 Nagorno-Karabakh Republic (Azerbaijan)
Stepanakert

Stepanakert

Stepanakert is the largest city and capital of the Nagorno-Karabakh Republic, a de facto independent republic, though is internationally recognized as a part of Azerbaijan...



Shusha

Shusha

Shusha , also known as Shushi is a town in the disputed region of Nagorno-Karabakh in the South Caucasus. It has been under the control of the self-proclaimed Nagorno-Karabakh Republic since its capture in 1992 during the Nagorno-Karabakh War...



 Namibia
Windhoek

Windhoek

Windhoek is the capital and largest city of the Republic of Namibia. It is located in central Namibia in the Khomas Highland plateau area, at around above sea level. The 2001 census determined Windhoek's population was 233,529...



Rundu

Rundu

Rundu is the capital of the Kavango Region, northern Namibia, on the border with Angola on the banks of the Okavango River about 1000 m above sea level. The place normally receives an annual average rainfall of , although in the 2010/2011 rainy season were measured.Rundu grows rapidly...



http://world-gazetteer.com/wg.php?x=&men=gcis&lng=en&des=wg&srt=p2nn&col=abcdefghinoq&msz=1500&geo=-154
 Nauru
Yaren
Denigomudu
 Nepal
Kathmandu
Pokhara

Pokhara

Pokhara Sub-Metropolitan City is the second largest city of Nepal. Pokhara is city of close to 350,000 inhabitants in central Nepal located at 28.25°N, 83.99°E, which is the centre of the country from east to west or from north to south, 198 km west of Kathmandu or 90 km west of Mugling, and...



http://world-gazetteer.com/wg.php?x=&men=gcis&lng=en&des=wg&srt=p12n&col=abcdefghinoq&msz=1500&geo=-162
 Netherlands
Amsterdam

Amsterdam

Amsterdam is the largest city and the capital of the Netherlands. The current position of Amsterdam as capital city of the Kingdom of the Netherlands is governed by the constitution of August 24, 1815 and its successors. Amsterdam has a population of 783,364 within city limits, an urban population...



Rotterdam

Rotterdam

Rotterdam is the second-largest city in the Netherlands and one of the largest ports in the world. Starting as a dam on the Rotte river, Rotterdam has grown into a major international commercial centre...



http://world-gazetteer.com/wg.php?x=&men=gcis&lng=en&des=wg&srt=p1nn&col=abcdefghinoq&msz=1500&geo=-160
 Netherlands Antilles (Netherlands)
Willemstad

Willemstad, Netherlands Antilles

Willemstad is the capital city of Curaçao, an island in the southern Caribbean Sea that forms a constituent country of the Kingdom of the Netherlands. Formerly the capital of the Netherlands Antilles prior to its dissolution in 2010, it has an estimated population of 140,000. The historic centre of...



Prince's Quarter
http://world-gazetteer.com/wg.php?x=&men=gcis&lng=en&des=wg&srt=p1nn&col=abcdefghinoq&msz=1500&geo=-18
 New Caledonia (France)
Nouméa

Nouméa

Nouméa is the capital city of the French territory of New Caledonia. It is situated on a peninsula in the south of New Caledonia's main island, Grande Terre, and is home to the majority of the island's European, Polynesian , Indonesian, and Vietnamese populations, as well as many Melanesians,...



Wé

Wé

Wé is a small town in the commune of Lifou, in the Loyalty Islands Province, New Caledonia. It is located on the east coast of Lifou Island. Wé is the administrative centre of the commune of Lifou as well as the location of the provincial assembly of the Loyalty Islands....



http://world-gazetteer.com/wg.php?x=&men=gcis&lng=en&des=wg&geo=-155&srt=p2dn&col=abcdefghinoq&msz=1500&va=&pt=a
 New Zealand
Auckland

Auckland

The Auckland metropolitan area , in the North Island of New Zealand, is the largest and most populous urban area in the country with residents, percent of the country's population. Auckland also has the largest Polynesian population of any city in the world...



Christchurch

Christchurch

Christchurch is the largest city in the South Island of New Zealand, and the country's second-largest urban area after Auckland. It lies one third of the way down the South Island's east coast, just north of Banks Peninsula which itself, since 2006, lies within the formal limits of...



http://world-gazetteer.com/wg.php?x=&men=gcis&lng=en&des=wg&geo=-165&srt=p1nn&col=abcdefghinoq&msz=1500&va=&pt=a
 Nicaragua
Managua

Managua

Managua is the capital city of Nicaragua as well as the department and municipality by the same name. It is the largest city in Nicaragua in terms of population and geographic size. Located on the southwestern shore of Lake Xolotlán or Lake Managua, the city was declared the national capital in...



León

León, Nicaragua

León is a department in northwestern Nicaragua . It is also the second largest city in Nicaragua, after Managua. It was founded by the Spaniards as Santiago de los Caballeros de León and rivals Granada, Nicaragua, in the number of historic Spanish colonial homes and churches...



http://world-gazetteer.com/wg.php?x=&men=gcis&lng=en&des=wg&srt=p1nn&col=abcdefghinoq&msz=1500&geo=-159
 Niger
Niamey

Niamey

-Population:While Niamey's population has grown steadily since independence, the droughts of the early 1970s and 1980s, along with the economic crisis of the early 1980s, have propelled an exodus of rural inhabitants to Niger's largest city...



Zinder

Zinder

Zinder is the second largest city in Niger, with a population of 170,574 by 2005 was estimated to be over 200,000...



http://world-gazetteer.com/wg.php?x=&men=gcis&lng=en&des=wg&srt=p1nn&col=abcdefghinoq&msz=1500&geo=-156
 Nigeria
Lagos

Lagos

Lagos is a port and the most populous conurbation in Nigeria. With a population of 7,937,932, it is currently the third most populous city in Africa after Cairo and Kinshasa, and currently estimated to be the second fastest growing city in Africa...



Ibadan

Ibadan

Ibadan is the capital city of Oyo State and the third largest metropolitan area in Nigeria, after Lagos and Kano, with a population of 1,338,659 according to the 2006 census. Ibadan is also the largest metropolitan geographical area...



http://world-gazetteer.com/wg.php?x=&men=gcis&lng=en&des=wg&srt=p1nn&col=abcdefghinoq&msz=1500&geo=-158
 Niue (New Zealand)
Alofi

Alofi

Alofi is the capital city of the Pacific Ocean nation of Niue. With a population of 581 , Alofi has the distinction of being the smallest national capital city in terms of population. It consists of the two villages Alofi North and Alofi South, where the government headquarters are located. Alofi...



Avatele

Avatele

Avatele, , is a village on the southwest coast of Niue with a population of roughly 200 residents as of late 2007.-Geography:...



http://world-gazetteer.com/wg.php?x=&men=gcis&lng=en&des=wg&geo=-164&srt=31nn&col=abcdefghinoq&msz=1500&pt=c&va=&srt=p31nn
 Norfolk Island (Australia)
Burnt Pine

Burnt Pine

Burnt Pine is the largest town on Norfolk Island . It is the main commercial hub of the island, and travel from one side of the island to another generally involves passing through Burnt Pine...



Kingston

Kingston, Norfolk Island

Kingston is the capital of the Australian South Pacific Territory of Norfolk Island. The vice-regal, legislative, administrative and judicial offices are all located in Kingston...



 Turkish Republic of Northern Cyprus (Cyprus)
Nicosia

Nicosia

Nicosia from , known locally as Lefkosia , is the capital and largest city in Cyprus, as well as its main business center. Nicosia is the only divided capital in the world, with the southern and the northern portions divided by a Green Line...



Kyrenia

Kyrenia

Kyrenia is a town on the northern coast of Cyprus, noted for its historic harbour and castle. Internationally recognised as part of the Republic of Cyprus, Kyrenia has been under Turkish control since the Turkish invasion of Cyprus in 1974...



 Northern Mariana Islands (US)
San Antonio

San Antonio, Saipan

San Antonio is a settlement in Saipan, in the Northern Mariana Islands. It is close to the southwestern tip of the island. Once a separate village, it is now virtually contiguous with other nearby villages on beach road, including Susupe, Chalan Kanoa and Chalan Piao....



Garapan

Garapan

Garapan is the largest village and the center of the tourism industry on the island of Saipan, which is a part of the United States Commonwealth of the Northern Mariana Islands ....



http://world-gazetteer.com/wg.php?x=&men=gcis&lng=en&des=wg&geo=-143&srt=p1nn&col=abcdefghinoq&msz=1500&pt=c&va=&srt=1pnn
 Norway
Oslo

Oslo

Oslo is a municipality, as well as the capital and most populous city in Norway. As a municipality , it was established on 1 January 1838. Founded around 1048 by King Harald III of Norway, the city was largely destroyed by fire in 1624. The city was moved under the reign of Denmark–Norway's King...



Bergen

Bergen

Bergen is the second largest city in Norway with a population of as of , . Bergen is the administrative centre of Hordaland county. Greater Bergen or Bergen Metropolitan Area as defined by Statistics Norway, has a population of as of , ....



http://world-gazetteer.com/wg.php?x=&men=gcis&lng=en&des=wg&srt=1pnn&col=abcdefghinoq&msz=1500&geo=-161
O
 Oman
Muscat

Muscat, Oman

Muscat is the capital of Oman. It is also the seat of government and largest city in the Governorate of Muscat. As of 2008, the population of the Muscat metropolitan area was 1,090,797. The metropolitan area spans approximately and includes six provinces called wilayats...



Salalah

Salalah

Salalah , is the capital and seat of the governor or Wali of the southern Omani province of Dhofar. The population of Salalah was 197,169 in 2009....



http://world-gazetteer.com/wg.php?x=&men=gcis&lng=en&des=wg&geo=-166&srt=1pnn&col=abcdefghinoq&msz=1500&pt=a&va=&srt=p1nn
P
 Pakistan
Karachi

Karachi

Karachi is the largest city, main seaport and the main financial centre of Pakistan, as well as the capital of the province of Sindh. The city has an estimated population of 13 to 15 million, while the total metropolitan area has a population of over 18 million...



Lahore

Lahore

Lahore is the capital of the Pakistani province of Punjab and the second largest city in the country. With a rich and fabulous history dating back to over a thousand years ago, Lahore is no doubt Pakistan's cultural capital. One of the most densely populated cities in the world, Lahore remains a...



http://world-gazetteer.com/wg.php?x=&men=gcis&lng=en&des=wg&srt=1pnn&col=abcdefghinoq&msz=1500&geo=-172
 Palau
Koror

Koror

Koror is the state comprising the main commercial centre of the Republic of Palau. It consists of several islands, the most prominent being Koror Island ....



Airai

Airai

Airai, located on the southern coast of Babeldaob island, is the second-most populous state of Palau. It contains the country's chief airport, Airai International Airport, and is connected by the Koror-Babeldaob Bridge to nearby Koror Island....



http://world-gazetteer.com/wg.php?x=&men=gcis&lng=en&des=wg&geo=-178&srt=1pnn&col=abcdefghinoq&msz=1500&pt=c&va=&srt=p1nn
 Palestinian territories
Gaza
Hebron

Hebron

Hebron , is located in the southern West Bank, south of Jerusalem. Nestled in the Judean Mountains, it lies 930 meters above sea level. It is the largest city in the West Bank and home to around 165,000 Palestinians, and over 500 Jewish settlers concentrated in and around the old quarter...


(city proper)
Jerusalem (metropolitan area)
http://world-gazetteer.com/wg.php?x=&men=gcis&lng=en&des=wg&geo=-176&srt=p3nn&col=abcdefghinoq&msz=1500&pt=c&va=&srt=p3nn
http://world-gazetteer.com/wg.php?x=&men=gcis&lng=en&des=wg&geo=-176&srt=31pn&col=abcdefghinoq&msz=1500&pt=a&va=&srt=p31n
 Panama
Panama City

Panama City

Panama is the capital and largest city of the Republic of Panama. It has a population of 880,691, with a total metro population of 1,272,672, and it is located at the Pacific entrance of the Panama Canal, in the province of the same name. The city is the political and administrative center of the...



David

David, Panama

David is a city located in the west of Panama. It is the capital of the province of Chiriquí and has an estimated population of 144,858 inhabitants as confirmed in 2010. It is a relatively affluent city with most families and houses having basic living requirements, such as concrete houses, clean...



http://world-gazetteer.com/wg.php?x=&men=gcis&lng=en&des=wg&geo=-167&srt=p1nn&col=abcdefghinoq&msz=1500&pt=a&va=&srt=p1nn
 Papua New Guinea
Port Moresby

Port Moresby

Port Moresby , or Pot Mosbi in Tok Pisin, is the capital and largest city of Papua New Guinea . It is located on the shores of the Gulf of Papua, on the southeastern coast of the island of New Guinea, which made it a prime objective for conquest by the Imperial Japanese forces during 1942–43...



Lae

Lae

Lae, the capital of Morobe Province, is the second-largest city in Papua New Guinea. It is located at the start of the Highlands Highway which is the main land transport corridor from the Highlands region to the coast...



http://world-gazetteer.com/wg.php?x=&men=gcis&lng=en&des=wg&srt=1pnn&col=abcdefghinoq&msz=1500&geo=-170
 Paraguay
Asunción

Asunción

Asunción is the capital and largest city of Paraguay.The "Ciudad de Asunción" is an autonomous capital district not part of any department. The metropolitan area, called Gran Asunción, includes the cities of San Lorenzo, Fernando de la Mora, Lambaré, Luque, Mariano Roque Alonso, Ñemby, San...



Ciudad del Este

Ciudad del Este

Ciudad del Este is the second largest city in Paraguay and capital of Alto Paraná department, located at the Rio Paraná....



http://world-gazetteer.com/wg.php?x=&men=gcis&lng=en&des=wg&geo=-179&srt=1pnn&col=abcdefghinoq&msz=1500&pt=c&va=&srt=p1nn
 Peru
Lima

Lima

Lima is the capital and the largest city of Peru. It is located in the valleys of the Chillón, Rímac and Lurín rivers, in the central part of the country, on a desert coast overlooking the Pacific Ocean. Together with the seaport of Callao, it forms a contiguous urban area known as the Lima...



Arequipa

Arequipa

Arequipa is the capital city of the Arequipa Region in southern Peru. With a population of 836,859 it is the second most populous city of the country...


(city proper)
Chiclayo

Chiclayo

Chiclayo is the capital city of the Lambayeque region in northern Peru. It is located 13 kilometers inland from the Pacific coast and 770 kilometers from the nation's capital, Lima...


(metropolitan area)
http://world-gazetteer.com/wg.php?x=&men=gcis&lng=en&des=wg&srt=p1nn&col=abcdefghinoq&msz=1500&geo=-168
http://world-gazetteer.com/wg.php?x=&men=gcis&lng=en&des=wg&geo=-168&srt=p1nn&col=abcdefghinoq&msz=1500&pt=a&va=&srt=p1nn
 Philippines
Quezon City

Quezon City

Quezon City is the former capital and the most populous city in the Philippines. Located on the island of Luzon, Quezon City is one of the cities and municipalities that make up Metro Manila, the National Capital Region. The city was named after Manuel L...


(city proper)
Manila

Manila

Manila is the capital of the Philippines. It is one of the sixteen cities forming Metro Manila.Manila is located on the eastern shores of Manila Bay and is bordered by Navotas and Caloocan to the north, Quezon City to the northeast, San Juan and Mandaluyong to the east, Makati on the southeast,...


(metropolitan area

Metro Manila

Metropolitan Manila , the National Capital Region , or simply Metro Manila, is the metropolitan region encompassing the City of Manila and its surrounding areas in the Philippines...


)
Manila

Manila

Manila is the capital of the Philippines. It is one of the sixteen cities forming Metro Manila.Manila is located on the eastern shores of Manila Bay and is bordered by Navotas and Caloocan to the north, Quezon City to the northeast, San Juan and Mandaluyong to the east, Makati on the southeast,...


(city proper)
Cebu

Cebu City

The City of Cebu is the capital city of Cebu and is the second largest city in the Philippines, the second most significant metropolitan centre in the Philippines and known as the oldest settlement established by the Spaniards in the country.The city is located on the eastern shore of Cebu and was...


(metropolitan area

Metro Cebu

Metro Cebu is the main urban center of the province of Cebu in the Philippines. Metro Cebu is located along the central eastern portion of the island including the nearby island of Mactan...


)
 Pitcairn Islands (UK)
Adamstown is the only city
 Poland
Warsaw

Warsaw

Warsaw is the capital and largest city of Poland. It is located on the Vistula River, roughly from the Baltic Sea and from the Carpathian Mountains. Its population in 2010 was estimated at 1,716,855 residents with a greater metropolitan area of 2,631,902 residents, making Warsaw the 10th most...


(city proper)
Katowice

Katowice

Katowice is a city in Silesia in southern Poland, on the Kłodnica and Rawa rivers . Katowice is located in the Silesian Highlands, about north of the Silesian Beskids and about southeast of the Sudetes Mountains.It is the central district of the Upper Silesian Metropolis, with a population of 2...


(metropolitan area

Katowice urban area

The Katowice urban area, also known as the Upper Silesian urban area, is an urban area/conurbation in southern Poland. It is located in the Silesian Voivodeship and in a small part of the Lesser Poland Voivodeship. The Katowice urban area is the largest urban area in Poland and one of the largest...


)
Kraków

Kraków

Kraków also Krakow, or Cracow , is the second largest and one of the oldest cities in Poland. Situated on the Vistula River in the Lesser Poland region, the city dates back to the 7th century. Kraków has traditionally been one of the leading centres of Polish academic, cultural, and artistic life...


(city proper)
Warsaw

Warsaw

Warsaw is the capital and largest city of Poland. It is located on the Vistula River, roughly from the Baltic Sea and from the Carpathian Mountains. Its population in 2010 was estimated at 1,716,855 residents with a greater metropolitan area of 2,631,902 residents, making Warsaw the 10th most...


(metropolitan area)
http://world-gazetteer.com/wg.php?x=&men=gcis&lng=en&des=wg&srt=p1nn&col=abcdefghinoq&msz=1500&geo=-173
http://world-gazetteer.com/wg.php?x=1272664216&men=gcis&lng=en&des=wg&geo=-173&srt=p3nn&col=abcdefghinoq&msz=1500&pt=a&va=&srt=p3nn
 Portugal
Lisbon

Lisbon

Lisbon is the capital city and largest city of Portugal with a population of 545,245 within its administrative limits on a land area of . The urban area of Lisbon extends beyond the administrative city limits with a population of 3 million on an area of , making it the 9th most populous urban...



Porto

Porto

Porto , also known as Oporto in English, is the second largest city in Portugal and one of the major urban areas in the Iberian Peninsula. Its administrative limits include a population of 237,559 inhabitants distributed within 15 civil parishes...



http://world-gazetteer.com/wg.php?x=&men=gcis&lng=en&des=wg&srt=p1nn&col=abcdefghinoq&msz=1500&geo=-177
 Puerto Rico (US)
San Juan

San Juan, Puerto Rico

San Juan , officially Municipio de la Ciudad Capital San Juan Bautista , is the capital and most populous municipality in Puerto Rico, an unincorporated territory of the United States. As of the 2010 census, it had a population of 395,326 making it the 46th-largest city under the jurisdiction of...



Bayamón

Bayamón, Puerto Rico

Bayamón is a municipality of Puerto Rico located on the northern coastal valley, north of Aguas Buenas and Comerío; south of Toa Baja and Cataño; west of Guaynabo; and east of Toa Alta and Naranjito. Bayamón is spread over 11 wards and Bayamón Pueblo...


(city proper)
Ponce

Ponce, Puerto Rico

Ponce is both a city and a municipality in the southern part of Puerto Rico. The city is the seat of the municipal government.The city of Ponce, the fourth most populated in Puerto Rico, and the most populated outside of the San Juan metropolitan area, is named for Juan Ponce de León y Loayza, the...


(metropolitan area

Ponce metropolitan area

The Ponce Metropolitan Statistical Area is a United States Census Bureau defined Metropolitan Statistical Area in south central Puerto Rico. A July 1, 2009 Census Bureau estimate placed the population at 262,414, a 0.95% decrease from the 2000 census figure of 264,919.Ponce is the third largest...


)
http://world-gazetteer.com/wg.php?x=&men=gcis&lng=en&des=wg&srt=p1nn&col=abcdefghinoq&msz=1500&geo=-175
http://world-gazetteer.com/wg.php?x=&men=gcis&lng=en&des=wg&geo=-175&srt=p1nn&col=abcdefghinoq&msz=1500&pt=a&va=&srt=p1nn
Q
 Qatar
Doha

Doha

Doha is the capital city of the state of Qatar. Located on the Persian Gulf, it had a population of 998,651 in 2008, and is also one of the municipalities of Qatar...



Al Khor

Al Khor

Al Khor is a coastal city in northern Qatar, located 50 kilometers north of the capital, Doha. The name of the city means creek in Arabic as the town is located on a creek...



http://world-gazetteer.com/wg.php?x=&men=gcis&lng=en&des=wg&geo=-180&srt=p1nn&col=abcdefghinoq&msz=1500&va=&pt=a
R
 Kingdom of Romania
Bucharest

Bucharest

Bucharest is the capital municipality, cultural, industrial, and financial centre of Romania. It is the largest city in Romania, located in the southeast of the country, at , and lies on the banks of the Dâmbovița River....



Cluj-Napoca

Cluj-Napoca

Cluj-Napoca , commonly known as Cluj, is the fourth most populous city in Romania and the seat of Cluj County in the northwestern part of the country. Geographically, it is roughly equidistant from Bucharest , Budapest and Belgrade...



http://world-gazetteer.com/wg.php?x=1264984144&men=gcis&lng=en&des=wg&geo=-182&srt=31pn&col=abcdefghinoq&msz=1500&pt=c&va=&srt=p31n
 Russia
Moscow

Moscow

Moscow is the capital, the most populous city, and the most populous federal subject of Russia. The city is a major political, economic, cultural, scientific, religious, financial, educational, and transportation centre of Russia and the continent...



Saint Petersburg

Saint Petersburg

Saint Petersburg is a city and a federal subject of Russia located on the Neva River at the head of the Gulf of Finland on the Baltic Sea...



http://world-gazetteer.com/wg.php?x=&men=gcis&lng=en&des=wg&geo=-183&srt=pnan&col=abcdefghinoq&msz=1500&pt=c&va=&srt=1pnan
 Rwanda
Kigali

Kigali

Kigali, population 965,398 , is the capital and largest city of Rwanda. It is situated near the geographic centre of the nation, and has been the economic, cultural, and transport hub of Rwanda since it became capital at independence in 1962. The main residence and offices of the President of...



Ruhengeri

Ruhengeri

Ruhengeri is a city and capital of Musanze District in the Northern Province of Rwanda. Some sources now refer to the city itself as Musanze, after the district in which it lies. It lies near the twin lakes of Lake Burera and Lake Ruhondo and is the gateway city to Volcanoes National Park and the...



http://world-gazetteer.com/wg.php?x=&men=gcis&lng=en&des=wg&geo=-184&srt=1pnn&col=abcdefghinoq&msz=1500&pt=c&va=&srt=p1nn
S
 Saint Barthélemy (France)
Gustavia
St. Jean
 Saint Helena (UK)
Half Tree Hollow

Half Tree Hollow

Half Tree Hollow is the "suburb" of Jamestown, Saint Helena, a British island in the South Atlantic. The village is built at the top of Jacob's Ladder, a hillside stairway connecting it with Jamestown...



Longwood

Longwood, Saint Helena

Longwood is a settlement and a district of the British island of Saint Helena, where Napoleon was exiled from 1815 until his death on 5 May 1821. France owns the land around Napoleon's original grave, but the United Kingdom retains full sovereignty....



http://world-gazetteer.com/wg.php?x=&men=gcis&lng=en&des=wg&geo=-191&srt=pnan&col=abcdefghinoq&msz=1500&pt=c&va=&srt=1pnan
 Saint Kitts and Nevis
Basseterre

Basseterre

Basseterre , estimated population 15,500 in 2000, is the capital of the Federation of Saint Kitts and Nevis in the West Indies. Geographically, the Basseterre port is located at , on the south western coast of Saint Kitts Island, and it is one of the chief commercial depots of the Leeward Islands...



Charlestown

Charlestown, Saint Kitts and Nevis

Charlestown is the capital of the island of Nevis, in the Federation of Saint Kitts and Nevis, Leeward Islands, West Indies. Charlestown is situated on the leeward side of the island of Nevis, near the southern end of Pinneys Beach....



http://world-gazetteer.com/wg.php?x=&men=gcis&lng=en&des=wg&geo=-117&srt=pnan&col=abcdefghinoq&msz=1500&pt=c&va=&srt=1pnan
 Saint Lucia
Castries

Castries

Castries , population 10,634, aggl. 37,963 , is the capital city of Saint Lucia, a country in the Caribbean. The district with the same name had a population of 61,341 in 2001-05-22, and stretches over an area of ....



Bexon
http://world-gazetteer.com/wg.php?x=&men=gcis&lng=en&des=wg&geo=-125&srt=21pn&col=abcdefghinoq&msz=1500&pt=c&va=&srt=12pn
 Saint Martin (France) (France)
Marigot

Marigot, Saint Martin

Marigot is the main town and capital on the French side of the Caribbean island of Saint Martin.-History and features:Originally a fishing village on a swamp for which it was named, Marigot was made capital during the reign of King Louis XVI, who built Fort St. Louis on a hill near Marigot Bay...



Rambaud
 Saint-Pierre and Miquelon (France)
Saint-Pierre
Miquelon

Miquelon, Miquelon-Langlade

Miquelon is the capital of Miquelon-Langlade a commune in the French overseas collectivity of Saint Pierre and Miquelon. It is located along a tombolo type isthmus that connects the formerly separate island of Le Cap with the northwestern part of Miquelon Island...



http://world-gazetteer.com/wg.php?x=&men=gcis&lng=en&des=wg&srt=21nn&col=abcdefghinoq&msz=1500&geo=-174
 Saint Vincent and the Grenadines
Kingstown

Kingstown

Kingstown is the chief port of Saint Vincent, and the capital of Saint Vincent and the Grenadines. With a population of 25,418 Kingstown is a centre for the island's agricultural industry and a port of entry for tourists...



Georgetown

Georgetown, Saint Vincent and the Grenadines

Georgetown is a town located on the island of Saint Vincent. It is the largest city in Charlotte Parish.-See also:* Saint Vincent and the Grenadines...



http://world-gazetteer.com/wg.php?x=&men=gcis&lng=en&des=wg&geo=-227&srt=21nn&col=abcdefghinoq&msz=1500&pt=c&va=&srt=p21nn
 Samoa
Apia
Vaitele
http://world-gazetteer.com/wg.php?x=&men=gcis&lng=en&des=wg&srt=21pn&col=abcdefghinoq&msz=1500&geo=-234
 San Marino
Serravalle
Borgo Maggiore

Borgo Maggiore

Borgo Maggiore is one of the 9 communes or "castelli" of San Marino. It lies at the foot of Monte Titano and has a population of 5,992 , making it the second largest town of San Marino, after Dogana.-Geography:...



http://world-gazetteer.com/wg.php?x=&men=gcis&lng=en&des=wg&geo=-196&srt=p2nn&col=abcdefghinoq&msz=1500&pt=c&va=&srt=3p2nn
 São Tomé and Príncipe
São Tomé

São Tomé

-Transport:São Tomé is served by São Tomé International Airport with regular flights to Europe and other African Countries.-Climate:São Tomé features a tropical wet and dry climate with a relatively lengthy wet season and a short dry season. The wet season runs from October through May while the...



Trindade
http://world-gazetteer.com/wg.php?x=&men=gcis&lng=en&des=wg&geo=-200&srt=3pnn&col=abcdefghinoq&msz=1500&pt=c&va=&srt=p3nn
 Saudi Arabia
Riyadh

Riyadh

Riyadh is the capital and largest city of Saudi Arabia. It is also the capital of Riyadh Province, and belongs to the historical regions of Najd and Al-Yamama. It is situated in the center of the Arabian Peninsula on a large plateau, and is home to 5,254,560 people, and the urban center of a...



Jeddah

Jeddah

Jeddah, Jiddah, Jidda, or Jedda is a city located on the coast of the Red Sea and is the major urban center of western Saudi Arabia. It is the largest city in Makkah Province, the largest sea port on the Red Sea, and the second largest city in Saudi Arabia after the capital city, Riyadh. The...



http://world-gazetteer.com/wg.php?x=&men=gcis&lng=en&des=wg&srt=21pn&col=abcdefghinoq&msz=1500&geo=-185
 Senegal
Dakar

Dakar

Dakar is the capital city and largest city of Senegal. It is located on the Cap-Vert Peninsula on the Atlantic coast and is the westernmost city on the African mainland...



Thiès

Thiès

Thiès is the third largest city in Senegal with a population officially estimated at 320,000 in 2005. It lies 60 km east of Dakar on the N2 road and at the junction of railway lines to Dakar, Bamako and St-Louis...



http://world-gazetteer.com/wg.php?x=&men=gcis&lng=en&des=gamelan&geo=-197&srt=p3en&col=abcdefghinoq&msz=1500&pt=c&va=&srt=1p3en
 Serbia
Belgrade

Belgrade

Belgrade is the capital and largest city of Serbia. It is located at the confluence of the Sava and Danube rivers, where the Pannonian Plain meets the Balkans. According to official results of Census 2011, the city has a population of 1,639,121. It is one of the 15 largest cities in Europe...



Novi Sad

Novi Sad

Novi Sad is the capital of the northern Serbian province of Vojvodina, and the administrative centre of the South Bačka District. The city is located in the southern part of Pannonian Plain on the Danube river....



http://world-gazetteer.com/wg.php?x=1264700910&men=gcis&lng=en&des=wg&geo=-244&srt=p1nn&col=abcdefghinoq&msz=1500&pt=c&va=&srt=1pnn
 Seychelles
Victoria

Victoria, Seychelles

Victoria is the capital city of the Seychelles and is situated on the north-eastern side of Mahé island, which is the main island of the archipelago. The city was first established as the seat of the British colonial government...



Anse Etoile

Anse Etoile

Anse Etoile is an administrative district of Seychelles located on the island of Mahé....



 Sierra Leone
Freetown

Freetown

Freetown is the capital and largest city of Sierra Leone, a country in West Africa. It is a major port city on the Atlantic Ocean located in the Western Area of the country, and had a city proper population of 772,873 at the 2004 census. The city is the economic, financial, and cultural center of...



Bo

Bo, Sierra Leone

Bo is the second largest city in Sierra Leone and the largest city in the Southern Province. It lies about 164 miles south-east of Freetown and had a population 149,957 in the 2004 census, with a current estimate is 231,494 . The city serve as the capital and administrative center of Bo District...



http://world-gazetteer.com/wg.php?x=&men=gcis&lng=en&des=wg&geo=-195&srt=1pnn&col=abcdefghinoq&msz=1500&pt=c&va=&srt=1pnn
 Singapore
Singapore

Singapore

Singapore , officially the Republic of Singapore, is a Southeast Asian city-state off the southern tip of the Malay Peninsula, north of the equator. An island country made up of 63 islands, it is separated from Malaysia by the Straits of Johor to its north and from Indonesia's Riau Islands by the...


is a city-state

City-state

A city-state is an independent or autonomous entity whose territory consists of a city which is not administered as a part of another local government.-Historical city-states:...


.
http://world-gazetteer.com/wg.php?x=&men=gcis&lng=en&des=gamelan&srt=1p3n&col=abcdefghinoq&msz=1500&geo=-190
 Slovakia
Bratislava

Bratislava

Bratislava is the capital of Slovakia and, with a population of about 431,000, also the country's largest city. Bratislava is in southwestern Slovakia on both banks of the Danube River. Bordering Austria and Hungary, it is the only national capital that borders two independent countries.Bratislava...



Košice

Košice

Košice is a city in eastern Slovakia. It is situated on the river Hornád at the eastern reaches of the Slovak Ore Mountains, near the border with Hungary...



http://world-gazetteer.com/wg.php?x=&men=gcis&lng=en&des=gamelan&srt=1p3n&col=abcdefghinoq&msz=1500&geo=-194
 Slovenia
Ljubljana

Ljubljana

Ljubljana is the capital of Slovenia and its largest city. It is the centre of the City Municipality of Ljubljana. It is located in the centre of the country in the Ljubljana Basin, and is a mid-sized city of some 270,000 inhabitants...



Maribor

Maribor

Maribor is the second largest city in Slovenia with 157,947 inhabitants . Maribor is also the largest and the capital city of Slovenian region Lower Styria and the seat of the Municipality of Maribor....



http://world-gazetteer.com/wg.php?x=&men=gcis&lng=en&des=wg&geo=-192&srt=1pnn&col=abcdefghinoq&msz=1500&pt=c&va=&srt=1pnn
 Solomon Islands
Honiara

Honiara

Honiara, population 49,107 , 78,190 , is the capital of the Solomon Islands and of Guadalcanal Province, although it is a separately administered town...



Auki

Auki

Auki is the provincial capital of Malaita Province, Solomon Islands. It is situated on the northern end of Langalanga Lagoon on the north-west coast of Malaita Island. There are daily flights between the Solomons capital of Honiara and Auki...



http://world-gazetteer.com/wg.php?x=&men=gcis&lng=en&des=gamelan&geo=-186&srt=1p3n&col=abcdefghinoq&msz=1500&pt=c&va=&srt=p13n
 Somalia
Mogadishu

Mogadishu

Mogadishu , popularly known as Xamar, is the largest city in Somalia and the nation's capital. Located in the coastal Benadir region on the Indian Ocean, the city has served as an important port for centuries....



Hargeisa

Hargeisa

Hargeisa is a city in the northwestern Woqooyi Galbeed region of Somalia. With a population of approximately 2 million residents, it is the second largest city in the country. Hargeisa is the capital of Somaliland, a self-declared republic that is internationally recognized as an autonomous region...



 Somaliland (Somalia)
Hargeisa

Hargeisa

Hargeisa is a city in the northwestern Woqooyi Galbeed region of Somalia. With a population of approximately 2 million residents, it is the second largest city in the country. Hargeisa is the capital of Somaliland, a self-declared republic that is internationally recognized as an autonomous region...



Berbera

Berbera

Berbera is a city and seat of Berbera District in Somaliland, a self-proclaimed Independent Republic with de facto control over its own territory, which is recognized by the international community and the Somali Government as a part of Somalia...



 South Africa
Cape Town

Cape Town

Cape Town is the second-most populous city in South Africa, and the provincial capital and primate city of the Western Cape. As the seat of the National Parliament, it is also the legislative capital of the country. It forms part of the City of Cape Town metropolitan municipality...


(city proper)
Johannesburg

Johannesburg

Johannesburg also known as Jozi, Jo'burg or Egoli, is the largest city in South Africa, by population. Johannesburg is the provincial capital of Gauteng, the wealthiest province in South Africa, having the largest economy of any metropolitan region in Sub-Saharan Africa...


(metropolitan area

City of Johannesburg Metropolitan Municipality

The City of Johannesburg Metropolitan Municipality is a metropolitan municipality that manages the local governance of Johannesburg, South Africa...


)
Durban

Durban

Durban is the largest city in the South African province of KwaZulu-Natal and the third largest city in South Africa. It forms part of the eThekwini metropolitan municipality. Durban is famous for being the busiest port in South Africa. It is also seen as one of the major centres of tourism...


(city proper)
Cape Town

Cape Town

Cape Town is the second-most populous city in South Africa, and the provincial capital and primate city of the Western Cape. As the seat of the National Parliament, it is also the legislative capital of the country. It forms part of the City of Cape Town metropolitan municipality...


(metropolitan area

City of Cape Town

The City of Cape Town is the metropolitan municipality which governs the city of Cape Town, South Africa and its suburbs and exurbs. As of 2007, it had a population of 3,497,097....


)
http://world-gazetteer.com/wg.php?x=&men=gcis&lng=en&des=wg&geo=-245&srt=1pnn&col=abcdefghinoq&msz=1500&pt=c&va=&srt=p1nn
http://world-gazetteer.com/wg.php?x=&men=gcis&lng=en&des=wg&geo=-245&srt=pynn&col=abcdefghinoq&msz=1500&pt=a&va=&srt=pynn
  South Georgia and South Sandwich Islands (UK)
King Edward Point

King Edward Point

King Edward Point is a promontory and settlement with port facilities on the northeastern coast of the island of South Georgia. It is located at in Cumberland East Bay...



Grytviken

Grytviken

Grytviken is the principal settlement in the British territory of South Georgia in the South Atlantic. It was so named in 1902 by the Swedish surveyor Johan Gunnar Andersson who found old English try pots used to render seal oil at the site. It is the best harbour on the island, consisting of a...



 South Ossetia (Georgia)
Tskhinvali

Tskhinvali

Tskhinvali , is the capital of South Ossetia, a disputed region which has been recognised as an independent Republic by Russia, Venezuela, Nicaragua and Nauru, and is regarded by Georgia and the rest of the world as part of the Shida Kartli region within Georgian sovereign territory.It is located...



Akhalgori

Akhalgori

Akhalgori or Leningor is a town in South Ossetia, partially recognized republic in the South Caucasus, formerly the South Ossetian Autonomous Oblast within the Georgian Soviet Socialist Republic...



Juba

Juba

- Locations :* Juba, the capital of South Sudan* Juba, Estonia, a village in Võru Parish, Võru County, Estonia- People :* Juba I of Numidia * Juba II of Numidia * Juba of Mauretania...



Yei
 Spain
Madrid

Madrid

Madrid is the capital and largest city of Spain. The population of the city is roughly 3.3 million and the entire population of the Madrid metropolitan area is calculated to be 6.271 million. It is the third largest city in the European Union, after London and Berlin, and its metropolitan...



Barcelona

Barcelona

Barcelona is the second largest city in Spain after Madrid, and the capital of Catalonia, with a population of 1,621,537 within its administrative limits on a land area of...



http://world-gazetteer.com/wg.php?x=&men=gcis&lng=en&des=wg&srt=1pnn&col=abcdefghinoq&msz=1500&geo=-72
 Sri Lanka
Colombo

Colombo

Colombo is the largest city of Sri Lanka. It is located on the west coast of the island and adjacent to Sri Jayawardenapura Kotte, the capital of Sri Lanka. Colombo is often referred to as the capital of the country, since Sri Jayawardenapura Kotte is a satellite city of Colombo...



Dehiwala-Mount Lavinia

Dehiwala-Mount Lavinia

Dehiwala-Mount Lavinia Is a newly created city lying immediately south of Colombo, one of the largest cities in Sri Lanka. It is the result of certain key urban suburbs and communities combined for administrative purposes. The centres include Dehiwala and the beach resort of Mount Lavinia....


(city proper)
Trincomalee

Trincomalee

Trincomalee is a port city in Eastern Province, Sri Lanka and lies on the east coast of the island, about 113 miles south of Jaffna. It has a population of approximately 100,000 . The city is built on a peninsula, which divides the inner and outer harbours. Overlooking the Kottiyar Bay,...


(metropolitan area)
http://world-gazetteer.com/wg.php?x=&men=gcis&lng=en&des=wg&geo=-127&srt=1pnn&col=abcdefghinoq&msz=1500&pt=c&va=&srt=p1nn
http://world-gazetteer.com/wg.php?x=&men=gcis&lng=en&des=wg&geo=-127&srt=1pnn&col=abcdefghinoq&msz=1500&pt=a&va=&srt=p1nn
 Sudan
Omdurman

Omdurman

Omdurman is the second largest city in Sudan and Khartoum State, lying on the western banks of the River Nile, opposite the capital, Khartoum. Omdurman has a population of 2,395,159 and is the national centre of commerce...


(city proper)
Khartoum

Khartoum

Khartoum is the capital and largest city of Sudan and of Khartoum State. It is located at the confluence of the White Nile flowing north from Lake Victoria, and the Blue Nile flowing west from Ethiopia. The location where the two Niles meet is known as "al-Mogran"...


(metropolitan area)
Khartoum

Khartoum

Khartoum is the capital and largest city of Sudan and of Khartoum State. It is located at the confluence of the White Nile flowing north from Lake Victoria, and the Blue Nile flowing west from Ethiopia. The location where the two Niles meet is known as "al-Mogran"...


(city proper)
Port Sudan

Port Sudan

Port Sudan is the capital of Red Sea State, Sudan; it has 489,725 residents . Located on the Red Sea, it is the Republic of Sudan's main port city.-History:...


(metropolitan area)
http://world-gazetteer.com/wg.php?x=&men=gcis&lng=en&des=wg&srt=p1nn&col=abcdefghinoq&msz=1500&geo=-188
http://world-gazetteer.com/wg.php?x=&men=gcis&lng=en&des=wg&geo=-188&srt=p1nn&col=abcdefghinoq&msz=1500&pt=a&va=&srt=p1nn
 Suriname
Paramaribo

Paramaribo

Paramaribo is the capital and largest city of Suriname, located on banks of the Suriname River in the Paramaribo District. Paramaribo has a population of roughly 250,000 people, more than half of Suriname's population...



Lelydorp

Lelydorp

Lelydorp is the capital city of Wanica District, located in Suriname. With a population of 15,576 , it is the second city in Suriname, after Paramaribo. It is located at around ....



http://world-gazetteer.com/wg.php?x=&men=gcis&lng=en&des=wg&srt=p1nn&col=abcdefghinoq&msz=1500&geo=-199
 Svalbard and Jan Mayen

Jan Mayen

Jan Mayen Island is a volcanic island in the Arctic Ocean and part of the Kingdom of Norway. It is long and 373 km2 in area, partly covered by glaciers . It has two parts: larger northeast Nord-Jan and smaller Sør-Jan, linked by an isthmus wide...


(Norway)
Longyearbyen

Longyearbyen

Longyearbyen is the largest settlement and the administrative centre of Svalbard, Norway. It is located on the western coast of Spitsbergen, the largest island of the Svalbard archipelago, on the southern side on Adventfjorden , which continues inland with Adventdalen...



Barentsburg

Barentsburg

Barentsburg is the second largest settlement on Svalbard, with about 500 inhabitants , almost entirely Russians and Ukrainians. The Russian-owned Arktikugol has been mining coal here since 1932.-Status:...



http://world-gazetteer.com/wg.php?x=&men=gcis&lng=en&des=wg&srt=p1nn&col=abcdefghinoq&msz=1500&geo=-193
 Swaziland
Manzini
Mbabane

Mbabane

-References:...



http://world-gazetteer.com/wg.php?x=&men=gcis&lng=en&des=wg&srt=p1nn&col=abcdefghinoq&msz=1500&geo=-203
 Sweden
Stockholm

Stockholm

Stockholm is the capital and the largest city of Sweden and constitutes the most populated urban area in Scandinavia. Stockholm is the most populous city in Sweden, with a population of 851,155 in the municipality , 1.37 million in the urban area , and around 2.1 million in the metropolitan area...



Gothenburg

Gothenburg

Gothenburg is the second-largest city in Sweden and the fifth-largest in the Nordic countries. Situated on the west coast of Sweden, the city proper has a population of 519,399, with 549,839 in the urban area and total of 937,015 inhabitants in the metropolitan area...



http://world-gazetteer.com/wg.php?x=&men=gcis&lng=en&des=wg&srt=p1nn&col=abcdefghinoq&msz=1500&geo=-189
 Switzerland
Zürich

Zürich

Zurich is the largest city in Switzerland and the capital of the canton of Zurich. It is located in central Switzerland at the northwestern tip of Lake Zurich...



Geneva

Geneva

Geneva In the national languages of Switzerland the city is known as Genf , Ginevra and Genevra is the second-most-populous city in Switzerland and is the most populous city of Romandie, the French-speaking part of Switzerland...



http://world-gazetteer.com/wg.php?x=&men=gcis&lng=en&des=wg&srt=p1nn&col=abcdefghinoq&msz=1500&geo=-49
 Syria
Damascus

Damascus

Damascus , commonly known in Syria as Al Sham , and as the City of Jasmine , is the capital and the second largest city of Syria after Aleppo, both are part of the country's 14 governorates. In addition to being one of the oldest continuously inhabited cities in the world, Damascus is a major...


(city proper)
Aleppo

Aleppo

Aleppo is the largest city in Syria and the capital of Aleppo Governorate, the most populous Syrian governorate. With an official population of 2,301,570 , expanding to over 2.5 million in the metropolitan area, it is also one of the largest cities in the Levant...


(metropolitan area)
Aleppo

Aleppo

Aleppo is the largest city in Syria and the capital of Aleppo Governorate, the most populous Syrian governorate. With an official population of 2,301,570 , expanding to over 2.5 million in the metropolitan area, it is also one of the largest cities in the Levant...


(city proper)
Damascus

Damascus

Damascus , commonly known in Syria as Al Sham , and as the City of Jasmine , is the capital and the second largest city of Syria after Aleppo, both are part of the country's 14 governorates. In addition to being one of the oldest continuously inhabited cities in the world, Damascus is a major...


(metropolitan area)
http://world-gazetteer.com/wg.php?x=&men=gcis&lng=en&des=wg&srt=p1nn&col=abcdefghinoq&msz=1500&geo=-202
http://world-gazetteer.com/wg.php?x=&men=gcis&lng=en&des=wg&geo=-202&srt=p1xn&col=abcdefghinoq&msz=1500&pt=a&va=&srt=p1xn
T
New Taipei (city proper)
Taipei

Taipei

Taipei City is the capital of the Republic of China and the central city of the largest metropolitan area of Taiwan. Situated at the northern tip of the island, Taipei is located on the Tamsui River, and is about 25 km southwest of Keelung, its port on the Pacific Ocean...


(metropolitan area)
Kaohsiung

Kaohsiung

Kaohsiung is a city located in southwestern Taiwan, facing the Taiwan Strait on the west. Kaohsiung, officially named Kaohsiung City, is divided into thirty-eight districts. The city is one of five special municipalities of the Republic of China...





 Tajikistan
Dushanbe

Dushanbe

-Economy:Coal, lead, and arsenic are mined nearby in the cities of Nurek and Kulob allowing for the industrialization of Dushanbe. The Nurek Dam, the world's highest as of 2008, generates 95% of Tajikistan's electricity, and another dam, the Roghun Dam, is planned on the Vakhsh River...



Khujand

Khujand

Khujand , also transliterated as Khudzhand, , formerly Khodjend or Khodzhent until 1936 and Leninabad until 1991, is the second-largest city of Tajikistan. It is situated on the Syr Darya River at the mouth of the Fergana Valley...



http://world-gazetteer.com/wg.php?x=&men=gcis&lng=en&des=wg&srt=p1nn&col=abcdefghinoq&msz=1500&geo=-209
 Tanzania
Dar es Salaam

Dar es Salaam

Dar es Salaam , formerly Mzizima, is the largest city in Tanzania. It is also the country's richest city and a regionally important economic centre. Dar es Salaam is actually an administrative province within Tanzania, and consists of three local government areas or administrative districts: ...



Mwanza

Mwanza

Mwanza is a mid-sized port city on the southern shores of Lake Victoria in northwestern Tanzania. With an urban population of 1.2 million and a metropolitan population of 2 million, it is Tanzania's second largest city, following Dar es Salaam and ahead of other major Tanzanian cities of Arusha,...



http://world-gazetteer.com/wg.php?x=&men=gcis&lng=en&des=wg&srt=p1nn&col=abcdefghinoq&msz=1500&geo=-219
 Thailand
Bangkok

Bangkok

Bangkok is the capital and largest urban area city in Thailand. It is known in Thai as Krung Thep Maha Nakhon or simply Krung Thep , meaning "city of angels." The full name of Bangkok is Krung Thep Mahanakhon Amon Rattanakosin Mahintharayutthaya Mahadilok Phop Noppharat Ratchathani Burirom...



Samut Prakan (city proper)
Udon Thani

Udon Thani

Udon Thani is a city in Isan, north-east Thailand, and the capital of Udon Thani Province.-Location:The province of Udon Thani has a population of 1,467.200, the city alone 500.000. Geographical location and is approximately 560 km from Bangkok...


(metropolitan area)
http://world-gazetteer.com/wg.php?x=&men=gcis&lng=en&des=wg&geo=-208&srt=p21n&col=abcdefghinoq&msz=1500&va=&pt=c
http://world-gazetteer.com/wg.php?x=&men=gcis&lng=en&des=wg&geo=-208&srt=p21n&col=abcdefghinoq&msz=1500&va=&pt=a
 Togo
Lomé

Lomé

Lomé, with an estimated population of 737,751, is the capital and largest city of Togo. Located on the Gulf of Guinea, Lomé is the country's administrative and industrial center and its chief port. The city exports coffee, cocoa, copra, and palm kernels...



Sokodé

Sokodé

Sokodé is the second largest city in Togo and seat of the Tchaoudjo and Centrale Region in the center of the country, north of Lomé. With a population of 86,500 , currently at around 113,000, the city is situated between the Mo and Mono rivers, and it is a commercial center for the surrounding...



http://world-gazetteer.com/wg.php?x=&men=gcis&lng=en&des=wg&srt=p21n&col=abcdefghinoq&msz=1500&geo=-207
 Tokelau (New Zealand)
Fakaofo

Fakaofo

Fakaofo, formerly known as Bowditch Island, is a South Pacific Ocean atoll located at 171° 15' West, 9° 25' South in the Tokelau Group. The actual land area is only about 3 km², consisting of islets on a coral reef surrounding a central lagoon of some 45 km²...



Atafu

Atafu

Atafu, formerly known as the Duke of York Group is a group of 42 coral islets within Tokelau in the south Pacific Ocean, 500 km north of Samoa. Covering 2.5 km², it is the smallest of the three islands that constitute Tokelau, and is composed of an atoll surrounding a central lagoon,...



http://world-gazetteer.com/wg.php?x=&men=gcis&lng=en&des=wg&srt=p21n&col=abcdefghinoq&msz=1500&geo=-210
 Tonga
Nukuʻalofa

Nukuʻalofa

Nukualofa is the capital of the Kingdom of Tonga. It is located on the north coast of the island of Tongatapu, in the southern most island group of Tonga.-Mythological origins:...



Mu'a

Mu'a (Tongatapu)

Mua is a small city in the Hahake district on the island of Tongatapu, and it was for centuries the ancient capital of Tonga. It is divided in the villages Lapaha and Tatakamotonga, is close to Talasiu and famous for the ancient langi .-Geography:Mua is situated along the eastern side of the...



http://world-gazetteer.com/wg.php?x=&men=gcis&lng=en&des=wg&srt=p21n&col=abcdefghinoq&msz=1500&geo=-213
 Transnistria (Moldova)
Tiraspol

Tiraspol

Tiraspol is the second largest city in Moldova and is the capital and administrative centre of the unrecognized Pridnestrovian Moldavian Republic . The city is located on the eastern bank of the Dniester River...



Tighina

Tighina

Bender or Bendery, also known as Tighina is a city within the internationally recognized borders of Moldova under de facto control of the unrecognized Transnistria Republic since 1992...



 Trinidad and Tobago
Chaguanas

Chaguanas

The Borough of Chaguanas is the largest municipality 2000 census) and fastest-growing town in Trinidad and Tobago. Located in Central Trinidad about south of Port of Spain. It grew in size due to its proximity to the Woodford Lodge sugar refinery. It remained a minor town until the 1980s when it...



San Fernando

San Fernando, Trinidad and Tobago

The City of San Fernando with a population of 55,419 according to the 2000 census, is the larger of Trinidad and Tobago's two cities and the second largest municipality after Chaguanas. It occupies 18 km² and is located in the southwestern part of the island of Trinidad...



http://world-gazetteer.com/wg.php?x=&men=gcis&lng=en&des=wg&srt=p21n&col=abcdefghinoq&msz=1500&geo=-216
 Tunisia
Tunis

Tunis

Tunis is the capital of both the Tunisian Republic and the Tunis Governorate. It is Tunisia's largest city, with a population of 728,453 as of 2004; the greater metropolitan area holds some 2,412,500 inhabitants....



Sfax

Sfax

Sfax is a city in Tunisia, located southeast of Tunis. The city, founded in AD 849 on the ruins of Taparura and Thaenae, is the capital of the Sfax Governorate , and a Mediterranean port. Sfax has population of 340,000...



http://world-gazetteer.com/wg.php?x=&men=gcis&lng=en&des=wg&srt=p21n&col=abcdefghinoq&msz=1500&geo=-212
 Turkey
Istanbul

Istanbul

Istanbul , historically known as Byzantium and Constantinople , is the largest city of Turkey. Istanbul metropolitan province had 13.26 million people living in it as of December, 2010, which is 18% of Turkey's population and the 3rd largest metropolitan area in Europe after London and...



Ankara

Ankara

Ankara is the capital of Turkey and the country's second largest city after Istanbul. The city has a mean elevation of , and as of 2010 the metropolitan area in the entire Ankara Province had a population of 4.4 million....



http://world-gazetteer.com/wg.php?x=&men=gcis&lng=en&des=wg&srt=p21n&col=abcdefghinoq&msz=1500&geo=-215
 Turkmenistan
Ashgabat
Türkmenabat

Türkmenabat

Türkmenabat , formerly and since the medieval times, Chardzhou , also spelled Çärjew, Chardjui, Charjou, Chardzhev, Charjev, Chärjew, or Charjew , ancient Amul, is a town in Turkmenistan, capital of Lebap Province...



http://world-gazetteer.com/wg.php?x=&men=gcis&lng=en&des=wg&srt=p21n&col=abcdefghinoq&msz=1500&geo=-211
 Turks and Caicos Islands (UK)
Five Cays
Honda Road
http://world-gazetteer.com/wg.php?x=1&men=gcis&lng=en&des=wg&geo=-204&srt=pnan&col=abcdefghinoq&msz=1500&pt=c&va=&srt=1pnan
 Tuvalu
Vaiaku

Vaiaku

Vaiaku is a village located on the southern coast of the island of Fongafale in Tuvalu. All the administrative buildings and the only hotel of Tuvalu, Vaiaku Langi Hotel, are located in Vaiaku. There are 516 inhabitants in Vaiaku, according to the census of 2002, out of 4492 for the whole atoll of...



Asau
http://world-gazetteer.com/wg.php?x=&men=gcis&lng=en&des=wg&srt=pnan&col=abcdefghinoq&msz=1500&geo=-217
U
 Uganda
Kampala

Kampala

Kampala is the largest city and capital of Uganda. The city is divided into five boroughs that oversee local planning: Kampala Central Division, Kawempe Division, Makindye Division, Nakawa Division and Lubaga Division. The city is coterminous with Kampala District.-History: of Buganda, had chosen...



Gulu

Gulu

Gulu is a city in Northern Uganda. It is the commercial and administrative centre of Gulu District. The city is located at 2˚46'48N 32˚18'00E, on the metre gauge railway from Tororo to Pakwach. Gulu is located approximately , by road, north of Kampala, Uganda's capital and largest city...



http://world-gazetteer.com/wg.php?x=&men=gcis&lng=en&des=wg&srt=pnan&col=abcdefghinoq&msz=1500&geo=-221
 Ukraine
Kiev

Kiev

Kiev or Kyiv is the capital and the largest city of Ukraine, located in the north central part of the country on the Dnieper River. The population as of the 2001 census was 2,611,300. However, higher numbers have been cited in the press....



Kharkiv

Kharkiv

Kharkiv or Kharkov is the second-largest city in Ukraine.The city was founded in 1654 and was a major centre of Ukrainian culture in the Russian Empire. Kharkiv became the first city in Ukraine where the Ukrainian Soviet Socialist Republic was proclaimed in December 1917 and Soviet government was...


(city proper)
Donetsk

Donetsk

Donetsk , is a large city in eastern Ukraine on the Kalmius river. Administratively, it is a center of Donetsk Oblast, while historically, it is the unofficial capital and largest city of the economic and cultural Donets Basin region...


(metropolitan area)
http://world-gazetteer.com/wg.php?x=&men=gcis&lng=en&des=wg&srt=pnan&col=abcdefghinoq&msz=1500&geo=-220
http://world-gazetteer.com/wg.php?x=&men=gcis&lng=en&des=wg&geo=-220&srt=pnan&col=abcdefghinoq&msz=1500&pt=a&va=&srt=pnan
 United Arab Emirates
Dubai

Dubai

Dubai is a city and emirate in the United Arab Emirates . The emirate is located south of the Persian Gulf on the Arabian Peninsula and has the largest population with the second-largest land territory by area of all the emirates, after Abu Dhabi...



Sharjah

Sharjah (city)

Sharjah is the third largest and most populous city in the United Arab Emirates. It is located along the southern coast of the Persian Gulf on the Arabian Peninsula.Sharjah is the seat of government of the emirate of Sharjah...


(city proper)
Abu Dhabi

Abu Dhabi

Abu Dhabi , literally Father of Gazelle, is the capital and the second largest city of the United Arab Emirates in terms of population and the largest of the seven member emirates of the United Arab Emirates. Abu Dhabi lies on a T-shaped island jutting into the Persian Gulf from the central western...


(metropolitan area)
http://world-gazetteer.com/wg.php?x=&men=gcis&lng=en&des=wg&srt=pnan&col=abcdefghinoq&msz=1500&geo=-12
http://world-gazetteer.com/wg.php?x=&men=gcis&lng=en&des=wg&geo=-12&srt=pnan&col=abcdefghinoq&msz=1500&pt=a&va=&srt=pnan
 United Kingdom
London

London

London is the capital city of :England and the :United Kingdom, the largest metropolitan area in the United Kingdom, and the largest urban zone in the European Union by most measures. Located on the River Thames, London has been a major settlement for two millennia, its history going back to its...



Birmingham

Birmingham

Birmingham is a city and metropolitan borough in the West Midlands of England. It is the most populous British city outside the capital London, with a population of 1,036,900 , and lies at the heart of the West Midlands conurbation, the second most populous urban area in the United Kingdom with a...



http://world-gazetteer.com/wg.php?x=&men=gcis&lng=en&des=wg&srt=21pn&col=abcdefghinoq&msz=1500&geo=-81
 United States
New York City

New York City

New York is the most populous city in the United States and the center of the New York Metropolitan Area, one of the most populous metropolitan areas in the world. New York exerts a significant impact upon global commerce, finance, media, art, fashion, research, technology, education, and...



Los Angeles

Los Ángeles

Los Ángeles is the capital of the province of Biobío, in the commune of the same name, in Region VIII , in the center-south of Chile. It is located between the Laja and Biobío rivers. The population is 123,445 inhabitants...



http://world-gazetteer.com/wg.php?x=&men=gcis&lng=en&des=wg&geo=-223&srt=213n&col=abcdefghinoq&msz=1500&pt=c&va=&srt=p213n
 Uruguay
Montevideo

Montevideo

Montevideo is the largest city, the capital, and the chief port of Uruguay. The settlement was established in 1726 by Bruno Mauricio de Zabala, as a strategic move amidst a Spanish-Portuguese dispute over the platine region, and as a counter to the Portuguese colony at Colonia del Sacramento...



Salto

Salto, Uruguay

Salto is the capital city of the Salto Department in northwestern Uruguay and the second largest city of the country. It is located on Route 3, about northwest of Montevideo, and on the east bank of Río Uruguay, across the city Concordia of Argentina...



http://world-gazetteer.com/wg.php?x=&men=gcis&lng=en&des=wg&srt=p21n&col=abcdefghinoq&msz=1500&geo=-224
 Uzbekistan
Tashkent

Tashkent

Tashkent is the capital of Uzbekistan and of the Tashkent Province. The officially registered population of the city in 2008 was about 2.2 million. Unofficial sources estimate the actual population may be as much as 4.45 million.-Early Islamic History:...



Namangan

Namangan

Namangan is the third-largest city in Uzbekistan . It is the capital of Namangan Province, in the northern edge of Fergana Valley of north-eastern Uzbekistan.-Geography:...



http://world-gazetteer.com/wg.php?x=&men=gcis&lng=en&des=wg&srt=p21n&col=abcdefghinoq&msz=1500&geo=-225
V
 Vanuatu
Port Vila

Port Vila

Port Vila is the capital and largest city of Vanuatu. Situated on the south coast of the island of Efate, in Shefa Province, the city population at last was 29,356, an increase of 55% on the previous census result . This suggests a 2007 population of about 40,000 or around 65% of the province's...



Luganville

Luganville

Luganville, called "Santo" by people from Vanuatu's northern islands who use Luganville as their big city, and called "Kanal" by rural residents of the large island of Espiritu Santo, is the second largest city in Vanuatu. The population is .Luganville is one of Vanuatu's busiest ports,...



http://world-gazetteer.com/wg.php?x=&men=gcis&lng=en&des=wg&srt=1p2n&col=abcdefghinoq&msz=1500&geo=-232
 Vatican City
Vatican City

Vatican City

Vatican City , or Vatican City State, in Italian officially Stato della Città del Vaticano , which translates literally as State of the City of the Vatican, is a landlocked sovereign city-state whose territory consists of a walled enclave within the city of Rome, Italy. It has an area of...


is the only city
http://world-gazetteer.com/wg.php?x=&men=gcis&lng=en&des=wg&srt=1p2n&col=abcdefghinoq&msz=1500&geo=-226
 Venezuela
Caracas

Caracas

Caracas , officially Santiago de León de Caracas, is the capital and largest city of Venezuela; natives or residents are known as Caraquenians in English . It is located in the northern part of the country, following the contours of the narrow Caracas Valley on the Venezuelan coastal mountain range...



Maracaibo

Maracaibo

Maracaibo is a city and municipality located in northwestern Venezuela off the western coast of the Lake Maracaibo. It is the second-largest city in the country after the national capital Caracas and the capital of Zulia state...



http://world-gazetteer.com/wg.php?x=&men=gcis&lng=en&des=wg&srt=1p2n&col=abcdefghinoq&msz=1500&geo=-228
 Vietnam
Ho Chi Minh City

Ho Chi Minh City

Ho Chi Minh City , formerly named Saigon is the largest city in Vietnam...



Hanoi

Hanoi

Hanoi , is the capital of Vietnam and the country's second largest city. Its population in 2009 was estimated at 2.6 million for urban districts, 6.5 million for the metropolitan jurisdiction. From 1010 until 1802, it was the most important political centre of Vietnam...



http://world-gazetteer.com/wg.php?x=&men=gcis&lng=en&des=wg&srt=1p2n&col=abcdefghinoq&msz=1500&geo=-231
 British Virgin Islands (UK)
Road Town

Road Town

-See also:* Government House, the official residence of the Governor of the British Virgin Islands located in Road Town-External links:*****...



Spanish Town

Spanish Town, British Virgin Islands

Spanish Town on southern Virgin Gorda is the second largest town on the British Virgin Islands. Also known as The Valley, Spanish Town offers numerous shopping possibilities featuring Mr. Nice Guy Store which is located in Spanish Town right across from the Virgin Gorda Yacht Harber...



' (US)
Charlotte Amalie

Charlotte Amalie, United States Virgin Islands

-Education:St. Thomas-St. John School District serves the community. and Charlotte Amalie High School serve the area.-Gallery:-See also:* Anna's Retreat* Cruz Bay* Saint Thomas* Water Island-External links:* *...



Anna's Retreat
W
 Wallis and Futuna (France)
Mata-Utu

Mata-Utu

Mata-Utu is the capital of the Wallis and Futuna Territory. It is located on the island of Wallis , in the district of Hahake, of which it is also the capital. Its population is 1,191 ....



Alele

Alele

Alele is a village in Wallis and Futuna. It is located in Hihifo District on the northeast coast of Wallis Island. Its population according to the 2008 census was 629 people....



http://world-gazetteer.com/wg.php?x=&men=gcis&lng=en&des=wg&srt=1p2n&col=abcdefghinoq&msz=1500&geo=-233
 Western Sahara
El Aaiún

El Aaiún

El-Aaiún , is a city in Western Sahara founded by the Spanish in 1928. Administered by Morocco since 1976, El-Aaiún is the capital of what the Moroccan government call the region of Laâyoune-Boujdour-Sakia El Hamra, and POLISARIO call Occupied Territories...



Dakhla

Dakhla, Western Sahara

-External links:**...



http://world-gazetteer.com/wg.php?x=&men=gcis&lng=en&des=wg&srt=1p2n&col=abcdefghinoq&msz=1500&geo=-70
Y
 Yemen
Sana'a

Sana'a

-Districts:*Al Wahdah District*As Sabain District*Assafi'yah District*At Tahrir District*Ath'thaorah District*Az'zal District*Bani Al Harith District*Ma'ain District*Old City District*Shu'aub District-Old City:...



Aden

Aden

Aden is a seaport city in Yemen, located by the eastern approach to the Red Sea , some 170 kilometres east of Bab-el-Mandeb. Its population is approximately 800,000. Aden's ancient, natural harbour lies in the crater of an extinct volcano which now forms a peninsula, joined to the mainland by a...



http://world-gazetteer.com/wg.php?x=&men=gcis&lng=en&des=wg&srt=1p2n&col=abcdefghinoq&msz=1500&geo=-242
Z
 Zambia
Lusaka

Lusaka

Lusaka is the capital and largest city of Zambia. It is located in the southern part of the central plateau, at an elevation of about 1,300 metres . It has a population of about 1.7 million . It is a commercial centre as well as the centre of government, and the four main highways of Zambia head...



Ndola

Ndola

Ndola is the third largest city in Zambia, with a population of 495,000 . It is the industrial, commercial, on the Copperbelt, Zambia's copper-mining region, and capital of Copperbelt Province. It is also the commercial capital city of Zambia and has one of the three international airports, others...



http://world-gazetteer.com/wg.php?x=&men=gcis&lng=en&des=wg&geo=-246&srt=1pnn&col=abcdefghinoq&msz=1500&pt=c&va=&srt=1pnn
 Zimbabwe
Harare

Harare

Harare before 1982 known as Salisbury) is the largest city and capital of Zimbabwe. It has an estimated population of 1,600,000, with 2,800,000 in its metropolitan area . Administratively, Harare is an independent city equivalent to a province. It is Zimbabwe's largest city and its...



Bulawayo

Bulawayo

Bulawayo is the second largest city in Zimbabwe after the capital Harare, with an estimated population in 2010 of 2,000,000. It is located in Matabeleland, 439 km southwest of Harare, and is now treated as a separate provincial area from Matabeleland...



http://world-gazetteer.com/wg.php?x=&men=gcis&lng=en&des=wg&srt=1p2n&col=abcdefghinoq&msz=1500&geo=-247