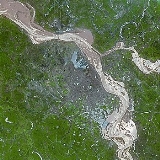 Hanoi
Hanoi
is the capital of
Vietnam
Vietnam
Vietnam – sometimes spelled Viet Nam , officially the Socialist Republic of Vietnam – is the easternmost country on the Indochina Peninsula in Southeast Asia. It is bordered by China to the north, Laos to the northwest, Cambodia to the southwest, and the South China Sea –...
and the country's second largest city. Its population in 2009 was estimated at 2.6 million for urban districts, 6.5 million for the metropolitan jurisdiction. From 1010 until 1802, it was the most important political centre of Vietnam. It was eclipsed by
Huế
Hue
Hue is one of the main properties of a color, defined technically , as "the degree to which a stimulus can be describedas similar to or different from stimuli that are described as red, green, blue, and yellow,"...
during the Nguyen dynasty as the capital of Vietnam, but Hanoi served as the capital of
French Indochina
French Indochina
French Indochina was part of the French colonial empire in southeast Asia. A federation of the three Vietnamese regions, Tonkin , Annam , and Cochinchina , as well as Cambodia, was formed in 1887....
from 1902 to 1954.