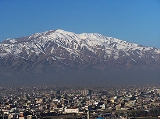 Kabul
Kabul
spelt Caubul in some classic literatures, is the capital and
largest city of Afghanistan
. It is also the capital of the
Kabul Province
Kabul Province
Kābul , situated in the east of the country, is one of the thirty-four provinces of Afghanistan. The capital of the province is Kabul City, which is also Afghanistan's capital. The population of Kabul province is 3.5 million people as of 2009, of which almost 80 percent live in the urban areas...
, located in the eastern section of
Afghanistan
Afghanistan
Afghanistan , officially the Islamic Republic of Afghanistan, is a landlocked country located in the centre of Asia, forming South Asia, Central Asia and the Middle East. With a population of about 29 million, it has an area of , making it the 42nd most populous and 41st largest nation in the world...
. According to the 2011 official estimates, the population of Kabul
metropolitan area
Metropolitan area
The term metropolitan area refers to a region consisting of a densely populated urban core and its less-populated surrounding territories, sharing industry, infrastructure, and housing. A metropolitan area usually encompasses multiple jurisdictions and municipalities: neighborhoods, townships,...
is 3.9 million people.
It is an economic and cultural centre, situated 5,900 ft (1,800 m) above sea level in a narrow valley, wedged between the
Hindu Kush
Hindu Kush
The Hindu Kush is an mountain range that stretches between central Afghanistan and northern Pakistan. The highest point in the Hindu Kush is Tirich Mir in the Chitral region of Khyber-Pakhtunkhwa, Pakistan.It is the westernmost extension of the Pamir Mountains, the Karakoram Range, and is a...
mountains along the
Kabul River
Kabul River
Kabul River , the classical Cophes , is a 700 km long river that starts in the Sanglakh Range of the Hindu Kush Mountains in Afghanistan and ends in the Indus River near Attock, Pakistan. It is the main river in eastern Afghanistan and is separated from the watershed of the Helmand by the Unai Pass...
.