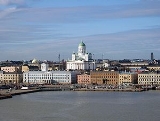 Helsinki
Helsinki
is the capital and largest
city
in
Finland
Finland
Finland , officially the Republic of Finland, is a Nordic country situated in the Fennoscandian region of Northern Europe. It is bordered by Sweden in the west, Norway in the north and Russia in the east, while Estonia lies to its south across the Gulf of Finland.Around 5.4 million people reside...
. It is in the region of
Uusimaa
Uusimaa
Uusimaa, or Nyland in Swedish, is a region in Finland. It borders the regions Finland Proper, Tavastia Proper, Päijänne Tavastia and Kymenlaakso...
, located in southern Finland, on the shore of the
Gulf of Finland
Gulf of Finland
The Gulf of Finland is the easternmost arm of the Baltic Sea. It extends between Finland and Estonia all the way to Saint Petersburg in Russia, where the river Neva drains into it. Other major cities around the gulf include Helsinki and Tallinn...
, an arm of the
Baltic Sea
Baltic Sea
The Baltic Sea is a brackish mediterranean sea located in Northern Europe, from 53°N to 66°N latitude and from 20°E to 26°E longitude. It is bounded by the Scandinavian Peninsula, the mainland of Europe, and the Danish islands. It drains into the Kattegat by way of the Øresund, the Great Belt and...
. The population of the
city
of Helsinki is , making it by far the most populous municipality in Finland.
1918 Finnish Civil War: Rebels seized control of the capital, Helsinki, and members of the Senate of Finland go underground.
1939 Winter War: Soviet forces cross the Finnish border in several places and bomb Helsinki and several other Finnish cities, starting the war.
1969 Cold War: Negotiators from the Soviet Union and the United States meet in Helsinki to begin SALT I negotiations aimed at limiting the number of strategic weapons on both sides.