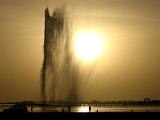 Jeddah
Jeddah
,
Jiddah
,
Jidda
, or
Jedda
is a city located on the coast of the
Red Sea
Red Sea
The Red Sea is a seawater inlet of the Indian Ocean, lying between Africa and Asia. The connection to the ocean is in the south through the Bab el Mandeb strait and the Gulf of Aden. In the north, there is the Sinai Peninsula, the Gulf of Aqaba, and the Gulf of Suez...
and is the major urban center of western
Saudi Arabia
Saudi Arabia
The Kingdom of Saudi Arabia , commonly known in British English as Saudi Arabia and in Arabic as as-Sa'ūdiyyah , is the largest state in Western Asia by land area, constituting the bulk of the Arabian Peninsula, and the second-largest in the Arab World...
. It is the largest city in Makkah Province, the largest sea port on the Red Sea, and the second largest city in Saudi Arabia after the capital city,
Riyadh
Riyadh
Riyadh is the capital and largest city of Saudi Arabia. It is also the capital of Riyadh Province, and belongs to the historical regions of Najd and Al-Yamama. It is situated in the center of the Arabian Peninsula on a large plateau, and is home to 5,254,560 people, and the urban center of a...
. The population of the city currently stands at 3.2 million. It is an important commercial hub in Saudi Arabia.
Jeddah is the principal gateway to
Mecca
Mecca
Mecca is a city in the Hijaz and the capital of Makkah province in Saudi Arabia. The city is located inland from Jeddah in a narrow valley at a height of above sea level...
,
Islam
Islam
Islam . The most common are and . : Arabic pronunciation varies regionally. The first vowel ranges from ~~. The second vowel ranges from ~~~...
's holiest city, which able-bodied
Muslim
Muslim
A Muslim, also spelled Moslem, is an adherent of Islam, a monotheistic, Abrahamic religion based on the Quran, which Muslims consider the verbatim word of God as revealed to prophet Muhammad. "Muslim" is the Arabic term for "submitter" .Muslims believe that God is one and incomparable...
s are required to visit at least once in their lifetime.