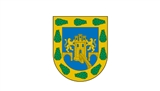 Mexico City
Mexico City
(ˈmɛksɨkoʊ ˈsɪti; , sjuˈðað ðe̞ ˈme̞xiko̞, also known as
México D.F.
, or simply
D.F.
) is the
Federal District
Federal district
Federal districts are a type of administrative division of a federation, under the direct control of a federal government. They exist in various countries and states all over the world.-United States:...
(
Distrito Federal
), capital of
Mexico
Mexico
The United Mexican States , commonly known as Mexico , is a federal constitutional republic in North America. It is bordered on the north by the United States; on the south and west by the Pacific Ocean; on the southeast by Guatemala, Belize, and the Caribbean Sea; and on the east by the Gulf of...
and seat of the federal powers of the Mexican Union. It is a federal entity within Mexico which is not part of any one of the
31 Mexican states
States of Mexico
The United Mexican States is a federal republic formed by 32 federal entities .According to the Constitution of 1917, the states of the federation are free and sovereign. Each state has their own congress and constitution, while the Federal District has only limited autonomy with a local Congress...
but belongs to the federation as a whole. Mexico City is the country's largest city as well as its most important political, cultural, educational and financial center.
As an "alpha"
global city
Global city
A global city is a city that is deemed to be an important node in the global economic system...
Mexico City is one of the most important financial centers in North America.
1521 Tenochtitlán (present day Mexico City) falls to conquistador Hernán Cortés.
1531 The Virgin of Guadalupe first appears to Juan Diego at Tepeyac, Mexico City.
1847 Mexican-American War: Six teenage military cadets known as Niños Héroes die defending Chapultepec Castle in the Battle of Chapultepec. American General Winfield Scott captures Mexico City in the Mexican-American War.
1847 Mexican-American War: Winfield Scott captures Mexico City.
1861 Porfirio Díaz conquers Mexico City.
1863 During the French intervention in Mexico, Mexico City is captured by French troops.
1940 In Mexico City exiled Russian revolutionary Leon Trotsky is fatally wounded with an ice axe by Ramon Mercader. He dies the next day.
1944 Fifty are hurt in rioting in front of the presidential palace in Mexico City.
1968 A peaceful student demonstration in Mexico City culminates in the Tlatelolco massacre.
1968 Jim Hines of the United States of America becomes the first man ever to break the so-called "ten-second barrier" in the 100-meter sprint in the Summer Olympic Games held in Mexico City with a time of 9.95 seconds. Hines remained the only athlete to sprint 100 meters in under 10.0 seconds until the year 1977.