 Lilongwe
Lilongwe
, estimated population 902,388 as of 2009, is the capital and largest city of
Malawi
Malawi
The Republic of Malawi is a landlocked country in southeast Africa that was formerly known as Nyasaland. It is bordered by Zambia to the northwest, Tanzania to the northeast, and Mozambique on the east, south and west. The country is separated from Tanzania and Mozambique by Lake Malawi. Its size...
. It lies in the country's central region, on the
Lilongwe River
Lilongwe River
Lilongwe River is a river in Malawi, it flows through Lilongwe, the capital of the country.Length of the river is approximately 200 km. Lilongwe River flows into Lake Nyasa.-Note:...
, near the border of Malawi,
Mozambique
Mozambique
Mozambique, officially the Republic of Mozambique , is a country in southeastern Africa bordered by the Indian Ocean to the east, Tanzania to the north, Malawi and Zambia to the northwest, Zimbabwe to the west and Swaziland and South Africa to the southwest...
, and
Zambia
Zambia
Zambia , officially the Republic of Zambia, is a landlocked country in Southern Africa. The neighbouring countries are the Democratic Republic of the Congo to the north, Tanzania to the north-east, Malawi to the east, Mozambique, Zimbabwe, Botswana and Namibia to the south, and Angola to the west....
, and on the main north-south highway of Malawi, the M1.
History
The city started life as a small village on the banks of the Lilongwe river, and became a
British colonial administrative centre
British Empire
The British Empire comprised the dominions, colonies, protectorates, mandates and other territories ruled or administered by the United Kingdom. It originated with the overseas colonies and trading posts established by England in the late 16th and early 17th centuries. At its height, it was the...
at the beginning of the 20th century. Due to its location on the main north-south route through the country and the road to
Northern Rhodesia
Northern Rhodesia
Northern Rhodesia was a territory in south central Africa, formed in 1911. It became independent in 1964 as Zambia.It was initially administered under charter by the British South Africa Company and formed by it in 1911 by amalgamating North-Western Rhodesia and North-Eastern Rhodesia...
(now
Zambia
Zambia
Zambia , officially the Republic of Zambia, is a landlocked country in Southern Africa. The neighbouring countries are the Democratic Republic of the Congo to the north, Tanzania to the north-east, Malawi to the east, Mozambique, Zimbabwe, Botswana and Namibia to the south, and Angola to the west....
), Lilongwe became the second largest city in Malawi after
Blantyre
Blantyre, Malawi
Blantyre or Mandala is Malawi's centre of finance and commerce, the largest city with an estimated 732,518 inhabitants . It is sometimes referred to as the commercial capital of Malawi as opposed to the political capital, Lilongwe...
. In 1975, the capital of the country was formally moved from Zomba to Lilongwe. Lilongwe has grown immensely since then and since 2008 has been the largest city in Malawi. All parliament members are required to spend time in the capital. Although Lilongwe is the political centre of Malawi, in some respects Blantyre remains the economic capital.
Demographics
| | |
| --- | --- |
| 1977 | 98,718 |
| 1987 | 223,318 |
| 1998 | 435,964 |
| 2008 | 866,272 |
| 2009 | 902,388 |
General
Many European and
South Africa
South Africa
The Republic of South Africa is a country in southern Africa. Located at the southern tip of Africa, it is divided into nine provinces, with of coastline on the Atlantic and Indian oceans...
n expatriates live in Lilongwe, and many NGOs (Care International, Plan International,
Concern Worldwide
Concern Worldwide
Concern Worldwide is Ireland's largest aid and humanitarian agency. Since its foundation over 40 years ago it has worked in 50 countries and currently employs 3,200 staff in 25 countries around the world. Concern works to help those living in the world's poorest countries to achieve real and...
, ,
Population Services International
Population Services International
Population Services International is a global health organization with programs targeting malaria, child survival, HIV and reproductive health...
, The UNC Project,
World Camp
World Camp
World Camp is a 501 non-profit volunteer organization in the United States and a registered Non-governmental organization in the country of Malawi. World Camp was founded in 2000 by students at the University of North Carolina at Chapel Hill, and continues to be led, funded, managed, and operated...
, Baylor International AIDS Initiative, Baobab Health Trust, WaterAID), international aid organisations (
Peace Corps
Peace Corps
The Peace Corps is an American volunteer program run by the United States Government, as well as a government agency of the same name. The mission of the Peace Corps includes three goals: providing technical assistance, helping people outside the United States to understand US culture, and helping...
, USAID, DFID,UNICEF, UNHCR, UNFAO, WFP), and international corporations, particularly tobacco-related firms, operate out of Lilongwe. As a result, most western visitors will find the city to be accommodating and friendly. Many coffee shops, cafes, bars, clubs, restaurants, and even a casino are located in Lilongwe. In Lilongwe, as opposed to rural Malawi, one can live, work, or vacation in a manner that most westerners would consider typical, if not luxurious.
However, most of Lilongwe's Malawian citizens live on just a few dollars a day and many are unemployed. The population of Lilongwe has grown as villagers, including young orphaned children, from the surrounding rural areas have relocated to the capital in search of jobs and the unattainable quality of life enjoyed by government officials, NGO and other international workers, and expatriates. Despite the highly visible class differences, most of the city's residents go about their lives in relative harmony.
During the rainy season, between November and April, Lilongwe is muddy, humid, and hot. June and July are relatively cool and windy months. During the other months of the year, Lilongwe is dry and dusty.
Lilongwe is a hot-spot for the HIV/AIDS epidemic in Malawi. It is estimated that up to 20% of the urban population is HIV positive. The Malawi National AIDS Commission reports that professionals, especially teachers and agricultural extension agents
- many of whom travel between urban centres and rural villages, are dying faster than they can be replaced.
http://www.aidsmalawi.org.mw/
Also, the central region of Malawi is experiencing extreme deforestation. It is feared that rural citizens will have no access to wood for cooking fires, heating fires, and building materials by 2015. Problems with HIV/AIDS and deforestation are interrelated to the rapid population growth the city is currently experiencing.
Areas
The city has many districts known as Areas. Areas are numbered, and range from one to fifty or more as the city grows - City Centre not being a numbered Area. The Areas are not necessarily consecutively numbered from one area to another.
Some notable areas are:
City Centre is by far the most modern, developed area of Lilongwe. Many banks (Stanbic - or Standard Chartered, National Bank of Malawi, NedBank, the Reserve Bank of Malawi), diplomatic missions, exclusive hotels (Sunbird

Sunbird

The sunbirds and spiderhunters are a family, Nectariniidae, of very small passerine birds. There are 132 species in 15 genera. The family is distributed throughout Africa, southern Asia and just reaches northern Australia. Most sunbirds feed largely on nectar, but also take insects and spiders,...


Capital Hotel), airline offices (including South African Airlines, Ethiopian Airlines

Ethiopian Airlines

Ethiopian Airlines , formerly Ethiopian Air Lines, often referred to as simply Ethiopian, is an airline headquartered on the grounds of Bole International Airport in Addis Ababa, Ethiopia. It serves as the country's flag carrier, and is wholly owned by the Government of Ethiopia...


, British Airways

British Airways

British Airways is the flag carrier airline of the United Kingdom, based in Waterside, near its main hub at London Heathrow Airport. British Airways is the largest airline in the UK based on fleet size, international flights and international destinations...


, Kenya Airways

Kenya Airways

Kenya Airways Ltd., more commonly known as Kenya Airways, is the flag carrier and largest airline of Kenya. The company was founded in 1977, after the dissolution of East African Airways. The carrier's head office is located in Embakasi, Nairobi, with its main base at Jomo Kenyatta International...


) and international corporate offices are located in City Centre. Close to City Centre, on an elevated ground, lies Malawi's Capital Hill which is a large campus of Government Ministries. There are over a dozen office blocks on Capital Hill, including Office of President and Cabinet, Ministries of Finance, Defence, Foreign Affairs, Agriculture, Education, Works and Transport, Health, Home Affairs and Ministry of Economic Planning. Capital Hill is surrounded by a fence and a ring road, with a maze of streets connecting the office blocks.
Area 2: Old Town (North of A1) - Closest to the city centre; thriving commercial district, frequented primarily by locals; clothing, local food, western-style groceries, car parts, building supplies, bicycles/bicycle accessories are available here; home to Lilongwe's main local market, two major mosques, and a sprawling mini-bus station.
Area 3 and Area 9: Old Town (West of A1) - West bank of the Lilongwe river; large, wealthy residential neighbourhoods, expatriate bars, hotels such as Lilongwe Hotel

Lilongwe Hotel

Lilongwe Hotel is a hotel located on the main city road in Area 3, Capital Hill, Bwaila West in Lilongwe, Malawi.It is located near Lilongwe International Airport and often serves as a venue for meetings and conferences, which can accommodate up to 150 delegates. The hotel has 90 rooms with...


, western style shopping and restaurants, private expatriate clinics (Moyo Wathanzi on Likuni Road - Dr. Huber of Amsterdam

Amsterdam

Amsterdam is the largest city and the capital of the Netherlands. The current position of Amsterdam as capital city of the Kingdom of the Netherlands is governed by the constitution of August 24, 1815 and its successors. Amsterdam has a population of 783,364 within city limits, an urban population...


).
Area 47: Home to African Bible College, and its dependable, inexpensive missionary clinic which is typically staffed by American doctors. There is also a small stadium (Silver stadium). Children of the Nations

Children of the Nations

Children of the Nations was founded in 1995 and exists to partner with nationals in poverty-stricken areas of the world to provide care for orphaned and destitute children. Operating in Malawi, Sierra Leone, the Dominican Republic, and Uganda, COTN helps nearly 7,000 children on a daily basis...


, a non-profit organisation dedicated to caring for orphaned and destitute children, is also headquartered in Lilongwe.
Other medium to low density residential areas are Areas 6, 12, 11, 43, 10, 44. There are also areas 15, and 18 which are medium to high density. Area 15 in particular has about 250 bungalows and houses medium earners.
While the areas mentioned above are quite wealthy, safe, and modern, many citizens of Lilongwe live in sub-standard/non-permanent housing in a variety of Areas, often without electricity or running water.
Transport
Lilongwe is served by
Malawi Railways
Malawi Railways
Malawi Railways, the national rail network in the country of Malawi, was run by a government corporation of that name until privatisation in 1999. With effect from 1 December 1999 the Central East African Railways consortium led by Railroad Development Corporation won the right to operate the...
and Axa Bus company, and local buses and minibuses run between Old Town, City Centre, Kamuzu International Airport, and other urban centres, including
Mzuzu
Mzuzu
Mzuzu is the capital of Malawi's Northern Region and is the third largest city, by population, in Malawi. The City has 128,432 residents plus 20,000 commuters with about 1.7 million people living around the outskirts of the city...
and Blantyre. Taxis are available from hotels and a taxi rank on Presidential Way, North of City Centre Shopping Centre. Most major urban roads are severely congested. Nevertheless, recently, most of the roads have been expanded into dual carriage ways (Paul Kagame Road running from Area 15 to Lilongwe Hotel in Area 3, Capital Hill to City Centre Road. The flow of traffic has been greatly improved lately with traffic lights (called robots by locals) installed in strategic intersections, unlike a few years ago when traffic lights were a rarity in Lilongwe. Kamuzu International Airport, located about 35 km north of Lilongwe in the suburb of Lumbadzi, offers local turbo-prop
Shopping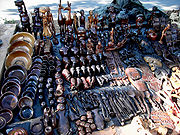 The main western-style shopping area is around
Shoprite
Shoprite (South Africa)
Shoprite is a South African based retail and fast food company. It operates over 1200 corporate and 270 franchise outlets in 16 countries across Africa and the Indian Ocean Islands.- History:...
and the Nico Centre in Area 3, on the west bank of the Lilongwe river in Old Town. A newer, similar shopping centre is located near the Mchinji round-about across from the Seven Eleven filling station - the Crossroads Shopping Centre. Lilongwe has also seen the opening of
Mr. Price
Mr. Price
Mr. Price is a publicly traded retail company based in South Africa. Founded in 1885, it has been traded on the Johannesburg Securities Exchange since 1952. The store has changed names several times since 1885, including John Orrs, Hub, the first Mr. Price opened in 1987 after the current owners...
at this Crossroads Shopping Centre. Aside from that a new high street shopping mall is being constructed at the former Shire Bus lines premises at Old Town (next to the Nico Centre). It has been said that this will be the biggest shopping mall in Malawi. Some of the retailers who confirmed as tenants of this mall include:
Woolworths
Woolworths (South Africa)
Woolworths Holdings Limited is a South African chain of retail stores and one of the largest in the country, modeled on Marks & Spencer of the United Kingdom . This relationship with Britain's Marks and Spencer was formed after the Second World War, which led to the retailer buying all of the...
, Spar, Game, Mr. Price Home among several others. The Pacific Shopping Mall is located in Area 10. Several internet cafes are located in and around the Nico Centre. Gifts and crafts can be bought from the post office craft market directly opposite the Nico Centre. To get a fair deal in the craft market, you must bargain hard. Pharmacies,
bureau de change
Bureau de Change
A bureau de change or currency exchange is a business whose customers exchange one currency for another. Although originally French, the term bureau de change is widely used throughout Europe, and European travellers can usually easily identify these facilities when in other European countries...
s and banks (including Stanbic and Malawi National Bank) are located throughout the city. ATM's which accept VISA cards are available at the banks mentioned above in City Centre and Area 3, with National Bank branches accepting bank issued cards using the PLUS international banking network. Almost any necessity can be purchased in Lilongwe, and many back-packers and overland travellers stop in Lilongwe to stock-up and enjoy city life for a few days.
Climate
Lilongwe features a
humid subtropical climate
Humid subtropical climate
A humid subtropical climate is a climate zone characterized by hot, humid summers and mild to cool winters...
that borders on a subtropical highland climate, with pleasantly warm summers and mild "winters". Due to the altitude, temperatures are lower than would be expected for a city located in the tropics. Lilongwe features a short
wet season
Wet season
The the wet season, or rainy season, is the time of year, covering one or more months, when most of the average annual rainfall in a region occurs. The term green season is also sometimes used as a euphemism by tourist authorities. Areas with wet seasons are dispersed across portions of the...
that runs from December to March and a lengthy
dry season
Dry season
The dry season is a term commonly used when describing the weather in the tropics. The weather in the tropics is dominated by the tropical rain belt, which oscillates from the northern to the southern tropics over the course of the year...
that covers much of the remainder of the year, particularly June and July which are cooler than the rest of the year. However, the city sees heavy downpours during its rainy season, seeing around 200mm of rain in a month during the wettest months.