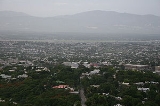 Port-au-Prince
Port-au-Prince is the capital and largest city of the Caribbean nation of
Haiti
Haiti
Haiti , officially the Republic of Haiti , is a Caribbean country. It occupies the western, smaller portion of the island of Hispaniola, in the Greater Antillean archipelago, which it shares with the Dominican Republic. Ayiti was the indigenous Taíno or Amerindian name for the island...
. The city's population was 704,776 as of the 2003 census, and was officially estimated to have reached 897,859 in 2009.
The city of Port-au-Prince is on the
Gulf of Gonâve
Gulf of Gonâve
The Gulf of Gonâve is a large gulf along the western coast of Haiti. Haiti's capital city, Port-au-Prince, is located on the coast of the gulf. Other cities on the gulf coast include Gonaïves, Saint-Marc, Miragoâne, and Jérémie. Several islands are located in the gulf, the largest being Gonâve...
: the bay on which the city lies, which acts as a natural harbor, has sustained economic activity since the civilizations of the Arawaks. It was first incorporated under the colonial rule of the French, in 1749, and has been Haiti's largest metropolis since then.