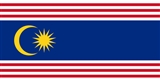 Kuala Lumpur
Kuala Lumpur
is the capital and the second largest city in
Malaysia
by population. The city proper, making up an area of 243 km² (93.8 sq mi), has a population of 1.4 million as of 2010.
Greater Kuala Lumpur
Greater Kuala Lumpur
Greater Kuala Lumpur is the geographical term that determines the boundaries of Metropolitan Kuala Lumpur in Malaysia, though similar with Klang Valley, there remains variation between the two. It is similar with Greater London and Greater Toronto...
, also known as the
Klang Valley
Klang Valley
Klang Valley is an area in Malaysia comprising Kuala Lumpur and its suburbs, and adjoining cities and towns in the state of Selangor. An alternative reference to this would be Kuala Lumpur Metropolitan Area or Greater Kuala Lumpur. It is geographically delineated by Titiwangsa Mountains to the...
, is an urban agglomeration of 7.2 million. It is the fastest growing metropolitan region in the country, in terms of population and economy.
Kuala Lumpur is the seat of the
Parliament of Malaysia
Parliament of Malaysia
The Parliament of Malaysia is the national legislature of Malaysia, based on the Westminster system. The bicameral parliament consists of the House of Representatives and the Senate. The King as the Head of State is the third component of Parliament....
.