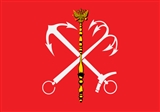 Saint Petersburg
Saint Petersburg
is a city and a
federal subject
Federal subjects of Russia
Russia is a federation which, since March 1, 2008, consists of 83 federal subjects . In 1993, when the Constitution was adopted, there were 89 federal subjects listed...
(a
federal city
Federal cities of Russia
The Russian Federation is divided into 83 federal subjects, two of which are federal cities....
) of
Russia
Russia
Russia or , officially known as both Russia and the Russian Federation , is a country in northern Eurasia. It is a federal semi-presidential republic, comprising 83 federal subjects...
located on the
Neva River
Neva River
The Neva is a river in northwestern Russia flowing from Lake Ladoga through the western part of Leningrad Oblast to the Neva Bay of the Gulf of Finland. Despite its modest length , it is the third largest river in Europe in terms of average discharge .The Neva is the only river flowing from Lake...
at the head of the
Gulf of Finland
Gulf of Finland
The Gulf of Finland is the easternmost arm of the Baltic Sea. It extends between Finland and Estonia all the way to Saint Petersburg in Russia, where the river Neva drains into it. Other major cities around the gulf include Helsinki and Tallinn...
on the
Baltic Sea
Baltic Sea
The Baltic Sea is a brackish mediterranean sea located in Northern Europe, from 53°N to 66°N latitude and from 20°E to 26°E longitude. It is bounded by the Scandinavian Peninsula, the mainland of Europe, and the Danish islands. It drains into the Kattegat by way of the Øresund, the Great Belt and...
. In 1914 the name of the city was changed to
Petrograd
, in 1924 to
Leningrad
and in 1991 back to
Saint Petersburg
.
In Russian literature and informal documents the "Saint" (Санкт-) is usually omitted, leaving
Petersburg
(Петербург,
Peterburg
).