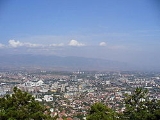 Skopje
Skopje
is the capital and largest city of the
Republic of Macedonia
Republic of Macedonia
Macedonia , officially the Republic of Macedonia , is a country located in the central Balkan peninsula in Southeast Europe. It is one of the successor states of the former Yugoslavia, from which it declared independence in 1991...
with about a third of the total population. It is the country's political, cultural, economic, and academic centre. It was known in the
Roman
Ancient Rome
Ancient Rome was a thriving civilization that grew on the Italian Peninsula as early as the 8th century BC. Located along the Mediterranean Sea and centered on the city of Rome, it expanded to one of the largest empires in the ancient world....
period under the name
Scupi
Scupi
Scupi is an archaeological site located between Zajčev Rid and the Vardar River, several kilometers from the center of Skopje, in the Republic of Macedonia. A Roman military camp was founded here in the second decade BC on the site of an older Dardanian settlement...
.
The territory of Skopje has been inhabited since at least 4000 BC; remains of
Neolithic
Neolithic
The Neolithic Age, Era, or Period, or New Stone Age, was a period in the development of human technology, beginning about 9500 BC in some parts of the Middle East, and later in other parts of the world. It is traditionally considered as the last part of the Stone Age...
settlements have been found within the old
Kale Fortress
Skopje Fortress
The Skopje Fortress , commonly referred to as Kale Fortress, or simply Kale , is a historic fortress located in the old town of Skopje, the capital of the Republic of Macedonia. It is situated on the highest point in the city overlooking the Vardar River...
that overlooks the modern city centre.