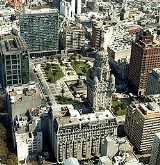 Montevideo
Montevideo
is the largest city, the capital, and the chief port of
Uruguay
Uruguay
Uruguay ,officially the Oriental Republic of Uruguay,sometimes the Eastern Republic of Uruguay; ) is a country in the southeastern part of South America. It is home to some 3.5 million people, of whom 1.8 million live in the capital Montevideo and its metropolitan area...
. The settlement was established in 1726 by
Bruno Mauricio de Zabala
Bruno Mauricio de Zabala
Bruno Mauricio de Zabala was a Spanish soldier and colonial administrator. He was born in the slum of Zabala in the province of Biscay...
, as a strategic move amidst a Spanish-Portuguese dispute over the
platine region
La Plata Basin
The Río de la Plata Basin , sometimes called the Platine basin or Platine region, is the name given to the hydrographical area that covers parts of Argentina, Brazil, Bolivia, Paraguay and Uruguay...
, and as a counter to the Portuguese colony at
Colonia del Sacramento
Colonia del Sacramento
Colonia del Sacramento is a city in southwestern Uruguay, by the Río de la Plata, facing Buenos Aires, Argentina. It is the oldest town in Uruguay and capital of the departamento of Colonia. It has a population of around 22,000.It is renowned for its historic quarter, a World Heritage Site...
. According to the census of 2004, Montevideo has a population of 1,325,968 (about half of Uruguay's population). It has an area of 530 sqkm and extends 20 kilometres (12.4 mi) from west to east.