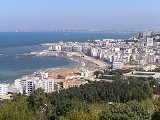 Algiers
is the capital and largest city of
Algeria
Algeria
Algeria , officially the People's Democratic Republic of Algeria , also formally referred to as the Democratic and Popular Republic of Algeria, is a country in the Maghreb region of Northwest Africa with Algiers as its capital.In terms of land area, it is the largest country in Africa and the Arab...
. According to the 1998 census, the population of the city proper was 1,519,570 and that of the urban agglomeration was 2,135,630. In 2009, the population was about 3,500,000. An estimate puts the population at about 3,574,000 as of 2010.
Called El-Behdja (البهجة) or alternatively Alger la Blanche ("Algiers the White") for the glistening white of its buildings as seen rising up from the sea, Algiers is situated on the west side of a bay of the
Mediterranean Sea
Mediterranean Sea
The Mediterranean Sea is a sea connected to the Atlantic Ocean surrounded by the Mediterranean region and almost completely enclosed by land: on the north by Anatolia and Europe, on the south by North Africa, and on the east by the Levant...
.
1830 Beginning of the French colonization of Algeria: 34,000 French soldiers land 27 kilometers west of Algiers, at Sidi Ferruch.
1942 World War II: French monarchist, Fernand Bonnier de La Chapelle, assassinates Vichy French Admiral François Darlan in Algiers.
1958 May 1958 crisis: a group of French military officers lead a coup in Algiers demanding that a government of national unity be formed with Charles de Gaulle at its head in order to defend French control of Algeria.
2007 2007 Algiers bombings: Two bombings in the Algerian capital of Algiers, kills 33 people and wounds a further 222 others.
2007 Two car bombs explode at the Constitutional Court building in Algiers and the United Nations office. An estimated 45 people are killed in the bombings.