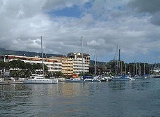 Papeete
Sights
Papeete City Tour - Papeete attractions map Interactive Google map of Papeete, to discover the 30 major tourist attractions in Papeete downtown.
The waterfront esplanade
Bougainville Park (once named Albert Park

Albert Park

Albert Park may refer to:In Australia:* Albert Park, Lismore, home to international baseball stadium Baxter Field* Albert Park, Victoria, a suburb of Melbourne** Albert Park and Lake, the park itself...


, in honour of a former Belgian king and World War One hero, is now named for Louis Antoine de Bougainville

Louis Antoine de Bougainville

Louis-Antoine, Comte de Bougainville was a French admiral and explorer. A contemporary of James Cook, he took part in the French and Indian War and the unsuccessful French attempt to defend Canada from Britain...


, the first French explorer to circumnavigate the globe.
Cathedral of Notre Dame of Papeete
The Territorial Assembly is the heart of the Polynesian government and contains the Territorial Assembly building, the High Commissioner's residence and also a once popular clubhouse of Paul Gauguin. It was also once the site of the royal residence and palace of Queen Pomare IV

Pomare IV

Pōmare IV, Queen of Tahiti , more properly Aimata Pōmare IV Vahine-o-Punuateraitua , was the queen of Tahiti between 1827 and 1877...


of Tahiti, who ruled from 1827 to 1877.
Presidential palace
The Monument to Pouvanaa a Oopa

Pouvanaa a Oopa

Pouvanaa a Oopa was a French Polynesia politician and Tahitian nationalist, who led a Tahitian separatist movement against French rule, before being exiled to France in the late 1950s....


(a decorated World War I

World War I

World War I , which was predominantly called the World War or the Great War from its occurrence until 1939, and the First World War or World War I thereafter, was a major war centred in Europe that began on 28 July 1914 and lasted until 11 November 1918...


hero, Tahitian nationalist, and deputy to Paris for the Tahitian Territorial Assembly)
The Mairie (town hall)
The papeete market
Papeete in popular culture
Note
The name Papeete is sometimes spelled
Pape'ete
in
Tahitian
Tahitian language
Tahitian is an indigenous language spoken mainly in the Society Islands in French Polynesia. It is an Eastern Polynesian language closely related to the other indigenous languages spoken in French Polynesia: Marquesan, Tuamotuan, Mangarevan, and Austral Islands languages...
, using the apostrophe (in fact a variant of it hard to differentiate from the regular apostrophe when using small fonts) to represent the
glottal stop
Glottal stop
The glottal stop, or more fully, the voiceless glottal plosive, is a type of consonantal sound used in many spoken languages. In English, the feature is represented, for example, by the hyphen in uh-oh! and by the apostrophe or [[ʻokina]] in Hawaii among those using a preservative pronunciation of...
, as promoted by the
Académie Tahitienne
and accepted by the territorial government. This apostrophe, however, is often omitted.
External links