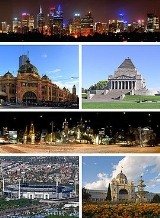 Melbourne
Melbourne
is the capital and most populous city in the state of
Victoria
Victoria (Australia)
Victoria is the second most populous state in Australia. Geographically the smallest mainland state, Victoria is bordered by New South Wales, South Australia, and Tasmania on Boundary Islet to the north, west and south respectively....
, and the second
most populous city in Australia
. The
Melbourne City Centre
Melbourne city centre
Melbourne City Centre is an area of Melbourne in Victoria, Australia. It is not to be confused with the larger local government area of the City of Melbourne...
is the hub of the greater metropolitan area and the
Census statistical division
Census in Australia
The Australian census is administered once every five years by the Australian Bureau of Statistics. The most recent census was conducted on 9 August 2011; the next will be conducted in 2016. Prior to the introduction of regular censuses in 1961, they had also been run in 1901, 1911, 1921, 1933,...
—of which "Melbourne" is the common name. As of June 2009, the greater geographical area had an approximate population of four million. Inhabitants of Melbourne are called Melburnians.
The metropolis is located on the large natural bay known as
Port Phillip
Port Phillip
Port Phillip Port Phillip Port Phillip (also commonly referred to as Port Phillip Bay or (locally) just The Bay, is a large bay in southern Victoria, Australia; it is the location of Melbourne. Geographically, the bay covers and the shore stretches roughly . Although it is extremely shallow for...
, with the city centre positioned at the estuary of the
Yarra River
Yarra River
The Yarra River, originally Birrarung, is a river in east-central Victoria, Australia. The lower stretches of the river is where the city of Melbourne was established in 1835 and today Greater Melbourne dominates and influences the landscape of its lower reaches...
(at the northern-most point of the bay).
1892 The Limelight Department, one of the world's first film studios, is officially established in Melbourne, Australia.
1899 Leaders of six Australian colonies meet in Melbourne to discuss confederation.
1899 The Australian Premiers' Conference held in Melbourne decides to locate Australia's capital city, Canberra, between Sydney and Melbourne.
1899 The Australian Premiers' Conference held in Melbourne decides to locate Australia's capital city, Canberra, between Sydney and Melbourne.
1901 Australia opens its first parliament in Melbourne.
1913 Canberra Day: The future capital of Australia is officially named Canberra. (Melbourne remained temporary capital until 1927 while the new capital was still under construction.)
1934 The Shrine of Remembrance in Melbourne, Australia is opened.
1956 A violent water polo match between Hungary and the USSR takes place during the 1956 Summer Olympics in Melbourne, against the backdrop of the 1956 Hungarian Revolution.
1967 Ronald Ryan, the last person to be executed in Australia, is hanged in Pentridge Prison, Melbourne.
1970 Thirty-five construction workers are killed when a section of the new West Gate Bridge in Melbourne collapses.