 Endorheic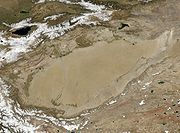 An
endorheic basin
is a closed
drainage basin
Drainage basin
A drainage basin is an extent or an area of land where surface water from rain and melting snow or ice converges to a single point, usually the exit of the basin, where the waters join another waterbody, such as a river, lake, reservoir, estuary, wetland, sea, or ocean...
that retains water and allows no outflow to other bodies of water such as
river
River
A river is a natural watercourse, usually freshwater, flowing towards an ocean, a lake, a sea, or another river. In a few cases, a river simply flows into the ground or dries up completely before reaching another body of water. Small rivers may also be called by several other names, including...
s or
ocean
Ocean
An ocean is a major body of saline water, and a principal component of the hydrosphere. Approximately 71% of the Earth's surface is covered by ocean, a continuous body of water that is customarily divided into several principal oceans and smaller seas.More than half of this area is over 3,000...
s. Normally, water that has accrued in a drainage basin eventually flows out through rivers or streams on Earth's surface or by underground
diffusion
Diffusion
Molecular diffusion, often called simply diffusion, is the thermal motion of all particles at temperatures above absolute zero. The rate of this movement is a function of temperature, viscosity of the fluid and the size of the particles...
through
permeable
Permeability (fluid)
Permeability in fluid mechanics and the earth sciences is a measure of the ability of a porous material to allow fluids to pass through it.- Units :...
rock, ultimately ending up in the oceans. However, in an endorheic basin,
rain
Rain
Rain is liquid precipitation, as opposed to non-liquid kinds of precipitation such as snow, hail and sleet. Rain requires the presence of a thick layer of the atmosphere to have temperatures above the melting point of water near and above the Earth's surface...
(or other
precipitation
Precipitation (meteorology)
In meteorology, precipitation In meteorology, precipitation In meteorology, precipitation (also known as one of the classes of hydrometeors, which are atmospheric water phenomena is any product of the condensation of atmospheric water vapor that falls under gravity. The main forms of precipitation...
) that falls within it does not flow out but may only leave the drainage system by
evaporation
Evaporation
Evaporation is a type of vaporization of a liquid that occurs only on the surface of a liquid. The other type of vaporization is boiling, which, instead, occurs on the entire mass of the liquid....
and seepage. The bottom of such a basin is typically occupied by a
salt lake
Salt lake
A salt lake or saline lake is a landlocked body of water which has a concentration of salts and other dissolved minerals significantly higher than most lakes . In some cases, salt lakes have a higher concentration of salt than sea water, but such lakes would also be termed hypersaline lakes...
or
salt pan
Salt pan (geology)
Natural salt pans are flat expanses of ground covered with salt and other minerals, usually shining white under the sun. They are found in deserts, and should not be confused with salt evaporation ponds.A salt pan is formed where water pools...
. Endorheic basins are also called
internal drainage systems
.
Endorheic regions, in contrast to exorheic regions which flow to the ocean in geologically defined patterns, are closed hydrologic systems. Their surface waters drain to inland terminal locations where the water evaporates or seeps into the ground, having no access to discharge into the sea. Endorheic water bodies include some of the largest lakes in the world, such as the
Aral Sea
Aral Sea
The Aral Sea was a lake that lay between Kazakhstan in the north and Karakalpakstan, an autonomous region of Uzbekistan, in the south...
and the
Caspian Sea
Caspian Sea
The Caspian Sea is the largest enclosed body of water on Earth by area, variously classed as the world's largest lake or a full-fledged sea. The sea has a surface area of and a volume of...
, the world's largest
saline
Saline water
Saline water is a general term for water that contains a significant concentration of dissolved salts . The concentration is usually expressed in parts per million of salt....
body of water cut off from the ocean.
Endorheic lakes
Endorheic lakes are bodies of water that do not flow into the sea. Most of the water falling on earth finds its way to the oceans through a network of rivers, lakes and wetlands. However, there is a class of water bodies that are located in closed or endorheic watersheds where the topography prevents their drainage to the oceans. These endorheic watersheds (containing water in rivers or lakes that form a balance of surface inflows, evaporation and seepage) are often called terminal lakes or sink lakes.
Endorheic lakes are usually in the interior of a body mass, far from an ocean. Their watersheds are often confined by natural geologic land formations such as a mountain range, cutting off water access to the ocean. The inland water flows into dry watersheds where the water evaporates, leaving a high concentration of minerals and other inflow erosion products. Over time this input of erosion products can cause the endorheic lake to become relatively saline (a "salt lake"). Since the main outflow pathways of these lakes are chiefly through evaporation and seepage, endorheic lakes are usually more sensitive to environmental pollutants inputs than water bodies that have access to oceans.
Occurrence
Endorheic regions can occur in any climate but are most commonly found in hot
desert
Desert
A desert is a landscape or region that receives an extremely low amount of precipitation, less than enough to support growth of most plants. Most deserts have an average annual precipitation of less than...
locations. In areas where rainfall is higher, riparian erosion will generally carve drainage channels (particularly in times of flood), or cause the water level in the terminal lake to rise until it finds an outlet, breaking the enclosed endorheic hydrological system's geographical barrier and opening it to the surrounding terrain. The
Black Sea
Black Sea
The Black Sea is bounded by Europe, Anatolia and the Caucasus and is ultimately connected to the Atlantic Ocean via the Mediterranean and the Aegean seas and various straits. The Bosphorus strait connects it to the Sea of Marmara, and the strait of the Dardanelles connects that sea to the Aegean...
was likely such a lake, having once been an independent hydrological system before the
Mediterranean Sea
Mediterranean Sea
The Mediterranean Sea is a sea connected to the Atlantic Ocean surrounded by the Mediterranean region and almost completely enclosed by land: on the north by Anatolia and Europe, on the south by North Africa, and on the east by the Levant...
broke through the terrain separating the two.
Endorheic regions tend to be far inland with their boundaries defined by mountains or other geological features that block their access to oceans. Since the inflowing water can evacuate only through seepage or evaporation, dried minerals or other products collect in the basin, eventually making the water saline and also making the basin vulnerable to pollution. Continents vary in their concentration of endorheic regions due to conditions of geography and climate. Australia has the highest percentage of endorheic regions at 21 percent while North America has the least at 5 percent. Approximately 18 percent of the earth's land drains to endorheic lakes or seas, the largest of these land areas being the interior of Asia.
In deserts, water inflow is low and loss to solar evaporation high, drastically reducing the formation of complete
drainage systems
Drainage system (Geomorphology)
In geomorphology, a drainage system is the pattern formed by the streams, rivers, and lakes in a particular drainage basin. They are governed by the topography of the land, whether a particular region is dominated by hard or soft rocks, and the gradient of the land. Geomorphologists and...
. Closed water flow areas often lead to the concentration of salts and other minerals in the basin. Minerals leached from the surrounding rocks are deposited in the basin, and left behind when the water evaporates. Thus endorheic basins often contain extensive
salt pan
Salt pan (geology)
Natural salt pans are flat expanses of ground covered with salt and other minerals, usually shining white under the sun. They are found in deserts, and should not be confused with salt evaporation ponds.A salt pan is formed where water pools...
s (also called salt flats, salt lakes, alkali flats, dry lake beds or playas). These areas tend to be large, flat hardened surfaces and are sometimes used for
aviation
Aviation
Aviation is the design, development, production, operation, and use of aircraft, especially heavier-than-air aircraft. Aviation is derived from avis, the Latin word for bird.-History:...
runway
Runway
According to ICAO a runway is a "defined rectangular area on a land aerodrome prepared for the landing and take-off of aircraft." Runways may be a man-made surface or a natural surface .- Orientation and dimensions :Runways are named by a number between 01 and 36, which is generally one tenth...
s or
land speed record
Land speed record
The land speed record is the highest speed achieved by a wheeled vehicle on land. There is no single body for validation and regulation; in practice the Category C flying start regulations are used, officiated by regional or national organizations under the auspices of the Fédération...
attempts, because of their extensive areas of perfectly level terrain.
Both permanent and seasonal endorheic lakes can form in endorheic basins. Some endorheic basins are essentially stable, climate change having reduced precipitation to the degree that a lake no longer forms. Even most permanent endorheic lakes change size and shape dramatically over time, often becoming much smaller or breaking into several smaller parts during the dry season. As humans have expanded into previously uninhabitable desert areas, the river systems that feed many endorheic lakes have been altered by the construction of dams and aqueducts. As a result many endorheic lakes in developed or developing countries have contracted dramatically, resulting in increased salinity, higher concentrations of pollutants, and the disruption of ecosystems.
Even within exorheic basins, there can be "non-contributing", low-lying areas that trap runoff and prevent it from contributing to flows downstream during years of average or below-average runoff. In flat river basins, non-contributing areas can be a large fraction of the driver basin. (E.g.
Lake Winnipeg
Lake Winnipeg
Lake Winnipeg is a large, lake in central North America, in the province of Manitoba, Canada, with its southern tip about north of the city of Winnipeg...
's basin.)
Notable endorheic basins and lakes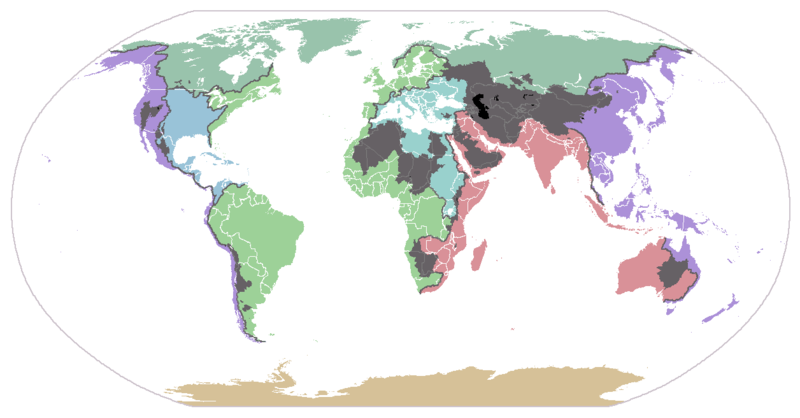 Antarctica
Endorheic lakes in Antarctica are located in the
McMurdo Dry Valleys
McMurdo Dry Valleys
The McMurdo Dry Valleys are a row of snow-free valleys in Antarctica located within Victoria Land west of McMurdo Sound. The region is one of the world's most extreme deserts, and includes many interesting features including Lake Vida and the Onyx River, Antarctica's longest river.-Climate:The Dry...
,
Victoria Land
Victoria Land
Victoria Land is a region of Antarctica bounded on the east by the Ross Ice Shelf and the Ross Sea and on the west by Oates Land and Wilkes Land. It was discovered by Captain James Clark Ross in January 1841 and named after the UK's Queen Victoria...
,
Antarctica
, the largest ice-free area in Antarctica.
Asia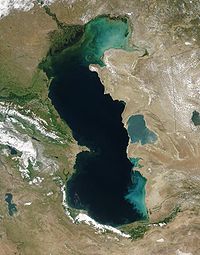 Much of western and
Central Asia
Central Asia
Central Asia is a core region of the Asian continent from the Caspian Sea in the west, China in the east, Afghanistan in the south, and Russia in the north...
is a giant endorheic region made up of a number of contiguous closed basins. The region contains several basins and terminal lakes, including:
Other endorheic lakes and basins in Asia include:
Australia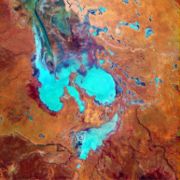 Australia
Australia
Australia , officially the Commonwealth of Australia, is a country in the Southern Hemisphere comprising the mainland of the Australian continent, the island of Tasmania, and numerous smaller islands in the Indian and Pacific Oceans. It is the world's sixth-largest country by total area...
, being very dry and having exceedingly low runoff ratios due to its ancient soils, has many endorheic drainages. The most important are:
Africa
Large endorheic regions in Africa are located in the Sahara Desert, the
Kalahari Desert
Kalahari Desert
The Kalahari Desert is a large semi-arid sandy savannah in Southern Africa extending , covering much of Botswana and parts of Namibia and South Africa, as semi-desert, with huge tracts of excellent grazing after good rains. The Kalahari supports more animals and plants than a true desert...
, and the
Great Rift Valley
Great Rift Valley
The Great Rift Valley is a name given in the late 19th century by British explorer John Walter Gregory to the continuous geographic trench, approximately in length, that runs from northern Syria in Southwest Asia to central Mozambique in South East Africa...
:
North and Central America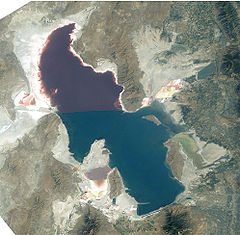 New Mexico

New Mexico

New Mexico is a state located in the southwest and western regions of the United States. New Mexico is also usually considered one of the Mountain States. With a population density of 16 per square mile, New Mexico is the sixth-most sparsely inhabited U.S...


has a number of desert endorheic basins including:

The Tularosa Basin

Tularosa Basin

The Tularosa Basin is a graben basin in the Basin and Range Province and within the Chihuahuan Desert, east of the Rio Grande in southern New Mexico, in the Southwestern United States.-Geography:...


, a rift valley

Rift valley

A rift valley is a linear-shaped lowland between highlands or mountain ranges created by the action of a geologic rift or fault. This action is manifest as crustal extension, a spreading apart of the surface which is subsequently further deepened by the forces of erosion...


.
Zuni Salt Lake

Zuni Salt Lake

Zuni Salt Lake, also Zuñi Salt Lake , is a rare high desert lake, and a classic maar. It is located in Catron County, about 60 miles south of the Zuni Pueblo, New Mexico, USA. Zuñi Salt Lake is extremely shallow, with the depth only to four feet in the wet season. During the dry season, much of...


, a maar

Maar

A maar is a broad, low-relief volcanic crater that is caused by a phreatomagmatic eruption, an explosion caused by groundwater coming into contact with hot lava or magma. A maar characteristically fills with water to form a relatively shallow crater lake. The name comes from the local Moselle...


.
The Mimbres River

Mimbres River

The Mimbres River is a river in southwestern New Mexico. It forms from snow pack and runoff on the south-western slopes of the Black Range and flows into a small endorheic basin east of Deming, New Mexico. The uplands watershed are administered by the US Forest Service, while the land in the...


Basin, in Grant County.
Many small lakes and ponds in
North Dakota
North Dakota
North Dakota is a state located in the Midwestern region of the United States of America, along the Canadian border. The state is bordered by Canada to the north, Minnesota to the east, South Dakota to the south and Montana to the west. North Dakota is the 19th-largest state by area in the U.S....
and
Manitoba
Manitoba
Manitoba is a Canadian prairie province with an area of . The province has over 110,000 lakes and has a largely continental climate because of its flat topography. Agriculture, mostly concentrated in the fertile southern and western parts of the province, is vital to the province's economy; other...
are endorheic; some of them have salt encrustations along their shores.
Europe
All these lakes are drained, however, either through manmade
canal
Canal
Canals are man-made channels for water. There are two types of canal:#Waterways: navigable transportation canals used for carrying ships and boats shipping goods and conveying people, further subdivided into two kinds:...
s or via karstic phenomena. Minor additional endorheic lakes exist throughout the Mediterranean countries
Spain
Spain
Spain , officially the Kingdom of Spain languages]] under the European Charter for Regional or Minority Languages. In each of these, Spain's official name is as follows:;;;;;;), is a country and member state of the European Union located in southwestern Europe on the Iberian Peninsula...
(e.g.
Laguna de Gallocanta
Laguna de Gallocanta
The Gallocanta Lake is an endorheic lake located just to the south of Gallocanta village, between the Aragonese comarcas of Campo de Daroca and Comarca del Jiloca, Aragon, Spain...
),
Italy
Italy
Italy , officially the Italian Republic languages]] under the European Charter for Regional or Minority Languages. In each of these, Italy's official name is as follows:;;;;;;;;), is a unitary parliamentary republic in South-Central Europe. To the north it borders France, Switzerland, Austria and...
,
Cyprus
Cyprus
Cyprus , officially the Republic of Cyprus , is a Eurasian island country, member of the European Union, in the Eastern Mediterranean, east of Greece, south of Turkey, west of Syria and north of Egypt. It is the third largest island in the Mediterranean Sea.The earliest known human activity on the...
(
Larnaca
Larnaca Salt Lake
Larnaca Salt Lake to the west of the town of Larnaca. It is a complex network of four salt lakes of different sizes. The largest is lake Aliki followed by lake Orphani, lake Soros and lake Spiro. They form the second largest salt lake in Cyprus after the Limassol Salt Lake...
and
Akrotiri
Limassol Salt Lake
Limassol Salt Lake is the largest inland body of water on the island of Cyprus.It lies due south-east of the sprawling city of Limassol and measures 10.65 km². Its lowest point is 2.7 meters below sea level and at its deepest point the water depth measures about one meter...
salt lakes) and
Greece
Greece
Greece , officially the Hellenic Republic , and historically Hellas or the Republic of Greece in English, is a country in southeastern Europe....
.
South America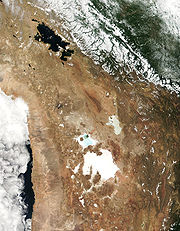 Ancient
Some of the Earth's ancient endorheic systems include:
External links