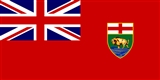 Manitoba
Manitoba
is a
Canadian
Canada
Canada is a North American country consisting of ten provinces and three territories. Located in the northern part of the continent, it extends from the Atlantic Ocean in the east to the Pacific Ocean in the west, and northward into the Arctic Ocean...
prairie
Canadian Prairies
The Canadian Prairies is a region of Canada, specifically in western Canada, which may correspond to several different definitions, natural or political. Notably, the Prairie provinces or simply the Prairies comprise the provinces of Alberta, Saskatchewan, and Manitoba, as they are largely covered...
province
Provinces and territories of Canada
The provinces and territories of Canada combine to make up the world's second-largest country by area. There are ten provinces and three territories...
with an area of 649950 square kilometre. The province has over 110,000 lakes and has a largely
continental climate
Continental climate
Continental climate is a climate characterized by important annual variation in temperature due to the lack of significant bodies of water nearby...
because of its flat topography. Agriculture, mostly concentrated in the fertile southern and western parts of the province, is vital to the province's economy; other major industries are transportation, manufacturing, mining, forestry, energy, and tourism. The largest ethnic group in Manitoba is
English Canadian
English Canadian
An English Canadian is a Canadian of English ancestry; it is used primarily in contrast with French Canadian. Canada is an officially bilingual state, with English and French official language communities. Immigrant cultural groups ostensibly integrate into one or both of these communities, but...
, but there is a significant
Franco-Manitoban
Franco-Manitoban
Franco-Manitobans are a community of French Canadians and other French-speaking people living in Manitoba. Most Franco-Manitobans have roots in Quebec. However, many are of Métis and Belgian ancestry while others have ancestors that came directly from France, its former colonies and other...
minority and a growing
aboriginal
Aboriginal peoples in Canada
Aboriginal peoples in Canada comprise the First Nations, Inuit and Métis. The descriptors "Indian" and "Eskimo" have fallen into disuse in Canada and are commonly considered pejorative....
population.
Manitoba's capital and largest city,
Winnipeg
Winnipeg
Winnipeg is the capital and largest city of Manitoba, Canada, and is the primary municipality of the Winnipeg Capital Region, with more than half of Manitoba's population. It is located near the longitudinal centre of North America, at the confluence of the Red and Assiniboine Rivers .The name...
, is Canada's eighth-largest Census Metropolitan Area, and home to 60% of the population of the province.