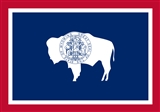 Wyoming
Wyoming
is a
state
U.S. state
A U.S. state is any one of the 50 federated states of the United States of America that share sovereignty with the federal government. Because of this shared sovereignty, an American is a citizen both of the federal entity and of his or her state of domicile. Four states use the official title of...
in the mountain region of the
Western United States
Western United States
.The Western United States, commonly referred to as the American West or simply "the West," traditionally refers to the region comprising the westernmost states of the United States. Because the U.S. expanded westward after its founding, the meaning of the West has evolved over time...
. The western two thirds of the state is covered mostly with the mountain ranges and rangelands in the foothills of the
Eastern Rocky Mountains
Rocky Mountains
The Rocky Mountains are a major mountain range in western North America. The Rocky Mountains stretch more than from the northernmost part of British Columbia, in western Canada, to New Mexico, in the southwestern United States...
, while the eastern third of the state is high elevation prairie known as the
High Plains
High Plains (United States)
The High Plains are a subregion of the Great Plains mostly in the Western United States, but also partly in the Midwest states of Nebraska, Kansas, and South Dakota, generally encompassing the western part of the Great Plains before the region reaches the Rocky Mountains...
. Wyoming is the least populous U.S. state, with a
U.S. Census
United States Census Bureau
The United States Census Bureau is the government agency that is responsible for the United States Census. It also gathers other national demographic and economic data...
population of 563,626 in 2010. This is a 14.1% increase since 2000. It is the tenth largest U.S.