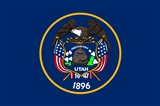 Utah
Utah (ˈ or ) is a state in the Western United States. It was the
45th state
to join the
Union
United States
The United States of America is a federal constitutional republic comprising fifty states and a federal district...
, on January 4, 1896. Approximately 80% of Utah's 2,763,885 people live along the
Wasatch Front
Wasatch Front
The Wasatch Front is a metropolitan region in the north-central part of the U.S. state of Utah. It consists of a chain of cities and towns stretched along the Wasatch Range from approximately Santaquin in the south to Brigham City in the north...
, centering on Salt Lake City. This leaves vast expanses of the state nearly uninhabited, making the population the sixth most urbanized in the U.S.
1847 After 17 months of travel, Brigham Young leads 148 Mormon pioneers into Salt Lake Valley, resulting in the establishment of Salt Lake City. Celebrations of this event include the Pioneer Day Utah state holiday and the Days of '47 Parade.
1848 Mexican-American War: Mexico ratifies the Treaty of Guadalupe Hidalgo thus ending the war and ceding California, Nevada, Utah and parts of four other modern-day U.S. states to the United States for $15 million USD.
1863 Indian Wars: Chief Pocatello of the Shoshone tribe signs the Treaty of Box Elder, agreeing to stop the harassment of emigrant trails in southern Idaho and northern Utah.
1869 The First Transcontinental Railroad, linking the eastern and western United States, is completed at Promontory Summit, Utah (not Promontory Point, Utah) with the golden spike.
1870 Women gain the right to vote in the Utah Territory.
1896 Utah is admitted as the 45th U.S. state.
1933 Prohibition in the United States ends: Utah becomes the 36th U.S. state to ratify the Twenty-first Amendment to the United States Constitution, thus establishing the required 75% of states needed to enact the amendment (this overturned the 18th Amendment which had made the manufacture, sale, or transportation of alcohol illegal in the United States).
1935 Sir Malcolm Campbell reaches a speed of 304.331 miles per hour on the Bonneville Salt Flats in Utah, becoming the first person to drive an automobile over 300 mph
1968 Nerve gas accident at Skull Valley, Utah.
1971 Capitol Reef National Park is established in Utah.
In 1849 the Mormons organized a "free and independent" government and erected the "State of Deseret|State of Deseret," with Brigham Young as its head. But the very next year Congress deliberately snubbed it and created the "Territory of Utah|Utah Territory" out of the same accumulation of mountains, sage-brush, alkali and general desolation, -- but made Brigham Governor of it.

Mark Twain, Roughing It (1872)
Utah will yet become the treasure-house of the nation.

Abraham Lincoln, Edward Tullige in "History of Salt Lake City" (1886) 697.