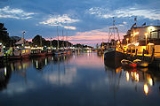 Canal
Canals
are man-made channels for water. There are two types of canal:
Waterway

Waterway

A waterway is any navigable body of water. Waterways can include rivers, lakes, seas, oceans, and canals. In order for a waterway to be navigable, it must meet several criteria:...


s: navigable transport

Transport

Transport or transportation is the movement of people, cattle, animals and goods from one location to another. Modes of transport include air, rail, road, water, cable, pipeline, and space. The field can be divided into infrastructure, vehicles, and operations...


ation canals used for carrying ships and boats shipping goods and conveying people, further subdivided into two kinds:

Those connected to existing lake

Lake

A lake is a body of relatively still fresh or salt water of considerable size, localized in a basin, that is surrounded by land. Lakes are inland and not part of the ocean and therefore are distinct from lagoons, and are larger and deeper than ponds. Lakes can be contrasted with rivers or streams,...


s, river

River

A river is a natural watercourse, usually freshwater, flowing towards an ocean, a lake, a sea, or another river. In a few cases, a river simply flows into the ground or dries up completely before reaching another body of water. Small rivers may also be called by several other names, including...


s, or ocean

Ocean

An ocean is a major body of saline water, and a principal component of the hydrosphere. Approximately 71% of the Earth's surface is covered by ocean, a continuous body of water that is customarily divided into several principal oceans and smaller seas.More than half of this area is over 3,000...


s. Included are inter-basin canals, such as the Suez Canal

Suez Canal

The Suez Canal , also known by the nickname "The Highway to India", is an artificial sea-level waterway in Egypt, connecting the Mediterranean Sea and the Red Sea. Opened in November 1869 after 10 years of construction work, it allows water transportation between Europe and Asia without navigation...


, Erie Canal

Erie Canal

The Erie Canal is a waterway in New York that runs about from Albany, New York, on the Hudson River to Buffalo, New York, at Lake Erie, completing a navigable water route from the Atlantic Ocean to the Great Lakes. The canal contains 36 locks and encompasses a total elevation differential of...


, and the Panama Canal

Panama Canal

The Panama Canal is a ship canal in Panama that joins the Atlantic Ocean and the Pacific Ocean and is a key conduit for international maritime trade. Built from 1904 to 1914, the canal has seen annual traffic rise from about 1,000 ships early on to 14,702 vessels measuring a total of 309.6...


.
Those connected in a city network: such as the Canal Grande and others of Venice

Venice

Venice is a city in northern Italy which is renowned for the beauty of its setting, its architecture and its artworks. It is the capital of the Veneto region...


Italy

Italy

Italy , officially the Italian Republic languages]] under the European Charter for Regional or Minority Languages. In each of these, Italy's official name is as follows:;;;;;;;;), is a unitary parliamentary republic in South-Central Europe. To the north it borders France, Switzerland, Austria and...


; the gracht

Gracht

The word gracht is a Dutch term that is encountered by English-speaking people when confronted with Dutch art , Dutch history or tourism...


of Amsterdam

Amsterdam

Amsterdam is the largest city and the capital of the Netherlands. The current position of Amsterdam as capital city of the Kingdom of the Netherlands is governed by the constitution of August 24, 1815 and its successors. Amsterdam has a population of 783,364 within city limits, an urban population...


, and the waterways of Bangkok

Bangkok

Bangkok is the capital and largest urban area city in Thailand. It is known in Thai as Krung Thep Maha Nakhon or simply Krung Thep , meaning "city of angels." The full name of Bangkok is Krung Thep Mahanakhon Amon Rattanakosin Mahintharayutthaya Mahadilok Phop Noppharat Ratchathani Burirom...


.

Aqueduct

Aqueduct

An aqueduct is a water supply or navigable channel constructed to convey water. In modern engineering, the term is used for any system of pipes, ditches, canals, tunnels, and other structures used for this purpose....


s: water supply

Water supply

Water supply is the provision of water by public utilities, commercial organisations, community endeavours or by individuals, usually via a system of pumps and pipes...


canals that are used for the conveyance and delivery of potable water for human consumption, municipal uses, and agriculture

Agriculture

Agriculture is the cultivation of animals, plants, fungi and other life forms for food, fiber, and other products used to sustain life. Agriculture was the key implement in the rise of sedentary human civilization, whereby farming of domesticated species created food surpluses that nurtured the...


irrigation

Irrigation

Irrigation may be defined as the science of artificial application of water to the land or soil. It is used to assist in the growing of agricultural crops, maintenance of landscapes, and revegetation of disturbed soils in dry areas and during periods of inadequate rainfall...


.