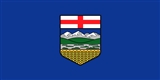 Alberta
Alberta
æ is a
province
Provinces and territories of Canada
The provinces and territories of Canada combine to make up the world's second-largest country by area. There are ten provinces and three territories...
of
Canada
Canada
Canada is a North American country consisting of ten provinces and three territories. Located in the northern part of the continent, it extends from the Atlantic Ocean in the east to the Pacific Ocean in the west, and northward into the Arctic Ocean...
. It had an estimated population of 3.7 million in 2010 making it the most populous of Canada's three
prairie provinces
Canadian Prairies
The Canadian Prairies is a region of Canada, specifically in western Canada, which may correspond to several different definitions, natural or political. Notably, the Prairie provinces or simply the Prairies comprise the provinces of Alberta, Saskatchewan, and Manitoba, as they are largely covered...
. Alberta and its neighbour,
Saskatchewan
Saskatchewan
Saskatchewan is a prairie province in Canada, which has an area of . Saskatchewan is bordered on the west by Alberta, on the north by the Northwest Territories, on the east by Manitoba, and on the south by the U.S. states of Montana and North Dakota....
, were established as provinces on September 1, 1905.
Alberta is located in
western Canada
Western Canada
Western Canada, also referred to as the Western provinces and commonly as the West, is a region of Canada that includes the four provinces west of the province of Ontario.- Provinces :...
, bounded by the provinces of
British Columbia
British Columbia
British Columbia is the westernmost of Canada's provinces and is known for its natural beauty, as reflected in its Latin motto, Splendor sine occasu . Its name was chosen by Queen Victoria in 1858...
to the west and Saskatchewan to the east, the
Northwest Territories
Northwest Territories
The Northwest Territories is a federal territory of Canada.Located in northern Canada, the territory borders Canada's two other territories, Yukon to the west and Nunavut to the east, and three provinces: British Columbia to the southwest, and Alberta and Saskatchewan to the south...
to the north, and the
U.S. state
U.S. state
A U.S. state is any one of the 50 federated states of the United States of America that share sovereignty with the federal government. Because of this shared sovereignty, an American is a citizen both of the federal entity and of his or her state of domicile. Four states use the official title of...
of
Montana
Montana
Montana is a state in the Western United States. The western third of Montana contains numerous mountain ranges. Smaller, "island ranges" are found in the central third of the state, for a total of 77 named ranges of the Rocky Mountains. This geographical fact is reflected in the state's name,...
to the south. Alberta is one of three Canadian provinces and territories to border only a single U.S.