 List of cities in Ukraine
As of January 1, 2010 there are
459
cities
City
A city is a relatively large and permanent settlement. Although there is no agreement on how a city is distinguished from a town within general English language meanings, many cities have a particular administrative, legal, or historical status based on local law.For example, in the U.S...
in
Ukraine
Ukraine
Ukraine is a country in Eastern Europe. It has an area of 603,628 km², making it the second largest contiguous country on the European continent, after Russia...
. Below is the list of all cities by population as of 2001 Ukrainian Census.
Cities in Ukraine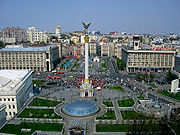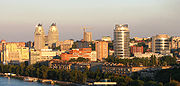 City Name

City

A city is a relatively large and permanent settlement. Although there is no agreement on how a city is distinguished from a town within general English language meanings, many cities have a particular administrative, legal, or historical status based on local law.For example, in the U.S...



City Name (in Ukrainian

Ukrainian language

Ukrainian is a language of the East Slavic subgroup of the Slavic languages. It is the official state language of Ukraine. Written Ukrainian uses a variant of the Cyrillic alphabet....


)
Subdivision
City status
Population (2001 Census)
Kiev

Kiev

Kiev or Kyiv is the capital and the largest city of Ukraine, located in the north central part of the country on the Dnieper River. The population as of the 2001 census was 2,611,300. However, higher numbers have been cited in the press....



Київ
Kiev

Kiev

Kiev or Kyiv is the capital and the largest city of Ukraine, located in the north central part of the country on the Dnieper River. The population as of the 2001 census was 2,611,300. However, higher numbers have been cited in the press....



S
2,611,327
Kharkiv

Kharkiv

Kharkiv or Kharkov is the second-largest city in Ukraine.The city was founded in 1654 and was a major centre of Ukrainian culture in the Russian Empire. Kharkiv became the first city in Ukraine where the Ukrainian Soviet Socialist Republic was proclaimed in December 1917 and Soviet government was...



Харків
Kharkiv Oblast

Kharkiv Oblast

Kharkiv Oblast is an oblast in eastern Ukraine. The oblast borders Russia to the north, Luhansk Oblast to the east, Donetsk Oblast to the south-east, Dnipropetrovsk Oblast to the south-west, Poltava Oblast to the west and Sumy Oblast to the north-west...



O
1,470,902
Dnipropetrovsk

Dnipropetrovsk

Dnipropetrovsk or Dnepropetrovsk formerly Yekaterinoslav is Ukraine's third largest city with one million inhabitants. It is located southeast of Ukraine's capital Kiev on the Dnieper River, in the south-central region of the country...



Дніпропетровськ
Dnipropetrovsk Oblast

Dnipropetrovsk Oblast

Dnipropetrovsk Oblast is an oblast of central Ukraine, the most important industrial region of the country. Its administrative center is Dnipropetrovsk....



O
1,065,008
Odessa

Odessa

Odessa or Odesa is the administrative center of the Odessa Oblast located in southern Ukraine. The city is a major seaport located on the northwest shore of the Black Sea and the fourth largest city in Ukraine with a population of 1,029,000 .The predecessor of Odessa, a small Tatar settlement,...



Одеса
Odessa Oblast

Odessa Oblast

Odesa Oblast, also written as Odessa Oblast , is the southernmost and largest oblast of south-western Ukraine. The administrative center of the oblast is the city of Odessa.-History:...



O
1,029,049
Donetsk

Donetsk

Donetsk , is a large city in eastern Ukraine on the Kalmius river. Administratively, it is a center of Donetsk Oblast, while historically, it is the unofficial capital and largest city of the economic and cultural Donets Basin region...



Донецьк
Donetsk Oblast

Donetsk Oblast

Donetsk Oblast is an oblast of eastern Ukraine. Its administrative center is Donetsk. Historically, the province is an important part of the Donbas region...



O
1,016,194
Zaporizhia

Zaporizhia

Zaporizhia or Zaporozhye [formerly Alexandrovsk ] is a city in southeastern Ukraine, situated on the banks of the Dnieper River. It is the administrative center of the Zaporizhia Oblast...



Запоріжжя
Zaporizhia Oblast

Zaporizhia Oblast

Zaporizhia Oblast is an oblast of southern Ukraine. Its capital is Zaporizhia.This oblast is an important part of Ukraine's industry and agriculture.-Geography:...



O
815,256
Lviv

Lviv

Lviv is a city in western Ukraine. The city is regarded as one of the main cultural centres of today's Ukraine and historically has also been a major Polish and Jewish cultural center, as Poles and Jews were the two main ethnicities of the city until the outbreak of World War II and the following...



Львів
Lviv Oblast

Lviv Oblast

Lviv Oblast is an oblast in western Ukraine. The administrative center of the oblast is the city of Lviv.-History:The oblast was created as part of the Ukrainian Soviet Socialist Republic on December 4, 1939...



O
732,818
Kryvyi Rih

Kryvyi Rih

Kryvyi Rih or Krivoy Rog is a city in central Ukraine. It is situated in Dnipropetrovsk Oblast, to the southwest of the oblast's administrative center, Dnipropetrovsk, at the confluence of the Inhulets and Saksahan rivers...



Кривий ріг
Dnipropetrovsk Oblast

Dnipropetrovsk Oblast

Dnipropetrovsk Oblast is an oblast of central Ukraine, the most important industrial region of the country. Its administrative center is Dnipropetrovsk....



O
668,980
Mykolaiv

Mykolaiv

Mykolaiv , also known as Nikolayev , is a city in southern Ukraine, administrative center of the Mykolaiv Oblast. Mykolaiv is the main ship building center of the Black Sea, and, arguably, the whole Eastern Europe.-Name of city:...



Миколаїв
Mykolaiv Oblast

Mykolaiv Oblast

Mykolaiv Oblast is an oblast of Ukraine. The administrative center of the oblast is the city of Mykolayiv.-Geography:The Mykolaiv Oblast is located in the southern half of Ukraine...



O
514,136
Mariupol

Mariupol

Mariupol , formerly known as Zhdanov , is a port city in southeastern Ukraine. It is located on the coast of the Azov Sea, at the mouth of the Kalmius River. Mariupol is the largest city in Priazovye - a geographical region around Azov Sea, divided by Russia and Ukraine - and is also a popular sea...



Маріуполь
Donetsk Oblast

Donetsk Oblast

Donetsk Oblast is an oblast of eastern Ukraine. Its administrative center is Donetsk. Historically, the province is an important part of the Donbas region...



O
492,176
Luhansk

Luhansk

Luhansk also known as Lugansk is a city in southeastern Ukraine. It is the administrative center of the Luhansk Oblast . The city itself is also designated as its own separate municipality within the oblast...



Луганськ
Luhansk Oblast

Luhansk Oblast

Luhansk Oblast ) is the easternmost oblast of Ukraine. Its administrative center is Luhansk. The oblast was established in 1938 and bore the name Voroshilovgrad Oblast in honor of Kliment Voroshilov....



O
463,097
Makiivka

Makiivka

Makiivka, also spelled Makiyivka is an industrial city located in eastern Ukraine within the Donetsk Oblast , from the capital Donetsk. As of the 2001 Ukrainian Census, the city's population is 389,589 inhabitants, of these 178,475 are men and 211,114 are women. It is an important steel...



Макіївка
Donetsk Oblast

Donetsk Oblast

Donetsk Oblast is an oblast of eastern Ukraine. Its administrative center is Donetsk. Historically, the province is an important part of the Donbas region...



O
389,589
Vinnytsia

Vinnytsia

Vinnytsia is a city located on the banks of the Southern Bug, in central Ukraine. It is the administrative center of Vinnytsia Oblast.-Names:...



Вінниця
Vinnytsia Oblast

Vinnytsia Oblast

Vinnytsia Oblast is an oblast of Ukraine. Its administrative center is Vinnytsia.-Geography:The area of the region is 26,500 km²; its population is 1.7 million....



O
356,665
Simferopol

Simferopol

-Russian Empire and Civil War:The city was renamed Simferopol in 1784 after the annexation of the Crimean Khanate to the Russian Empire by Catherine II of Russia. The name Simferopol is derived from the Greek, Συμφερόπολις , translated as "the city of usefulness." In 1802, Simferopol became the...



Сімферополь
Crimea

Crimea

Crimea , or the Autonomous Republic of Crimea , is a sub-national unit, an autonomous republic, of Ukraine. It is located on the northern coast of the Black Sea, occupying a peninsula of the same name...



O
343,644
Sevastopol

Sevastopol

Sevastopol is a city on rights of administrative division of Ukraine, located on the Black Sea coast of the Crimea peninsula. It has a population of 342,451 . Sevastopol is the second largest port in Ukraine, after the Port of Odessa....



Севастополь
Sevastopol

Sevastopol

Sevastopol is a city on rights of administrative division of Ukraine, located on the Black Sea coast of the Crimea peninsula. It has a population of 342,451 . Sevastopol is the second largest port in Ukraine, after the Port of Odessa....



S
342,451
Kherson

Kherson

Kherson is a city in southern Ukraine. It is the administrative center of the Kherson Oblast , and is designated as its own separate raion within the oblast. Kherson is an important port on the Black Sea and Dnieper River, and the home of a major ship-building industry...



Херсон
Kherson Oblast

Kherson Oblast

Kherson Oblast is an oblast in southern Ukraine, just north of Crimea. Its administrative center is Kherson. The area of the region is 29000 km², its population is 1.12 million.Important cities in the oblast include:...



O
328,360
Poltava

Poltava

Poltava is a city in located on the Vorskla River in central Ukraine. It is the administrative center of the Poltava Oblast , as well as the surrounding Poltava Raion of the oblast. Poltava's estimated population is 298,652 ....



Полтава
Poltava Oblast

Poltava Oblast

Poltava Oblast is an oblast of central Ukraine. The administrative center of the oblast is the city of Poltava.Other important cities within the oblast include: Komsomolsk, Kremenchuk, Lubny and Myrhorod.-Geography:...



O
317,998
Chernihiv

Chernihiv

Chernihiv or Chernigov is a historic city in northern Ukraine. It is the administrative center of the Chernihiv Oblast , as well as of the surrounding Chernihivskyi Raion within the oblast...



Чернігів
Chernihiv Oblast

Chernihiv Oblast

Chernihiv Oblast is an oblast of northern Ukraine. The administrative center of the oblast is the city of Chernihiv.-Geography:The total area of the province is around 31,900 km²....



O
304,994
Cherkasy

Cherkasy

Cherkasy or Cherkassy , is a city in central Ukraine. It is the capital of the Cherkasy Oblast , as well as the administrative center of the surrounding Cherkasky Raion within the oblast...



Черкаси
Cherkasy Oblast

Cherkasy Oblast

Cherkasy Oblast is an oblast of central Ukraine located along the Dnieper River. The administrative center of the oblast is the city of Cherkasy).-Geography:...



O
295,414
Sumy

Sumy

* 1897 - 70.53% Ukrainians, 24.1% Russians, 2.6% Jewish, 2.67% others* 1926 - 80.7% Ukrainians, 11.8% Russians, 5.5% Jewish, 2% others* 1959 - 79% Ukrainians, 20% Russians, 1% others...



Суми
Sumy Oblast

Sumy Oblast

Sumy Oblast is an oblast in the northeastern part of Ukraine. The administrative center of the oblast is the city of Sumy.Other important cities within the oblast include Konotop, Okhtyrka, Romny, and Shostka....



O
293,141
Horlivka

Horlivka

Horlivka is a city in the Donetsk Oblast of eastern Ukraine. As of 2001, the city's population was 292,000. It is a coal mining and chemical industry centre...



Горлівка
Donetsk Oblast

Donetsk Oblast

Donetsk Oblast is an oblast of eastern Ukraine. Its administrative center is Donetsk. Historically, the province is an important part of the Donbas region...



O
292,250
Zhytomyr

Zhytomyr

Zhytomyr is a city in the North of the western half of Ukraine. It is the administrative center of the Zhytomyr Oblast , as well as the administrative center of the surrounding Zhytomyr Raion...



Житомир
Zhytomyr Oblast

Zhytomyr Oblast

Zhytomyr Oblast is an oblast of northern Ukraine. The administrative center of the oblast is the city of Zhytomyr.-History:The oblast was created as part of the Ukrainian Soviet Socialist Republic on September 22, 1937....



O
284,236
Dniprodzerzhynsk

Dniprodzerzhynsk

Dniprodzerzhynsk is an industrial city in the Dnipropetrovsk Oblast of Ukraine, and a port on the Dnieper River.-History:The first written evidence of settlement in the territory of Dniprodzerzhynsk appeared in 1750. At that time the villages of Romankovo and Kamianske, which make the modern city,...



Дніпродзержинськ
Dnipropetrovsk Oblast

Dnipropetrovsk Oblast

Dnipropetrovsk Oblast is an oblast of central Ukraine, the most important industrial region of the country. Its administrative center is Dnipropetrovsk....



O
255,841
Kirovohrad

Kirovohrad

Kirovohrad , formerly Yelisavetgrad, is a city in central Ukraine. It is located on the Inhul River. It is a motorway junction. Pop. 239,400 ....



Кіровоград
Kirovohrad Oblast

Kirovohrad Oblast

Kirovohrad Oblast is an oblast of Ukraine. The administrative center of the oblast is the city of Kirovohrad.-Geography:The area of the province is , its population is 1.1 million....



O
254,103
Khmelnytskyi

Khmelnytskyi, Ukraine

Khmelnytskyi is a city in Ukraine in the region of Podillia. It is located on the Southern Buh River and about from the Ukrainian capital, Kiev. The town's original name was Płoskirów, later Proskurov, but in 1954 was renamed Khmelnytskyi. It is the center of the Khmelnytskyi Oblast in western...



Хмельницький
Khmelnytskyi Oblast

Khmelnytskyi Oblast

Khmelnytskyi Oblast is an oblast of western Ukraine. The administrative center of the oblast is the city of Khmelnytskyi.The current estimated population is around 1,401,140 .-Geography:...



O
253,994
Rivne

Rivne

Rivne or Rovno is a historic city in western Ukraine. It is the administrative center of the Rivne Oblast , as well as the administrative center of the surrounding Rivne Raion within the oblast...



Рівне
Rivne Oblast

Rivne Oblast

Rivne Oblast is an oblast of Ukraine. Its administrative center is Rivne. The area of the region is 20,100 km²; its population is 1.2 million...



O
248,813
Chernivtsi

Chernivtsi

Chernivtsi is the administrative center of Chernivtsi Oblast in southwestern Ukraine. The city is situated on the upper course of the River Prut, a tributary of the Danube, in the northern part of the historic region of Bukovina, which is currently divided between Romania and Ukraine...



Чернівці
Chernivtsi Oblast

Chernivtsi Oblast

Chernivtsi Oblast is an oblast in western Ukraine, bordering on Romania and Moldova. It has a large variety of landforms: the Carpathian Mountains and picturesque hills at the foot of the mountains gradually change to a broad partly forested plain situated between the Dniester and Prut rivers....



O
240,621
Kremenchuk

Kremenchuk

Kremenchuk is an important industrial city in the Poltava Oblast of central Ukraine. Serving as the administrative center of the Kremenchutskyi Raion , the city itself is also designated as a separate raion within the oblast, and is located on the banks of Dnieper River.-History:Kremenchuk was...



Кременчук
Poltava Oblast

Poltava Oblast

Poltava Oblast is an oblast of central Ukraine. The administrative center of the oblast is the city of Poltava.Other important cities within the oblast include: Komsomolsk, Kremenchuk, Lubny and Myrhorod.-Geography:...



O
234,073
Ternopil

Ternopil

Ternopil , is a city in western Ukraine, located on the banks of the Seret River. Ternopil is one of the major cities of Western Ukraine and the historical region of Galicia...



Тернопіль
Ternopil Oblast

Ternopil Oblast

Ternopil Oblast is an oblast' of Ukraine. Its administrative center is Ternopil, through which flows the Seret River, a tributary of the Dnister.-Geography:...



O
227,755
Ivano-Frankivsk

Ivano-Frankivsk

Ivano-Frankivsk is a historic city located in the western Ukraine. It is the administrative centre of the Ivano-Frankivsk Oblast , and is designated as its own separate raion within the oblast, municipality....



Івано-Франківськ
Ivano-Frankivsk Oblast

Ivano-Frankivsk Oblast

Ivano-Frankivsk Oblast is an oblast in western Ukraine. Its administrative center is the city of Ivano-Frankivsk. As is the case with most other oblasts of Ukraine this region has the same name as its administrative center – which was renamed by the Soviets after the Ukrainian writer, nationalist...



O
218,359
Lutsk

Lutsk

Lutsk is a city located by the Styr River in northwestern Ukraine. It is the administrative center of the Volyn Oblast and the administrative center of the surrounding Lutskyi Raion within the oblast...



Луцьк
Volyn Oblast

Volyn Oblast

Volyn Oblast is an oblast in north-western Ukraine. Its administrative center is Lutsk. Kovel is the westernmost town and the last station in Ukraine of the rail line running from Kiev to Warsaw.-History:...



O
208,816
Bila Tserkva

Bila Tserkva

Bila Tserkva is a city located on the Ros' River in the Kiev Oblast in central Ukraine, approximately south of the capital, Kiev. Population 203,300 Area 34 km².-Administrative status:...



Біла Церква
Kiev Oblast

Kiev Oblast

Kyiv Oblast, sometimes written as Kiev Oblast is an oblast in central Ukraine.The administrative center of the oblast is the city of Kyiv , also being the capital of Ukraine...



O
200,131
Kramatorsk

Kramatorsk

Kramatorsk is a city in the eastern Ukraine within Donetsk Oblast. Its population is about 200,000 people, including surrounding settlements under Kramatorsk City Council government....



Краматорськ
Donetsk Oblast

Donetsk Oblast

Donetsk Oblast is an oblast of eastern Ukraine. Its administrative center is Donetsk. Historically, the province is an important part of the Donbas region...



O
181,025
Melitopol

Melitopol

Melitopol is a city in the Zaporizhia Oblast of the southeastern Ukraine. It is situated on the Molochna River that flows through the eastern edge of the city and into the Molochnyi Liman, which eventually joins the Sea of Azov....



Мелітополь
Zaporizhia Oblast

Zaporizhia Oblast

Zaporizhia Oblast is an oblast of southern Ukraine. Its capital is Zaporizhia.This oblast is an important part of Ukraine's industry and agriculture.-Geography:...



O
160,657
Kerch

Kerch

Kerch is a city on the Kerch Peninsula of eastern Crimea, an important industrial, transport and tourist centre of Ukraine. Kerch, founded 2600 years ago, is considered as one of the most ancient cities in Ukraine.-Ancient times:...



Керч
Crimea

Crimea

Crimea , or the Autonomous Republic of Crimea , is a sub-national unit, an autonomous republic, of Ukraine. It is located on the northern coast of the Black Sea, occupying a peninsula of the same name...



O
157,007
Nikopol
Нікополь
Dnipropetrovsk Oblast

Dnipropetrovsk Oblast

Dnipropetrovsk Oblast is an oblast of central Ukraine, the most important industrial region of the country. Its administrative center is Dnipropetrovsk....



O
136,280
Sloviansk

Sloviansk

Sloviansk is a city in eastern Ukraine, an administrative center of the Slovianskyi Raion within the Donetsk Oblast. It was founded in 1676, and has a population of 129,600.-History:...



Слов'янськ
Donetsk Oblast

Donetsk Oblast

Donetsk Oblast is an oblast of eastern Ukraine. Its administrative center is Donetsk. Historically, the province is an important part of the Donbas region...



O
124,829
Berdiansk

Berdiansk

Berdyansk is a port city in the Zaporizhia Oblast of south-east Ukraine. Serving as the administrative center of the Berdyansky Raion , the city itself is directly subordinate to the oblast, and is located on the northern coast of the Sea of Azov.The current estimated population is around 125,000...



Бердянськ
Zaporizhia Oblast

Zaporizhia Oblast

Zaporizhia Oblast is an oblast of southern Ukraine. Its capital is Zaporizhia.This oblast is an important part of Ukraine's industry and agriculture.-Geography:...



O
121,692
Sieverodonetsk

Sieverodonetsk

Severodonetsk is a city in the Luhansk Oblast of south-eastern Ukraine. The city is designated as its own separate raion within the oblast, and is located on the Seversky Donets River, approximately to the north north west from the oblast capital, Luhansk.Severodonetsk has several factories and...



Сєверодонецьк
Luhansk Oblast

Luhansk Oblast

Luhansk Oblast ) is the easternmost oblast of Ukraine. Its administrative center is Luhansk. The oblast was established in 1938 and bore the name Voroshilovgrad Oblast in honor of Kliment Voroshilov....



O
119,940
Alchevsk

Alchevsk

Alchevsk is a town in the Luhansk Oblast of eastern Ukraine. It is separate administrative unit, and is located approximately 45 km from the oblast capital, Luhansk, and right next to the district capital of Perevalsk....



Алчевськ
Luhansk Oblast

Luhansk Oblast

Luhansk Oblast ) is the easternmost oblast of Ukraine. Its administrative center is Luhansk. The oblast was established in 1938 and bore the name Voroshilovgrad Oblast in honor of Kliment Voroshilov....



O
119,193
Pavlohrad

Pavlohrad

Pavlohrad or Pavlograd is an indistrial city in eastern Ukraine, located within the Dnipropetrovs'ka oblast, and had a population of 118,800 in 2001. The rivers of Vovcha , Hnizdka , Kocherha flow through Pavlohrad. The area of the city is . There are 20 schools and 1 lyceum in the city.In 1930...



Павлоград
Dnipropetrovsk Oblast

Dnipropetrovsk Oblast

Dnipropetrovsk Oblast is an oblast of central Ukraine, the most important industrial region of the country. Its administrative center is Dnipropetrovsk....



O
118,816
Uzhhorod

Uzhhorod

Uzhhorod or Uzhgorod is a city located in western Ukraine, at the border with Slovakia and near the border with Hungary. It is the administrative center of the Zakarpattia Oblast , as well as the administrative center of the surrounding Uzhhorodskyi Raion within the oblast...



Ужгород
Zakarpattia Oblast

Zakarpattia Oblast

The Zakarpattia Oblast is an administrative oblast located in southwestern Ukraine. Its administrative center is the city of Uzhhorod...



O
117,317
Lysychansk

Lysychansk

Lysychans'k is a city in the Luhansk Oblast of south-eastern Ukraine. The city is designated as its own separate raion within the oblast, and is located on the high right bank of the Seversky Donets River, approximately 90 km from the oblast capital, Luhansk.Population of 01.05.2010-...



Лисичанськ
Luhansk Oblast

Luhansk Oblast

Luhansk Oblast ) is the easternmost oblast of Ukraine. Its administrative center is Luhansk. The oblast was established in 1938 and bore the name Voroshilovgrad Oblast in honor of Kliment Voroshilov....



O
115,229
Yevpatoria
Євпаторія
Crimea

Crimea

Crimea , or the Autonomous Republic of Crimea , is a sub-national unit, an autonomous republic, of Ukraine. It is located on the northern coast of the Black Sea, occupying a peninsula of the same name...



O
105,915
Yenakiieve

Yenakiieve

Yenakieve , is a city in the Donetsk Oblast of eastern Ukraine and carries a special status within the region designated into a separate city rayon . The city is located on the Krynka River about from the oblast's administrative center, Donetsk.Yenakiieve is an important regional centre of coal...



Єнакієве
Donetsk Oblast

Donetsk Oblast

Donetsk Oblast is an oblast of eastern Ukraine. Its administrative center is Donetsk. Historically, the province is an important part of the Donbas region...



O
103,997
Kamianets-Podilskyi

Kamianets-Podilskyi

Kamyanets-Podilsky or Kamienets-Podolsky is a city located on the Smotrych River in western Ukraine, to the north-east of Chernivtsi...



Кам'янець-Подільський
Khmelnytskyi Oblast

Khmelnytskyi Oblast

Khmelnytskyi Oblast is an oblast of western Ukraine. The administrative center of the oblast is the city of Khmelnytskyi.The current estimated population is around 1,401,140 .-Geography:...



O
99,610
Kostiantynivka

Kostiantynivka

Kostiantynivka is an industrial city in the Donetsk Oblast of eastern Ukraine, on the Krivoy Torets River, the center of Kostiantynivkyi Raion . It's also known as Kostyantynivka or Konstantinovka. It developed in the Soviet era into a major centre for the production of iron, zinc, steel and glass...



Костянтинівка
Donetsk Oblast

Donetsk Oblast

Donetsk Oblast is an oblast of eastern Ukraine. Its administrative center is Donetsk. Historically, the province is an important part of the Donbas region...



O
95,111
Krasnyi Luch

Krasnyi Luch

Krasnyi Luch is a city in the Luhansk Oblast of south-eastern Ukraine. The city is designated as its own separate raion within the oblast.The current estimated population is 89,688 ..-History:...



Красний Луч
Luhansk Oblast

Luhansk Oblast

Luhansk Oblast ) is the easternmost oblast of Ukraine. Its administrative center is Luhansk. The oblast was established in 1938 and bore the name Voroshilovgrad Oblast in honor of Kliment Voroshilov....



O
94,875
Oleksandriia

Oleksandriia

Oleksandriia is a city located in the Kirovohrad Oblast in central Ukraine. Serving as the administrative center of the Oleksandriiskyi Raion , the city itself is also designated as a separate raion within the oblast....



Олександрія
Kirovohrad Oblast

Kirovohrad Oblast

Kirovohrad Oblast is an oblast of Ukraine. The administrative center of the oblast is the city of Kirovohrad.-Geography:The area of the province is , its population is 1.1 million....



O
93,357
Konotop

Konotop

Konotop is a city in northern Ukraine within the Sumy Oblast. Konotop is the center of the Konotop Raion , and is located about 129 km from Sumy, the Oblast capital. It is host to Konotop air base.-History:...



Конотоп
Sumy Oblast

Sumy Oblast

Sumy Oblast is an oblast in the northeastern part of Ukraine. The administrative center of the oblast is the city of Sumy.Other important cities within the oblast include Konotop, Okhtyrka, Romny, and Shostka....



O
92,657
Stakhanov

Stakhanov, Ukraine

Stakhanov is a city in the Luhansk Oblast of eastern Ukraine. The city is designated as its own separate raion within the oblast.The current estimated population is around 90,152 .-History:...



Стаханов
Luhansk Oblast

Luhansk Oblast

Luhansk Oblast ) is the easternmost oblast of Ukraine. Its administrative center is Luhansk. The oblast was established in 1938 and bore the name Voroshilovgrad Oblast in honor of Kliment Voroshilov....



O
90,152
Uman

Uman

Uman is a city located in the Cherkasy Oblast in central Ukraine, to the east of Vinnytsia. The city rests on the banks of the Umanka River at around , and serves as the self-governing administrative center of the Umanskyi Raion ....



Умань
Cherkasy Oblast

Cherkasy Oblast

Cherkasy Oblast is an oblast of central Ukraine located along the Dnieper River. The administrative center of the oblast is the city of Cherkasy).-Geography:...



O
88,735
Berdychiv

Berdychiv

Berdychiv is a historic city in the Zhytomyr Oblast of northern Ukraine. Serving as the administrative center of the Berdychiv Raion , the city itself is of direct oblast subordinance, and is located south of the oblast capital, Zhytomyr, at around .The current estimated population is around...



Бердичів
Zhytomyr Oblast

Zhytomyr Oblast

Zhytomyr Oblast is an oblast of northern Ukraine. The administrative center of the oblast is the city of Zhytomyr.-History:The oblast was created as part of the Ukrainian Soviet Socialist Republic on September 22, 1937....



O
87,575
Shostka

Shostka

Shostka is a town in Sumy Oblast in north-east of Ukraine. The population is 85,800 . The town lies on the river Shostka, a tributary of Desna, from which it gets its name...



Шостка
Sumy Oblast

Sumy Oblast

Sumy Oblast is an oblast in the northeastern part of Ukraine. The administrative center of the oblast is the city of Sumy.Other important cities within the oblast include Konotop, Okhtyrka, Romny, and Shostka....



O
87,130
Brovary

Brovary

Brovary is a city in Kiev Oblast in northern Ukraine, an eastern suburb of the country's capital, Kiev. It is the administrative centre of the Brovarskyi Raion . Brovary is an ancient town, firstly mentioned in 1630. Its name translated from Ukrainian means "brewers"...



Бровари
Kiev Oblast

Kiev Oblast

Kyiv Oblast, sometimes written as Kiev Oblast is an oblast in central Ukraine.The administrative center of the oblast is the city of Kyiv , also being the capital of Ukraine...



O
86,839
Izmail

Izmail

Izmail is a historic town near the Danube river in the Odessa Oblast of south-western Ukraine. Serving as the administrative center of the Izmail Raion , the city itself is also designated as a separate raion within the oblast....



Ізмаїл
Odessa Oblast

Odessa Oblast

Odesa Oblast, also written as Odessa Oblast , is the southernmost and largest oblast of south-western Ukraine. The administrative center of the oblast is the city of Odessa.-History:...



O
84,815
Artemivsk

Artemivsk

Artemivsk or Artemovsk is a city in the Donetsk Oblast, Ukraine. It is the administrative center of the Artemivsky Raion. It is located on the Bahmutka River about 89 km away from the administrative center of the Donetsk Oblast, Donetsk. As of 2005, its population is 80,655.-History:There is...



Артемівськ
Donetsk Oblast

Donetsk Oblast

Donetsk Oblast is an oblast of eastern Ukraine. Its administrative center is Donetsk. Historically, the province is an important part of the Donbas region...



O
82,916
Mukachevo
Мукачеве
Zakarpattia Oblast

Zakarpattia Oblast

The Zakarpattia Oblast is an administrative oblast located in southwestern Ukraine. Its administrative center is the city of Uzhhorod...



O
82,346
Yalta

Yalta

Yalta is a city in Crimea, southern Ukraine, on the north coast of the Black Sea.The city is located on the site of an ancient Greek colony, said to have been founded by Greek sailors who were looking for a safe shore on which to land. It is situated on a deep bay facing south towards the Black...



Ялта
Crimea

Crimea

Crimea , or the Autonomous Republic of Crimea , is a sub-national unit, an autonomous republic, of Ukraine. It is located on the northern coast of the Black Sea, occupying a peninsula of the same name...



O
81,654
Drohobych

Drohobych

Drohobych is a city located at the confluence of the Tysmenytsia River and Seret, a tributary of the former, in the Lviv Oblast , in western Ukraine...



Дрогобич
Lviv Oblast

Lviv Oblast

Lviv Oblast is an oblast in western Ukraine. The administrative center of the oblast is the city of Lviv.-History:The oblast was created as part of the Ukrainian Soviet Socialist Republic on December 4, 1939...



O
79,119
Nizhyn

Nizhyn

Nizhyn is a city located in the Chernihiv Oblast of northern Ukraine, along the Oster River, north-east of the nation's capital, Kiev. It is the administrative center of the Nizhynsky Raion, though the city itself is also designated as a district in the oblast...



Ніжин
Chernihiv Oblast

Chernihiv Oblast

Chernihiv Oblast is an oblast of northern Ukraine. The administrative center of the oblast is the city of Chernihiv.-Geography:The total area of the province is around 31,900 km²....



O
76,625
Feodosiya
Феодосія
Crimea

Crimea

Crimea , or the Autonomous Republic of Crimea , is a sub-national unit, an autonomous republic, of Ukraine. It is located on the northern coast of the Black Sea, occupying a peninsula of the same name...



O
74,669
Sverdlovsk
Свердловськ
Luhansk Oblast

Luhansk Oblast

Luhansk Oblast ) is the easternmost oblast of Ukraine. Its administrative center is Luhansk. The oblast was established in 1938 and bore the name Voroshilovgrad Oblast in honor of Kliment Voroshilov....



O
72,531
Novomoskovsk

Novomoskovsk, Ukraine

Novomoskovsk is a city in the Dnipropetrovsk Oblast of Ukraine and a center of Novomoskovsk Raion . As of 2001, the city's population is 72,439....



Новомосковськ
Dnipropetrovsk Oblast

Dnipropetrovsk Oblast

Dnipropetrovsk Oblast is an oblast of central Ukraine, the most important industrial region of the country. Its administrative center is Dnipropetrovsk....



O
72,439
Torez

Torez

Thorez is a city of oblast subordinance in Donetsk Oblast of Ukraine. Population - 72,346 . Most residents living here are working in the mine industry, although now declining...



Торез
Donetsk Oblast

Donetsk Oblast

Donetsk Oblast is an oblast of eastern Ukraine. Its administrative center is Donetsk. Historically, the province is an important part of the Donbas region...



O
72,346
Chervonohrad

Chervonohrad

Chervonohrad is a city located in the Lviv Oblast of western Ukraine. The city is designated as a separate raion within the oblast. It about 62 km north of Lviv and 7 km from Sokal. The population numbers 68,300 inhabitants....



Червоноград
Lviv Oblast

Lviv Oblast

Lviv Oblast is an oblast in western Ukraine. The administrative center of the oblast is the city of Lviv.-History:The oblast was created as part of the Ukrainian Soviet Socialist Republic on December 4, 1939...



O
70,568
Pervomaisk

Pervomaisk, Mykolaiv Oblast

Pervomaisk is a city in Mykolaiv Oblast, Ukraine and the center of the Pervomaiskyi Raion. It is located on the Southern Bug river which bisects the city...



Первомайськ
Mykolaiv Oblast

Mykolaiv Oblast

Mykolaiv Oblast is an oblast of Ukraine. The administrative center of the oblast is the city of Mykolayiv.-Geography:The Mykolaiv Oblast is located in the southern half of Ukraine...



O
70,170
Smila

Smila, Ukraine

Smila is a city located on the Tyasmyn River in the Cherkasy Oblast of central Ukraine. The city is itself a raion within the oblast as well as serving as the administrative centre of the wider Smiliansky Raion...



Сміла
Cherkasy Oblast

Cherkasy Oblast

Cherkasy Oblast is an oblast of central Ukraine located along the Dnieper River. The administrative center of the oblast is the city of Cherkasy).-Geography:...



O
69,681
Krasnoarmiysk

Krasnoarmiysk

Krasnoarmiysk is a city in Donetsk Oblast , Ukraine. It is the administrative center of the Krasnoarmiysky Raion. In 2001, its population is 69,200....



Красноармійськ
Donetsk Oblast

Donetsk Oblast

Donetsk Oblast is an oblast of eastern Ukraine. Its administrative center is Donetsk. Historically, the province is an important part of the Donbas region...



O
69,154
Kalush

Kalush, Ukraine

-Notable residents:*Stepan Bandera*August Aleksander Czartoryski*Jakub Sobieski*Jan "Sobiepan" Zamoyski*Tomasz Zamoyski*Fedir Danylak-Twin towns — sister cities:Kalush, Ukraine is twinned with:- Location :Local orientationRegional orientation...



Калуш
Ivano-Frankivsk Oblast

Ivano-Frankivsk Oblast

Ivano-Frankivsk Oblast is an oblast in western Ukraine. Its administrative center is the city of Ivano-Frankivsk. As is the case with most other oblasts of Ukraine this region has the same name as its administrative center – which was renamed by the Soviets after the Ukrainian writer, nationalist...



O
67,902
Korosten

Korosten

Korosten is a historic city and a large railway node in the Zhytomyr Oblast of northern Ukraine. Serving as the administrative center of the Korosten Raion , the city itself is also designated as a separate raion within the oblast, and is located on the Uzh River.The city was founded over a...



Коростень
Zhytomyr Oblast

Zhytomyr Oblast

Zhytomyr Oblast is an oblast of northern Ukraine. The administrative center of the oblast is the city of Zhytomyr.-History:The oblast was created as part of the Ukrainian Soviet Socialist Republic on September 22, 1937....



O
66,669
Kovel

Kovel

Kovel is a city located in the Volyn Oblast , in northwestern Ukraine. Serving as the administrative center of the Kovelskyi Raion , the city itself is also designated as a separate raion within the oblast. The current estimated population is around 65,777.Kovel gives its name to one of the...



Ковель
Volyn Oblast

Volyn Oblast

Volyn Oblast is an oblast in north-western Ukraine. Its administrative center is Lutsk. Kovel is the westernmost town and the last station in Ukraine of the rail line running from Kiev to Warsaw.-History:...



O
66,401
Rubizhne

Rubizhne

Rubizhne is a town in Luhansk Oblast of Ukraine. Its population is 61,657 .The town started growing from a train station built in 1904....



Рубіжне
Luhansk Oblast

Luhansk Oblast

Luhansk Oblast ) is the easternmost oblast of Ukraine. Its administrative center is Luhansk. The oblast was established in 1938 and bore the name Voroshilovgrad Oblast in honor of Kliment Voroshilov....



O
65,322
Pryluky

Pryluky

Pryluky or Priluki is a city located on the Udai River in the Chernihiv Oblast, north-central Ukraine. Serving as the administrative center of the Prylutsky Raion , the city itself is also designated as a separate municipality within the oblast...



Прилуки
Chernihiv Oblast

Chernihiv Oblast

Chernihiv Oblast is an oblast of northern Ukraine. The administrative center of the oblast is the city of Chernihiv.-Geography:The total area of the province is around 31,900 km²....



O
64,861
Druzhkivka

Druzhkivka

Druzhkivka is a city in Donetsk Oblast of Ukraine. Population is 64,557 , and its area is 46 km².Druzhkivka is a city located near the merging of the Kryvoi Torets and Kazennyi Torets rivers, about 80 km to the North-East from the regional center - Donetsk...



Дружківка
Donetsk Oblast

Donetsk Oblast

Donetsk Oblast is an oblast of eastern Ukraine. Its administrative center is Donetsk. Historically, the province is an important part of the Donbas region...



O
64,557
Khartsyzk

Khartsyzk

Khartsyzk is an industrial city in Donetsk Oblast of Ukraine. Population is 64,175 ....



Харцизьк
Donetsk Oblast

Donetsk Oblast

Donetsk Oblast is an oblast of eastern Ukraine. Its administrative center is Donetsk. Historically, the province is an important part of the Donbas region...



O
64,175
Lozova

Lozova

Lozova or Lozovaya is a city in the Kharkiv Oblast of eastern Ukraine. Serving as the administrative center of the Lozivsky Raion , the city itself is also designated as a separate raion within the oblast, and is an important railroad junction in the oblast.The current estimated population is...



Лозова
Kharkiv Oblast

Kharkiv Oblast

Kharkiv Oblast is an oblast in eastern Ukraine. The oblast borders Russia to the north, Luhansk Oblast to the east, Donetsk Oblast to the south-east, Dnipropetrovsk Oblast to the south-west, Poltava Oblast to the west and Sumy Oblast to the north-west...



O
64,041
Antratsyt

Antratsyt

Antratsyt is a city in the Luhansk Oblast of south-eastern Ukraine. It is the administrative center of the Antratsytivsky Raion , and is located at around .The current estimated population is around 63,700 ....



Антрацит
Luhansk Oblast

Luhansk Oblast

Luhansk Oblast ) is the easternmost oblast of Ukraine. Its administrative center is Luhansk. The oblast was established in 1938 and bore the name Voroshilovgrad Oblast in honor of Kliment Voroshilov....



O
63,698
Stryi

Stryi

Stryi is a city located on the left bank of the river Stryi in the Lviv Oblast of western Ukraine . Serving as the administrative center of the Stryi Raion , the city itself is also designated as a separate raion within the oblast. Thus, the city has two administrations - the city and the raion...



Стрий
Lviv Oblast

Lviv Oblast

Lviv Oblast is an oblast in western Ukraine. The administrative center of the oblast is the city of Lviv.-History:The oblast was created as part of the Ukrainian Soviet Socialist Republic on December 4, 1939...



O
62,479
Kolomyia

Kolomyia

Kolomyia or Kolomyya, formerly known as Kolomea , is a city located on the Prut River in the Ivano-Frankivsk Oblast , in western Ukraine. Serving as the administrative centre of the Kolomyia Raion , the city is also designated as a separate raion within the oblast...



Коломия
Ivano-Frankivsk Oblast

Ivano-Frankivsk Oblast

Ivano-Frankivsk Oblast is an oblast in western Ukraine. Its administrative center is the city of Ivano-Frankivsk. As is the case with most other oblasts of Ukraine this region has the same name as its administrative center – which was renamed by the Soviets after the Ukrainian writer, nationalist...



O
61,989
Shakhtarsk

Shakhtarsk

Shakhtarsk or Shakhtyorsk is a city in Donetsk Oblast, Ukraine. It is located at around . As of 2006, the population was 72,711....



Шахтарськ
Donetsk Oblast

Donetsk Oblast

Donetsk Oblast is an oblast of eastern Ukraine. Its administrative center is Donetsk. Historically, the province is an important part of the Donbas region...



O
59,589
Snizhne

Snizhne

Snizhne is a city in eastern Ukraine within the Donetsk Oblast....



Сніжне
Donetsk Oblast

Donetsk Oblast

Donetsk Oblast is an oblast of eastern Ukraine. Its administrative center is Donetsk. Historically, the province is an important part of the Donbas region...



O
58,496
Novohrad-Volynskyi

Novohrad-Volynskyi

Novohrad-Volynskyi is a city in the Zhytomyr Oblast of northern Ukraine...



Новоград-Волинський
Zhytomyr Oblast

Zhytomyr Oblast

Zhytomyr Oblast is an oblast of northern Ukraine. The administrative center of the oblast is the city of Zhytomyr.-History:The oblast was created as part of the Ukrainian Soviet Socialist Republic on September 22, 1937....



O
56,259
Enerhodar

Enerhodar

Enerhodar is the city in north-west part of Zaporizhia Oblast, Ukraine.Enerhodar is located on the left bank of Dnieper river near the Kakhovka Reservoir....



Енергодар
Zaporizhia Oblast

Zaporizhia Oblast

Zaporizhia Oblast is an oblast of southern Ukraine. Its capital is Zaporizhia.This oblast is an important part of Ukraine's industry and agriculture.-Geography:...



O
56,242
Izium

Izium

Izyum , is a city situated on the Donets River in the Kharkiv Oblast of eastern Ukraine. Serving as the administrative center of the Iziumsky Raion , the city itself is also designated as a separate raion within the oblast, and is located approximately 75 miles southeast of the oblast capital,...



Ізюм
Kharkiv Oblast

Kharkiv Oblast

Kharkiv Oblast is an oblast in eastern Ukraine. The oblast borders Russia to the north, Luhansk Oblast to the east, Donetsk Oblast to the south-east, Dnipropetrovsk Oblast to the south-west, Poltava Oblast to the west and Sumy Oblast to the north-west...



O
56,114
Dymytrov

Dymytrov

Dymytrov or Dmitrov is a city in Donetsk Oblast of Ukraine. Population is 54,787 .The city was named after Georgi Dimitrov - a prominent Bulgarian communist politician....



Димитров
Donetsk Oblast

Donetsk Oblast

Donetsk Oblast is an oblast of eastern Ukraine. Its administrative center is Donetsk. Historically, the province is an important part of the Donbas region...



O
54,787
Brianka

Brianka

Brianka is a city in Luhansk Oblast of Ukraine. Population is 54,767 ....



Брянка
Luhansk Oblast

Luhansk Oblast

Luhansk Oblast ) is the easternmost oblast of Ukraine. Its administrative center is Luhansk. The oblast was established in 1938 and bore the name Voroshilovgrad Oblast in honor of Kliment Voroshilov....



O
54,767
Illichivsk

Illichivsk

Illichivsk is a port city in the Odessa Oblast of south-western Ukraine. The city is designated as its own separate raion within the oblast, and is located at around .-Geography:...



Іллічівськ
Odessa Oblast

Odessa Oblast

Odesa Oblast, also written as Odessa Oblast , is the southernmost and largest oblast of south-western Ukraine. The administrative center of the oblast is the city of Odessa.-History:...



O
54,151
Boryspil

Boryspil

Boryspil is a city located in the Kiev Oblast in northern Ukraine. Serving as the administrative center of the Boryspil Raion , the city itself is also designated as a separate raion within the oblast....



Бориспіль
Kiev Oblast

Kiev Oblast

Kyiv Oblast, sometimes written as Kiev Oblast is an oblast in central Ukraine.The administrative center of the oblast is the city of Kyiv , also being the capital of Ukraine...



O
53,975
Novovolynsk

Novovolynsk

-History:Novovolynsk is built in 1950 as mining town in USSR....



Нововолинськ
Volyn Oblast

Volyn Oblast

Volyn Oblast is an oblast in north-western Ukraine. Its administrative center is Lutsk. Kovel is the westernmost town and the last station in Ukraine of the rail line running from Kiev to Warsaw.-History:...



O
53,838
Rovenky

Rovenky

Rovenky is a coal mining city in Luhansk Oblast of south-eastern Ukraine. The city is designated as its own separate raion within the oblast.The current estimated population is around 58,500 .-History:...



Ровеньки
Luhansk Oblast

Luhansk Oblast

Luhansk Oblast ) is the easternmost oblast of Ukraine. Its administrative center is Luhansk. The oblast was established in 1938 and bore the name Voroshilovgrad Oblast in honor of Kliment Voroshilov....



O
53,725
Zhovti Vody

Zhovti Vody

Zhovti Vody is a city in south-central Ukraine's Dnipropetrovsk Oblast . The city is designated as a separate raion within the oblast, and is located on the Yellow River approximately west of the oblast's administrative center, Dnipropetrovsk.Center for the extraction and processing of uranium...



Жовті Води
Dnipropetrovsk Oblast

Dnipropetrovsk Oblast

Dnipropetrovsk Oblast is an oblast of central Ukraine, the most important industrial region of the country. Its administrative center is Dnipropetrovsk....



O
53,582
Lubny

Lubny

Lubny is a city in the Poltava Oblast of central Ukraine. Serving as the administrative center of the Lubensky Raion , the city itself is also designated as a separate raion within the oblast...



Лубни
Poltava Oblast

Poltava Oblast

Poltava Oblast is an oblast of central Ukraine. The administrative center of the oblast is the city of Poltava.Other important cities within the oblast include: Komsomolsk, Kremenchuk, Lubny and Myrhorod.-Geography:...



O
52,572
Nova Kakhovka

Nova Kakhovka

Nova Kakhovka is a city in the Kherson Oblast of southern Ukraine, recognized as the Monument of Architecture, and was part of the Great Construction Projects of Communism....



Нова Каховка
Kherson Oblast

Kherson Oblast

Kherson Oblast is an oblast in southern Ukraine, just north of Crimea. Its administrative center is Kherson. The area of the region is 29000 km², its population is 1.12 million.Important cities in the oblast include:...



O
52,137
Fastiv

Fastiv

Fastiv is a city located in the Kiev Oblast in central Ukraine. Serving as the administrative center of the Fastivskyi Raion , the city itself is also designated as a separate raion within the oblast...



Фастів
Kiev Oblast

Kiev Oblast

Kyiv Oblast, sometimes written as Kiev Oblast is an oblast in central Ukraine.The administrative center of the oblast is the city of Kyiv , also being the capital of Ukraine...



O
51,976
Bilhorod-Dnistrovskyi

Bilhorod-Dnistrovskyi

Bilhorod-Dnistrovskyi is a city situated on the right bank of the Dniester Liman in the Odessa Oblast of southwestern Ukraine, in the historical region of Bessarabia...



Білгород-Дністровський
Odessa Oblast

Odessa Oblast

Odesa Oblast, also written as Odessa Oblast , is the southernmost and largest oblast of south-western Ukraine. The administrative center of the oblast is the city of Odessa.-History:...



O
51,890
Komsomolsk

Komsomolsk, Ukraine

Komsomolsk is a city in Poltava Oblast, Ukraine. Population is 51,740 . A picturesque small city on the left bank of the Dnieper river....



Комсомольськ
Poltava Oblast

Poltava Oblast

Poltava Oblast is an oblast of central Ukraine. The administrative center of the oblast is the city of Poltava.Other important cities within the oblast include: Komsomolsk, Kremenchuk, Lubny and Myrhorod.-Geography:...



O
51,740
Krasnodon

Krasnodon

Krasnodon is a city in the Luhansk Oblast of south-eastern Ukraine. Serving as the administrative center of the Krasnodonskyi Raion , the city itself is also designated as a separate raion within the oblast....



Краснодон
Luhansk Oblast

Luhansk Oblast

Luhansk Oblast ) is the easternmost oblast of Ukraine. Its administrative center is Luhansk. The oblast was established in 1938 and bore the name Voroshilovgrad Oblast in honor of Kliment Voroshilov....



O
50,560
Romny

Romny

Romny is a city in the northern Ukrainian Oblast of Sumy. It is located on the Romen River and is the administrative center of the Romny Raion...



Ромни
Sumy Oblast

Sumy Oblast

Sumy Oblast is an oblast in the northeastern part of Ukraine. The administrative center of the oblast is the city of Sumy.Other important cities within the oblast include Konotop, Okhtyrka, Romny, and Shostka....



O
50,448
Okhtyrka

Okhtyrka

Okhtyrka is a city in Ukraine, a raion centre within Sumy Oblast. It is situated near the Vorskla River, on an eleven-mile spur of the Kiev–Kharkiv railway line. It is home to Akhtyrka air base...



Охтирка
Sumy Oblast

Sumy Oblast

Sumy Oblast is an oblast in the northeastern part of Ukraine. The administrative center of the oblast is the city of Sumy.Other important cities within the oblast include Konotop, Okhtyrka, Romny, and Shostka....



O
50,399
Svitlovodsk

Svitlovodsk

Svitlovodsk is a city located on the Dniepr River in the Kirovohrad Oblast of Ukraine. Serving as the administrative center of the Svitlovodsky Raion , the city itself is also designated as a separate raion within the oblast, and can be found at around .-Development:The city was developed and...



Світловодськ
Kirovohrad Oblast

Kirovohrad Oblast

Kirovohrad Oblast is an oblast of Ukraine. The administrative center of the oblast is the city of Kirovohrad.-Geography:The area of the province is , its population is 1.1 million....



O
50,094
Marhanets

Marhanets

Marhanets is a mining city in Dnipropetrovsk Oblast of central Ukraine. It is located on the right bank of the Kakhovka Reservoir on the Dnieper River. City has about 50,000 inhabitants . Its geographic coordinates are .-2010 accident:...



Марганець
Dnipropetrovsk Oblast

Dnipropetrovsk Oblast

Dnipropetrovsk Oblast is an oblast of central Ukraine, the most important industrial region of the country. Its administrative center is Dnipropetrovsk....



O
49,592
Shepetivka

Shepetivka

Shepetivka is a town located on the Huska River in the Khmelnytskyi Oblast of Western Ukraine. The city's population is 48,212 . Shepetivka is a town of oblast subordinance, and the administrative center of Shepetivka Raion .Shepetivka is an important railway junction with five intersecting...



Шепетівка
Khmelnytskyi Oblast

Khmelnytskyi Oblast

Khmelnytskyi Oblast is an oblast of western Ukraine. The administrative center of the oblast is the city of Khmelnytskyi.The current estimated population is around 1,401,140 .-Geography:...



O
48,212
Ordzhonikidze

Ordzhonikidze, Ukraine

Ordzhonikidze is a city of oblast subordinance in Dnipropetrovsk Oblast of central Ukraine. It is located at around . The city is named afterSergo Ordzhonikidze....



Орджонікідзе
Dnipropetrovsk Oblast

Dnipropetrovsk Oblast

Dnipropetrovsk Oblast is an oblast of central Ukraine, the most important industrial region of the country. Its administrative center is Dnipropetrovsk....



O
44,834
Dzerzhynsk

Dzerzhynsk

Dzerzhynsk is a city in Donetsk Oblast of Ukraine. Population is 43,371 .Nikolai Ryzhkov, a former Premier of the Soviet Union, was born in this city in 1929....



Дзержинськ
Donetsk Oblast

Donetsk Oblast

Donetsk Oblast is an oblast of eastern Ukraine. Its administrative center is Donetsk. Historically, the province is an important part of the Donbas region...



O
43,371
Dzhankoy

Dzhankoy

Dzhankoy is a city in the north of Crimea, Ukraine, and the capital of Dzhankoy raion. It is located about from the Crimean capital, Simferopol. Two railroad lines, Kharkiv-Sevastopol and Armyansk-Kerch, cross Dzhankoy. In 1926, Dzhankoy was granted city status.Dzhankoy is a great transportation...



Джанкой
Crimea

Crimea

Crimea , or the Autonomous Republic of Crimea , is a sub-national unit, an autonomous republic, of Ukraine. It is located on the northern coast of the Black Sea, occupying a peninsula of the same name...



O
43,343
Pervomaisk

Pervomaisk, Luhansk Oblast

Pervomaisk is a city in Luhansk Oblast, Ukraine. Population is 43,082 . Northeast of Pervomaisk, there is the static inverter plant of HVDC Volgograd-Donbass....



Первомайськ
Luhansk Oblast

Luhansk Oblast

Luhansk Oblast ) is the easternmost oblast of Ukraine. Its administrative center is Luhansk. The oblast was established in 1938 and bore the name Voroshilovgrad Oblast in honor of Kliment Voroshilov....



O
43,082
Myrhorod

Myrhorod

Myrhorod or Mirgorod is a city in the Poltava Oblast of central Ukraine. Serving as the administrative center of the Myrhorodskyi Raion , the city itself is also designated as a separate raion within the oblast, and is located on the river Khorol.-History:The town was founded either in the 12th...



Миргород
Poltava Oblast

Poltava Oblast

Poltava Oblast is an oblast of central Ukraine. The administrative center of the oblast is the city of Poltava.Other important cities within the oblast include: Komsomolsk, Kremenchuk, Lubny and Myrhorod.-Geography:...



O
42,886
Voznesensk

Voznesensk

Voznesensk is a city in the Mykolaiv Oblast of Ukraine and a center of Voznesenskyi Raion . As of 2001, the city's population is 42,634....



Вознесенськ
Mykolaiv Oblast

Mykolaiv Oblast

Mykolaiv Oblast is an oblast of Ukraine. The administrative center of the oblast is the city of Mykolayiv.-Geography:The Mykolaiv Oblast is located in the southern half of Ukraine...



O
42,634
Kotovsk

Kotovsk, Ukraine

thumb|Kotovsky Memorial in KotovskKotovsk is a city in Odessa Oblast, Ukraine, the administrative center of Kotovskyi Raion. Population is 40,718 ....



Котовськ
Odessa Oblast

Odessa Oblast

Odesa Oblast, also written as Odessa Oblast , is the southernmost and largest oblast of south-western Ukraine. The administrative center of the oblast is the city of Odessa.-History:...



O
40,718
Irpin

Irpin

Irpin , or Irpen is a city located on the Irpin River in Kiev Oblast of northern Ukraine. The city's population is 40,275 ....



Ірпінь
Kiev Oblast

Kiev Oblast

Kyiv Oblast, sometimes written as Kiev Oblast is an oblast in central Ukraine.The administrative center of the oblast is the city of Kyiv , also being the capital of Ukraine...



O
40,593
Vasylkiv

Vasylkiv

Vasylkiv is a city located on the Stuhna River in the Kiev Oblast in central Ukraine. Serving as the administrative center of the Vasylkivskyi Raion , the city itself is also designated as a separate raion within the oblast. A location with an over 1000 years history, it was incorporated as a...



Васильків
Kiev Oblast

Kiev Oblast

Kyiv Oblast, sometimes written as Kiev Oblast is an oblast in central Ukraine.The administrative center of the oblast is the city of Kyiv , also being the capital of Ukraine...



O
39,722
Dubno

Dubno

Dubno is a city located on the Ikva River in the Rivne Oblast of western Ukraine. Serving as the administrative center of Dubno Raion , the city itself is also designated as a separate raion within the oblast...



Дубно
Rivne Oblast

Rivne Oblast

Rivne Oblast is an oblast of Ukraine. Its administrative center is Rivne. The area of the region is 20,100 km²; its population is 1.2 million...



O
39,146
Kuznetsovsk

Kuznetsovsk

Kuznetsovsk is a city in Rivne Oblast, Ukraine. Population is 40,872 . The mayor of Kuznetsovsk is S. Anoshchenko .The urban-type settlement was founded on 1973 as a company town of the Rivne Nuclear Power Plant. The new town was named in honor of the Soviet secret agent Nikolai Kuznetsov. The...



Кузнецовськ
Rivne Oblast

Rivne Oblast

Rivne Oblast is an oblast of Ukraine. Its administrative center is Rivne. The area of the region is 20,100 km²; its population is 1.2 million...



O
38,830
Volodymyr-Volynskyi

Volodymyr-Volynskyi

Volodymyr-Volynsky is a city located in Volyn Oblast, in north-western Ukraine. Serving as the administrative centre of the Volodymyr-Volynsky District, the city itself is also designated as a separate raion within the oblast...



Володимир-Волинський
Volyn Oblast

Volyn Oblast

Volyn Oblast is an oblast in north-western Ukraine. Its administrative center is Lutsk. Kovel is the westernmost town and the last station in Ukraine of the rail line running from Kiev to Warsaw.-History:...



O
38,256
Kakhovka

Kakhovka

Kakhovka is a port city on the Dnieper River in the Kherson Oblast of southern Ukraine. Serving as the administrative center of the Kakhovsky Raion , the city itself is also designated as a separate raion within the oblast, and is located at around .It is home to the KZEZO as well as the Tavria...



Каховка
Kherson Oblast

Kherson Oblast

Kherson Oblast is an oblast in southern Ukraine, just north of Crimea. Its administrative center is Kherson. The area of the region is 29000 km², its population is 1.12 million.Important cities in the oblast include:...



O
38,238
Yuzhnoukrainsk

Yuzhnoukrainsk

Yuzhnoukrainsk is a city in Mykolaiv Oblast, Ukraine. Population is 38,206 .Yuzhnoukrainsk NPP is located near the city of Yuzhnoukrainsk, approximately 350 kilometers south of the capital Kiev. This nuclear power station has three VVER-1000 reactors and a net achievement of 2,850 megawatts...



Ржноукраїнськ
Mykolaiv Oblast

Mykolaiv Oblast

Mykolaiv Oblast is an oblast of Ukraine. The administrative center of the oblast is the city of Mykolayiv.-Geography:The Mykolaiv Oblast is located in the southern half of Ukraine...



O
38,206
Boryslav

Boryslav

Boryslav is a city located on the Tysmenytsia River , in the Lviv Oblast of western Ukraine. The city is designated as a separate raion within the oblast....



Борислав
Lviv Oblast

Lviv Oblast

Lviv Oblast is an oblast in western Ukraine. The administrative center of the oblast is the city of Lviv.-History:The oblast was created as part of the Ukrainian Soviet Socialist Republic on December 4, 1939...



O
38,122
Yasynuvata

Yasynuvata

Yasynuvata is a city in Donetsk Oblast of south-eastern Ukraine, and the administrative center of the Yasynuvatsky Raion. It is located 21 km from Donetsk, the administrative center of the Donetsk Oblast. As of 2004, the city's population is 37,000. Yasynuvata is a large railway crossroad.It...



Ясинувата
Donetsk Oblast

Donetsk Oblast

Donetsk Oblast is an oblast of eastern Ukraine. Its administrative center is Donetsk. Historically, the province is an important part of the Donbas region...



O
37,552
Zhmerynka

Zhmerynka

Zhmerynka [ʒ'mærınkɑ:] is a town in the Vinnytska Oblast of central Ukraine. Serving as the administrative center of the Zhmerynsky Raion , the town itself is also designated as a separate community within the oblast, and is located at around .The current estimated population is around 37.000...



Жмеринка
Vinnytsia Oblast

Vinnytsia Oblast

Vinnytsia Oblast is an oblast of Ukraine. Its administrative center is Vinnytsia.-Geography:The area of the region is 26,500 km²; its population is 1.7 million....



O
37,349
Avdiivka

Avdiivka

Avdiivka is a city in Donetsk Oblast of Ukraine. Population is 37237 ....



Авдіївка
Donetsk Oblast

Donetsk Oblast

Donetsk Oblast is an oblast of eastern Ukraine. Its administrative center is Donetsk. Historically, the province is an important part of the Donbas region...



O
37,210
Chuhuiv

Chuhuiv

Chuhuiv is a city in the Kharkiv Oblast of eastern Ukraine. Serving as the administrative center of the Chuhuivskyi Raion , the city itself is directly subordinate to the oblast, and is located at around ....



Чугуїв
Kharkiv Oblast

Kharkiv Oblast

Kharkiv Oblast is an oblast in eastern Ukraine. The oblast borders Russia to the north, Luhansk Oblast to the east, Donetsk Oblast to the south-east, Dnipropetrovsk Oblast to the south-west, Poltava Oblast to the west and Sumy Oblast to the north-west...



O
36,789
Sambir

Sambir

Sambir is a city in the Lviv Oblast, Ukraine. Serving as the administrative center of the Sambir Raion , the city itself is also designated as a separate raion within the oblast. It is located at around , close to the border with Poland.-History:...



Самбір
Lviv Oblast

Lviv Oblast

Lviv Oblast is an oblast in western Ukraine. The administrative center of the oblast is the city of Lviv.-History:The oblast was created as part of the Ukrainian Soviet Socialist Republic on December 4, 1939...



O
36,556
Tokmak

Tokmak, Ukraine

Tokmak is a city in the Zaporizhia Oblast of south-central Ukraine. Serving as the administrative center of the Tokmatskyi Raion , the city itself is directly subordinate to the oblast, and is located at around .-Points of interest:*...



Токмак
Zaporizhia Oblast

Zaporizhia Oblast

Zaporizhia Oblast is an oblast of southern Ukraine. Its capital is Zaporizhia.This oblast is an important part of Ukraine's industry and agriculture.-Geography:...



O
36,275
Boiarka

Boiarka

Boyarka is a town in Kiev Oblast of Ukraine, about 20 km SW from Kiev. The population in 2001 was 35,968. The town is not to be confused with the village of the same name in the Lysianskyi Rayon.-History:...



Боярка
Kiev Oblast

Kiev Oblast

Kyiv Oblast, sometimes written as Kiev Oblast is an oblast in central Ukraine.The administrative center of the oblast is the city of Kyiv , also being the capital of Ukraine...



R
35,968
Hlukhiv

Hlukhiv

Hlukhiv or Glukhov is a historic town in Sumy region of Ukraine, just south from the Russian border . As of 2001, the city's population is 35,800...



Глухів
Sumy Oblast

Sumy Oblast

Sumy Oblast is an oblast in the northeastern part of Ukraine. The administrative center of the oblast is the city of Sumy.Other important cities within the oblast include Konotop, Okhtyrka, Romny, and Shostka....



O
35,768
Dobropillia

Dobropillia

Dobropillia is a city, the administrative center of the Dobropilskyi Raion, in Donetsk Oblast of Ukraine. Population is 35,638 ....



Добропілля
Donetsk Oblast

Donetsk Oblast

Donetsk Oblast is an oblast of eastern Ukraine. Its administrative center is Donetsk. Historically, the province is an important part of the Donbas region...



O
35,638
Starokostiantyniv

Starokostiantyniv

Starokostiantyniv is a city in the Khmelnytskyi Oblast of western Ukraine. Serving as the administrative center of the Starokostiantynivsky Raion , the city itself is also designated as a separate raion within the oblast...



Старокостянтинів
Khmelnytskyi Oblast

Khmelnytskyi Oblast

Khmelnytskyi Oblast is an oblast of western Ukraine. The administrative center of the oblast is the city of Khmelnytskyi.The current estimated population is around 1,401,140 .-Geography:...



O
35,206
Kirovsk

Kirovsk, Ukraine

Kirovsk is a city in Luhansk Oblast of Ukraine. Population is 35,199 .Kirovsk was founded in 1764. Its history follows closely the history of industrial development in the Eastern Ukraine. The town grew when coal mines were set up in the area; reaching its peak size in the 1980s...



Кіровськ
Luhansk Oblast

Luhansk Oblast

Luhansk Oblast ) is the easternmost oblast of Ukraine. Its administrative center is Luhansk. The oblast was established in 1938 and bore the name Voroshilovgrad Oblast in honor of Kliment Voroshilov....



O
35,199
Vyshneve

Vyshneve

Vyshneve is a town south of Kiev in Ukraine.In 1886, a railway station was built on this site; at the time, the nearest settlement was the village of Zhyliany , so the railway station was given the name "Zhyliany" after the village...



Вишневе
Kiev Oblast

Kiev Oblast

Kyiv Oblast, sometimes written as Kiev Oblast is an oblast in central Ukraine.The administrative center of the oblast is the city of Kyiv , also being the capital of Ukraine...



R
34,465
Netishyn

Netishyn

Netishyn is a city in Khmelnytskyi Oblast , in the west of Ukraine. Located on the Horyn River this city of oblast subordinance has a population of 34,267....



Нетішин
Khmelnytskyi Oblast

Khmelnytskyi Oblast

Khmelnytskyi Oblast is an oblast of western Ukraine. The administrative center of the oblast is the city of Khmelnytskyi.The current estimated population is around 1,401,140 .-Geography:...



O
34,358
Slavuta

Slavuta

Slavuta is a city in the Khmelnytskyi Oblast of western Ukraine, located on the Horyn River. Serving as the administrative center of the Slavutsky Raion , the city itself is also designated as a separate raion within the oblast, and is located approximately 80 km from the oblast capital,...



Славута
Khmelnytskyi Oblast

Khmelnytskyi Oblast

Khmelnytskyi Oblast is an oblast of western Ukraine. The administrative center of the oblast is the city of Khmelnytskyi.The current estimated population is around 1,401,140 .-Geography:...



O
34,340
Mohyliv-Podilskyi

Mohyliv-Podilskyi

Mohyliv-Podilskyi is a city in the Mohyliv-Podilskyi Raion of the Vinnytsia Oblast , Ukraine. It is located at , on the border with Bessarabia, Moldova.-History:The first mention of the town dates from 1595...



Могилів-Подільський
Vinnytsia Oblast

Vinnytsia Oblast

Vinnytsia Oblast is an oblast of Ukraine. Its administrative center is Vinnytsia.-Geography:The area of the region is 26,500 km²; its population is 1.7 million....



O
32,853
Obukhiv

Obukhiv

Obukhiv is a city in Kiev Oblast of Ukraine. Population is 32,776 .Obukhiv is an administrative center of the Obukhiv Raion. To its municipality directly subordinated two other nearby villages: Lendy and Tatsenky...



Обухів
Kiev Oblast

Kiev Oblast

Kyiv Oblast, sometimes written as Kiev Oblast is an oblast in central Ukraine.The administrative center of the oblast is the city of Kyiv , also being the capital of Ukraine...



O
32,776
Pervomaiskyi

Pervomaiskyi

-Media:Pervomaiskiy has 2 newspapers working within the Region and City and 2 Private TV Channels.Here is a list of media working in Pervomaiskyi.* Pervomaiskiy-info Working Since 2006...



Первомайський
Kharkiv Oblast

Kharkiv Oblast

Kharkiv Oblast is an oblast in eastern Ukraine. The oblast borders Russia to the north, Luhansk Oblast to the east, Donetsk Oblast to the south-east, Dnipropetrovsk Oblast to the south-west, Poltava Oblast to the west and Sumy Oblast to the north-west...



O
32,523
Kupiansk
Куп'янськ
Kharkiv Oblast

Kharkiv Oblast

Kharkiv Oblast is an oblast in eastern Ukraine. The oblast borders Russia to the north, Luhansk Oblast to the east, Donetsk Oblast to the south-east, Dnipropetrovsk Oblast to the south-west, Poltava Oblast to the west and Sumy Oblast to the north-west...



O
32,449
Balakliia

Balakliia

Balakliia is a city in the Kharkiv Oblast of eastern Ukraine. It is the administrative center of the Balakliyskyi Raion , and is an important railroad junction in the oblast....



Балаклія
Kharkiv Oblast

Kharkiv Oblast

Kharkiv Oblast is an oblast in eastern Ukraine. The oblast borders Russia to the north, Luhansk Oblast to the east, Donetsk Oblast to the south-east, Dnipropetrovsk Oblast to the south-west, Poltava Oblast to the west and Sumy Oblast to the north-west...



R
32,408
Synelnykove

Synelnykove

Synelnykove is a city in Dnipropetrovsk Oblast of Ukraine. It has a population of 32,302 ....



Синельникове
Dnipropetrovsk Oblast

Dnipropetrovsk Oblast

Dnipropetrovsk Oblast is an oblast of central Ukraine, the most important industrial region of the country. Its administrative center is Dnipropetrovsk....



O
32,302
Pereiaslav-Khmelnytskyi

Pereiaslav-Khmelnytskyi

Pereiaslav-Khmelnytskyi is a town located where Alta River flows into Trubizh River in the Kiev Oblast in central Ukraine. Serving as the administrative center of the Pereiaslav-Khmelnytskyi Raion , the town itself is also designated as a separate raion within the oblast...



Переяслав-Хмельницький
Kiev Oblast

Kiev Oblast

Kyiv Oblast, sometimes written as Kiev Oblast is an oblast in central Ukraine.The administrative center of the oblast is the city of Kyiv , also being the capital of Ukraine...



O
31,634
Alushta

Alushta

Alushta is a resort town in Crimea, Ukraine, founded in the 6th century by Emperor Justinian. It is situated on the Black Sea on the road from Gurzuf to Sudak, as well as on the Crimean Trolleybus line....



Алушта
Crimea

Crimea

Crimea , or the Autonomous Republic of Crimea , is a sub-national unit, an autonomous republic, of Ukraine. It is located on the northern coast of the Black Sea, occupying a peninsula of the same name...



O
31,440
Truskavets

Truskavets

Truskavets is a city in western Ukraine's Lviv Oblast , near the border with Poland. The city is designated as a separate raion within the oblast....



Трускавець
Lviv Oblast

Lviv Oblast

Lviv Oblast is an oblast in western Ukraine. The administrative center of the oblast is the city of Lviv.-History:The oblast was created as part of the Ukrainian Soviet Socialist Republic on December 4, 1939...



O
31,037
Krasnoperekopsk

Krasnoperekopsk

Krasnoperekopsk is a city in Crimea, Ukraine which is located on the southern part of the Perekop Isthmus, on the shore of the Stare lake, and about from the Crimean capital, Simferopol...



Красноперекопськ
Crimea

Crimea

Crimea , or the Autonomous Republic of Crimea , is a sub-national unit, an autonomous republic, of Ukraine. It is located on the northern coast of the Black Sea, occupying a peninsula of the same name...



O
31,023
Kirovske
Кіровське
Donetsk Oblast

Donetsk Oblast

Donetsk Oblast is an oblast of eastern Ukraine. Its administrative center is Donetsk. Historically, the province is an important part of the Donbas region...



O
30,910
Kostopil

Kostopil

Kostopil is a town, originally named Ostlec Wielki or Ostaltsi, on the Zamchysko river in Rivne Oblast of western Ukraine. It is the administrative center of the Kostopil Raion. Population: 30,467 .-History:...



Костопіль
Rivne Oblast

Rivne Oblast

Rivne Oblast is an oblast of Ukraine. Its administrative center is Rivne. The area of the region is 20,100 km²; its population is 1.2 million...



R
30,467
Debaltseve

Debaltseve

Debaltseve is a city in the Donetsk Oblast of Ukraine. Its population is 30,246 . The city was established in 1878. It has a large railway station....



Дебальцеве
Donetsk Oblast

Donetsk Oblast

Donetsk Oblast is an oblast of eastern Ukraine. Its administrative center is Donetsk. Historically, the province is an important part of the Donbas region...



O
30,246
Perevalsk

Perevalsk

Perevalsk is a city in the southwestern part of the Luhansk Oblast of Ukraine. Population is 29,665 .Perevalsk was founded in 1889 as Seleznyovsky Mine. In 1938 it was renamed to Parkommuna, and in 1964to its present name...



Перевальск
Luhansk Oblast

Luhansk Oblast

Luhansk Oblast ) is the easternmost oblast of Ukraine. Its administrative center is Luhansk. The oblast was established in 1938 and bore the name Voroshilovgrad Oblast in honor of Kliment Voroshilov....



R
29,665
Saky

Saky

Saky is a city in the Autonomous Republic of Crimea, Ukraine. Population is 29,416 . The city has one of the major bases of the Ukrainian Navy. Other bases are at Odessa, Novoozerne, and Sebastopol....



Саки
Crimea

Crimea

Crimea , or the Autonomous Republic of Crimea , is a sub-national unit, an autonomous republic, of Ukraine. It is located on the northern coast of the Black Sea, occupying a peninsula of the same name...



O
29,416
Znamianka

Znamianka

Znamianka is a city in Kirovohrad Oblast of Ukraine. Population is 29,412 .The city has a special status within the oblast, the city of oblast subordination or an oblast municipality. As a municipality it combines the city of Znamianka, the town of Znamianka Druha, and the village of Vodyane. The...



Знам'янка
Kirovohrad Oblast

Kirovohrad Oblast

Kirovohrad Oblast is an oblast of Ukraine. The administrative center of the oblast is the city of Kirovohrad.-Geography:The area of the province is , its population is 1.1 million....



O
29,412
Ternivka

Ternivka

Ternivka or Ternovka is a city of oblast subordination in Dnipropetrovsk Oblast of Ukraine. Population is 29,226 .-Industries:...



Тернівка
Dnipropetrovsk Oblast

Dnipropetrovsk Oblast

Dnipropetrovsk Oblast is an oblast of central Ukraine, the most important industrial region of the country. Its administrative center is Dnipropetrovsk....



O
29,226
Pershotravensk

Pershotravensk

Pershotravensk is a city in Dnipropetrovsk Oblast of Ukraine. Population is 29,140 ....



Першотравенськ
Dnipropetrovsk Oblast

Dnipropetrovsk Oblast

Dnipropetrovsk Oblast is an oblast of central Ukraine, the most important industrial region of the country. Its administrative center is Dnipropetrovsk....



O
29,140
Khust

Khust

Khust is a city located on the Khustets River in the Zakarpattia oblast in western Ukraine. It is near the confluence of the Tisza and Rika Rivers...



Хуст
Zakarpattia Oblast

Zakarpattia Oblast

The Zakarpattia Oblast is an administrative oblast located in southwestern Ukraine. Its administrative center is the city of Uzhhorod...



O
29,080
Chortkiv

Chortkiv

Chortkiv is a city in the Ternopil oblast in western Ukraine. It is the administrative center of the Chortkiv Raion . Population: 29,057...



Чортків
Ternopil Oblast

Ternopil Oblast

Ternopil Oblast is an oblast' of Ukraine. Its administrative center is Ternopil, through which flows the Seret River, a tributary of the Dnister.-Geography:...



R
29,057
Lebedyn

Lebedyn

Lebedyn is a city in Sumy Oblast, Ukraine. Population is 28,948 . An air base is located nearby.In 1708 the city was a site of ethnic cleansing against Ukrainians during the Executions of Cossacks in Lebedin by the Russian Empire.-See also:...



Лебедин
Sumy Oblast

Sumy Oblast

Sumy Oblast is an oblast in the northeastern part of Ukraine. The administrative center of the oblast is the city of Sumy.Other important cities within the oblast include Konotop, Okhtyrka, Romny, and Shostka....



O
28,948
Zolotonosha

Zolotonosha

Zolotonosha is a city located in the Cherkasy Oblast in central Ukraine. Located at around , the city serves as the administrative center of the Zolotoniskyi Raion , however the city itself is designated with the status of a separate district within the oblast.Zolotonosha is located on the...



Золотоноша
Cherkasy Oblast

Cherkasy Oblast

Cherkasy Oblast is an oblast of central Ukraine located along the Dnieper River. The administrative center of the oblast is the city of Cherkasy).-Geography:...



O
28,793
Bucha

Bucha, Ukraine

Bucha is a city in Ukraine's Kiev Oblast. Population: 28,533 of inhabitants .Bucha was assigned city status on February 9, 2006...



Буча
Kiev Oblast

Kiev Oblast

Kyiv Oblast, sometimes written as Kiev Oblast is an oblast in central Ukraine.The administrative center of the oblast is the city of Kyiv , also being the capital of Ukraine...



O
28,533
Novyi Rozdil

Novyi Rozdil

Novyi Rozdil is a city in Lviv Oblast of Ukraine. Population is 28,227 .-Twin towns — Sister cities:Novyi Rozdil is twinned with: Police, Poland...



Новий розділ
Lviv Oblast

Lviv Oblast

Lviv Oblast is an oblast in western Ukraine. The administrative center of the oblast is the city of Lviv.-History:The oblast was created as part of the Ukrainian Soviet Socialist Republic on December 4, 1939...



O
28,227
Krasnyi Lyman

Krasnyi Lyman

Krasnyi Lyman is a city in Donetsk Oblast of Ukraine. Population is 28,172 . It was founded in the 17th century by cossacks as Lyman. The city became Krasnyi in 1925 ....



Красний Лиман
Donetsk Oblast

Donetsk Oblast

Donetsk Oblast is an oblast of eastern Ukraine. Its administrative center is Donetsk. Historically, the province is an important part of the Donbas region...



O
28,172
Sarny

Sarny

Sarny translated as Deer, is a small city in the Rivne Oblast of western Ukraine. It is the administrative center of the Sarny Raion , and is a major railway node on the Sluch River.The current estimated population is 27,700....



Сарни
Rivne Oblast

Rivne Oblast

Rivne Oblast is an oblast of Ukraine. Its administrative center is Rivne. The area of the region is 20,100 km²; its population is 1.2 million...



R
28,144
Malyn

Malyn

Malyn is a city in Zhytomyr Oblast of Ukraine located about 65 miles northwest of Kiev. Population is 28,113 ....



Малин
Zhytomyr Oblast

Zhytomyr Oblast

Zhytomyr Oblast is an oblast of northern Ukraine. The administrative center of the oblast is the city of Zhytomyr.-History:The oblast was created as part of the Ukrainian Soviet Socialist Republic on September 22, 1937....



O
28,113
Khmilnyk

Khmilnyk

Khmilnyk is a resort town in Vinnytsia Oblast, Ukraine. The population is 27,900 .The town is situated in the upper part of the river Southern Buh, northeast of Vinnytsia. It is one of the oldest towns of Podillia.-Early history:...



Хмільник
Vinnytsia Oblast

Vinnytsia Oblast

Vinnytsia Oblast is an oblast of Ukraine. Its administrative center is Vinnytsia.-Geography:The area of the region is 26,500 km²; its population is 1.7 million....



O
27,898
Bakhchisaray

Bakhchisaray

Bakhchisaray is a town in Central Crimea, centre of the Bakhchisaray raion , best known as the former capital of the Crimean Khanate...



Бахчисарай
Crimea

Crimea

Crimea , or the Autonomous Republic of Crimea , is a sub-national unit, an autonomous republic, of Ukraine. It is located on the northern coast of the Black Sea, occupying a peninsula of the same name...



R
27,549
Selydove

Selydove

-External links:** Satellite image from...



Селидове
Donetsk Oblast

Donetsk Oblast

Donetsk Oblast is an oblast of eastern Ukraine. Its administrative center is Donetsk. Historically, the province is an important part of the Donbas region...



O
26,793
Berehove

Berehove

Berehove is a city located in the Zakarpattia Oblast in western Ukraine, near the border with Hungary.Serving as the administrative center of the Berehove Raion , the city itself is also designated as a separate raion within the oblast...



Берегове
Zakarpattia Oblast

Zakarpattia Oblast

The Zakarpattia Oblast is an administrative oblast located in southwestern Ukraine. Its administrative center is the city of Uzhhorod...



O
26,735
Kaniv

Kaniv

Kaniv is a city located in the Cherkasy Oblast in central Ukraine. The city rests on the Dnieper River, and is also one of the main inland river ports on the Dnieper...



Канів
Cherkasy Oblast

Cherkasy Oblast

Cherkasy Oblast is an oblast of central Ukraine located along the Dnieper River. The administrative center of the oblast is the city of Cherkasy).-Geography:...



O
26,657
Koziatyn

Koziatyn

Koziatyn is a city in the Vinnytsia Oblast of western Ukraine. Serving as the administrative center of the Koziatynsky Raion , the city itself is also designated as a separate raion within the oblast, and is located from oblast capital, Vinnytsia, at around...



Козятин
Vinnytsia Oblast

Vinnytsia Oblast

Vinnytsia Oblast is an oblast of Ukraine. Its administrative center is Vinnytsia.-Geography:The area of the region is 26,500 km²; its population is 1.7 million....



O
26,635
Novoiavorivske

Novoiavorivske

Novoyavorivsk is a city in Lviv Oblast of Ukraine. Population is 26,483 .The city is about 45 minute trip from the oblast's administrative centre Lviv...



Новояворівське
Lviv Oblast

Lviv Oblast

Lviv Oblast is an oblast in western Ukraine. The administrative center of the oblast is the city of Lviv.-History:The oblast was created as part of the Ukrainian Soviet Socialist Republic on December 4, 1939...



R
26,483
Korostyshiv

Korostyshiv

Korostyshiv is a city in Zhytomyr Oblast, Ukraine. Population is 26,068 ....



Коростишів
Zhytomyr Oblast

Zhytomyr Oblast

Zhytomyr Oblast is an oblast of northern Ukraine. The administrative center of the oblast is the city of Zhytomyr.-History:The oblast was created as part of the Ukrainian Soviet Socialist Republic on September 22, 1937....



R
26,068
Popasna

Popasna

Popasna is a city in Luhansk Oblast of Ukraine. Population is 25,951 ....



Попасна
Luhansk Oblast

Luhansk Oblast

Luhansk Oblast ) is the easternmost oblast of Ukraine. Its administrative center is Luhansk. The oblast was established in 1938 and bore the name Voroshilovgrad Oblast in honor of Kliment Voroshilov....



R
25,951
Vynohradiv

Vynohradiv

Vynohradiv , , Yiddish: סעליש ) is a city in western Ukraine, Zakarpattia Oblast. It has 27,600 inhabitants . It is center of Vynohradiv Raion.-Location:The city lies near the river Tisza and the border with Romania...



Виноградів
Zakarpattia Oblast

Zakarpattia Oblast

The Zakarpattia Oblast is an administrative oblast located in southwestern Ukraine. Its administrative center is the city of Uzhhorod...



R
25,760
Haisyn

Haisyn

Haisyn or Guysin is a city in Vinnytsia Oblast, Ukraine. Population is 25,640 ....



Гайсин
Vinnytsia Oblast

Vinnytsia Oblast

Vinnytsia Oblast is an oblast of Ukraine. Its administrative center is Vinnytsia.-Geography:The area of the region is 26,500 km²; its population is 1.7 million....



R
25,640
Molodohvardiysk

Molodohvardiysk

Molodohvardiysk is a city in south-eastern Ukraine. It is located in the Krasnodonsky Raion of the Luhansk Oblast , at around .The current estimated population is around 31,700 ....



Молодогвардійськ
Luhansk Oblast

Luhansk Oblast

Luhansk Oblast ) is the easternmost oblast of Ukraine. Its administrative center is Luhansk. The oblast was established in 1938 and bore the name Voroshilovgrad Oblast in honor of Kliment Voroshilov....



R
25,528
Krolevets

Krolevets

Krolevets is a city in Sumy Oblast, Ukraine. Population is 25,183 .Named in honor of the Polish King Sigismund III, Krolevets was founded in 1601. The original name was written as Krolewac ....



Кролевець
Sumy Oblast

Sumy Oblast

Sumy Oblast is an oblast in the northeastern part of Ukraine. The administrative center of the oblast is the city of Sumy.Other important cities within the oblast include Konotop, Okhtyrka, Romny, and Shostka....



R
25,183
Merefa

Merefa

Merefa is a city in eastern Ukraine. It is located in the Kharkivsky Raion of the Kharkiv Oblast .The current estimated population is around 23,679 ....



Мерефа
Kharkiv Oblast

Kharkiv Oblast

Kharkiv Oblast is an oblast in eastern Ukraine. The oblast borders Russia to the north, Luhansk Oblast to the east, Donetsk Oblast to the south-east, Dnipropetrovsk Oblast to the south-west, Poltava Oblast to the west and Sumy Oblast to the north-west...



R
25,018
Volnovakha

Volnovakha

Volnovakha is a city in Donetsk Oblast of Ukraine. Population is 24,647 ....



Волноваха
Donetsk Oblast

Donetsk Oblast

Donetsk Oblast is an oblast of eastern Ukraine. Its administrative center is Donetsk. Historically, the province is an important part of the Donbas region...



R
24,647
Zdolbuniv

Zdolbuniv

Zdolbuniv is a small city in the Rivne Oblast of western Ukraine. It is the administrative center of the Zdolbuniv Raion , and has an important railway station and cement plant ....



Здолбунів
Rivne Oblast

Rivne Oblast

Rivne Oblast is an oblast of Ukraine. Its administrative center is Rivne. The area of the region is 20,100 km²; its population is 1.2 million...



R
24,612
Kreminna

Kreminna

Kreminna is a city in Luhansk Oblast of Ukraine. Population is 24,447 . It was founded in 1680 and has acquired the status of a city in 1938....



Кремінна
Luhansk Oblast

Luhansk Oblast

Luhansk Oblast ) is the easternmost oblast of Ukraine. Its administrative center is Luhansk. The oblast was established in 1938 and bore the name Voroshilovgrad Oblast in honor of Kliment Voroshilov....



R
24,447
Slavutych

Slavutych

Slavutych is a new city in northern Ukraine, named after the Old Slavic name of the nearby Dnieper River. As of 2007, its population was 24,549.-Geography:...



Славутич
Kiev Oblast

Kiev Oblast

Kyiv Oblast, sometimes written as Kiev Oblast is an oblast in central Ukraine.The administrative center of the oblast is the city of Kyiv , also being the capital of Ukraine...



O
24,402
Dokuchaievsk

Dokuchaievsk

Dokuchaievsk is a city in Donetsk Oblast of Ukraine. Population is 24,383 ....



Докучаєвськ
Donetsk Oblast

Donetsk Oblast

Donetsk Oblast is an oblast of eastern Ukraine. Its administrative center is Donetsk. Historically, the province is an important part of the Donbas region...



O
24,383
Liubotyn

Liubotyn

Lyubotyn is a city in the Kharkiv Oblast of eastern Ukraine. It is designated as a separate raion .The current estimated population is around 24,173 .-External links:* * * **— Official website of Liubotyn City Council...



Лрботин
Kharkiv Oblast

Kharkiv Oblast

Kharkiv Oblast is an oblast in eastern Ukraine. The oblast borders Russia to the north, Luhansk Oblast to the east, Donetsk Oblast to the south-east, Dnipropetrovsk Oblast to the south-west, Poltava Oblast to the west and Sumy Oblast to the north-west...



O
24,173
Tsiurupynsk

Tsiurupynsk

Tsiurupynsk is a city in Kherson Oblast of Ukraine that until 1928 was called Oleshky. It is the oldest city of the oblast and one of the oldest in the southern Ukraine. Population of it is 30,123 ....



Цррупинськ
Kherson Oblast

Kherson Oblast

Kherson Oblast is an oblast in southern Ukraine, just north of Crimea. Its administrative center is Kherson. The area of the region is 29000 km², its population is 1.12 million.Important cities in the oblast include:...



R
24,123
Yuzhne

Yuzhne

Yuzhne is a port city in Odessa Oblast of south-western Ukraine. The city is designated as its own separate raion within the oblast, and is situated on the country's Black Sea coast....



Южне
Odessa Oblast

Odessa Oblast

Odesa Oblast, also written as Odessa Oblast , is the southernmost and largest oblast of south-western Ukraine. The administrative center of the oblast is the city of Odessa.-History:...



O
23,977
Armiansk
Армянськ
Crimea

Crimea

Crimea , or the Autonomous Republic of Crimea , is a sub-national unit, an autonomous republic, of Ukraine. It is located on the northern coast of the Black Sea, occupying a peninsula of the same name...



O
23,869
Vilnohirsk

Vilnohirsk

Vilnohirsk is a city in Dnipropetrovsk Oblast of Ukraine. Population is 23,782 ....



Вільногірськ
Dnipropetrovsk Oblast

Dnipropetrovsk Oblast

Dnipropetrovsk Oblast is an oblast of central Ukraine, the most important industrial region of the country. Its administrative center is Dnipropetrovsk....



O
23,782
Yahotyn

Yahotyn

Yahotyn is a city in Kiev Oblast of Ukraine. Population is 23,659 . The administrative centre of Yahotynskyi Raion.The village of Dvirkivshchyna in Yahotynskyi Raion is birthplace to famous football player Andriy Shevchenko, who attended sports-school in Yahotyn.-External links:* *...



Яготин
Kiev Oblast

Kiev Oblast

Kyiv Oblast, sometimes written as Kiev Oblast is an oblast in central Ukraine.The administrative center of the oblast is the city of Kyiv , also being the capital of Ukraine...



R
23,659
Sukhodilsk

Sukhodilsk

Sukhodilsk is a city in Luhansk Oblast of Ukraine. Population is 23,642 ....



Суходільськ
Luhansk Oblast

Luhansk Oblast

Luhansk Oblast ) is the easternmost oblast of Ukraine. Its administrative center is Luhansk. The oblast was established in 1938 and bore the name Voroshilovgrad Oblast in honor of Kliment Voroshilov....



R
23,642
Zolochiv

Zolochiv

Zolochiv is a town located in the Lviv Oblast of western Ukraine. It is the administrative center of the Zolochiv Raion ....



Золочів
Lviv Oblast

Lviv Oblast

Lviv Oblast is an oblast in western Ukraine. The administrative center of the oblast is the city of Lviv.-History:The oblast was created as part of the Ukrainian Soviet Socialist Republic on December 4, 1939...



R
23,481
Trostianets

Trostianets

Trostianets is a city in Sumy Oblast of Ukraine, the center of Trostianetskyi Raion. It's located on Boromlya River, from Sumy. The city population is 23,300...



Тростянець
Sumy Oblast

Sumy Oblast

Sumy Oblast is an oblast in the northeastern part of Ukraine. The administrative center of the oblast is the city of Sumy.Other important cities within the oblast include Konotop, Okhtyrka, Romny, and Shostka....



R
23,308
Brody

Brody

Brody is a city in the Lviv Oblast of western Ukraine. It is the administrative center of the Brody Raion , and is located in the valley of the upper Styr River, approximately 90 kilometres northeast of the oblast capital, Lviv...



Броди
Lviv Oblast

Lviv Oblast

Lviv Oblast is an oblast in western Ukraine. The administrative center of the oblast is the city of Lviv.-History:The oblast was created as part of the Ukrainian Soviet Socialist Republic on December 4, 1939...



R
23,239
Polonne

Polonne

Polonne is a city on the Khomora River in the Khmelnytskyi Oblast of western Ukraine. It is the administrative center of the Polonskyi Raion , and is located at around .The current estimated population is around 23,211 ....



Полонне
Khmelnytskyi Oblast

Khmelnytskyi Oblast

Khmelnytskyi Oblast is an oblast of western Ukraine. The administrative center of the oblast is the city of Khmelnytskyi.The current estimated population is around 1,401,140 .-Geography:...



R
23,211
Vyshhorod

Vyshhorod

Vyshhorod is a city in the Kiev Oblast , in central Ukraine. It is the administrative centre of the Vyshhorodskyi Raion , and is located along the Dnieper River upstream from the national capital, Kiev...



Вишгород
Kiev Oblast

Kiev Oblast

Kyiv Oblast, sometimes written as Kiev Oblast is an oblast in central Ukraine.The administrative center of the oblast is the city of Kyiv , also being the capital of Ukraine...



R
22,933
Hadiach

Hadiach

Hadiach is a historic city in Poltava Oblast in the central-east part of Ukraine. Located on the Psel River the city is an administrative center of the Hadyatskyi Raion...



Гадяч
Poltava Oblast

Poltava Oblast

Poltava Oblast is an oblast of central Ukraine. The administrative center of the oblast is the city of Poltava.Other important cities within the oblast include: Komsomolsk, Kremenchuk, Lubny and Myrhorod.-Geography:...



R
22,698
Krasnohrad

Krasnohrad

Krasnohrad or Krasnograd is a city in Kharkiv Oblast of Ukraine. Its population is 22,670 .Located on the river Berestovoy 101 km to the west of the city of Kharkiv. Through the city passes the Moscow–Simferopol highway and railway lines to Dnipropetrovsk, Kharkiv, Poltava, Lozovuyu...



Красноград
Kharkiv Oblast

Kharkiv Oblast

Kharkiv Oblast is an oblast in eastern Ukraine. The oblast borders Russia to the north, Luhansk Oblast to the east, Donetsk Oblast to the south-east, Dnipropetrovsk Oblast to the south-west, Poltava Oblast to the west and Sumy Oblast to the north-west...



R
22,670
Kilia
Кілія
Odessa Oblast

Odessa Oblast

Odesa Oblast, also written as Odessa Oblast , is the southernmost and largest oblast of south-western Ukraine. The administrative center of the oblast is the city of Odessa.-History:...



R
22,594
Starobilsk

Starobilsk

Starobilsk is a town near Luhansk in Ukraine. The settlement has been known since 1686. The city status was given in 1938. Population is 22,040 ....



Старобільськ
Luhansk Oblast

Luhansk Oblast

Luhansk Oblast ) is the easternmost oblast of Ukraine. Its administrative center is Luhansk. The oblast was established in 1938 and bore the name Voroshilovgrad Oblast in honor of Kliment Voroshilov....



R
22,371
Ladyzhyn

Ladyzhyn

Ladyzhyn is a city in Vinnytsia Oblast, Ukraine. Population is 22,219 ....



Ладижин
Vinnytsia Oblast

Vinnytsia Oblast

Vinnytsia Oblast is an oblast of Ukraine. Its administrative center is Vinnytsia.-Geography:The area of the region is 26,500 km²; its population is 1.7 million....



O
22,219
Polohy

Polohy

Polohy is a city in Zaporizhia Oblast, Ukraine. Population is 22,206 ....



Пологи
Zaporizhia Oblast

Zaporizhia Oblast

Zaporizhia Oblast is an oblast of southern Ukraine. Its capital is Zaporizhia.This oblast is an important part of Ukraine's industry and agriculture.-Geography:...



R
22,206
Amvrosiivka

Amvrosiivka

Amvrosiivka is a city located on . It is the administrative center of the Amvrosiivsky Raion within the Donetsk Oblast , and has a population of about 22,130....



Амвросіївка
Donetsk Oblast

Donetsk Oblast

Donetsk Oblast is an oblast of eastern Ukraine. Its administrative center is Donetsk. Historically, the province is an important part of the Donbas region...



R
22,130
Kremenets

Kremenets

Kremenets is a city in the Ternopil Oblast of western Ukraine. It is the administrative center of the Kremenets Raion , and rests 18 km north-east of the great Pochayiv Monastery...



Кременець
Ternopil Oblast

Ternopil Oblast

Ternopil Oblast is an oblast' of Ukraine. Its administrative center is Ternopil, through which flows the Seret River, a tributary of the Dnister.-Geography:...



R
22,051
Henichesk

Henichesk

Henichesk is a port city along the Sea of Azov in the Kherson Oblast of southern Ukraine. Serving as the administrative center of the Henichesky Raion , the city itself is also designated as a separate raion within the oblast.-References:...



Генічеськ
Kherson Oblast

Kherson Oblast

Kherson Oblast is an oblast in southern Ukraine, just north of Crimea. Its administrative center is Kherson. The area of the region is 29000 km², its population is 1.12 million.Important cities in the oblast include:...



R
21,793
Sokal

Sokal

Sokal is a town located on the banks of the Bug River in the Lviv Oblast of western Ukraine. Serving as the administrative center of the Sokal Raion , the city itself also ranks as a separate raion within the oblast.- History :...



Сокаль
Lviv Oblast

Lviv Oblast

Lviv Oblast is an oblast in western Ukraine. The administrative center of the oblast is the city of Lviv.-History:The oblast was created as part of the Ukrainian Soviet Socialist Republic on December 4, 1939...



R
21,693
Kurakhove

Kurakhove

Kurakhove is a city in Donetsk Oblast of Ukraine. Population is 21,479 . At Kurakhove, there is Kurakhovskaya TES....



Курахове
Donetsk Oblast

Donetsk Oblast

Donetsk Oblast is an oblast of eastern Ukraine. Its administrative center is Donetsk. Historically, the province is an important part of the Donbas region...



R
21,479
Dniprorudne

Dniprorudne

Dniprorudne is a city in Zaporizhia Oblast, Ukraine. Population is 21,054 ....



Дніпрорудне
Zaporizhia Oblast

Zaporizhia Oblast

Zaporizhia Oblast is an oblast of southern Ukraine. Its capital is Zaporizhia.This oblast is an important part of Ukraine's industry and agriculture.-Geography:...



R
21,054
Volochysk

Volochysk

Volochysk is a town located on the left bank of the Zbruch River in Khmelnytskyi Oblast of western Ukraine. It is the administrative center of Volochyskyi Raion .The current estimated population is 20 958 ....



Волочиськ
Khmelnytskyi Oblast

Khmelnytskyi Oblast

Khmelnytskyi Oblast is an oblast of western Ukraine. The administrative center of the oblast is the city of Khmelnytskyi.The current estimated population is around 1,401,140 .-Geography:...



R
20,958
Nadvirna

Nadvirna

Nadvirna is a city located in the Ivano-Frankivsk Oblast in western Ukraine. It is the administrative centre of Nadvirna Raion.Until World War I, Nadvirna was integrated into the Austro-Hungarian Empire, in the province of Galicia. In the inter-war years, the borders changed and it was annexed...



Надвірна
Ivano-Frankivsk Oblast

Ivano-Frankivsk Oblast

Ivano-Frankivsk Oblast is an oblast in western Ukraine. Its administrative center is the city of Ivano-Frankivsk. As is the case with most other oblasts of Ukraine this region has the same name as its administrative center – which was renamed by the Soviets after the Ukrainian writer, nationalist...



R
20,932
Dolyna

Dolyna

Dolyna is a city located in the Ivano-Frankivsk Oblast in southwestern Ukraine. It is the administrative center of Dolyna Raion .The current estimated population is around 20,900.-History:...



Долина
Ivano-Frankivsk Oblast

Ivano-Frankivsk Oblast

Ivano-Frankivsk Oblast is an oblast in western Ukraine. Its administrative center is the city of Ivano-Frankivsk. As is the case with most other oblasts of Ukraine this region has the same name as its administrative center – which was renamed by the Soviets after the Ukrainian writer, nationalist...



R
20,906
Stebnyk

Stebnyk

Stebnyk is a city located just north of Drohobych in Lviv Oblast of western Ukraine, close to the border with Poland. It is located in the Drohobych Raion at around .The current estimated population is around 20,000....



Стебник
Lviv Oblast

Lviv Oblast

Lviv Oblast is an oblast in western Ukraine. The administrative center of the oblast is the city of Lviv.-History:The oblast was created as part of the Ukrainian Soviet Socialist Republic on December 4, 1939...



R
20,863
Vovchansk

Vovchansk

Vovchansk is a city in Ukraine's Kharkiv Oblast . Population : 20,695....



Вовчанськ
Kharkiv Oblast

Kharkiv Oblast

Kharkiv Oblast is an oblast in eastern Ukraine. The oblast borders Russia to the north, Luhansk Oblast to the east, Donetsk Oblast to the south-east, Dnipropetrovsk Oblast to the south-west, Poltava Oblast to the west and Sumy Oblast to the north-west...



R
20,695
Krasyliv

Krasyliv

Krasyliv is a city in Khmelnytskyi Oblast, Ukraine. It is located at around ....



Красилів
Khmelnytskyi Oblast

Khmelnytskyi Oblast

Khmelnytskyi Oblast is an oblast of western Ukraine. The administrative center of the oblast is the city of Khmelnytskyi.The current estimated population is around 1,401,140 .-Geography:...



R
20,580
Piatykhatky

Piatykhatky

Piatykhatky is a town and a large railway junction in Dnipropetrovsk Oblast of Ukraine. Population is 20,563 ....



П'ятихатки
Dnipropetrovsk Oblast

Dnipropetrovsk Oblast

Dnipropetrovsk Oblast is an oblast of central Ukraine, the most important industrial region of the country. Its administrative center is Dnipropetrovsk....



R
20,563
Reni

Reni, Ukraine

Reni is a small town in the Odessa Oblast of western Ukraine. It is the administrative center of the Reniysky Raion , and is located in the Bessarabian historic district of Budjak. The settlement was founded around 1548, acquiring city status in 1821.The current estimated population is around...



Рені
Odessa Oblast

Odessa Oblast

Odesa Oblast, also written as Odessa Oblast , is the southernmost and largest oblast of south-western Ukraine. The administrative center of the oblast is the city of Odessa.-History:...



R
20,481
Bakhmach

Bakhmach

Bakhmach is a city located in the Chernihiv Oblast , in northern Ukraine. It is the administrative center of the Bakhmatsky Raion , and is located at around . As of January 1, 2005, the city's population is 20,300.-History:...



Бахмач
Chernihiv Oblast

Chernihiv Oblast

Chernihiv Oblast is an oblast of northern Ukraine. The administrative center of the oblast is the city of Chernihiv.-Geography:The total area of the province is around 31,900 km²....



R
20,332
Derhachi

Derhachi

Derhachi is a city in the Kharkiv Oblast of eastern Ukraine. It is the administrative center of the Derhachivskyi Raion , and is located 12 km northwest of the oblast capital, Kharkiv....



Дергачі
Kharkiv Oblast

Kharkiv Oblast

Kharkiv Oblast is an oblast in eastern Ukraine. The oblast borders Russia to the north, Luhansk Oblast to the east, Donetsk Oblast to the south-east, Dnipropetrovsk Oblast to the south-west, Poltava Oblast to the west and Sumy Oblast to the north-west...



R
20,258
Vatutine

Vatutine

Vatutine is a city in Cherkasy Oblast of Ukraine. Population is 20,156 ....



Ватутіне
Cherkasy Oblast

Cherkasy Oblast

Cherkasy Oblast is an oblast of central Ukraine located along the Dnieper River. The administrative center of the oblast is the city of Cherkasy).-Geography:...



O
20,156
Kalynivka

Kalynivka

Kalynivka is a city in Vinnytsia Oblast, Ukraine. Population is 20,061 ....



Калинівка
Vinnytsia Oblast

Vinnytsia Oblast

Vinnytsia Oblast is an oblast of Ukraine. Its administrative center is Vinnytsia.-Geography:The area of the region is 26,500 km²; its population is 1.7 million....



R
20,061
Balta

Balta, Ukraine

Balta is a small city in the Odessa Oblast of south-western Ukraine. It is the administrative center of the Baltsky Raion , and located approximately 200 kilometers from the oblast capital, Odessa...



Балта
Odessa Oblast

Odessa Oblast

Odesa Oblast, also written as Odessa Oblast , is the southernmost and largest oblast of south-western Ukraine. The administrative center of the oblast is the city of Odessa.-History:...



R
19,962
Zvenyhorodka

Zvenyhorodka

Zvenyhorodka or Zvenigorodka , German: Swenigorodka, is a city located in the Cherkasy Oblast in central Ukraine on the river Gniloi Tikich.- History :The town is the administrative center of the Zvenyhorodsky Raion ....



Звенигородка
Cherkasy Oblast

Cherkasy Oblast

Cherkasy Oblast is an oblast of central Ukraine located along the Dnieper River. The administrative center of the oblast is the city of Cherkasy).-Geography:...



R
19,901
Zuhres

Zuhres

Zuhres is a city in Donetsk Oblast of Ukraine. Population is 19,859 ....



Зугрес
Donetsk Oblast

Donetsk Oblast

Donetsk Oblast is an oblast of eastern Ukraine. Its administrative center is Donetsk. Historically, the province is an important part of the Donbas region...



R
19,859
Skadovsk

Skadovsk

Skadovsk is a port city on the Black Sea in the Kherson Oblast of southern Ukraine. It is the administrative center of the Skadovsky Raion ....



Скадовськ
Kherson Oblast

Kherson Oblast

Kherson Oblast is an oblast in southern Ukraine, just north of Crimea. Its administrative center is Kherson. The area of the region is 29000 km², its population is 1.12 million.Important cities in the oblast include:...



R
19,641
Svatove

Svatove

Svatove is a city in Luhansk Oblast of Ukraine. Population is 19,495 ....



Сватове
Luhansk Oblast

Luhansk Oblast

Luhansk Oblast ) is the easternmost oblast of Ukraine. Its administrative center is Luhansk. The oblast was established in 1938 and bore the name Voroshilovgrad Oblast in honor of Kliment Voroshilov....



R
19,495
Shpola

Shpola

Shpola is a city located in the Cherkasy Oblast in central Ukraine. It is the administrative center of the Shpoliansky Raion , and is situated at . As of 2004 the estimated population is 18,400.-History:...



Шпола
Cherkasy Oblast

Cherkasy Oblast

Cherkasy Oblast is an oblast of central Ukraine located along the Dnieper River. The administrative center of the oblast is the city of Cherkasy).-Geography:...



R
19,427
Novoukrainka

Novoukrainka

Novoukrainka is a city in Kirovohrad Oblast of Ukraine. Population is 19,353 ....



Новоукраїнка
Kirovohrad Oblast

Kirovohrad Oblast

Kirovohrad Oblast is an oblast of Ukraine. The administrative center of the oblast is the city of Kirovohrad.-Geography:The area of the province is , its population is 1.1 million....



R
19,353
Korsun-Shevchenkivskyi

Korsun-Shevchenkivskyi

Korsun-Shevchenkivskyi is a city located in the Cherkasy Oblast in central Ukraine. The city rests on the banks of the Ros' River, and is the administrative center of the Korsun-Shevchenkivskyi Raion ....



Корсунь-Шевченківський
Cherkasy Oblast

Cherkasy Oblast

Cherkasy Oblast is an oblast of central Ukraine located along the Dnieper River. The administrative center of the oblast is the city of Cherkasy).-Geography:...



R
19,311
Lutuhyne

Lutuhyne

Lutuhyne is a city in Luhansk Oblast of Ukraine. Population is 18,833 ....



Лутугине
Luhansk Oblast

Luhansk Oblast

Luhansk Oblast ) is the easternmost oblast of Ukraine. Its administrative center is Luhansk. The oblast was established in 1938 and bore the name Voroshilovgrad Oblast in honor of Kliment Voroshilov....



R
18,833
Bilohirsk

Bilohirsk

Bilohirsk , formerly Karasubazar is a town in Crimea, Ukraine, situated 25 miles east-northeast of Simferopol on the Biyuk Karasu river. Both Russian and Ukrainian names mean "white mountains", and original Crimean Tatar name Qarasuvbazar means "bazaar on the Karasu river".The site is low, but...



Білогірськ
Crimea

Crimea

Crimea , or the Autonomous Republic of Crimea , is a sub-national unit, an autonomous republic, of Ukraine. It is located on the northern coast of the Black Sea, occupying a peninsula of the same name...



R
18,790
Dolynska

Dolynska

Dolynska is a city in Kirovohrad Oblast of Ukraine. Population is 18,768 ....



Долинська
Kirovohrad Oblast

Kirovohrad Oblast

Kirovohrad Oblast is an oblast of Ukraine. The administrative center of the oblast is the city of Kirovohrad.-Geography:The area of the province is , its population is 1.1 million....



R
18,768
Iziaslav

Iziaslav, Ukraine

Iziaslav or Zaslav is one of the oldest cities in Volhynia. Situated on the Horyn river in western Ukraine, the city dates back to the 11th century.- Monuments :* Starozaslavsky Castle* Novozaslavsky Castle* St. John Cathedral* Great Synagogue...



Ізяслав
Khmelnytskyi Oblast

Khmelnytskyi Oblast

Khmelnytskyi Oblast is an oblast of western Ukraine. The administrative center of the oblast is the city of Khmelnytskyi.The current estimated population is around 1,401,140 .-Geography:...



R
18,444
Bilopillia

Bilopillia

Bilopillia is a city and the administrative center of the Bilopilskyi Raion in Sumy Oblast of northeastern Ukraine. It is located at around , close to Kursk Oblast of Russia. The population is 18,384 ....



Білопілля
Sumy Oblast

Sumy Oblast

Sumy Oblast is an oblast in the northeastern part of Ukraine. The administrative center of the oblast is the city of Sumy.Other important cities within the oblast include Konotop, Okhtyrka, Romny, and Shostka....



R
18,384
Bohodukhiv

Bohodukhiv

Bohodukhiv is a city in the Kharkiv Oblast of eastern Ukraine. It is the administrative center of the Bohodukhivsky Raion , and is located on the Kharkiv-Sumy railway at around ....



Богодухів
Kharkiv Oblast

Kharkiv Oblast

Kharkiv Oblast is an oblast in eastern Ukraine. The oblast borders Russia to the north, Luhansk Oblast to the east, Donetsk Oblast to the south-east, Dnipropetrovsk Oblast to the south-west, Poltava Oblast to the west and Sumy Oblast to the north-west...



R
18,224
Skvyra

Skvyra

Skvyra is a town in the Kiev Oblast of central Ukraine. It is the administrative center of the Skvyra Raion , and is currently a municipality of raion subordinance. Skvyra currently has a population of about 18,009 and an area of ....



Сквира
Kiev Oblast

Kiev Oblast

Kyiv Oblast, sometimes written as Kiev Oblast is an oblast in central Ukraine.The administrative center of the oblast is the city of Kyiv , also being the capital of Ukraine...



R
18,126
Karlivka

Karlivka

Karlivka is a city in Poltava Oblast, Ukraine. Population is 17,995 . Until the 1950s the city was known as Karlovka.-See Also:* Karlivka...



Карлівка
Poltava Oblast

Poltava Oblast

Poltava Oblast is an oblast of central Ukraine. The administrative center of the oblast is the city of Poltava.Other important cities within the oblast include: Komsomolsk, Kremenchuk, Lubny and Myrhorod.-Geography:...



R
17,995
Orikhiv

Orikhiv

- History of Orikhiv:Orikhiv was originally founded on about 1793 near the Konka River; it was incorporated in 1801. It is situated about southeast of Aleksandrovsk , and almost the same distance north of the Molochna Kolonia...



Оріхів
Zaporizhia Oblast

Zaporizhia Oblast

Zaporizhia Oblast is an oblast of southern Ukraine. Its capital is Zaporizhia.This oblast is an important part of Ukraine's industry and agriculture.-Geography:...



R
17,955
Bilozerske

Bilozerske

Bilozerske is a city in Donetsk Oblast of Ukraine. Population is 17,868 . It was founded in 1913....



Білозерське
Donetsk Oblast

Donetsk Oblast

Donetsk Oblast is an oblast of eastern Ukraine. Its administrative center is Donetsk. Historically, the province is an important part of the Donbas region...



R
17,868
Zolote

Zolote

Zolote is a city in Luhansk Oblast of Ukraine. Population is 17,836 ....



Золоте
Luhansk Oblast

Luhansk Oblast

Luhansk Oblast ) is the easternmost oblast of Ukraine. Its administrative center is Luhansk. The oblast was established in 1938 and bore the name Voroshilovgrad Oblast in honor of Kliment Voroshilov....



R
17,836
Yunokomunarivsk

Yunokomunarivsk

Yunokomunarivsk is a city in Donetsk Oblast of Ukraine. Population is 17,813 ....



Рнокомунарівськ
Donetsk Oblast

Donetsk Oblast

Donetsk Oblast is an oblast of eastern Ukraine. Its administrative center is Donetsk. Historically, the province is an important part of the Donbas region...



R
17,813
Pidhorodne

Pidhorodne

Pidhorodne is a city in Dnipropetrovsk Oblast of Ukraine. Population is 17,763 ....



Підгородне
Dnipropetrovsk Oblast

Dnipropetrovsk Oblast

Dnipropetrovsk Oblast is an oblast of central Ukraine, the most important industrial region of the country. Its administrative center is Dnipropetrovsk....



R
17,763
Rozdilna

Rozdilna

Rozdilna is a small city in the Odessa Oblast of southern Ukraine. It is the administrative center of the Rozdilnianskyi Raion , and was founded in 1870.The population was 17,615 in 2004.-External links:*...



Роздільна
Odessa Oblast

Odessa Oblast

Odesa Oblast, also written as Odessa Oblast , is the southernmost and largest oblast of south-western Ukraine. The administrative center of the oblast is the city of Odessa.-History:...



R
17,754
Horodok

Horodok, Khmelnytskyi Oblast

Horodok is a city in Khmelnytskyi Oblast of Ukraine. Population is 17,746 ....



Городок
Khmelnytskyi Oblast

Khmelnytskyi Oblast

Khmelnytskyi Oblast is an oblast of western Ukraine. The administrative center of the oblast is the city of Khmelnytskyi.The current estimated population is around 1,401,140 .-Geography:...



R
17,746
Chervonopartyzansk

Chervonopartyzansk

Chervonopartyzansk is a city in Luhansk Oblast of Ukraine. Population is 17,680 ....



Червонопартизанськ
Luhansk Oblast

Luhansk Oblast

Luhansk Oblast ) is the easternmost oblast of Ukraine. Its administrative center is Luhansk. The oblast was established in 1938 and bore the name Voroshilovgrad Oblast in honor of Kliment Voroshilov....



R
17,680
Ilovaisk

Ilovaisk

Ilovaisk is a city in Donetsk Oblast of Ukraine. Population is 17,620 ....



Іловайськ
Donetsk Oblast

Donetsk Oblast

Donetsk Oblast is an oblast of eastern Ukraine. Its administrative center is Donetsk. Historically, the province is an important part of the Donbas region...



R
17,620
Berezhany

Berezhany

Berezhany is a city located in the Ternopil Oblast of western Ukraine. It is the administrative center of the Berezhanskyi Raion , and rests about 100 km from Lviv and 50 km from the oblast capital, Ternopil. The city has a population of about 20,000, and is about 400 m above sea level...



Бережани
Ternopil Oblast

Ternopil Oblast

Ternopil Oblast is an oblast' of Ukraine. Its administrative center is Ternopil, through which flows the Seret River, a tributary of the Dnister.-Geography:...



R
17,617
Novohrodivka

Novohrodivka

Novohrodivka is a city in Donetsk Oblast of Ukraine. Population is 17,473 ....



Новогродівка
Donetsk Oblast

Donetsk Oblast

Donetsk Oblast is an oblast of eastern Ukraine. Its administrative center is Donetsk. Historically, the province is an important part of the Donbas region...



O
17,473
Vuhledar

Vuhledar

Vuhledar is a city in Donetsk Oblast of Ukraine. Population is 17,440 ....



Вугледар
Donetsk Oblast

Donetsk Oblast

Donetsk Oblast is an oblast of eastern Ukraine. Its administrative center is Donetsk. Historically, the province is an important part of the Donbas region...



R
17,440
Berezan

Berezan

Berezan is a city in Kiev Oblast of Ukraine. Population is 16,761 ....



Березань
Kiev Oblast

Kiev Oblast

Kyiv Oblast, sometimes written as Kiev Oblast is an oblast in central Ukraine.The administrative center of the oblast is the city of Kyiv , also being the capital of Ukraine...



O
17,367
Putyvl

Putyvl

Putyvl or Putivl is a town in north-east Ukraine, in Sumy Oblast. Currently about 20,000 people live in Putyvl.-History:One of the original Siverian towns, Putyvl was first mentioned as early as 1146 as an important fortress contested between Chernigov and Novgorod-Seversky principalities of...



Путивль
Sumy Oblast

Sumy Oblast

Sumy Oblast is an oblast in the northeastern part of Ukraine. The administrative center of the oblast is the city of Sumy.Other important cities within the oblast include Konotop, Okhtyrka, Romny, and Shostka....



R
17,354
Bolhrad

Bolhrad

Bolhrad sometimes known as Bolgrad is a small city in Odessa Oblast of south-western Ukraine. It is the administrative center of Bolhrad Raion , and is located at around ....



Болград
Odessa Oblast

Odessa Oblast

Odesa Oblast, also written as Odessa Oblast , is the southernmost and largest oblast of south-western Ukraine. The administrative center of the oblast is the city of Odessa.-History:...



R
17,353
Bar

Bar, Ukraine

Bar is a city located on the Rov River in the Vinnytsia Oblast of western Ukraine. It is the administrative center of the Barskyi Raion , and is part of the historic region of Podolia. The current estimated population is 17,200 .-History:The city was a small trade outpost named Row...



Бар
Vinnytsia Oblast

Vinnytsia Oblast

Vinnytsia Oblast is an oblast of Ukraine. Its administrative center is Vinnytsia.-Geography:The area of the region is 26,500 km²; its population is 1.7 million....



R
17,284
Svaliava

Svaliava

Svaliava is a city located on the Latorytsia River in the Zakarpattia Oblast in western Ukraine. It is the administrative center of the Svaliava Raion .-Demographics:In 2001, the population included: *Ukrainians...



Свалява
Zakarpattia Oblast

Zakarpattia Oblast

The Zakarpattia Oblast is an administrative oblast located in southwestern Ukraine. Its administrative center is the city of Uzhhorod...



R
17,145
Bohuslav

Bohuslav

Bohuslav is a city on the Ros' River in Kiev Oblast of Ukraine. It is the administrative centre of Bohuslavskyi Raion. The population is 17,135 ....



Богуслав
Kiev Oblast

Kiev Oblast

Kyiv Oblast, sometimes written as Kiev Oblast is an oblast in central Ukraine.The administrative center of the oblast is the city of Kyiv , also being the capital of Ukraine...



R
17,135
Huliaipole

Huliaipole

Huliaipole is a city in Zaporizhia Oblast, Ukraine. Population is 17 000 .It is known as a birthplace of Nestor Makhno. The name of the city means a walk-about field. Prior to the annexation of the Crimean Khanate by the Russian Empire the area was mostly settled by Cossacks and the nomad people...



Гуляйполе
Zaporizhia Oblast

Zaporizhia Oblast

Zaporizhia Oblast is an oblast of southern Ukraine. Its capital is Zaporizhia.This oblast is an important part of Ukraine's industry and agriculture.-Geography:...



R
17,077
Zmiiv

Zmiiv

Zmiiv is a city in Kharkiv Oblast of Ukraine. The population as of 2001 was 17,063. Zmiiv is the administrative center of Zmiivskyi Raion...



Зміїв
Kharkiv Oblast

Kharkiv Oblast

Kharkiv Oblast is an oblast in eastern Ukraine. The oblast borders Russia to the north, Luhansk Oblast to the east, Donetsk Oblast to the south-east, Dnipropetrovsk Oblast to the south-west, Poltava Oblast to the west and Sumy Oblast to the north-west...



R
17,063
Ovruch

Ovruch

Ovruch is a city in the Zhytomyr Oblast of northern Ukraine. It is the administrative center of the Ovruch Raion . The current estimated population is around 17,000 . It is home to Ovruch air base....



Овруч
Zhytomyr Oblast

Zhytomyr Oblast

Zhytomyr Oblast is an oblast of northern Ukraine. The administrative center of the oblast is the city of Zhytomyr.-History:The oblast was created as part of the Ukrainian Soviet Socialist Republic on September 22, 1937....



R
17,031
Verkhnodniprovsk

Verkhnodniprovsk

Verkhnodniprovsk is a city in Dnipropetrovsk Oblast of Ukraine. Population is 16,976 . Serving as the administrative center of the Verkhnodniprovskyi Raion...



Верхньодніпровськ
Dnipropetrovsk Oblast

Dnipropetrovsk Oblast

Dnipropetrovsk Oblast is an oblast of central Ukraine, the most important industrial region of the country. Its administrative center is Dnipropetrovsk....



R
16,976
Ochakiv

Ochakiv

Ochakiv is a city in the Mykolaiv Oblast of southern Ukraine. Serving as the administrative center of the Ochakivsky Raion , the city itself is also designated as a separate raion within the oblast, and is located on a peninsula in the Black Sea, at the entrance to the Dnieper Rivers's estuary,...



Очаків
Mykolaiv Oblast

Mykolaiv Oblast

Mykolaiv Oblast is an oblast of Ukraine. The administrative center of the oblast is the city of Mykolayiv.-Geography:The Mykolaiv Oblast is located in the southern half of Ukraine...



O
16,929
Krasnohorivka

Krasnohorivka

Krasnohorivka is a city in Donetsk Oblast of Ukraine. Population is 16,714 .-Famous people from Krasnohorivka:* Mykola Shmatko , is a contemporary Ukrainian sculptor, professor and painter....



Красногорівка
Donetsk Oblast

Donetsk Oblast

Donetsk Oblast is an oblast of eastern Ukraine. Its administrative center is Donetsk. Historically, the province is an important part of the Donbas region...



R
16,714
Kivertsi

Kivertsi

Kivertsi is a town in Volyn Oblast, Ukraine. It is administrative center of the Kivertsivskyi Raion. Population is 16,678 ....



Ківерці
Volyn Oblast

Volyn Oblast

Volyn Oblast is an oblast in north-western Ukraine. Its administrative center is Lutsk. Kovel is the westernmost town and the last station in Ukraine of the rail line running from Kiev to Warsaw.-History:...



R
16,678
Pyriatyn

Pyriatyn

Pyriatyn is a city in Poltava Oblast, Ukraine. Population is 16,664 .-See also:*Piryatin Airport...



Пирятин
Poltava Oblast

Poltava Oblast

Poltava Oblast is an oblast of central Ukraine. The administrative center of the oblast is the city of Poltava.Other important cities within the oblast include: Komsomolsk, Kremenchuk, Lubny and Myrhorod.-Geography:...



R
16,664
Mykolaivka

Mykolaivka

Mykolaivka is a city in Donetsk Oblast of Ukraine. Population is 16,620 ....



Миколаївка
Donetsk Oblast

Donetsk Oblast

Donetsk Oblast is an oblast of eastern Ukraine. Its administrative center is Donetsk. Historically, the province is an important part of the Donbas region...



R
16,620
Chasiv Yar

Chasiv Yar

Chasiv Yar is a city in Donetsk Oblast of Ukraine. Population is 16,612 .Joseph Kobzon is an iconic Soviet crooner who has been acclaimed as "the official voice of the Soviet Union". He was born on September 11, 1937 to Jewish parents in the mining town of Chasiv Yar....



Часів Яр
Donetsk Oblast

Donetsk Oblast

Donetsk Oblast is an oblast of eastern Ukraine. Its administrative center is Donetsk. Historically, the province is an important part of the Donbas region...



R
16,612
Vilniansk

Vilniansk

Vilniansk is a city in Zaporizhia Oblast, Ukraine. Population is 16,522 ....



Вільнянськ
Zaporizhia Oblast

Zaporizhia Oblast

Zaporizhia Oblast is an oblast of southern Ukraine. Its capital is Zaporizhia.This oblast is an important part of Ukraine's industry and agriculture.-Geography:...



R
16,522
Dunaivtsi

Dunaivtsi

Dunaivtsi is the capital city of Dunaivtsi Raion, Khmelnytskyi Oblast , Ukraine. The city is located on the river Ternavka, 22 km away from the railway station Dunaivtsi and 68 km from the Khmelnytskyi. Population is 16,448...



Дунаївці
Khmelnytskyi Oblast

Khmelnytskyi Oblast

Khmelnytskyi Oblast is an oblast of western Ukraine. The administrative center of the oblast is the city of Khmelnytskyi.The current estimated population is around 1,401,140 .-Geography:...



R
16,448
Apostolove

Apostolove

Apostolove is a city in Dnipropetrovsk Oblast of Ukraine. Population is 16,439 ....



Апостолове
Dnipropetrovsk Oblast

Dnipropetrovsk Oblast

Dnipropetrovsk Oblast is an oblast of central Ukraine, the most important industrial region of the country. Its administrative center is Dnipropetrovsk....



R
16,439
Talne

Talne

Talne is a city in Cherkasy Oblast of Ukraine. Population is 16,388 ....



Тальне
Cherkasy Oblast

Cherkasy Oblast

Cherkasy Oblast is an oblast of central Ukraine located along the Dnieper River. The administrative center of the oblast is the city of Cherkasy).-Geography:...



R
16,388
Artsyz

Artsyz

Artsyz is a city in Odessa Oblast, Ukraine. Population is 16,370 ....



Арциз
Odessa Oblast

Odessa Oblast

Odesa Oblast, also written as Odessa Oblast , is the southernmost and largest oblast of south-western Ukraine. The administrative center of the oblast is the city of Odessa.-History:...



R
16,370
Novyi Buh

Novyi Buh

Novyi Buh is a city in Mykolaiv Oblast, Ukraine. Population is 16,250 ....



Новий Буг
Mykolaiv Oblast

Mykolaiv Oblast

Mykolaiv Oblast is an oblast of Ukraine. The administrative center of the oblast is the city of Mykolayiv.-Geography:The Mykolaiv Oblast is located in the southern half of Ukraine...



R
16,250
Tulchyn

Tulchyn

Tulchin , Latin Tulcinum, ) is a small city in the Vinnytsya Oblast of western Ukraine, former Podolia. It is the administrative center of the Tulchynsky Raion , and was the chief centre of the Southern Society of the Decembrists, Pavel Pestel was located there during planning of the rebellion...



Тульчин
Vinnytsia Oblast

Vinnytsia Oblast

Vinnytsia Oblast is an oblast of Ukraine. Its administrative center is Vinnytsia.-Geography:The area of the region is 26,500 km²; its population is 1.7 million....



R
16,136
Haivoron

Haivoron

Haivoron is a city in Kirovohrad Oblast of Ukraine. Population is 16,126 .Haivoron is standing on the river Southern Bug.It is believed that Haivoron was established in 1800.The population of Haivoron is about 15000 people ....



Гайворон
Kirovohrad Oblast

Kirovohrad Oblast

Kirovohrad Oblast is an oblast of Ukraine. The administrative center of the oblast is the city of Kirovohrad.-Geography:The area of the province is , its population is 1.1 million....



R
16,126
Horodok

Horodok, Lviv Oblast

Horodok is a city in Lviv Oblast of Ukraine. It is administrative center of the Horodok Raion. Population is 16,082 .This is the place where King of Poland and Grand Duke of Lithuania Jogaila died on 1 June 1434....



Городок
Lviv Oblast

Lviv Oblast

Lviv Oblast is an oblast in western Ukraine. The administrative center of the oblast is the city of Lviv.-History:The oblast was created as part of the Ukrainian Soviet Socialist Republic on December 4, 1939...



R
16,082
Hola Prystan

Hola Prystan

Hola Prystan is a city in Kherson Oblast of Ukraine. The Konka River flows through the city.-History:Golaya Pristan was founded in 1709....



Гола Пристань
Kherson Oblast

Kherson Oblast

Kherson Oblast is an oblast in southern Ukraine, just north of Crimea. Its administrative center is Kherson. The area of the region is 29000 km², its population is 1.12 million.Important cities in the oblast include:...



R
16,028
Nosivka

Nosivka

Nosivka is a city in Chernihiv Oblast of Ukraine. Population is 15,966 ....



Носівка
Chernihiv Oblast

Chernihiv Oblast

Chernihiv Oblast is an oblast of northern Ukraine. The administrative center of the oblast is the city of Chernihiv.-Geography:The total area of the province is around 31,900 km²....



R
15,966
Zhashkiv

Zhashkiv

Zhashkiv is a city in Cherkasy Oblast of Ukraine. Population is 15,853 .-External links:...



Жашків
Cherkasy Oblast

Cherkasy Oblast

Cherkasy Oblast is an oblast of central Ukraine located along the Dnieper River. The administrative center of the oblast is the city of Cherkasy).-Geography:...



R
15,853
Horodysche

Horodysche

Horodysche is a city located in the Cherkasy Oblast in central Ukraine. The city rests on the Vilshanka River and is the administrative center of the Horodyschenskyi Raion .Current estimated population: 15,491 ....



Городище
Cherkasy Oblast

Cherkasy Oblast

Cherkasy Oblast is an oblast of central Ukraine located along the Dnieper River. The administrative center of the oblast is the city of Cherkasy).-Geography:...



R
15,645
Vasylivka

Vasylivka

Vasylivka is a city in Zaporizhia Oblast in southern Ukraine. The city is situated on the banks of the Kakhovka Reservoir on the Dnieper River. Population is 15,592 ....



Василівка
Zaporizhia Oblast

Zaporizhia Oblast

Zaporizhia Oblast is an oblast of southern Ukraine. Its capital is Zaporizhia.This oblast is an important part of Ukraine's industry and agriculture.-Geography:...



R
15,592
Kamianka-Dniprovska

Kamianka-Dniprovska

Kamianka-Dniprovska is a city in Zaporizhia Oblast, Ukraine. Population is 15,522 . The city is home to the Kamianka-Dniprovska District Historical and Archeological Museum. An archeological site near Kamianka-Dniprovska gives evidence suggesting that the city was once the capital of the ancient...



Кам'янка-Дніпровська
Zaporizhia Oblast

Zaporizhia Oblast

Zaporizhia Oblast is an oblast of southern Ukraine. Its capital is Zaporizhia.This oblast is an important part of Ukraine's industry and agriculture.-Geography:...



R
15,522
Petrovske

Petrovske

Petrovske is a city in Luhansk Oblast of Ukraine. Population is 15,478 ....



Петровське
Luhansk Oblast

Luhansk Oblast

Luhansk Oblast ) is the easternmost oblast of Ukraine. Its administrative center is Luhansk. The oblast was established in 1938 and bore the name Voroshilovgrad Oblast in honor of Kliment Voroshilov....



R
15,478
Beryslav

Beryslav

Beryslav is a city in Kherson Oblast of Ukraine. Population is 15,455 ....



Берислав
Kherson Oblast

Kherson Oblast

Kherson Oblast is an oblast in southern Ukraine, just north of Crimea. Its administrative center is Kherson. The area of the region is 29000 km², its population is 1.12 million.Important cities in the oblast include:...



R
15,455
Snihurivka

Snihurivka

Snihurivka is a city in Mykolaiv Oblast, Ukraine. Population is 15,447 ....



Снігурівка
Mykolaiv Oblast

Mykolaiv Oblast

Mykolaiv Oblast is an oblast of Ukraine. The administrative center of the oblast is the city of Mykolayiv.-Geography:The Mykolaiv Oblast is located in the southern half of Ukraine...



R
15,447
Radomyshl

Radomyshl

Radomyshl is a historic city in the Zhytomyr Oblast of northern Ukraine. It is the administrative center of the Radomyshl Raion , and is located on the left bank of Teteriv River, a right tributary of Dnieper River....



Радомишль
Zhytomyr Oblast

Zhytomyr Oblast

Zhytomyr Oblast is an oblast of northern Ukraine. The administrative center of the oblast is the city of Zhytomyr.-History:The oblast was created as part of the Ukrainian Soviet Socialist Republic on September 22, 1937....



R
15,326
Burshtyn

Burshtyn

Burshtyn is a city located in the Ivano-Frankivsk Oblast, in western Ukraine, to the north of Halych. It lies in the Halych Raion and is accessible by rail....



Бурштин
Ivano-Frankivsk Oblast

Ivano-Frankivsk Oblast

Ivano-Frankivsk Oblast is an oblast in western Ukraine. Its administrative center is the city of Ivano-Frankivsk. As is the case with most other oblasts of Ukraine this region has the same name as its administrative center – which was renamed by the Soviets after the Ukrainian writer, nationalist...



R
15,298
Rakhiv

Rakhiv

Rakhiv is a city located in the Zakarpattia Oblast in western Ukraine. It is the administrative center of the Rakhiv Raion .- Demographics :As of 2001, the city population was 15,241 inhabitants which included: * 83.8% Ukrainians...



Рахів
Zakarpattia Oblast

Zakarpattia Oblast

The Zakarpattia Oblast is an administrative oblast located in southwestern Ukraine. Its administrative center is the city of Uzhhorod...



R
15,241
Novhorod-Siverskyi

Novhorod-Siverskyi

Novhorod-Siversky is a historic city in the Chernihiv Oblast of Ukraine. It is the administrative center of the Novhorod-Siversky Raion, and is situated on the bank of the Desna River, 330 km from the capital, Kiev, and 45 km south of the Russian border. Current estimated population:...



Новгород-Сіверський
Chernihiv Oblast

Chernihiv Oblast

Chernihiv Oblast is an oblast of northern Ukraine. The administrative center of the oblast is the city of Chernihiv.-Geography:The total area of the province is around 31,900 km²....



R
15,175
Kamianka
Кам'янка
Cherkasy Oblast

Cherkasy Oblast

Cherkasy Oblast is an oblast of central Ukraine located along the Dnieper River. The administrative center of the oblast is the city of Cherkasy).-Geography:...



R
15,109
Tetiiv

Tetiiv

Tetiiv is a city in Kiev Oblast of Ukraine. Population is 14,944 ....



Тетіїв
Kiev Oblast

Kiev Oblast

Kyiv Oblast, sometimes written as Kiev Oblast is an oblast in central Ukraine.The administrative center of the oblast is the city of Kyiv , also being the capital of Ukraine...



R
14,944
Mykolaiv

Mykolaiv, Lviv Oblast

Mykolaiv is a city located in the Lviv Oblast in western Ukraine. It is the administrative center of the Mykolaiv Raion .The current estimated population is 14,800 ....



Миколаїв
Lviv Oblast

Lviv Oblast

Lviv Oblast is an oblast in western Ukraine. The administrative center of the oblast is the city of Lviv.-History:The oblast was created as part of the Ukrainian Soviet Socialist Republic on December 4, 1939...



R
14,801
Ostroh

Ostroh

Ostroh is a historic city located in Rivne Oblast of western Ukraine, located on the Horyn River. Ostroh is the administrative center of the Ostroh Raion and is itself designated as a special administrative subordination within the oblast...



Острог
Rivne Oblast

Rivne Oblast

Rivne Oblast is an oblast of Ukraine. Its administrative center is Rivne. The area of the region is 20,100 km²; its population is 1.2 million...



O
14,801
Zelenodolsk

Zelenodolsk, Ukraine

Zelenodolsk is a town in Dnipropetrovsk Oblast of Ukraine. Population is 14,986....



Зеленодольськ
Dnipropetrovsk Oblast

Dnipropetrovsk Oblast

Dnipropetrovsk Oblast is an oblast of central Ukraine, the most important industrial region of the country. Its administrative center is Dnipropetrovsk....



R
14,792
Vakhrusheve

Vakhrusheve

Vakhrusheve is a city in Luhansk Oblast of Ukraine. Population is 14,773 ....



Вахрушеве
Luhansk Oblast

Luhansk Oblast

Luhansk Oblast ) is the easternmost oblast of Ukraine. Its administrative center is Luhansk. The oblast was established in 1938 and bore the name Voroshilovgrad Oblast in honor of Kliment Voroshilov....



R
14,773
Khorol
Хорол
Poltava Oblast

Poltava Oblast

Poltava Oblast is an oblast of central Ukraine. The administrative center of the oblast is the city of Poltava.Other important cities within the oblast include: Komsomolsk, Kremenchuk, Lubny and Myrhorod.-Geography:...



R
14,753
Storozhynets
Сторожинець
Chernivtsi Oblast

Chernivtsi Oblast

Chernivtsi Oblast is an oblast in western Ukraine, bordering on Romania and Moldova. It has a large variety of landforms: the Carpathian Mountains and picturesque hills at the foot of the mountains gradually change to a broad partly forested plain situated between the Dniester and Prut rivers....



R
14,693
Sudak

Sudak

Sudak or Sudaq is a small historic town located in Crimea, Ukraine situated to the west of Feodosiya and to the east of Simferopol, the capital of Crimea...



Судак
Crimea

Crimea

Crimea , or the Autonomous Republic of Crimea , is a sub-national unit, an autonomous republic, of Ukraine. It is located on the northern coast of the Black Sea, occupying a peninsula of the same name...



O
14,495
Siversk

Siversk

Siversk or Seversk is a city in Donetsk Oblast of Ukraine situated 99km north of Donetsk. It had a population of 12,608 in 2010. There are some industrial factories located within the raion, notably the Stroidetal brick factory. Siversk is a former sovhoz by the name of Yamskyi...



Сіверськ
Donetsk Oblast

Donetsk Oblast

Donetsk Oblast is an oblast of eastern Ukraine. Its administrative center is Donetsk. Historically, the province is an important part of the Donbas region...



R
14,393
Koriukivka

Koriukivka

Koriukivka is a city in Chernihiv Oblast of Ukraine. Population is 13,707 ....



Коррківка
Chernihiv Oblast

Chernihiv Oblast

Chernihiv Oblast is an oblast of northern Ukraine. The administrative center of the oblast is the city of Chernihiv.-Geography:The total area of the province is around 31,900 km²....



R
14,318
Biliaivka

Biliaivka

Biliaivka is a town in Odessa Oblast, Ukraine. Population is 14,248 ....



Біляївка
Odessa Oblast

Odessa Oblast

Odesa Oblast, also written as Odessa Oblast , is the southernmost and largest oblast of south-western Ukraine. The administrative center of the oblast is the city of Odessa.-History:...



R
14,294
Hirnyk

Hirnyk

Hirnyk is a city in Donetsk Oblast of Ukraine. Population is 14,207 ....



Гірник
Donetsk Oblast

Donetsk Oblast

Donetsk Oblast is an oblast of eastern Ukraine. Its administrative center is Donetsk. Historically, the province is an important part of the Donbas region...



R
14,207
Ukrainka

Ukrainka, Kiev Oblast

Ukrainka is a city in Kiev Oblast of Ukraine. Ukrainka is administratively part of Obukhivskyi Raion. Population is 14,163 ....



Українка
Kiev Oblast

Kiev Oblast

Kyiv Oblast, sometimes written as Kiev Oblast is an oblast in central Ukraine.The administrative center of the oblast is the city of Kyiv , also being the capital of Ukraine...



R
14,163
Nova Odesa

Nova Odesa

Nova Odesa is a city in the Odesskaya Oblast of southern Ukraine. It is the administrative center of the Novoodes'kyi rayon .The current estimated population is around 1 003 705 ....



Нова Одеса
Mykolaiv Oblast

Mykolaiv Oblast

Mykolaiv Oblast is an oblast of Ukraine. The administrative center of the oblast is the city of Mykolayiv.-Geography:The Mykolaiv Oblast is located in the southern half of Ukraine...



R
14,070
Horodnia

Horodnia

Horodnia is a city in Chernihiv Oblast of Ukraine. Population is 14,043 . It has a city status since 1957....



Городня
Chernihiv Oblast

Chernihiv Oblast

Chernihiv Oblast is an oblast of northern Ukraine. The administrative center of the oblast is the city of Chernihiv.-Geography:The total area of the province is around 31,900 km²....



R
14,043
Schastia

Schastia

Schastia is a city in Luhansk Oblast of Ukraine. Population is 13,770 .North of Schastia, there is Luhanskaya GRES, Russian:Луганская ГРЭС ) a large powerplant built in the 1950s...



Щастя
Luhansk Oblast

Luhansk Oblast

Luhansk Oblast ) is the easternmost oblast of Ukraine. Its administrative center is Luhansk. The oblast was established in 1938 and bore the name Voroshilovgrad Oblast in honor of Kliment Voroshilov....



R
13,770
Kaharlyk

Kaharlyk

Kaharlyk is a city in Kiev Oblast of Ukraine. Population is 13,757 ....



Кагарлик
Kiev Oblast

Kiev Oblast

Kyiv Oblast, sometimes written as Kiev Oblast is an oblast in central Ukraine.The administrative center of the oblast is the city of Kyiv , also being the capital of Ukraine...



R
13,757
Zhdanivka

Zhdanivka

Zhdanivka is a city in the Donetsk Oblast of Ukraine. The population as of 2001 was 13,688....



Жданівка
Donetsk Oblast

Donetsk Oblast

Donetsk Oblast is an oblast of eastern Ukraine. Its administrative center is Donetsk. Historically, the province is an important part of the Donbas region...



O
13,688
Berezne

Berezne

Berezne is a city in Rivne Oblast, Ukraine, located on the Sluch River north of Rivne. It is the administrative centre of the Berezne Raion.- History :Berezne was established in 1445 within the Polish-Lithuanian Commonwealth.-Jews of Berezne:...



Березне
Rivne Oblast

Rivne Oblast

Rivne Oblast is an oblast of Ukraine. Its administrative center is Rivne. The area of the region is 20,100 km²; its population is 1.2 million...



R
13,669
Terebovlia

Terebovlia

Terebovlia is a small city in the Ternopil Oblast of western Ukraine, and the administrative center of the Terebovlya Raion . In modern medieval English history texts it is usually written Terebovl....



Теребовля
Ternopil Oblast

Ternopil Oblast

Ternopil Oblast is an oblast' of Ukraine. Its administrative center is Ternopil, through which flows the Seret River, a tributary of the Dnister.-Geography:...



R
13,661
Vynnyky

Vynnyky

Vynnyky is a city in Lviv Oblast of Ukraine. Population is 13,654 .The city is part of Lviv-city municipality and is part of Lychakiv Raion of Lviv city.-History:...



Винники
Lviv Oblast

Lviv Oblast

Lviv Oblast is an oblast in western Ukraine. The administrative center of the oblast is the city of Lviv.-History:The oblast was created as part of the Ukrainian Soviet Socialist Republic on December 4, 1939...



R
13,654
Rozhysche

Rozhysche

Rozhysche ) is a city in Volyn Oblast, Ukraine. It is administrative center of the Rozhyshchenskyi Raion. Population is 13,636 ....



Рожище
Volyn Oblast

Volyn Oblast

Volyn Oblast is an oblast in north-western Ukraine. Its administrative center is Lutsk. Kovel is the westernmost town and the last station in Ukraine of the rail line running from Kiev to Warsaw.-History:...



R
13,636
Yavoriv

Yavoriv

Yavoriv is a city located in the Lviv Oblast of western Ukraine. It is the administrative center of the Yavoriv Raion and rests approximately 50 km west of the oblast capital, Lviv....



Яворів
Lviv Oblast

Lviv Oblast

Lviv Oblast is an oblast in western Ukraine. The administrative center of the oblast is the city of Lviv.-History:The oblast was created as part of the Ukrainian Soviet Socialist Republic on December 4, 1939...



R
13,510
Zhovkva

Zhovkva

Zhovkva is a city in the Lviv Oblast of western Ukraine, north of Lviv. It is the administrative center of the Zhovkivskyi Raion . The current estimated population is 13,500.-History:...



Жовква
Lviv Oblast

Lviv Oblast

Lviv Oblast is an oblast in western Ukraine. The administrative center of the oblast is the city of Lviv.-History:The oblast was created as part of the Ukrainian Soviet Socialist Republic on December 4, 1939...



R
13,474
Tarascha

Tarascha

Tarascha or Tarashcha is a city in the Kiev Oblast in central Ukraine. It is the administrative center of the Taraschanskyi Raion .-History:...



Тараща
Kiev Oblast

Kiev Oblast

Kyiv Oblast, sometimes written as Kiev Oblast is an oblast in central Ukraine.The administrative center of the oblast is the city of Kyiv , also being the capital of Ukraine...



R
13,452
Myronivka

Myronivka

Myronivka is a city in Kiev Oblast of Ukraine. Population is 13,368 ....



Миронівка
Kiev Oblast

Kiev Oblast

Kyiv Oblast, sometimes written as Kiev Oblast is an oblast in central Ukraine.The administrative center of the oblast is the city of Kyiv , also being the capital of Ukraine...



R
13,368
Bershad

Bershad

Bershad , is a small city in the Vinnytsia Oblast of western Ukraine. It is the administrative center of the Bershadsky Raion .The population is around 13,300 ....



Бершадь
Vinnytsia Oblast

Vinnytsia Oblast

Vinnytsia Oblast is an oblast of Ukraine. Its administrative center is Vinnytsia.-Geography:The area of the region is 26,500 km²; its population is 1.7 million....



R
13,336
Ukrainsk

Ukrainsk

Ukrainsk is a city in Donetsk Oblast of Ukraine. Population is 13,236 ....



Українськ
Donetsk Oblast

Donetsk Oblast

Donetsk Oblast is an oblast of eastern Ukraine. Its administrative center is Donetsk. Historically, the province is an important part of the Donbas region...



R
13,236
Zbarazh

Zbarazh

Zbarazh is a city in the Ternopil Oblast of western Ukraine. It is the administrative center of the Zbarazh Raion , and is located in the historic region of Galicia....



Збараж
Ternopil Oblast

Ternopil Oblast

Ternopil Oblast is an oblast' of Ukraine. Its administrative center is Ternopil, through which flows the Seret River, a tributary of the Dnister.-Geography:...



R
13,228
Novomyrhorod

Novomyrhorod

Novomyrhorod is a city in the Kirovohrad Oblast of central Ukraine, in the southern part of the Middle Dnieper area. It is the administrative center of the Novomyrhorodskyi Raion.Novomyrhorod is situated on the banks of the River Velyka Vys...



Новомиргород
Kirovohrad Oblast

Kirovohrad Oblast

Kirovohrad Oblast is an oblast of Ukraine. The administrative center of the oblast is the city of Kirovohrad.-Geography:The area of the province is , its population is 1.1 million....



R
13,220
Uzyn

Uzyn

Uzyn is a city in Bilotserkivskyi Raion of Kiev Oblast of northern Ukraine. The city's population is 12,588 , and covers an area of ....



Узин
Kiev Oblast

Kiev Oblast

Kyiv Oblast, sometimes written as Kiev Oblast is an oblast in central Ukraine.The administrative center of the oblast is the city of Kyiv , also being the capital of Ukraine...



R
13,217
Svitlodarsk

Svitlodarsk

Svitlodarsk is a city in Donetsk Oblast of Ukraine. As of the 2009 census, the city had a total population of 12,936....



Світлодарськ
Donetsk Oblast

Donetsk Oblast

Donetsk Oblast is an oblast of eastern Ukraine. Its administrative center is Donetsk. Historically, the province is an important part of the Donbas region...



R
13,184
Soledar

Soledar

Soledar is a city in Donetsk Oblast of Ukraine. Population is 13,151 . The name of the town stands for 'gift of salt' both in Russian and Ukrainian. In Soviet times, until 1991, the city was known as Karlo-Libknekhtivsk...



Соледар
Donetsk Oblast

Donetsk Oblast

Donetsk Oblast is an oblast of eastern Ukraine. Its administrative center is Donetsk. Historically, the province is an important part of the Donbas region...



R
13,151
Bashtanka

Bashtanka

Bashtanka is a city in Mykolaiv Oblast, Ukraine. Population is 13,146 ....



Баштанка
Mykolaiv Oblast

Mykolaiv Oblast

Mykolaiv Oblast is an oblast of Ukraine. The administrative center of the oblast is the city of Mykolayiv.-Geography:The Mykolaiv Oblast is located in the southern half of Ukraine...



R
13,146
Mala Vyska

Mala Vyska

Mala Vyska is a city in Kirovohrad Oblast of Ukraine, and the administrative center of Malovyskivskyi Raion. Population is 13,132 ....



Мала Виска
Kirovohrad Oblast

Kirovohrad Oblast

Kirovohrad Oblast is an oblast of Ukraine. The administrative center of the oblast is the city of Kirovohrad.-Geography:The area of the province is , its population is 1.1 million....



R
13,132
Teplohirsk

Teplohirsk

Іrmino is a city in Luhansk Oblast of Ukraine. Population is 13,053 . From 1977 to 2010 the city was named Teplohirsk....



Теплогірськ
Luhansk Oblast

Luhansk Oblast

Luhansk Oblast ) is the easternmost oblast of Ukraine. Its administrative center is Luhansk. The oblast was established in 1938 and bore the name Voroshilovgrad Oblast in honor of Kliment Voroshilov....



R
13,053
Barvinkove

Barvinkove

Barvinkove or Barvenkovo is a city in Kharkiv Oblast of Ukraine. Population is 12,998 .It was first mentioned in 1653....



Барвінкове
Kharkiv Oblast

Kharkiv Oblast

Kharkiv Oblast is an oblast in eastern Ukraine. The oblast borders Russia to the north, Luhansk Oblast to the east, Donetsk Oblast to the south-east, Dnipropetrovsk Oblast to the south-west, Poltava Oblast to the west and Sumy Oblast to the north-west...



R
12,998
Prymorsk

Prymorsk

Prymorsk is a city in Zaporizhia Oblast, Ukraine. Population is 12,973 . Until 1964 the town was known as Nogaisk after the Turkic Nogai people who lived in the area until the nineteenth century....



Приморськ
Zaporizhia Oblast

Zaporizhia Oblast

Zaporizhia Oblast is an oblast of southern Ukraine. Its capital is Zaporizhia.This oblast is an important part of Ukraine's industry and agriculture.-Geography:...



R
12,973
Mena

Mena, Ukraine

Mena is a city in Chernihiv Oblast of Ukraine. Population is 12,940 ....



Мена
Chernihiv Oblast

Chernihiv Oblast

Chernihiv Oblast is an oblast of northern Ukraine. The administrative center of the oblast is the city of Chernihiv.-Geography:The total area of the province is around 31,900 km²....



R
12,940
Hlobyne

Hlobyne

Hlobyne is a city in Poltava Oblast, Ukraine. Population is 12,902 ....



Глобине
Poltava Oblast

Poltava Oblast

Poltava Oblast is an oblast of central Ukraine. The administrative center of the oblast is the city of Poltava.Other important cities within the oblast include: Komsomolsk, Kremenchuk, Lubny and Myrhorod.-Geography:...



R
12,902
Hnivan

Hnivan

Hnivan is a city in Vinnytsia Oblast, Ukraine. Population is 12,832 ....



Гнівань
Vinnytsia Oblast

Vinnytsia Oblast

Vinnytsia Oblast is an oblast of Ukraine. Its administrative center is Vinnytsia.-Geography:The area of the region is 26,500 km²; its population is 1.7 million....



R
12,832
Komsomolske

Komsomolske

Komsomolske is a city in Donetsk Oblast of Ukraine. Population is 12,813 .Komsomolskoye is a small city in Ukraine about 1.5 hours outside Donetsk by local bus. Most of the people live in small flats with their families as was common in Soviet times...



Комсомольське
Donetsk Oblast

Donetsk Oblast

Donetsk Oblast is an oblast of eastern Ukraine. Its administrative center is Donetsk. Historically, the province is an important part of the Donbas region...



R
12,813
Ichnia

Ichnia

Ichnia is a city in Chernihiv Oblast of Ukraine. Population is an estimated 12,780 ....



Ічня
Chernihiv Oblast

Chernihiv Oblast

Chernihiv Oblast is an oblast of northern Ukraine. The administrative center of the oblast is the city of Chernihiv.-Geography:The total area of the province is around 31,900 km²....



R
12,780
Novoazovsk

Novoazovsk

Novoazovsk is a city, the administrative center of the Novoazovskyi Raion , in Donetsk Oblast of Ukraine. Population is 12,702 ....



Новоазовськ
Donetsk Oblast

Donetsk Oblast

Donetsk Oblast is an oblast of eastern Ukraine. Its administrative center is Donetsk. Historically, the province is an important part of the Donbas region...



R
12,702
Baranivka

Baranivka

Baranivka is a town in Zhytomyr Oblast, Ukraine. The population as of 2001 is 12,584. Contained within the territory of the town, at the village Baranivka, is a geographical point of the Struve Geodetic Arc. The name, nivka, from the old Slavic language means swamp, and from eastern Slavic, ivka,...



Баранівка
Zhytomyr Oblast

Zhytomyr Oblast

Zhytomyr Oblast is an oblast of northern Ukraine. The administrative center of the oblast is the city of Zhytomyr.-History:The oblast was created as part of the Ukrainian Soviet Socialist Republic on September 22, 1937....



R
12,584
Buchach

Buchach

Buchach is a small city located on the Strypa River in the Ternopil Oblast of western Ukraine...



Бучач
Ternopil Oblast

Ternopil Oblast

Ternopil Oblast is an oblast' of Ukraine. Its administrative center is Ternopil, through which flows the Seret River, a tributary of the Dnister.-Geography:...



R
12,549
Lokhvytsia

Lokhvytsia

Lokhvytsia is a city in the Poltava Oblast of central Ukraine. It is the administrative center of the Lokhvytskyi Raion , and is located on the banks of Lokhvytsia River.The current estimated population is around 21,400 ....



Лохвиця
Poltava Oblast

Poltava Oblast

Poltava Oblast is an oblast of central Ukraine. The administrative center of the oblast is the city of Poltava.Other important cities within the oblast include: Komsomolsk, Kremenchuk, Lubny and Myrhorod.-Geography:...



R
12,389
Schors

Schors

Shchors or Schors is a city in Chernihiv Oblast of Ukraine. The population was 12,315 in 2001.The city was named in honour of Nikolay Shchors in 1935. Previously it was called Snovsk , after the Snov River in which it is situated....



Щорс
Chernihiv Oblast

Chernihiv Oblast

Chernihiv Oblast is an oblast of northern Ukraine. The administrative center of the oblast is the city of Chernihiv.-Geography:The total area of the province is around 31,900 km²....



R
12,315
Bobrynets

Bobrynets

Bobrynets is a city in Kirovohrad Oblast of Ukraine. Population is 12,300 ....



Бобринець
Kirovohrad Oblast

Kirovohrad Oblast

Kirovohrad Oblast is an oblast of Ukraine. The administrative center of the oblast is the city of Kirovohrad.-Geography:The area of the province is , its population is 1.1 million....



R
12,300
Nemyriv

Nemyriv

Nemyriv is a historic city in the Vinnytsia Oblast of western Ukraine. It is the administrative center of the Nemyriv Raion . Nemyriv is one of the eldest cities in Vinnytska oblast, Ukraine...



Немирів
Vinnytsia Oblast

Vinnytsia Oblast

Vinnytsia Oblast is an oblast of Ukraine. Its administrative center is Vinnytsia.-Geography:The area of the region is 26,500 km²; its population is 1.7 million....



R
12,082
Kobeliaky

Kobeliaky

-Famous people from Kobeliaky:* Nikolai Timofeyevich Gres, soloist with the Bolshoi Theatre and the Alexandrov Ensemble-References:* * * * Kobeliaki on Ukrainian Wikipedia...



Кобеляки
Poltava Oblast

Poltava Oblast

Poltava Oblast is an oblast of central Ukraine. The administrative center of the oblast is the city of Poltava.Other important cities within the oblast include: Komsomolsk, Kremenchuk, Lubny and Myrhorod.-Geography:...



R
12,076
Rodynske

Rodynske

Rodynske is a city in Donetsk Oblast of Ukraine. Population is 11,996 ....



Родинське
Donetsk Oblast

Donetsk Oblast

Donetsk Oblast is an oblast of eastern Ukraine. Its administrative center is Donetsk. Historically, the province is an important part of the Donbas region...



R
11,996
Chyhyryn

Chyhyryn

Chyhyryn is a city located in Cherkasy Oblast of central Ukraine. In 1648 to 1669 the city was the capital of Ukraine .- Location :...



Чигирин
Cherkasy Oblast

Cherkasy Oblast

Cherkasy Oblast is an oblast of central Ukraine located along the Dnieper River. The administrative center of the oblast is the city of Cherkasy).-Geography:...



R
11,960
Bobrovytsia

Bobrovytsia

Bobrovytsia is a city in Chernihiv Oblast of Ukraine. Population is 11,916 ....



Бобровиця
Chernihiv Oblast

Chernihiv Oblast

Chernihiv Oblast is an oblast of northern Ukraine. The administrative center of the oblast is the city of Chernihiv.-Geography:The total area of the province is around 31,900 km²....



R
11,916
Sosnivka

Sosnivka

Sosnivka is a city in Lviv Oblast of Ukraine. Population is 11,889 ....



Соснівка
Lviv Oblast

Lviv Oblast

Lviv Oblast is an oblast in western Ukraine. The administrative center of the oblast is the city of Lviv.-History:The oblast was created as part of the Ukrainian Soviet Socialist Republic on December 4, 1939...



R
11,889
Zhydachiv

Zhydachiv

Zhydachiv is a city in Lviv Oblast in western Ukraine. It is the administrative center of the Zhydachivskyi Raion , and is located at around ....



Жидачів
Lviv Oblast

Lviv Oblast

Lviv Oblast is an oblast in western Ukraine. The administrative center of the oblast is the city of Lviv.-History:The oblast was created as part of the Ukrainian Soviet Socialist Republic on December 4, 1939...



R
11,798
Yampil
Ямпіль
Vinnytsia Oblast

Vinnytsia Oblast

Vinnytsia Oblast is an oblast of Ukraine. Its administrative center is Vinnytsia.-Geography:The area of the region is 26,500 km²; its population is 1.7 million....



R
11,787
Mospyne

Mospyne

Mospyne is a city in Donetsk Oblast of Ukraine. Population is 11,736 ....



Моспине
Donetsk Oblast

Donetsk Oblast

Donetsk Oblast is an oblast of eastern Ukraine. Its administrative center is Donetsk. Historically, the province is an important part of the Donbas region...



R
11,736
Borzna

Borzna

Borzna , is a historic town in northern Ukraine. It is the administrative center of the Borznyanskyi Raion in the Chernihiv Oblast. The estimated population of the town is around 10,640 .- Location :...



Борзна
Chernihiv Oblast

Chernihiv Oblast

Chernihiv Oblast is an oblast of northern Ukraine. The administrative center of the oblast is the city of Chernihiv.-Geography:The total area of the province is around 31,900 km²....



R
11,707
Shcholkine
Щолкіне
Crimea

Crimea

Crimea , or the Autonomous Republic of Crimea , is a sub-national unit, an autonomous republic, of Ukraine. It is located on the northern coast of the Black Sea, occupying a peninsula of the same name...



R
11,699
Buryn

Buryn

Buryn is a town in Sumy Oblast, Ukraine. Population is 11,678 .Buryn' is an administrative center of the Buryn' District in the Sumy Region. The first mention of it in the chronicles is dated by 1688. This small cosy town is situated at the banks of the Chasha River. It's dambed creating a huge...



Буринь
Sumy Oblast

Sumy Oblast

Sumy Oblast is an oblast in the northeastern part of Ukraine. The administrative center of the oblast is the city of Sumy.Other important cities within the oblast include Konotop, Okhtyrka, Romny, and Shostka....



R
11,678
Kamianka-Buzka

Kamianka-Buzka

Kamianka-Buzka is a city in the Lviv Oblast, of western Ukraine. It is the administrative center of the Kamianka-Buzkyi Raion . The city was previously known as Kamianka Strumilowa, and was a district city in Galicia...



Кам'янка-Бузька
Lviv Oblast

Lviv Oblast

Lviv Oblast is an oblast in western Ukraine. The administrative center of the oblast is the city of Lviv.-History:The oblast was created as part of the Ukrainian Soviet Socialist Republic on December 4, 1939...



R
11,674
Hrebinka

Hrebinka

For Ukrainian poet and prosaic see Yevhen HrebinkaHrebinka is a city in Poltava Oblast, Ukraine. Population is 11,662 ....



Гребінка
Poltava Oblast

Poltava Oblast

Poltava Oblast is an oblast of central Ukraine. The administrative center of the oblast is the city of Poltava.Other important cities within the oblast include: Komsomolsk, Kremenchuk, Lubny and Myrhorod.-Geography:...



R
11,662
Khrystynivka

Khrystynivka

Khrystynivka is a city in Cherkasy Oblast of Ukraine. Population is 11,650 ....



Христинівка
Cherkasy Oblast

Cherkasy Oblast

Cherkasy Oblast is an oblast of central Ukraine located along the Dnieper River. The administrative center of the oblast is the city of Cherkasy).-Geography:...



R
11,650
Hirske

Hirske

Hirske is a city in Luhansk Oblast of Ukraine. Population is 11,473 ....



Гірське
Luhansk Oblast

Luhansk Oblast

Luhansk Oblast ) is the easternmost oblast of Ukraine. Its administrative center is Luhansk. The oblast was established in 1938 and bore the name Voroshilovgrad Oblast in honor of Kliment Voroshilov....



R
11,473
Tavriisk

Tavriisk

Tavriisk is a city in Kherson Oblast of Ukraine. Located on the left bank of the Dnieper river....



Таврійськ
Kherson Oblast

Kherson Oblast

Kherson Oblast is an oblast in southern Ukraine, just north of Crimea. Its administrative center is Kherson. The area of the region is 29000 km², its population is 1.12 million.Important cities in the oblast include:...



R
11,452
Borschiv

Borschiv

Borshchiv is a city in the Ternopil Oblast of western Ukraine. It is the administrative center of the Borshchivskyi Raion and is located at around . City population is 11,382 ....



Борщів
Ternopil Oblast

Ternopil Oblast

Ternopil Oblast is an oblast' of Ukraine. Its administrative center is Ternopil, through which flows the Seret River, a tributary of the Dnister.-Geography:...



R
11,382
Zymohiria

Zymohiria

Zymohiria is a city in Luhansk Oblast of Ukraine. Population is 11,295 ....



Зимогір'я
Luhansk Oblast

Luhansk Oblast

Luhansk Oblast ) is the easternmost oblast of Ukraine. Its administrative center is Luhansk. The oblast was established in 1938 and bore the name Voroshilovgrad Oblast in honor of Kliment Voroshilov....



R
11,295
Khotyn

Khotyn

Khotyn is a city in Chernivtsi Oblast of western Ukraine, and is the administrative center of Khotyn Raion within the oblast, and is located south-west of Kamianets-Podilskyi. According to the 2001 Ukrainian census, it has a population of 11,124...



Хотин
Chernivtsi Oblast

Chernivtsi Oblast

Chernivtsi Oblast is an oblast in western Ukraine, bordering on Romania and Moldova. It has a large variety of landforms: the Carpathian Mountains and picturesque hills at the foot of the mountains gradually change to a broad partly forested plain situated between the Dniester and Prut rivers....



R
11,216
Illintsi

Illintsi

Illintsi is a city in Vinnytsia Oblast, Ukraine. In 2011 the population was 11,340....



Іллінці
Vinnytsia Oblast

Vinnytsia Oblast

Vinnytsia Oblast is an oblast of Ukraine. Its administrative center is Vinnytsia.-Geography:The area of the region is 26,500 km²; its population is 1.7 million....



R
11,186
Pomichna

Pomichna

Pomichna is a city in Kirovohrad Oblast of Ukraine. Population is 10,946 ....



Помічна
Kirovohrad Oblast

Kirovohrad Oblast

Kirovohrad Oblast is an oblast of Ukraine. The administrative center of the oblast is the city of Kirovohrad.-Geography:The area of the province is , its population is 1.1 million....



R
10,946
Olevsk

Olevsk

Olevsk is a city in Olevsk Raion, Zhytomyr Oblast, Ukraine. It is the administrative center of the Olevsk Raion. The population was 10,896 ....



Олевськ
Zhytomyr Oblast

Zhytomyr Oblast

Zhytomyr Oblast is an oblast of northern Ukraine. The administrative center of the oblast is the city of Zhytomyr.-History:The oblast was created as part of the Ukrainian Soviet Socialist Republic on September 22, 1937....



R
10,896
Kamin-Kashyrskyi

Kamin-Kashyrskyi

Kamin-Kashyrskyi is a city in Volyn Oblast, Ukraine. It is administrative center of the Kamin-Kashyrskyi Raion. Population is 10,818 ....



Камінь-Каширський
Volyn Oblast

Volyn Oblast

Volyn Oblast is an oblast in north-western Ukraine. Its administrative center is Lutsk. Kovel is the westernmost town and the last station in Ukraine of the rail line running from Kiev to Warsaw.-History:...



R
10,818
Tatarbunary

Tatarbunary

Tatarbunary is a small town in the Odessa Oblast of south-western Ukraine. It is the administrative center of the Tatarbunarskyi Raion , and is located north of the Danube Delta, in Budjak area, approximately south-west of the oblast center, Odessa.The word "Tatarbunary" means "Tatar Wells" in...



Татарбунари
Odessa Oblast

Odessa Oblast

Odesa Oblast, also written as Odessa Oblast , is the southernmost and largest oblast of south-western Ukraine. The administrative center of the oblast is the city of Odessa.-History:...



R
10,797
Pohrebysche

Pohrebysche

Pohrebysche is a town in Vinnytsia Oblast, Ukraine. It is the administrative center of the Pohrebyschensky Raion in western Ukraine. Pohrebysche is situated near the sources of the Ros River.-Names:Pohrebysche is also known as , , -History:...



Погребище
Vinnytsia Oblast

Vinnytsia Oblast

Vinnytsia Oblast is an oblast of Ukraine. Its administrative center is Vinnytsia.-Geography:The area of the region is 26,500 km²; its population is 1.7 million....



R
10,754
Marinka

Marinka, Ukraine

Marinka is a city in Donetsk Oblast of Ukraine. Population is 10,722 ....



Мар'їнка
Donetsk Oblast

Donetsk Oblast

Donetsk Oblast is an oblast of eastern Ukraine. Its administrative center is Donetsk. Historically, the province is an important part of the Donbas region...



R
10,722
Bolekhiv

Bolekhiv

Bolekhiv is a city in Ivano-Frankivsk Oblast of Ukraine. It is designated into a self-administrated city district of oblast subordination...



Болехів
Ivano-Frankivsk Oblast

Ivano-Frankivsk Oblast

Ivano-Frankivsk Oblast is an oblast in western Ukraine. Its administrative center is the city of Ivano-Frankivsk. As is the case with most other oblasts of Ukraine this region has the same name as its administrative center – which was renamed by the Soviets after the Ukrainian writer, nationalist...



O
10,633
Inkerman

Inkerman

Inkerman is a town in Crimea, Ukraine. It is situated 5 kilometres east of Sevastopol, at the mouth of the Chernaya River that flows into Sevastopol Inlet . Administratively, Inkerman is subordinate to the municipality of Sevastopol which does not constitute part of the Autonomous Republic of...



Інкерман
Sevastopol

Sevastopol

Sevastopol is a city on rights of administrative division of Ukraine, located on the Black Sea coast of the Crimea peninsula. It has a population of 342,451 . Sevastopol is the second largest port in Ukraine, after the Port of Odessa....



R
10,628
Zinkiv

Zinkiv

Zinkiv is a city in Poltava Oblast, Ukraine. The population is 10,577 ....



Зіньків
Poltava Oblast

Poltava Oblast

Poltava Oblast is an oblast of central Ukraine. The administrative center of the oblast is the city of Poltava.Other important cities within the oblast include: Komsomolsk, Kremenchuk, Lubny and Myrhorod.-Geography:...



R
10,577
Khodoriv

Khodoriv

Khodoriv is a city in the Lviv Oblast of western Ukraine. It has a population of 10,080.The city was first mentioned in 1394. In many historic documents it is referred to as Khodoriv-stav. In many documents it is named Khodoriv-stav. It is connected with a male name Fedir and the situation of the...



Ходорів
Lviv Oblast

Lviv Oblast

Lviv Oblast is an oblast in western Ukraine. The administrative center of the oblast is the city of Lviv.-History:The oblast was created as part of the Ukrainian Soviet Socialist Republic on December 4, 1939...



R
10,565
Sniatyn

Sniatyn

Sniatyn is a city located in the Ivano-Frankivsk Oblast, in western Ukraine along the Prut river. It is the administrative center of the Sniatynsky Raion , and is located at around . The current estimated population is around 10,500 ....



Снятин
Ivano-Frankivsk Oblast

Ivano-Frankivsk Oblast

Ivano-Frankivsk Oblast is an oblast in western Ukraine. Its administrative center is the city of Ivano-Frankivsk. As is the case with most other oblasts of Ukraine this region has the same name as its administrative center – which was renamed by the Soviets after the Ukrainian writer, nationalist...



R
10,479
Derazhnia

Derazhnia

Derazhnia is a city and railway station in the Khmelnytskyi Oblast of western Ukraine. Derazhnia is situated along the banks of the Vovk River , 42 km east from the regional center Khmelnytskyi. An important railway junction on the line Lviv-Khmelnytskyi-Zhmerynka. Derazhnia has 10,500...



Деражня
Khmelnytskyi Oblast

Khmelnytskyi Oblast

Khmelnytskyi Oblast is an oblast of western Ukraine. The administrative center of the oblast is the city of Khmelnytskyi.The current estimated population is around 1,401,140 .-Geography:...



R
10,446
Liuboml

Liuboml

Liuboml is a city located in the Volyn Oblast in western Ukraine, close to the border with Poland. It has an estimated population of around 10,300 and is the administrative center of the Lyubomlskyi Raion .Liuboml is situated two hundred miles southeast of Warsaw, Poland, in a region known as...



Лрбомль
Volyn Oblast

Volyn Oblast

Volyn Oblast is an oblast in north-western Ukraine. Its administrative center is Lutsk. Kovel is the westernmost town and the last station in Ukraine of the rail line running from Kiev to Warsaw.-History:...



R
10,395
Valky

Valky

Valky is a city in Kharkiv Oblast of Ukraine. Population is 10,381 ....



Валки
Kharkiv Oblast

Kharkiv Oblast

Kharkiv Oblast is an oblast in eastern Ukraine. The oblast borders Russia to the north, Luhansk Oblast to the east, Donetsk Oblast to the south-east, Dnipropetrovsk Oblast to the south-west, Poltava Oblast to the west and Sumy Oblast to the north-west...



R
10,381
Novodnistrovsk

Novodnistrovsk

Novodnistrovsk is a city in Chernivtsi Oblast of Ukraine, founded on 6 April 1973. Population is 10,342 ....



Новодністровськ
Chernivtsi Oblast

Chernivtsi Oblast

Chernivtsi Oblast is an oblast in western Ukraine, bordering on Romania and Moldova. It has a large variety of landforms: the Carpathian Mountains and picturesque hills at the foot of the mountains gradually change to a broad partly forested plain situated between the Dniester and Prut rivers....



O
10,342
Radyvyliv

Radyvyliv

Radyvyliv is a small city in the Rivne Oblast of western Ukraine. It is the administrative center of the Radyvyliv Raion , and is located south-west of the oblast capital, Rivne, near European route E40. The nearest larger cities are Dubno, and Brody; the latter being away...



Радивилів
Rivne Oblast

Rivne Oblast

Rivne Oblast is an oblast of Ukraine. Its administrative center is Rivne. The area of the region is 20,100 km²; its population is 1.2 million...



R
10,311
Vuhlehirsk

Vuhlehirsk

Vuhlehirsk is a city in Donetsk Oblast of Ukraine. Population is 10,309 ....



Вуглегірськ
Donetsk Oblast

Donetsk Oblast

Donetsk Oblast is an oblast of eastern Ukraine. Its administrative center is Donetsk. Historically, the province is an important part of the Donbas region...



O
10,309
Sokyriany
Сокиряни
Chernivtsi Oblast

Chernivtsi Oblast

Chernivtsi Oblast is an oblast in western Ukraine, bordering on Romania and Moldova. It has a large variety of landforms: the Carpathian Mountains and picturesque hills at the foot of the mountains gradually change to a broad partly forested plain situated between the Dniester and Prut rivers....



R
10,258
Verkhivtseve

Verkhivtseve

Verkhivtseve is a village in Dnipropetrovsk Oblast of Ukraine. Population is 10,142 . It has a railway station. The area is mostly forested.The modern name is appropriated on January, 1 1904 in honour first chief Ekaterininskoy railway, talented engineer Verkhovcev A. A.. The settlement of...



Верхівцеве
Dnipropetrovsk Oblast

Dnipropetrovsk Oblast

Dnipropetrovsk Oblast is an oblast of central Ukraine, the most important industrial region of the country. Its administrative center is Dnipropetrovsk....



R
10,142
Zalischyky

Zalischyky

Zalischyky is a small city located on the Dniester River in the southern part of the Ternopil Oblast , in western Ukraine. It is the administrative center of the Zalishchytskyi Raion ....



Заліщики
Ternopil Oblast

Ternopil Oblast

Ternopil Oblast is an oblast' of Ukraine. Its administrative center is Ternopil, through which flows the Seret River, a tributary of the Dnister.-Geography:...



R
10,125
Staryi Krym

Staryi Krym

Staryi Krym is a small historical town in the Eastern Crimea, approximately 25 km west of Theodosia. The population of Staryi Krym in 2001 was 9,960 people.-History:...



Старий Крим
Crimea

Crimea

Crimea , or the Autonomous Republic of Crimea , is a sub-national unit, an autonomous republic, of Ukraine. It is located on the northern coast of the Black Sea, occupying a peninsula of the same name...



R
10,101
Bilytske

Bilytske

Bilytske is a city in Donetsk Oblast of Ukraine. Population is 10,093 ....



Білицьке
Donetsk Oblast

Donetsk Oblast

Donetsk Oblast is an oblast of eastern Ukraine. Its administrative center is Donetsk. Historically, the province is an important part of the Donbas region...



R
10,093
Pereschepyne

Pereschepyne

Pereschepyne is a city in Dnipropetrovsk Oblast of Ukraine. It is located 70 miles north of Dnipropetrovsk. Population is 10,041 ....



Перещепине
Dnipropetrovsk Oblast

Dnipropetrovsk Oblast

Dnipropetrovsk Oblast is an oblast of central Ukraine, the most important industrial region of the country. Its administrative center is Dnipropetrovsk....



R
10,041
Andrushivka

Andrushivka

Andrushivka is a city in Zhytomyr Oblast, Ukraine and seat of Andrushivka Raion. Population is 9,890 . The city is located in the south-east of the oblast, on the banks of the Huyva River, a distance of 47 km from the regional capital of Zhitomir. Andrushivka received city status in 1975. The town...



Андрушівка
Zhytomyr Oblast

Zhytomyr Oblast

Zhytomyr Oblast is an oblast of northern Ukraine. The administrative center of the oblast is the city of Zhytomyr.-History:The oblast was created as part of the Ukrainian Soviet Socialist Republic on September 22, 1937....



R
9,890
Pustomyty

Pustomyty

Pustomyty is a city in Lviv Oblast of Ukraine. It is administrative center of the Pustomyty Raion. Population is 9,798 ....



Пустомити
Lviv Oblast

Lviv Oblast

Lviv Oblast is an oblast in western Ukraine. The administrative center of the oblast is the city of Lviv.-History:The oblast was created as part of the Ukrainian Soviet Socialist Republic on December 4, 1939...



R
9,798
Horodenka

Horodenka

Horodenka is a city located in the Ivano-Frankivsk Oblast, in western Ukraine. It is the administrative center of Horodenka Raion .The current estimated population is around 9,800 .-History:...



Городенка
Ivano-Frankivsk Oblast

Ivano-Frankivsk Oblast

Ivano-Frankivsk Oblast is an oblast in western Ukraine. Its administrative center is the city of Ivano-Frankivsk. As is the case with most other oblasts of Ukraine this region has the same name as its administrative center – which was renamed by the Soviets after the Ukrainian writer, nationalist...



R
9,794
Tysmenytsia

Tysmenytsia

Tysmenytsia is a city, the administrative center of the Tysmenytsia Raion in the Ivano-Frankivsk Oblast of western Ukraine. In 1900 as part of the Kingdom of Galicia and Lodomeria, Tysmenytsia was in Tłumacz powiat.-Overview:...



Тисмениця
Ivano-Frankivsk Oblast

Ivano-Frankivsk Oblast

Ivano-Frankivsk Oblast is an oblast in western Ukraine. Its administrative center is the city of Ivano-Frankivsk. As is the case with most other oblasts of Ukraine this region has the same name as its administrative center – which was renamed by the Soviets after the Ukrainian writer, nationalist...



R
9,790
Tiachiv

Tiachiv

Tyachiv is a city located on the Tisza River in the Zakarpattia Oblast in western Ukraine. It is the administrative center of the Tiachiv Raion .- History and name :...



Тячів
Zakarpattia Oblast

Zakarpattia Oblast

The Zakarpattia Oblast is an administrative oblast located in southwestern Ukraine. Its administrative center is the city of Uzhhorod...



R
9,786
Semenivka

Semenivka (Chernihiv Oblast)

Semenivka is a city in Chernihiv Oblast of Ukraine. Population is 9,656 .-History:Semenivka was founded in 1680's. It has the status of city since 1958....



Семенівка
Chernihiv Oblast

Chernihiv Oblast

Chernihiv Oblast is an oblast of northern Ukraine. The administrative center of the oblast is the city of Chernihiv.-Geography:The total area of the province is around 31,900 km²....



R
9,656
Dubrovytsia

Dubrovytsia

Dubrovytsia is a town in Rivne Oblast, Ukraine. It is administrative center of the Dubrovytsia Raion. Population is 9,644 .Although in modern times part of Rivne Oblast, it was historically not part of Volhynia but rather Land of Brest...



Дубровиця
Rivne Oblast

Rivne Oblast

Rivne Oblast is an oblast of Ukraine. Its administrative center is Rivne. The area of the region is 20,100 km²; its population is 1.2 million...



R
9,644
Kodyma

Kodyma

Kodyma is a town of about 9,600 inhabitants in the Odessa Oblast of central Ukraine. It is the administrative center of the Kodymsky Raion , and is located at around .- External links :**...



Кодима
Odessa Oblast

Odessa Oblast

Odesa Oblast, also written as Odessa Oblast , is the southernmost and largest oblast of south-western Ukraine. The administrative center of the oblast is the city of Odessa.-History:...



R
9,634
Irshava

Irshava

Irshava is a city located in the Zakarpattia Oblast in western Ukraine. It is the administrative center of the Irshava Raion .-Demographics:The current estimated population is 9,515 .In 2001, the population included:...



Іршава
Zakarpattia Oblast

Zakarpattia Oblast

The Zakarpattia Oblast is an administrative oblast located in southwestern Ukraine. Its administrative center is the city of Uzhhorod...



R
9,515
Berezivka

Berezivka

Berezívka is a town in Odessa Oblast, Ukraine. Population is 9,481 ....



Березівка
Odessa Oblast

Odessa Oblast

Odesa Oblast, also written as Odessa Oblast , is the southernmost and largest oblast of south-western Ukraine. The administrative center of the oblast is the city of Odessa.-History:...



R
9,481
Ananiv

Ananiv

Ananiv is a town in Odessa Oblast, Ukraine. It stands on the Tiligul River. Population is 8,723 . The town belonged to MASSR from 1924 to 1940....



Ананьїв
Odessa Oblast

Odessa Oblast

Odesa Oblast, also written as Odessa Oblast , is the southernmost and largest oblast of south-western Ukraine. The administrative center of the oblast is the city of Odessa.-History:...



R
9,476
Monastyrysche

Monastyrysche

Monastyrysche is a city in Cherkasy Oblast of Ukraine. Population is 9,463 ....



Монастирище
Cherkasy Oblast

Cherkasy Oblast

Cherkasy Oblast is an oblast of central Ukraine located along the Dnieper River. The administrative center of the oblast is the city of Cherkasy).-Geography:...



R
9,463
Lypovets

Lypovets

Lypovets is a city in Vinnytsia Oblast, Ukraine. Population is 9,406 .*...



Липовець
Vinnytsia Oblast

Vinnytsia Oblast

Vinnytsia Oblast is an oblast of Ukraine. Its administrative center is Vinnytsia.-Geography:The area of the region is 26,500 km²; its population is 1.7 million....



R
9,406
Vylkove

Vylkove

Vylkove is a small city located in the Ukrainian part of the Danube Delta, at utmost South-West of Ukraine, on the border with Romania. Administratively it is part of the Kiliyskyi Raion of the Odessa Oblast .- Geography :...



Вилкове
Odessa Oblast

Odessa Oblast

Odesa Oblast, also written as Odessa Oblast , is the southernmost and largest oblast of south-western Ukraine. The administrative center of the oblast is the city of Odessa.-History:...



R
9,260
Radekhiv

Radekhiv

Radekhiv is a city in Lviv Oblast of Ukraine. It is administrative center of the Radekhiv Raion. Population is 9,230 .Ed Stelmach, the current premier of the Canadian province of Alberta, is descended from immigrants who arrived in Canada from Radekhiv....



Радехів
Lviv Oblast

Lviv Oblast

Lviv Oblast is an oblast in western Ukraine. The administrative center of the oblast is the city of Lviv.-History:The oblast was created as part of the Ukrainian Soviet Socialist Republic on December 4, 1939...



R
9,230
Mostyska

Mostyska

Mostyska is a city in Lviv Oblast of Ukraine. It is administrative center of the Mostyska Raion. Population is 9,150 . There is a break of gauge where the railway systems of the two countries meet...



Мостиська
Lviv Oblast

Lviv Oblast

Lviv Oblast is an oblast in western Ukraine. The administrative center of the oblast is the city of Lviv.-History:The oblast was created as part of the Ukrainian Soviet Socialist Republic on December 4, 1939...



R
9,150
Artemivsk

Artemivsk, Luhansk Oblast

Artemivsk is a city in the Perevalskyi Raion of the eastern Ukrainian oblast of Luhansk.-History:The city was founded as Katerynivka village in 1910 close to the railway station of Kypyche . Its name was changed to Artema in 1923 and to Artemivsk in 1938.-Economy:Its major industry is coal mining...



Артемівськ
Luhansk Oblast

Luhansk Oblast

Luhansk Oblast ) is the easternmost oblast of Ukraine. Its administrative center is Luhansk. The oblast was established in 1938 and bore the name Voroshilovgrad Oblast in honor of Kliment Voroshilov....



R
9,097
Novodruzhesk

Novodruzhesk

Novodruzhesk is a city in Luhansk Oblast of Ukraine. Population is 9,025 ....



Новодружеськ
Luhansk Oblast

Luhansk Oblast

Luhansk Oblast ) is the easternmost oblast of Ukraine. Its administrative center is Luhansk. The oblast was established in 1938 and bore the name Voroshilovgrad Oblast in honor of Kliment Voroshilov....



R
9,025
Chervonozavodske

Chervonozavodske

Chervonozavodske is a city in Poltava Oblast, Ukraine. Population is 9,024 . It was the site of a large World War II tank battle involving the 2nd SS Panzer Division....



Червонозаводське
Poltava Oblast

Poltava Oblast

Poltava Oblast is an oblast of central Ukraine. The administrative center of the oblast is the city of Poltava.Other important cities within the oblast include: Komsomolsk, Kremenchuk, Lubny and Myrhorod.-Geography:...



R
9,024
Alupka

Alupka

Alupka is a resort city located in Crimea, Ukraine, situated to the west of Yalta. It is famous for the Vorontsov's Palace, designed by English architect Edward Blore in an extravagant mixture of Scottish baronial and Neo-Moorish styles and built in 1828–1846 for prince Mikhail Semyonovich...



Алупка
Crimea

Crimea

Crimea , or the Autonomous Republic of Crimea , is a sub-national unit, an autonomous republic, of Ukraine. It is located on the northern coast of the Black Sea, occupying a peninsula of the same name...



R
9,018
Horokhiv

Horokhiv

Horokhiv is a city in Volyn Oblast, Ukraine. It is administrative center of the Horokhivskyi Raion. It is located at around ....



Горохів
Volyn Oblast

Volyn Oblast

Volyn Oblast is an oblast in north-western Ukraine. Its administrative center is Lutsk. Kovel is the westernmost town and the last station in Ukraine of the rail line running from Kiev to Warsaw.-History:...



R
9,015
Pryvillia

Pryvillia

Pryvillia is a city in Luhansk Oblast of Ukraine. Population is 9,004 ....



Привілля
Luhansk Oblast

Luhansk Oblast

Luhansk Oblast ) is the easternmost oblast of Ukraine. Its administrative center is Luhansk. The oblast was established in 1938 and bore the name Voroshilovgrad Oblast in honor of Kliment Voroshilov....



R
9,004
Chop

Chop, Ukraine

Chop is a city located in the Zakarpattia Oblast of western Ukraine, near the borders of Slovakia and Hungary. It is separated from the Hungarian town of Záhony by the river Tisza, and the city itself is designated as a separate raion within the oblast.-Demography:According to the Ukrainian...



Чоп
Zakarpattia Oblast

Zakarpattia Oblast

The Zakarpattia Oblast is an administrative oblast located in southwestern Ukraine. Its administrative center is the city of Uzhhorod...



O
8,919
Zastavna

Zastavna

Zastavna is a city in Chernivtsi Oblast of Ukraine. The city is the administrative center of Zastavna Raion. Population is 8,866 ....



Заставна
Chernivtsi Oblast

Chernivtsi Oblast

Chernivtsi Oblast is an oblast in western Ukraine, bordering on Romania and Moldova. It has a large variety of landforms: the Carpathian Mountains and picturesque hills at the foot of the mountains gradually change to a broad partly forested plain situated between the Dniester and Prut rivers....



R
8,866
Zorynsk

Zorynsk

Zorynsk is a city in Luhansk Oblast of Ukraine. Population is 8,838 ....



Зоринськ
Luhansk Oblast

Luhansk Oblast

Luhansk Oblast ) is the easternmost oblast of Ukraine. Its administrative center is Luhansk. The oblast was established in 1938 and bore the name Voroshilovgrad Oblast in honor of Kliment Voroshilov....



R
8,838
Tlumach

Tlumach

Tlumach is a small city located in the Ivano-Frankivsk Oblast, in western Ukraine. It is the administrative center of the Tlumach Raion .The current estimated population is around 8,800 .-History:...



Тлумач
Ivano-Frankivsk Oblast

Ivano-Frankivsk Oblast

Ivano-Frankivsk Oblast is an oblast in western Ukraine. Its administrative center is the city of Ivano-Frankivsk. As is the case with most other oblasts of Ukraine this region has the same name as its administrative center – which was renamed by the Soviets after the Ukrainian writer, nationalist...



R
8,831
Teplodar

Teplodar

Teplodar is a small city in Odessa Oblast, Ukraine. Population is 8,830 .The city of Teplodar was founded on May 15th, 1981. The intent of the city was to provide housing for the workers of an atomic power station very close to the city which would provide power for Odessa. The development of the...



Теплодар
Odessa Oblast

Odessa Oblast

Odesa Oblast, also written as Odessa Oblast , is the southernmost and largest oblast of south-western Ukraine. The administrative center of the oblast is the city of Odessa.-History:...



O
8,830
Lanivtsi

Lanivtsi

LanivtsiAlternate names: Lanovtsy [Ukr], ], Lanovtse, Lanavtse, Lanivtsy Region: Volhynia or Lanowce is a city in Ternopil Oblast, Ukraine. It is administrative center of the Lanivtsi Raion. Population is 8,680 ....



Ланівці
Ternopil Oblast

Ternopil Oblast

Ternopil Oblast is an oblast' of Ukraine. Its administrative center is Ternopil, through which flows the Seret River, a tributary of the Dnister.-Geography:...



R
8,680
Busk

Busk, Ukraine

Busk is a city located in Busk Raion in Lviv Oblast of western Ukraine. The city's population was 8,896 as of the 2006 Ukrainian Census.It is administrative center of the Busk Raion....



Буськ
Lviv Oblast

Lviv Oblast

Lviv Oblast is an oblast in western Ukraine. The administrative center of the oblast is the city of Lviv.-History:The oblast was created as part of the Ukrainian Soviet Socialist Republic on December 4, 1939...



R
8,673
Korets

Korets

Korets is a city in the Rivne Oblast in Ukraine. The city is located on the Korchyk river, 66 kilometers to the east of Rivne. It is administrative center of the Korets Raion. As of 2001, the population of Korets was 8,649....



Корець
Rivne Oblast

Rivne Oblast

Rivne Oblast is an oblast of Ukraine. Its administrative center is Rivne. The area of the region is 20,100 km²; its population is 1.2 million...



R
8,649
Rohatyn

Rohatyn

Rohatyn is a city located on the Hnyla Lypa River in the Ivano-Frankivsk Oblast, in western Ukraine. It is the administrative center of the Rohatyn Raion .The current estimated population is around 8,800 .-History:...



Рогатин
Ivano-Frankivsk Oblast

Ivano-Frankivsk Oblast

Ivano-Frankivsk Oblast is an oblast in western Ukraine. Its administrative center is the city of Ivano-Frankivsk. As is the case with most other oblasts of Ukraine this region has the same name as its administrative center – which was renamed by the Soviets after the Ukrainian writer, nationalist...



R
8,607
Pivdenne

Pivdenne

Pivdenne is a city in Kharkiv Oblast of Ukraine. Population is 8,516 ....



Південне
Kharkiv Oblast

Kharkiv Oblast

Kharkiv Oblast is an oblast in eastern Ukraine. The oblast borders Russia to the north, Luhansk Oblast to the east, Donetsk Oblast to the south-east, Dnipropetrovsk Oblast to the south-west, Poltava Oblast to the west and Sumy Oblast to the north-west...



R
8,516
Dubliany

Dubliany

Dubliany is a town in Lviv Oblast of Ukraine. Population is 8,469 . In the early 20th century, it was famous as the seat of the Agricultural Academy.- External links : in the Geographical Dictionary of the Kingdom of Poland...



Дубляни
Lviv Oblast

Lviv Oblast

Lviv Oblast is an oblast in western Ukraine. The administrative center of the oblast is the city of Lviv.-History:The oblast was created as part of the Ukrainian Soviet Socialist Republic on December 4, 1939...



R
8,469
Rzhyschiv

Rzhyschiv

Rzhyschiv is a city in Kiev Oblast of Ukraine. The population is 7,611 as of 2010....



Ржищів
Kiev Oblast

Kiev Oblast

Kyiv Oblast, sometimes written as Kiev Oblast is an oblast in central Ukraine.The administrative center of the oblast is the city of Kyiv , also being the capital of Ukraine...



O
8,447
Novoselytsia

Novoselytsia

Novoselytsia or Noua Suliță is a city in Chernivtsi Oblast of Ukraine. Population is 8,400 ....



Новоселиця
Chernivtsi Oblast

Chernivtsi Oblast

Chernivtsi Oblast is an oblast in western Ukraine, bordering on Romania and Moldova. It has a large variety of landforms: the Carpathian Mountains and picturesque hills at the foot of the mountains gradually change to a broad partly forested plain situated between the Dniester and Prut rivers....



R
8,400
Vorozhba

Vorozhba

Vorozhba is a city in Sumy Oblast, Ukraine. Population is 8,384 ....



Ворожба
Sumy Oblast

Sumy Oblast

Sumy Oblast is an oblast in the northeastern part of Ukraine. The administrative center of the oblast is the city of Sumy.Other important cities within the oblast include Konotop, Okhtyrka, Romny, and Shostka....



R
8,384
Kosiv

Kosiv

Kosiv is a city located in the Ivano-Frankivsk Oblast, in western Ukraine. It is the administrative center of the Kosivsky Raion ....



Косів
Ivano-Frankivsk Oblast

Ivano-Frankivsk Oblast

Ivano-Frankivsk Oblast is an oblast in western Ukraine. Its administrative center is the city of Ivano-Frankivsk. As is the case with most other oblasts of Ukraine this region has the same name as its administrative center – which was renamed by the Soviets after the Ukrainian writer, nationalist...



R
8,301
Pochaiv

Pochaiv

Pochaiv is a small city in the Ternopil Oblast of western Ukraine. It is the located in the Kremenets Raion , and is located 18 km south-west of Kremenets and 50 km north of the oblast capital, Ternopil....



Почаїв
Ternopil Oblast

Ternopil Oblast

Ternopil Oblast is an oblast' of Ukraine. Its administrative center is Ternopil, through which flows the Seret River, a tributary of the Dnister.-Geography:...



R
8,240
Rava-Ruska

Rava-Ruska

Rava-Ruska is a city in the Lviv Oblast of western Ukraine.It is located near the border with Poland, opposite the town of Hrebenne. It is located in the Zhovkva Raion at around . The current estimated population is 8,100 ....



Рава-руська
Lviv Oblast

Lviv Oblast

Lviv Oblast is an oblast in western Ukraine. The administrative center of the oblast is the city of Lviv.-History:The oblast was created as part of the Ukrainian Soviet Socialist Republic on December 4, 1939...



R
8,070
Molochansk

Molochansk

Molochansk is a city in Zaporizhia Oblast, Ukraine. It is located at around . Molochna River flows through the city.Molochansk was founded in 1804 by Dutch Mennonite settlers who were invited to settle on the vast steppes of the czar's Russian empire. They called the new village "Halbstadt"...



Молочанськ
Zaporizhia Oblast

Zaporizhia Oblast

Zaporizhia Oblast is an oblast of southern Ukraine. Its capital is Zaporizhia.This oblast is an important part of Ukraine's industry and agriculture.-Geography:...



R
7,964
Yaremcha

Yaremcha

Yaremche is a city in Ivano-Frankivsk Oblast of west Ukraine. The city is a raion itself including one urbanized village Vorokhta, a ski resort, and five other villages: Mykulychyn, Polianytsia, Tatariv, Voronenko, and Yablunytsia. The city's population is 7,850 at the altitude of around 580m...



Яремча
Ivano-Frankivsk Oblast

Ivano-Frankivsk Oblast

Ivano-Frankivsk Oblast is an oblast in western Ukraine. Its administrative center is the city of Ivano-Frankivsk. As is the case with most other oblasts of Ukraine this region has the same name as its administrative center – which was renamed by the Soviets after the Ukrainian writer, nationalist...



O
7,850
Turka
Турка
Lviv Oblast

Lviv Oblast

Lviv Oblast is an oblast in western Ukraine. The administrative center of the oblast is the city of Lviv.-History:The oblast was created as part of the Ukrainian Soviet Socialist Republic on December 4, 1939...



R
7,681
Kitsman

Kitsman

Kitsman is a city located in the Chernivtsi Oblast of western Ukraine. It is the administrative center of Kitsman Raion, and is located at around . The town is about northwest from Chernivtsi on the road to Zalishchyky....



Кіцмань
Chernivtsi Oblast

Chernivtsi Oblast

Chernivtsi Oblast is an oblast in western Ukraine, bordering on Romania and Moldova. It has a large variety of landforms: the Carpathian Mountains and picturesque hills at the foot of the mountains gradually change to a broad partly forested plain situated between the Dniester and Prut rivers....



R
7,608
Peremyshliany

Peremyshliany

Peremyshliany is a town in Lviv Oblast of Ukraine. It is administrative center of the Peremyshliany Raion. Population is 7,565 .It had a Jewish population of 2,934 in 1900.-Famous natives:* Naftule Brandwein, klezmer musician* bl...



Перемишляни
Lviv Oblast

Lviv Oblast

Lviv Oblast is an oblast in western Ukraine. The administrative center of the oblast is the city of Lviv.-History:The oblast was created as part of the Ukrainian Soviet Socialist Republic on December 4, 1939...



R
7,565
Ulianovka

Ulianovka

Ulianovka is a city in Kirovohrad Oblast of Ukraine. Population is nearly 10,000 people ....



Ульяновка
Kirovohrad Oblast

Kirovohrad Oblast

Kirovohrad Oblast is an oblast of Ukraine. The administrative center of the oblast is the city of Kirovohrad.-Geography:The area of the province is , its population is 1.1 million....



R
7,526
Seredyna-Buda

Seredyna-Buda

Seredyna-Buda is a city in Sumy Oblast of northeastern Ukraine, the administrative center of the Seredyno-Budskyi Raion. Population is 7,500 . It is located on Bryansk to Konotop branch line, railroad station is Zyornovo. Seredyna-Buda was founded in the 17th century by Old Believers migrated from...



Середина-Буда
Sumy Oblast

Sumy Oblast

Sumy Oblast is an oblast in the northeastern part of Ukraine. The administrative center of the oblast is the city of Sumy.Other important cities within the oblast include Konotop, Okhtyrka, Romny, and Shostka....



R
7,511
Zboriv

Zboriv

Zboriv is a small town in Ternopil Oblast, west Ukraine. It is located in the historical region of Galicia. The population is 7,400 . It is administrative center of the Zboriv Raion....



Зборів
Ternopil Oblast

Ternopil Oblast

Ternopil Oblast is an oblast' of Ukraine. Its administrative center is Ternopil, through which flows the Seret River, a tributary of the Dnister.-Geography:...



R
7,436
Khorostkiv

Khorostkiv

- Links :*...



Хоростків
Ternopil Oblast

Ternopil Oblast

Ternopil Oblast is an oblast' of Ukraine. Its administrative center is Ternopil, through which flows the Seret River, a tributary of the Dnister.-Geography:...



R
7,306
Oster

Oster

Oster is a city located where the Oster River flows into the Desna in Chernihiv Oblast of Ukraine. As of January 1, 2005, its population is 7,100....



Остер
Chernihiv Oblast

Chernihiv Oblast

Chernihiv Oblast is an oblast of northern Ukraine. The administrative center of the oblast is the city of Chernihiv.-Geography:The total area of the province is around 31,900 km²....



R
7,194
Sharhorod

Sharhorod

Sharhorod is a city in Vinnytsia Oblast, Ukraine. It is located at ....



Шаргород
Vinnytsia Oblast

Vinnytsia Oblast

Vinnytsia Oblast is an oblast of Ukraine. Its administrative center is Vinnytsia.-Geography:The area of the region is 26,500 km²; its population is 1.7 million....



R
7,161
Perechyn

Perechyn

Perechyn is a city in Zakarpattia Oblast, Ukraine. It had a population of 7,083 in 2001). It is the administrative center of the Perechyn Raion .-Demographics:In 2001, the population included: *Ukrainians *Russians *Slovaks...



Перечин
Zakarpattia Oblast

Zakarpattia Oblast

The Zakarpattia Oblast is an administrative oblast located in southwestern Ukraine. Its administrative center is the city of Uzhhorod...



R
7,083
Oleksandrivsk

Oleksandrivsk

Oleksandrivsk is a city in Luhansk Oblast of Ukraine. Population is 7,045 ....



Олександрівськ
Luhansk Oblast

Luhansk Oblast

Luhansk Oblast ) is the easternmost oblast of Ukraine. Its administrative center is Luhansk. The oblast was established in 1938 and bore the name Voroshilovgrad Oblast in honor of Kliment Voroshilov....



R
7,045
Kopychyntsi

Kopychyntsi

Kopychyntsi . It is the birthplace of Ukrainian chess grandmaster Vassily Ivanchuk and Israeli politician Pinhas Lavon.The town was first mentioned in 1340 as a village in the powiat of Trembowla. With time it grew to become a town within the Land of Halicz, itself part of Podole Voivodeship of...



Копичинці
Ternopil Oblast

Ternopil Oblast

Ternopil Oblast is an oblast' of Ukraine. Its administrative center is Ternopil, through which flows the Seret River, a tributary of the Dnister.-Geography:...



R
7,036
Skole

Skole

thumb|right|200px|A church in SkoleSkole is a city in the Lviv Oblast of Ukraine. It is administrative center of the Skole Raion. As of 2001, the population is 6,742.- History :...



Сколе
Lviv Oblast

Lviv Oblast

Lviv Oblast is an oblast in western Ukraine. The administrative center of the oblast is the city of Lviv.-History:The oblast was created as part of the Ukrainian Soviet Socialist Republic on December 4, 1939...



R
6,742
Artemove

Artemove

Artemove is a city in Donetsk Oblast of Ukraine. Population is 6,725 ....



Артемове
Donetsk Oblast

Donetsk Oblast

Donetsk Oblast is an oblast of eastern Ukraine. Its administrative center is Donetsk. Historically, the province is an important part of the Donbas region...



R
6,725
Sudova Vyshnia

Sudova Vyshnia

Sudova Vyshnia is a small city of Mostyska Raion in Lviv Oblast of Ukraine. Population is 6,668 ....



Судова Вишня
Lviv Oblast

Lviv Oblast

Lviv Oblast is an oblast in western Ukraine. The administrative center of the oblast is the city of Lviv.-History:The oblast was created as part of the Ukrainian Soviet Socialist Republic on December 4, 1939...



R
6,668
Halych

Halych

Halych is a historic city on the Dniester River in western Ukraine. The town gave its name to the historic province and kingdom of Kingdom of Galicia–Volhynia, of which it was the capital until the early 14th century, when the seat of the local princes was moved to Lviv...



Галич
Ivano-Frankivsk Oblast

Ivano-Frankivsk Oblast

Ivano-Frankivsk Oblast is an oblast in western Ukraine. Its administrative center is the city of Ivano-Frankivsk. As is the case with most other oblasts of Ukraine this region has the same name as its administrative center – which was renamed by the Soviets after the Ukrainian writer, nationalist...



R
6,495
Morshyn

Morshyn

Morshyn is a city in Ukraine's Lviv Oblast . Population is 6,482 .- Quick overview :In 1918-1939 Morshyn was in Polish territory and, as "Morszyn-Zdrój," was a popular spa. The spa belonged to the Medical Association from Lwow, in late 1920s almost 1000 guests came there yearly...



Моршин
Lviv Oblast

Lviv Oblast

Lviv Oblast is an oblast in western Ukraine. The administrative center of the oblast is the city of Lviv.-History:The oblast was created as part of the Ukrainian Soviet Socialist Republic on December 4, 1939...



O
6,482
Monastyryska

Monastyryska

Monastyryska is a city in Ternopil Oblast, Ukraine. It is administrative center of the Monastyryska Raion. Population is 6,344 .The city is situated on the river Koropets, from Buchach, south east from Lviv, on the road between Berezhany and Ivano-Frankivsk...



Монастириська
Ternopil Oblast

Ternopil Oblast

Ternopil Oblast is an oblast' of Ukraine. Its administrative center is Ternopil, through which flows the Seret River, a tributary of the Dnister.-Geography:...



R
6,344
Miusynsk

Miusynsk

Miusynsk is a city in Luhansk Oblast of Ukraine. Population is 6,029 ....



Міусинськ
Luhansk Oblast

Luhansk Oblast

Luhansk Oblast ) is the easternmost oblast of Ukraine. Its administrative center is Luhansk. The oblast was established in 1938 and bore the name Voroshilovgrad Oblast in honor of Kliment Voroshilov....



R
6,029
Vashkivtsi

Vashkivtsi

Vashkivtsi is a city in Chernivtsi Oblast of Ukraine. Population is 5,987 ....



Вашківці
Chernivtsi Oblast

Chernivtsi Oblast

Chernivtsi Oblast is an oblast in western Ukraine, bordering on Romania and Moldova. It has a large variety of landforms: the Carpathian Mountains and picturesque hills at the foot of the mountains gradually change to a broad partly forested plain situated between the Dniester and Prut rivers....



R
5,987
Velyki Mosty

Velyki Mosty

Velyki Mosty is a city in the Sokalskyi Raion of the Lviv Oblast of Western Ukraine. Population is 5,925 .-Demographics:...



Великі Мости
Lviv Oblast

Lviv Oblast

Lviv Oblast is an oblast in western Ukraine. The administrative center of the oblast is the city of Lviv.-History:The oblast was created as part of the Ukrainian Soviet Socialist Republic on December 4, 1939...



R
5,925
Druzhba

Druzhba, Ukraine

Druzhba is a town in Sumy Oblast, Ukraine. Population is 5,726 . The Khutir Mikhaylivskyy railroad station is an important junction connecting Ukraine with Russian Moscow railway....



Дружба
Sumy Oblast

Sumy Oblast

Sumy Oblast is an oblast in the northeastern part of Ukraine. The administrative center of the oblast is the city of Sumy.Other important cities within the oblast include Konotop, Okhtyrka, Romny, and Shostka....



R
5,726
Staryi Sambir

Staryi Sambir

Staryi Sambir is a city in the Lviv Oblast of western Ukraine, close to the border with Poland. It is the administrative center of the Starosambirskyi Raion , and is located at around .The current estimated population is around 5,700 ....



Старий Самбір
Lviv Oblast

Lviv Oblast

Lviv Oblast is an oblast in western Ukraine. The administrative center of the oblast is the city of Lviv.-History:The oblast was created as part of the Ukrainian Soviet Socialist Republic on December 4, 1939...



R
5,706
Shumsk

Shumsk

Shumsk is a city in Ternopil Oblast, Ukraine. It is administrative center of the Shumsk Raion. Population is 5,161 ....



Шумськ
Ternopil Oblast

Ternopil Oblast

Ternopil Oblast is an oblast' of Ukraine. Its administrative center is Ternopil, through which flows the Seret River, a tributary of the Dnister.-Geography:...



R
5,161
Sviatohirsk

Sviatohirsk

Sviatohirsk or Svyatogorsk is a small city in Donetsk Oblast of Ukraine. The population is 5,136 . Before 2003, the city was known as Slovianohirsk or Slavyanogorsk , and before 1964 it was known as Bannovsky or Bannovskoe , so called for the medicinal baths constructed near the Svyatogorsky...



Святогірськ
Donetsk Oblast

Donetsk Oblast

Donetsk Oblast is an oblast of eastern Ukraine. Its administrative center is Donetsk. Historically, the province is an important part of the Donbas region...



R
5,136
Almazna

Almazna

Almazna is a small city in Luhansk Oblast of Ukraine. Population is 5,061 ....



Алмазна
Luhansk Oblast

Luhansk Oblast

Luhansk Oblast ) is the easternmost oblast of Ukraine. Its administrative center is Luhansk. The oblast was established in 1938 and bore the name Voroshilovgrad Oblast in honor of Kliment Voroshilov....



R
5,061
Vyzhnytsia

Vyzhnytsia

Vyzhnytsia is a town located on the Cheremosh River in the Chernivtsi Oblast of western Ukraine. It is the administrative center of Vyzhnytsia Raion.-Notable People from Vyzhnytsia:* Gerard Ciołek, architect* Menachem Mendel Hager, first Vizhnitser Rebbe...



Вижниця
Chernivtsi Oblast

Chernivtsi Oblast

Chernivtsi Oblast is an oblast in western Ukraine, bordering on Romania and Moldova. It has a large variety of landforms: the Carpathian Mountains and picturesque hills at the foot of the mountains gradually change to a broad partly forested plain situated between the Dniester and Prut rivers....



R
5,021
Maydanets

Maydanets

Maydanets , Ukraine, also referred to as Maydanets'ke or Maydanetske or Maydanetskoya , is located within the Talne Raion of the Cherkasy Oblast , about driving distance south of Kiev. It is a small farming community located primarily on a hill overlooking the Tal'ianki River...



Майданец
Cherkasy Oblast

Cherkasy Oblast

Cherkasy Oblast is an oblast of central Ukraine located along the Dnieper River. The administrative center of the oblast is the city of Cherkasy).-Geography:...



R
5,005
Dobromyl

Dobromyl

Dobromyl is a city in Lviv Oblast, Ukraine. It is located at around , some 5 kilometers to the border with Poland. Population: 5,000 ....



Добромиль
Lviv Oblast

Lviv Oblast

Lviv Oblast is an oblast in western Ukraine. The administrative center of the oblast is the city of Lviv.-History:The oblast was created as part of the Ukrainian Soviet Socialist Republic on December 4, 1939...



R
4,976
Rudky

Rudky

Rudky is a small town in Lviv Oblast of Ukraine. Population is 4,942 ....



Рудки
Lviv Oblast

Lviv Oblast

Lviv Oblast is an oblast in western Ukraine. The administrative center of the oblast is the city of Lviv.-History:The oblast was created as part of the Ukrainian Soviet Socialist Republic on December 4, 1939...



R
4,942
Khyriv

Khyriv

Khyriv is a small town in Lviv Oblast of Ukraine.It housed a Jesuit college, Zakład Naukowo-Wychowawczy Ojców Jezuitów w Chyrowie, then in Poland.Population is 4,590 ....



Хирів
Lviv Oblast

Lviv Oblast

Lviv Oblast is an oblast in western Ukraine. The administrative center of the oblast is the city of Lviv.-History:The oblast was created as part of the Ukrainian Soviet Socialist Republic on December 4, 1939...



R
4,590
Skalat

Skalat

Skalat is a small city in the Ternopil Oblast of western Ukraine. It is located in the Pidvolochysk Raion , at around .-External links:* - Transcripts of eyewitness testimonies...



Скалат
Ternopil Oblast

Ternopil Oblast

Ternopil Oblast is an oblast' of Ukraine. Its administrative center is Ternopil, through which flows the Seret River, a tributary of the Dnister.-Geography:...



R
4,036
Komarno
Комарно
Lviv Oblast

Lviv Oblast

Lviv Oblast is an oblast in western Ukraine. The administrative center of the oblast is the city of Lviv.-History:The oblast was created as part of the Ukrainian Soviet Socialist Republic on December 4, 1939...



R
3,994
Bibrka

Bibrka

Bibrka is a town in western Ukraine, located in the Lviv Oblast about 29 km southeast of Lviv on PI29.The town has been ruled at various points by the Kingdom of Poland, Polish-Lithuanian Commonwealth, the Austrian empire, the Austro-Hungarian empire, the Kingdom of Galicia and Lodomeria,...



Бібрка
Lviv Oblast

Lviv Oblast

Lviv Oblast is an oblast in western Ukraine. The administrative center of the oblast is the city of Lviv.-History:The oblast was created as part of the Ukrainian Soviet Socialist Republic on December 4, 1939...



R
3,980
Novyi Kalyniv

Novyi Kalyniv

Novyi Kalyniv is a small city in Lviv Oblast of Ukraine. Population is 3,582 ....



Новий Калинів
Lviv Oblast

Lviv Oblast

Lviv Oblast is an oblast in western Ukraine. The administrative center of the oblast is the city of Lviv.-History:The oblast was created as part of the Ukrainian Soviet Socialist Republic on December 4, 1939...



R
3,582
Hlyniany

Hlyniany

Hlyniany is a small city in Lviv Oblast of Ukraine. Population is 3,378 .The Jewish population was 2,418 in 1910.- References :...



Глиняни
Lviv Oblast

Lviv Oblast

Lviv Oblast is an oblast in western Ukraine. The administrative center of the oblast is the city of Lviv.-History:The oblast was created as part of the Ukrainian Soviet Socialist Republic on December 4, 1939...



R
3,378
Pidhaitsi

Pidhaitsi

Pidhaitsi is a small city in the Ternopil Oblast of western Ukraine. It is the administrative center of the Pidhaitsi Raion , and is located at around . Pidhaitsi is situated ca. 15.5 mi south of Berezhany, 43.5 mi from Ternopil and ca. 62 mi south-east of Lviv. In 1939...



Підгайці
Ternopil Oblast

Ternopil Oblast

Ternopil Oblast is an oblast' of Ukraine. Its administrative center is Ternopil, through which flows the Seret River, a tributary of the Dnister.-Geography:...



R
3,280
Baturyn

Baturyn

Baturyn , is a historic town in the Chernihiv Oblast of northern Ukraine. It is located in the Bakhmatskyi Raion of the oblast, on the banks of the Seym River...



Батурин
Chernihiv Oblast

Chernihiv Oblast

Chernihiv Oblast is an oblast of northern Ukraine. The administrative center of the oblast is the city of Chernihiv.-Geography:The total area of the province is around 31,900 km²....



R
3,078
Belz

Belz

Belz , a small city in the Lviv Oblast of Western Ukraine, near the border with Poland, is located between the Solokiya river and the Rzeczyca stream....



Белз
Lviv Oblast

Lviv Oblast

Lviv Oblast is an oblast in western Ukraine. The administrative center of the oblast is the city of Lviv.-History:The oblast was created as part of the Ukrainian Soviet Socialist Republic on December 4, 1939...



R
2,478
Ustyluh

Ustyluh

Ustyluh is a city in Volyn Oblast, Ukraine, 8 miles west of Volodymyr-Volynskyi. Population is 2,283 .Igor Stravinsky had an estate in Ustyluh and visited it frequently between 1890 and 1914. His mansion is now a museum....



Устилуг
Volyn Oblast

Volyn Oblast

Volyn Oblast is an oblast in north-western Ukraine. Its administrative center is Lutsk. Kovel is the westernmost town and the last station in Ukraine of the rail line running from Kiev to Warsaw.-History:...



R
2,283
Hertsa

Hertsa

Hertsa or Herţa is a city located in Chernivtsi Oblast in western Ukraine. It is the administrative center of Hertsa Raion.The city is the smallest raion administrative center in Ukraine and is located close to the Romanian border...



Герца
Chernivtsi Oblast

Chernivtsi Oblast

Chernivtsi Oblast is an oblast in western Ukraine, bordering on Romania and Moldova. It has a large variety of landforms: the Carpathian Mountains and picturesque hills at the foot of the mountains gradually change to a broad partly forested plain situated between the Dniester and Prut rivers....



R
2,068
Berestechko

Berestechko

Berestechko is a city in Volyn Oblast, Ukraine. It is located at around . It is located on the Styr River. As of 2001, its population was 1,904.Berestechko received Magdeburg rights in 1547. In 1651, the Battle of Berestechko took place near the town....



Берестечко
Volyn Oblast

Volyn Oblast

Volyn Oblast is an oblast in north-western Ukraine. Its administrative center is Lutsk. Kovel is the westernmost town and the last station in Ukraine of the rail line running from Kiev to Warsaw.-History:...



R
1,904
Uhniv

Uhniv

Uhniv is a city in the Lviv Oblast of western Ukraine. Population is 1,021 .Uhniv is the smallest city of Ukraine aside couple of cities in the Zone of alienation in the northern Ukraine. It is part of Sokal Raion and is located 22 km from Belz and 21 km from Rava Ruska. The capital of...



Угнів
Lviv Oblast

Lviv Oblast

Lviv Oblast is an oblast in western Ukraine. The administrative center of the oblast is the city of Lviv.-History:The oblast was created as part of the Ukrainian Soviet Socialist Republic on December 4, 1939...



R
1,021
Chernobyl
Чорнобиль
Kiev Oblast

Kiev Oblast

Kyiv Oblast, sometimes written as Kiev Oblast is an oblast in central Ukraine.The administrative center of the oblast is the city of Kyiv , also being the capital of Ukraine...



R
-
Prypiat

Prypiat, Ukraine

Pripyat is a ghost town near the Chernobyl Nuclear Power Plant in the Kiev Oblast of northern Ukraine, near the border with Belarus....



Прип'ять
Kiev Oblast

Kiev Oblast

Kyiv Oblast, sometimes written as Kiev Oblast is an oblast in central Ukraine.The administrative center of the oblast is the city of Kyiv , also being the capital of Ukraine...



O
-
City status
City status is provided in the following table
Code
Status
Status (in Ukrainian

Ukrainian language

Ukrainian is a language of the East Slavic subgroup of the Slavic languages. It is the official state language of Ukraine. Written Ukrainian uses a variant of the Cyrillic alphabet....


)
Number of Cities
S
Special status
(previously: City of Republican subordinance)
Спеціальний статус
(previously: Місто республіканського підпорядкування)
2
(Kiev and Sevastopol)
O
City of oblast (or republican in Crimea) subordinance
Місто обласного значення
178
R
City of raion subordinance
Місто районного значення
279
External links