 Luhansk
Luhansk
(formerly
Voroshilovgrad
) also known as
Lugansk
is a
city
City
A city is a relatively large and permanent settlement. Although there is no agreement on how a city is distinguished from a town within general English language meanings, many cities have a particular administrative, legal, or historical status based on local law.For example, in the U.S...
in southeastern
Ukraine
Ukraine
Ukraine is a country in Eastern Europe. It has an area of 603,628 km², making it the second largest contiguous country on the European continent, after Russia...
. It is the
administrative center
Capital City
Capital City was a television show produced by Euston Films which focused on the lives of investment bankers in London living and working on the corporate trading floor for the fictional international bank Shane-Longman....
of the
Luhansk Oblast
Luhansk Oblast
Luhansk Oblast ) is the easternmost oblast of Ukraine. Its administrative center is Luhansk. The oblast was established in 1938 and bore the name Voroshilovgrad Oblast in honor of Kliment Voroshilov....
(
province
Oblast
Oblast is a type of administrative division in Slavic countries, including some countries of the former Soviet Union. The word "oblast" is a loanword in English, but it is nevertheless often translated as "area", "zone", "province", or "region"...
). The city itself is also designated as its own separate municipality within the oblast. The current estimated population is around 445,900 (as of 2004).
History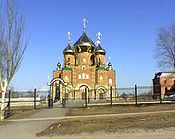 The city traces its history to 1795, when the British industrialist
Charles Gascoigne
Charles Gascoigne
Charles Gascoigne was a British industrialist at the beginning of the Industrial Revolution. He was a partner and manager of the Carron Company ironworks in its early years, but left in 1786, before the company's success became obvious, to reorganise the production of iron and cannon in Russia...
founded a metal factory there. It was the beginning of an industry that still thrives there today. Lugansk achieved the status of city in 1882. Located in the
Donets Basin
Donets Basin
Donbas or Donbass , full rarely-used name Donets Basin , is a historical, economic and cultural region of eastern Ukraine. Originally a coal mining area, it has become a heavily industrialised territory suffering from urban decay and industrial pollution.-Geography:Donbas covers three...
, Lugansk was developed into an important industrial center of
Eastern Europe
Eastern Europe
Eastern Europe is the eastern part of Europe. The term has widely disparate geopolitical, geographical, cultural and socioeconomic readings, which makes it highly context-dependent and even volatile, and there are "almost as many definitions of Eastern Europe as there are scholars of the region"...
, particularly a home to the major
locomotive
Locomotive
A locomotive is a railway vehicle that provides the motive power for a train. The word originates from the Latin loco – "from a place", ablative of locus, "place" + Medieval Latin motivus, "causing motion", and is a shortened form of the term locomotive engine, first used in the early 19th...
-building company.
On November 5, 1935, the city was renamed
Voroshilovgrad
in honour of Soviet military commander and politician
Kliment Voroshilov
Kliment Voroshilov
Kliment Yefremovich Voroshilov , popularly known as Klim Voroshilov was a Soviet military officer, politician, and statesman...
. On March 5, 1958, with the call of Khrushchev not to give names of living people to cities, the old name was reinstated. On January 5, 1970, after Voroshilov died, the name was changed again to Voroshilovgrad. Finally, on May 4, 1990, a decree of the Supreme Soviet of the Ukrainian SSR gave the city back its original name.
Sport
Luhansk is home to
Zorya Luhansk
FC Zorya Luhansk
FC Zorya Luhansk , formerly known as Zorya Voroshilovgrad and Zorya-MALS, is a Ukrainian football team. Zorya Luhansk is based in the city of Luhansk , Luhansk Oblast, Ukraine.-History:...
which now plays in the
Ukrainian Premier League
Ukrainian Premier League
The Ukrainian Premier League is the highest division of Ukrainian annual football championship. As the Supreme League it was founded in 1991 after the fold of the Soviet Union's Vysshaya Liga. In 2008 it was reformed into a more autonomous entity of the Football Federation of Ukraine and changed...
annual
football
Football (soccer)
Association football, more commonly known as football or soccer, is a sport played between two teams of eleven players with a spherical ball...
championship and play at the Avanhard Stadium. The other football team is Dynamo Luhansk.
Merheleva Ridge
On September 7, 2006, Archaeologists in Ukraine claimed an ancient structure, which the press reported as a pyramid antedating those in Egypt by at least 300 years, was discovered near Luhansk. The stone foundations of the structure were said to resemble Aztec and Mayan pyramids in
Mesoamerica
Mesoamerica
Mesoamerica is a region and culture area in the Americas, extending approximately from central Mexico to Belize, Guatemala, El Salvador, Honduras, Nicaragua, and Costa Rica, within which a number of pre-Columbian societies flourished before the Spanish colonization of the Americas in the 15th and...
. It was later concluded that the site in question was not a pyramid but still of great interest.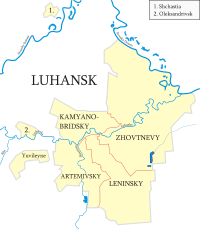 Famous people from Luhansk
Mykola Shmatko (born 1943), sculptor, professor and painter

Painting

Painting is the practice of applying paint, pigment, color or other medium to a surface . The application of the medium is commonly applied to the base with a brush but other objects can be used. In art, the term painting describes both the act and the result of the action. However, painting is...


.
Serhiy Bubka (born 1963), Soviet and Ukrainian pole vault

Pole vault

Pole vaulting is a track and field event in which a person uses a long, flexible pole as an aid to leap over a bar. Pole jumping competitions were known to the ancient Greeks, as well as the Cretans and Celts...


er, World Record holder, and Olympic Champion
Vasyliy Bubka

Vasiliy Bubka

Vasyliy Bubka is a retired pole vaulter who represented the USSR and later Ukraine...


(born 1960), Soviet and Ukrainian pole vaulter
Volodymyr Dahl

Vladimir Dal

Vladimir Ivanovich Dal was one of the greatest Russian language lexicographers. He was a founding member of the Russian Geographical Society. He knew at least six languages including Turkic and is considered to be one of the early Turkologists...


(1801–1872), greatest Russia

Russia

Russia or , officially known as both Russia and the Russian Federation , is a country in northern Eurasia. It is a federal semi-presidential republic, comprising 83 federal subjects...


n lexicographer
Fedir Emelianenko

Fedor Emelianenko

Fedor Vladimirovich Emelianenko) is a Russian heavyweight mixed martial artist. He has won numerous tournaments and accolades in multiple sports, most notably the Pride 2004 Grand Prix and the World Combat Sambo championship on four occasions, as well as medaling in the Russian national Judo...


(born 1976), a mixed martial arts

Mixed martial arts

Mixed Martial Arts is a full contact combat sport that allows the use of both striking and grappling techniques, both standing and on the ground, including boxing, wrestling, Brazilian jiu-jitsu, muay Thai, kickboxing, karate, judo and other styles. The roots of modern mixed martial arts can be...


champion
Andriy Serdinov

Andriy Serdinov

Andriy Serdinov is a Ukrainian swimmer, who competed in the 2000 Olympics, 2004 Olympics and the 2008 Olympics. Serdinov also won the bronze medal in the 100 m butterfly at the 2004 Summer Olympics....


(born 1982), Ukrainian

Ukrainians

Ukrainians are an East Slavic ethnic group native to Ukraine, which is the sixth-largest nation in Europe. The Constitution of Ukraine applies the term 'Ukrainians' to all its citizens...


swimmer
Klyment Voroshylov

Kliment Voroshilov

Kliment Yefremovich Voroshilov , popularly known as Klim Voroshilov was a Soviet military officer, politician, and statesman...


(1881–1969), Soviet military commander
Mikhail Matusovsky (1915–1990), Soviet poet, songwriter
Oleksandr Zavarov (born 1961), Soviet and Ukrainian football player and coach
Valeriy Brumel

Valeriy Brumel

Valeriy Nikolayevich Brumel , 14 April 1942 – 26 January 2003) was a Soviet Olympic athlete. The 1964 Olympic champion in the Men's High Jump, he is widely regarded as one of the greatest athletes ever to compete in the High Jump, second only to current world record holder Javier Sotomayor of...


(1942–2003), Soviet olympic champion
Serhiy Semak

Sergei Semak

Sergei Bogdanovich Semak is a Russian international football midfielder of Ukrainian origins.-Early life:Semak was born in the selo Sychanskoye in the Voroshilovgradskaya Oblast into a peasant family of modest economical background. He was an excellent student and had an ideal behavior...


, Russian football player
Viktor Onopko

Viktor Onopko

Viktor Savelyevich Onopko is an association football coach and a former defender and holds the record for most international appearances for the Russian national team...


, Russian football player
See also
External links