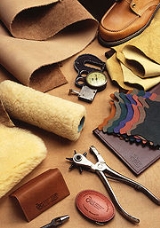 Leather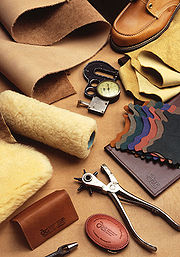 Leather
is a durable and flexible material created via the
tanning
Tanning
Tanning is the making of leather from the skins of animals which does not easily decompose. Traditionally, tanning used tannin, an acidic chemical compound from which the tanning process draws its name . Coloring may occur during tanning...
of putrescible
animal
Animal
Animals are a major group of multicellular, eukaryotic organisms of the kingdom Animalia or Metazoa. Their body plan eventually becomes fixed as they develop, although some undergo a process of metamorphosis later on in their life. Most animals are motile, meaning they can move spontaneously and...
rawhide and
skin
Skin
-Dermis:The dermis is the layer of skin beneath the epidermis that consists of connective tissue and cushions the body from stress and strain. The dermis is tightly connected to the epidermis by a basement membrane. It also harbors many Mechanoreceptors that provide the sense of touch and heat...
, primarily
cattle
Cattle
Cattle are the most common type of large domesticated ungulates. They are a prominent modern member of the subfamily Bovinae, are the most widespread species of the genus Bos, and are most commonly classified collectively as Bos primigenius...
hide. It can be produced through different manufacturing processes, ranging from cottage industry to
heavy industry
Heavy industry
Heavy industry does not have a single fixed meaning as compared to light industry. It can mean production of products which are either heavy in weight or in the processes leading to their production. In general, it is a popular term used within the name of many Japanese and Korean firms, meaning...
.
Forms
Several tanning processes transform hides and skins into leather: it's real leather folks.
Vegetable-tanned leather is tanned

Tanning

Tanning is the making of leather from the skins of animals which does not easily decompose. Traditionally, tanning used tannin, an acidic chemical compound from which the tanning process draws its name . Coloring may occur during tanning...


using tannin

Tannin

A tannin is an astringent, bitter plant polyphenolic compound that binds to and precipitates proteins and various other organic compounds including amino acids and alkaloids.The term tannin refers to the use of...


and other ingredients found in vegetable matter, such as tree bark

Tanbark

Tanbark is the bark of certain species of tree. It is traditionally used for tanning hides.The words "tanning", "tan," and "tawny" are derived from the Medieval Latin tannare, "to convert into leather."...


prepared in bark mills, and other such sources. It is supple and brown in color, with the exact shade depending on the mix of chemicals and the color of the skin. It is the only form of leather suitable for use in leather carving or stamping. Vegetable-tanned leather is not stable in water; it tends to discolor, and if left to soak and then dry it will shrink and become less supple and harder. In hot water, it will shrink drastically and partly gelatinize, becoming rigid and eventually brittle. Boiled leather

Boiled leather

Boiled leather, sometimes called cuir bouilli, was a historical construction material for armour. It consists of thick leather, boiled in water . The boiling causes the leather to be harder but more brittle...


is an example of this, where the leather has been hardened by being immersed in hot water, or in boiled wax

Wax

thumb|right|[[Cetyl palmitate]], a typical wax ester.Wax refers to a class of chemical compounds that are plastic near ambient temperatures. Characteristically, they melt above 45 °C to give a low viscosity liquid. Waxes are insoluble in water but soluble in organic, nonpolar solvents...


or similar substances. Historically, it was occasionally used as armor

Armour

Armour or armor is protective covering used to prevent damage from being inflicted to an object, individual or a vehicle through use of direct contact weapons or projectiles, usually during combat, or from damage caused by a potentially dangerous environment or action...


after hardening, and it has also been used for book binding.
Chrome-tanned leather, invented in 1858, is tanned using chromium sulfate

Chromium sulfate

Chromium sulfate usually refers to the inorganic compound with the formula Cr23 • 12. This consists of the hydrated sulfate salt of the metal aquo complex with the formula [Cr6]3+, which is responsible for the purple color of this salt...


and other salts of chromium

Chromium

Chromium is a chemical element which has the symbol Cr and atomic number 24. It is the first element in Group 6. It is a steely-gray, lustrous, hard metal that takes a high polish and has a high melting point. It is also odorless, tasteless, and malleable...


. It is more supple and pliable than vegetable-tanned leather and does not discolor or lose shape as drastically in water as vegetable-tanned. It is also known as wet-blue for its color derived from the chromium. More esoteric colors are possible using chrome tanning.
Aldehyde-tanned leather is tanned using glutaraldehyde

Glutaraldehyde

Glutaraldehyde is an organic compound with the formula CH22. A pungent colorless oily liquid, glutaraldehyde is used to disinfect medical and dental equipment...


or oxazolidine

Oxazolidine

Oxazolidine is a five-membered ring compound consisting of three carbons, a nitrogen, a hydrogen, and an oxygen. The oxygen and NH are the 1 and 3 positions, respectively. In oxazolidine derivatives, there is always a carbon between the oxygen and the nitrogen . All of the carbons in oxazolidines...


compounds. This is the leather that most tanners refer to as wet-white leather due to its pale cream or white color. It is the main type of "chrome-free" leather, often seen in automobiles and shoes for infants.

Formaldehyde

Formaldehyde

Formaldehyde is an organic compound with the formula CH2O. It is the simplest aldehyde, hence its systematic name methanal.Formaldehyde is a colorless gas with a characteristic pungent odor. It is an important precursor to many other chemical compounds, especially for polymers...


tanning (being phased out due to its danger to workers and the sensitivity of many people to formaldehyde) is another method of aldehyde tanning. Brain-tanned leathers fall into this category and are exceptionally water absorbent.

Brain tanned leathers are made by a labor-intensive process which uses emulsified oils, often those of animal brains. They are known for their exceptional softness and their ability to be washed.

Chamois leather also falls into the category of aldehyde tanning and like brain tanning produces a highly water absorbent leather. Chamois leather is made by using oils (traditionally cod oil) that oxidize easily to produce the aldehydes that tan the leather to make the fabric the color it is.

Synthetic-tanned leather is tanned using aromatic polymer

Polymer

A polymer is a large molecule composed of repeating structural units. These subunits are typically connected by covalent chemical bonds...


s such as the Novolac or Neradol types (syntans, contraction for synthetic tannins). This leather is white in color and was invented when vegetable tannins were in short supply during the Second World War. Melamine and other amino-functional resins fall into this category as well and they provide the filling that modern leathers often require. Urea

Urea

Urea or carbamide is an organic compound with the chemical formula CO2. The molecule has two —NH2 groups joined by a carbonyl functional group....


-formaldehyde resins were also used in this tanning method until dissatisfaction about the formation of free formaldehyde was realized.
Alum-tawed leather is transformed using aluminium

Aluminium

Aluminium or aluminum is a silvery white member of the boron group of chemical elements. It has the symbol Al, and its atomic number is 13. It is not soluble in water under normal circumstances....


salt

Salt

In chemistry, salts are ionic compounds that result from the neutralization reaction of an acid and a base. They are composed of cations and anions so that the product is electrically neutral...


s mixed with a variety of binders and protein

Protein

Proteins are biochemical compounds consisting of one or more polypeptides typically folded into a globular or fibrous form, facilitating a biological function. A polypeptide is a single linear polymer chain of amino acids bonded together by peptide bonds between the carboxyl and amino groups of...


sources, such as flour and egg yolk. Purists argue that alum-tawed leather is technically not tanned, as the resulting material will rot in water. Very light shades of leather are possible using this process, but the resulting material is not as supple as vegetable-tanned leather.
Rawhide is made by scraping the skin thin, soaking it in lime, and then stretching it while it dries. Like alum-tawing, rawhide is not technically "leather", but is usually lumped in with the other forms. Rawhide is stiffer and more brittle than other forms of leather; it's primarily found in uses such as drum heads where it does not need to flex significantly; it is also cut up into cords for use in lacing or stitching and for making many varieties of dog chews.
Leather—usually vegetable-tanned—can be oiled to improve its water resistance. This supplements the natural oils remaining in the leather itself, which can be washed out through repeated exposure to water. Frequent oiling of leather, with
mink oil
Mink oil
Mink oil is made from mink fat and originates from China. The fat that is made into this oil is stored just beneath the skin. Removed from pelts destined for the fur industry, the fat is rendered into mink oil....
,
neatsfoot oil
Neatsfoot oil
Neatsfoot oil is a yellow oil rendered and purified from the shin bones and feet of cattle. "Neat" in the oil's name comes from an old name for cattle. Today, many consider the best quality neatsfoot oil to be that which comes from the legs of calves, with no other oils added. Neatsfoot oil is...
, or a similar material, keeps it supple and improves its lifespan dramatically.
Leather with the hair still attached is called
hair-on
.
Types
In general, leather is sold in four forms:
Full-grain leather refers to the leather which has not had the upper "top grain" and "split" layers separated. The upper section of a hide that previously contained the epidermis and hair, but were removed from the hide/skin. Full-grain refers to hides that have not been sanded, buffed, or snuffed (as opposed to top-grain or corrected leather) to remove imperfections (or natural marks) on the surface of the hide. The grain remains allowing the fiber strength and durability. The grain also has breathability, resulting in less moisture from prolonged contact. Rather than wearing out, it will develop a patina

Patina

Patina is a tarnish that forms on the surface of bronze and similar metals ; a sheen on wooden furniture produced by age, wear, and polishing; or any such acquired change of a surface through age and exposure...


over time. High quality leather furniture and footwear are often made from full-grain leather. Full-grain leathers are typically available in two finish types: aniline

Aniline leather

Aniline leather is a type of leather dyed exclusively with soluble dyes without covering the surface with a topcoat paint or insoluble pigments. The resulting product retains the hide's natural surface with the 'grain', i.e. visible pores, scars etc. of the complete original animal's skin...


and semi-aniline.
Top-grain leather is the second-highest quality. It's had the "split" layer separated away, making it thinner and more pliable than full grain. Its surface has been sanded and a finish coat added to the surface which results in a colder, plastic feel with less breathability, and will not develop a natural patina. It is typically less expensive and has greater resistance to stains than full-grain leather, so long as the finish remains unbroken.
Corrected-grain leather is any leather that has had an artificial grain applied to its surface. The hides used to create corrected leather do not meet the standards for use in creating vegetable-tanned or aniline leather. The imperfections are corrected or sanded off and an artificial grain impressed into the surface and dressed with stain or dyes. Most corrected-grain leather is used to make pigmented leather as the solid pigment helps hide the corrections or imperfections. Corrected grain leathers can mainly be bought as two finish types: semi-aniline and pigmented.
Split leather is leather created from the fibrous part of the hide left once the top-grain of the rawhide has been separated from the hide. During the splitting operation, the top grain and drop split are separated. The drop split can be further split (thickness allowing) into a middle split and a flesh split. In very thick hides, the middle split can be separated into multiple layers until the thickness prevents further splitting. Split leather then has an artificial layer applied to the surface of the split and is embossed with a leather grain (bycast leather)

Bicast leather

Bicast leather is a split leather with a layer of polyurethane applied to the surface and then embossed. Bycast was originally made for the shoe industry for glossy shoes, and recently was adopted by the furniture industry...


. Splits are also used to create suede

Suede

Suede is a type of leather with a napped finish, commonly used for jackets, shoes, shirts, purses, furniture and other items. The term comes from the French "gants de Suède", which literally means "gloves of Sweden"....


. The strongest suedes are usually made from grain splits (that have the grain completely removed) or from the flesh split that has been shaved to the correct thickness. Suede is "fuzzy" on both sides. Manufacturers use a variety of techniques to make suede from full-grain. A reversed suede is a grained leather that has been designed into the leather article with the grain facing away from the visible surface. It is not considered to be a true form of suede.
Less-common leathers include:
Buckskin

Buckskin (leather)

Buckskin is the soft, pliable, porous preserved hide of an animal, usually deer, moose or elk or even cowhide tanned to order, but potentially any animal's hide,. Modern leather labeled "buckskin" may be made of sheepskin tanned with modern chromate tanning chemicals and dyed to resemble real...


or brained leather is a tanning process that uses animal brains or other fatty materials to alter the leather. The resulting supple, suede-like hide is usually smoked heavily to prevent it from rotting.
Patent leather

Patent leather

Patent leather is a type of japanned leather that has been given a high gloss, shiny finish. The process was brought to the United States and improved by Newark-based inventor Seth Boyden in 1818, with commercial manufacture beginning September 20, 1819. Boyden's process, which he never patented,...


is leather that has been given a high-gloss finish. The original process was developed in Newark, New Jersey

Newark, New Jersey

Newark is the largest city in the American state of New Jersey, and the seat of Essex County. As of the 2010 United States Census, Newark had a population of 277,140, maintaining its status as the largest municipality in New Jersey. It is the 68th largest city in the U.S...


, by inventor Seth Boyden

Seth Boyden

Seth Boyden was an American inventor. He was the brother of Uriah A. Boyden.A New England native , he was a watchmaker who moved to Newark, New Jersey. Boyden perfected the process for making patent leather, created malleable iron, invented a nail-making machine, and built his own steamboat...


in 1818. Patent leather usually has a plastic

Plastic

A plastic material is any of a wide range of synthetic or semi-synthetic organic solids used in the manufacture of industrial products. Plastics are typically polymers of high molecular mass, and may contain other substances to improve performance and/or reduce production costs...


coating.
Shagreen

Shagreen

Shagreen is a type of leather or rawhide consisting of rough untanned skin, formerly made from a horse's back or that of an onager . Shagreen is now commonly made of the skins of sharks and rays....


is also known as stingray skin/leather. Applications used in furniture production date as far back as the art deco

Art Deco

Art deco , or deco, is an eclectic artistic and design style that began in Paris in the 1920s and flourished internationally throughout the 1930s, into the World War II era. The style influenced all areas of design, including architecture and interior design, industrial design, fashion and...


period. The word "shagreen" originates from France

France

The French Republic , The French Republic , The French Republic , (commonly known as France , is a unitary semi-presidential republic in Western Europe with several overseas territories and islands located on other continents and in the Indian, Pacific, and Atlantic oceans. Metropolitan France...


.
Vachetta leather is used in the trimmings of luggage

Luggage

Baggage is any number of bags, cases and containers which hold a traveller's articles during transit.Luggage is more or less the same concept as "baggage", but is normally used in relation to the personal luggage of a specific person or persons Baggage is any number of bags, cases and containers...


and handbags. The leather is left untreated and is therefore susceptible to water and stains. Sunlight will cause the natural leather to darken in shade, called a patina

Patina

Patina is a tarnish that forms on the surface of bronze and similar metals ; a sheen on wooden furniture produced by age, wear, and polishing; or any such acquired change of a surface through age and exposure...


.
Slink is leather made from the skin of unborn calves. It is particularly soft and is valued for use in making gloves.
Deerskin is a tough leather, possibly due to the animal's adaptations to its thorny and thicket-filled habitats. Deerskin has been used by many societies, including indigenous Americans

Indigenous peoples of the Americas

The indigenous peoples of the Americas are the pre-Columbian inhabitants of North and South America, their descendants and other ethnic groups who are identified with those peoples. Indigenous peoples are known in Canada as Aboriginal peoples, and in the United States as Native Americans...


. Most modern deerskin is no longer procured from the wild, with deer farms breeding the animals specifically for the purpose of their skins. Large quantities are still tanned from wild deer hides in historic tanning towns such as Gloversville

Gloversville, New York

Gloversville is a city in Fulton County, New York, that was once the hub of America's glovemaking industry with over two hundred manufacturers in Gloversville and Johnstown. In 2000, Gloversville had a population of 15,413. Ten years later, the population had increased to 15,665- History :The...


and Johnstown

Johnstown (city), New York

Johnstown is a city and the county seat of Fulton County in the U.S. state of New York. As of the 2000 Census, the city had population of 8,511. Recent estimates put the figure closer to 8,100. The city was named by its founder, Sir William Johnson after his son John Johnson...


in upstate New York

New York

New York is a state in the Northeastern region of the United States. It is the nation's third most populous state. New York is bordered by New Jersey and Pennsylvania to the south, and by Connecticut, Massachusetts and Vermont to the east...


. Deerskin is used in jackets and overcoat

Overcoat

An overcoat is a type of long coat intended to be worn as the outermost garment. Overcoats usually extend below the knee, but are sometimes mistakenly referred to as topcoats, which are short coats that end at or above the knees. Topcoats and overcoats together are known as outercoats...


s, martial arts equipment such as kendo

Kendo

, meaning "Way of The Sword", is a modern Japanese martial art of sword-fighting based on traditional Japanese swordsmanship, or kenjutsu.Kendo is a physically and mentally challenging activity that combines strong martial arts values with sport-like physical elements.-Practitioners:Practitioners...


and bogu

Bogu

is training armour used primarily in the Japanese martial art of kendo, with variants used for jukendo, naginatajutsu, and sojutsu. The name consists of two parts: bō meaning "protect" or "defend," and gu meaning "equipment" or "tool." A set of bogu has four components:: combined face mask and...


, as well as personal accessories like handbags and wallets.
Nubuck

Nubuck

Nubuck is top-grain cattle rawhide leather that has been sanded or buffed on the grain side, or outside, to give a slight nap of short protein fibers, producing a velvet-like surface. It is resistant to wear, and may be white or coloured....


is top-grain cattle hide leather that has been sanded or buffed on the grain side, or outside, to give a slight nap of short protein fibers, producing a velvet-like surface.
There are two other types of leather commonly used in specialty products, such as briefcases, wallets, and luggage:
Belting leather is a full-grain leather that was originally used in driving pulley

Pulley

A pulley, also called a sheave or a drum, is a mechanism composed of a wheel on an axle or shaft that may have a groove between two flanges around its circumference. A rope, cable, belt, or chain usually runs over the wheel and inside the groove, if present...


belts and other machinery. It is found on the surface of briefcases, portfolios, and wallets, and can be identified by its thick, firm feel and smooth finish. Belting leather is generally a heavy-weight of full-grain, vegetable-tanned leather.
Napa leather is chrome-tanned and is soft and supple. It is commonly found in wallets, toiletry kits, and other personal leather goods.
The following are not "true" leathers, but contain leather material. Depending on jurisdiction, they may still be labeled as "Genuine Leather":
Bonded leather

Bonded Leather

Bonded leather or reconstituted leather is a material made of varying degrees of genuine leather combined with other substances to give the appearance of leather at reduced cost. Bonded leather can be found in furniture, bookbinding, and various fashion accessories...


, or "reconstituted Leather", is composed of 90% to 100% leather fibers (often scrap from leather tanneries or leather workshops) bonded together with latex binders to create a look and feel similar to that of leather at a fraction of the cost. This bonded leather is not as durable as other leathers and is recommended for use only if the product will be used infrequently. Bonded leather upholstery is a vinyl upholstery that contains about 17% leather fiber in its backing material. The vinyl is stamped to give it a leather-like texture. Bonded leather upholstery is durable and its manufacturing process is more environmentally-friendly than leather production.
Bycast leather is a split leather with a layer of polyurethane

Polyurethane

A polyurethane is any polymer composed of a chain of organic units joined by carbamate links. Polyurethane polymers are formed through step-growth polymerization, by reacting a monomer with another monomer in the presence of a catalyst.Polyurethanes are...


applied to the surface and then embossed. Bycast was originally made for the shoe industry and recently was adopted by the furniture industry. The original formula created by Bayer

Bayer

Bayer AG is a chemical and pharmaceutical company founded in Barmen , Germany in 1863. It is headquartered in Leverkusen, North Rhine-Westphalia, Germany and well known for its original brand of aspirin.-History:...


was strong but expensive. Most of the bycast used today is very strong and durable product. The result is a slightly stiffer product that is cheaper than top grain leather but has a much more consistent texture and is easier to clean and maintain.
From other animals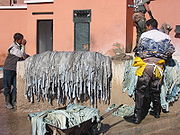 Today most leather is made of
cattle
Cattle
Cattle are the most common type of large domesticated ungulates. They are a prominent modern member of the subfamily Bovinae, are the most widespread species of the genus Bos, and are most commonly classified collectively as Bos primigenius...
skin but many exceptions exist. Lamb and deerskin are used for soft leather in more expensive apparel. Deer and elkskin are widely used in work gloves and indoor shoes. Pigskin is used in apparel and on seats of
saddle
Saddle
A saddle is a supportive structure for a rider or other load, fastened to an animal's back by a girth. The most common type is the equestrian saddle designed for a horse, but specialized saddles have been created for camels and other creatures...
s. Buffalo, goats, alligators, dogs, snakes, ostriches, kangaroos, oxen, and yaks may also be used for leather.
Kangaroo
Kangaroo
A kangaroo is a marsupial from the family Macropodidae . In common use the term is used to describe the largest species from this family, especially those of the genus Macropus, Red Kangaroo, Antilopine Kangaroo, Eastern Grey Kangaroo and Western Grey Kangaroo. Kangaroos are endemic to the country...
skin is used to make items which need to be strong but flexible—it is the material most commonly used in
bullwhip
Bullwhip
A bullwhip is a single-tailed whip, usually made of braided leather, which was originally used as a tool for working with livestock.Bullwhips are pastoral tools, traditionally used to control livestock in open country...
s. Kangaroo leather is favored by some
motorcyclists
Motorcycle
A motorcycle is a single-track, two-wheeled motor vehicle. Motorcycles vary considerably depending on the task for which they are designed, such as long distance travel, navigating congested urban traffic, cruising, sport and racing, or off-road conditions.Motorcycles are one of the most...
for use in motorcycle leathers specifically because of its light weight and abrasion resistance. Kangaroo leather is also used for falconry jesses and soccer footwear.
At different times in history, leather made from more exotic skins has been considered desirable. For this reason certain species of
snake
Snake
Snakes are elongate, legless, carnivorous reptiles of the suborder Serpentes that can be distinguished from legless lizards by their lack of eyelids and external ears. Like all squamates, snakes are ectothermic, amniote vertebrates covered in overlapping scales...
s and
crocodile
Crocodile
A crocodile is any species belonging to the family Crocodylidae . The term can also be used more loosely to include all extant members of the order Crocodilia: i.e...
s have been hunted.
Although originally raised for their feathers in the 19th century, ostriches are now more popular for both meat and leather. There are different processes to produce different finishes for many applications, i.e., upholstery, footwear, automotive products, accessories, and clothing.
Ostrich leather
Ostrich leather
Ostrich leather is the result of tanning skins taken from African ostriches farmed for their feathers, skin and meat. The leather is distinctive for its pattern of bumps or vacant quill follicles, ranged across a smooth field in varying densities...
is currently used by many major fashion houses such as
Hermès
Hermès
Hermès International S.A., or simply Hermès is a French high fashion house established in 1837, today specializing in leather, lifestyle accessories, perfumery, luxury goods, and ready-to-wear...
,
Prada
Prada
Prada S.p.A. is an Italian fashion label specializing in luxury goods for men and women , founded by Mario Prada.-Foundations:...
,
Gucci
Gucci
The House of Gucci, better known simply as Gucci , is an Italian fashion and leather goods label, part of the Gucci Group, which is owned by French company PPR...
, and
Louis Vuitton
Louis Vuitton
Louis Vuitton Malletier – commonly referred to as Louis Vuitton , or shortened to LV – is a French fashion house founded in 1854 by Louis Vuitton. The label is well known for its LV monogram, which is featured on most products, ranging from luxury trunks and leather goods to ready-to-wear, shoes,...
. Ostrich leather has a characteristic "goose bump" look because of the large follicles from which the feathers grew.
In
Thailand
Thailand
Thailand , officially the Kingdom of Thailand , formerly known as Siam , is a country located at the centre of the Indochina peninsula and Southeast Asia. It is bordered to the north by Burma and Laos, to the east by Laos and Cambodia, to the south by the Gulf of Thailand and Malaysia, and to the...
sting ray leather is used in wallets and belts. Sting ray leather is tough and durable. The leather is often dyed black and covered with tiny round bumps in the natural pattern of the back ridge of an animal. These bumps are then usually dyed white to highlight the decoration. Sting ray leather is also used as grips on Chinese swords and Japanese katanas.
Production processes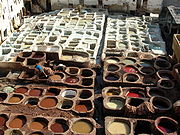 The leather manufacturing process is divided into three fundamental sub-processes:
preparatory stages
,
tanning
, and
crusting
. All true leathers will undergo these sub-processes. A further sub-process, surface coating, can be added into the leather process sequence, but not all leathers receive surface treatment. Since many types of leather exist, it is difficult to create a list of operations that all leathers must undergo.
The
preparatory stages
are when the hide/skin is prepared for tanning. Preparatory stages may include: preservation, soaking,
liming
Liming (leather processing)
In Liming for parchment or leather processing, the hides are soaked in an alkali solution by a drum/paddle or pit-based operation where four main objectives are met...
,
unhairing
Unhairing
In the tanning industry the unhairing stage concerns the removal of animal hair from the skin by chemical burning of the hair root, or by chemical degradation of the hair shaft. The type of hair removal depends on the type and length of the hair itself. Two main groupings of hair removal exist:...
, fleshing, splitting, reliming,
deliming
Deliming
The deliming operation in leather processing is a drum/paddle or pit based operation where two main objectives are met:* Removal of alkali from the pelt and the consequent deswelling of the fibres....
, bating,
degreasing
Degreasing
Degreasing often called Defatting, is a term used to describe the removal of fatty acids from an object. In culinary science, the word degreasing refers to various methods which are used to reduce the fat content of a meal. This term can be used to categorize procedures that reduce the fat content...
, frizing, bleaching,
pickling
Pickling
Pickling, also known as brining or corning is the process of preserving food by anaerobic fermentation in brine to produce lactic acid, or marinating and storing it in an acid solution, usually vinegar . The resulting food is called a pickle. This procedure gives the food a salty or sour taste...
, and depickling.
Tanning
Tanning
Tanning is the making of leather from the skins of animals which does not easily decompose. Traditionally, tanning used tannin, an acidic chemical compound from which the tanning process draws its name . Coloring may occur during tanning...
is the process which converts the
protein
Protein
Proteins are biochemical compounds consisting of one or more polypeptides typically folded into a globular or fibrous form, facilitating a biological function. A polypeptide is a single linear polymer chain of amino acids bonded together by peptide bonds between the carboxyl and amino groups of...
of the raw hide or skin into a stable material which will not putrefy and is suitable for a wide variety of end applications. The principal difference between raw hides and tanned hides is that raw hides dry out to form a hard inflexible material that when re-wetted (or wetted back) putrefy, while tanned material dries out to a flexible form that does not become putrid when wetted back. Many different tanning methods and materials can be used; the choice is ultimately dependent on the end application of the leather. The most commonly used tanning material is
chromium
Chromium
Chromium is a chemical element which has the symbol Cr and atomic number 24. It is the first element in Group 6. It is a steely-gray, lustrous, hard metal that takes a high polish and has a high melting point. It is also odorless, tasteless, and malleable...
, which leaves the leather, once tanned, a pale blue color (due to the chromium); this product is commonly called "wet blue". The hides once they have finished pickling will typically be between
pH
PH
In chemistry, pH is a measure of the acidity or basicity of an aqueous solution. Pure water is said to be neutral, with a pH close to 7.0 at . Solutions with a pH less than 7 are said to be acidic and solutions with a pH greater than 7 are basic or alkaline...
2.8 and 3.2. At this point, the hides would be loaded in a drum and immersed in a float containing the tanning liquor. The hides are allowed to soak (while the
drum
Drum
The drum is a member of the percussion group of musical instruments, which is technically classified as the membranophones. Drums consist of at least one membrane, called a drumhead or drum skin, that is stretched over a shell and struck, either directly with the player's hands, or with a...
slowly rotates about its
axle
Axle
An axle is a central shaft for a rotating wheel or gear. On wheeled vehicles, the axle may be fixed to the wheels, rotating with them, or fixed to its surroundings, with the wheels rotating around the axle. In the former case, bearings or bushings are provided at the mounting points where the axle...
) and the tanning liquor slowly penetrates through the full substance of the hide. Regular checks will be made to see the penetration by cutting the cross-section of a hide and observing the degree of penetration. Once an even degree of penetration exists, the pH of the float is slowly raised in a process called basification. This basification process fixes the tanning material to the leather and the more tanning material fixed, the higher the hydrothermal stability and increased
shrinkage
Shrinkage (fabric)
Shrinkage is when a fabric becomes smaller than its original size, usually through the process of laundry. Novice users of modern laundry machines sometimes experience accidental shrinkage of garments, especially when applying heat. Others may intentionally try to shrink a garment in their size...
temperature resistance of the leather. The pH of the leather when chrome tanned would typically finish somewhere between 3.8 and 4.2.
Crusting
is the process by which the hide/skin is thinned, retanned, and lubricated. Often a coloring operation is included in the crusting subprocess. The chemicals added during crusting must be fixed in place. The culmination of the crusting subprocess is the drying and softening operations. Crusting may include the following operations: wetting back, sammying, splitting, shaving, rechroming, neutralization, retanning,
dyeing
Dyeing
Dyeing is the process of adding color to textile products like fibers, yarns, and fabrics. Dyeing is normally done in a special solution containing dyes and particular chemical material. After dyeing, dye molecules have uncut Chemical bond with fiber molecules. The temperature and time controlling...
, fatliquoring, filling, stuffing, stripping, whitening, fixating, setting, drying, conditioning, milling, staking, and buffing.
For some leathers, a surface coating is applied. Tanners refer to this as finishing. Finishing operations may include: oiling, brushing, padding, impregnation, buffing, spraying, roller coating,
curtain coating
Curtain Coating
Curtain coating is a process that creates an uninterrupted curtain of fluid that falls onto a substrate. The substrate is transported on a conveyor belt at a regulated speed through the curtain to ensure an even coat of the die. The curtain is created by using a slit at the base of the holding...
,
polishing
Polishing
Polishing is the process of creating a smooth and shiny surface by rubbing it or using a chemical action, leaving a surface with a significant specular reflection In some materials polishing is also able to reduce diffuse reflection to...
,
plating
Plating
Plating is a surface covering in which a metal is deposited on a conductive surface. Plating has been done for hundreds of years, but it is also critical for modern technology...
, embossing,
ironing
Ironing
Ironing is the use of a heated tool to remove wrinkles from fabric. The heating is commonly done to a temperature of 180-220 °Celsius, depending on the fabric. Ironing works by loosening the bonds between the long-chain polymer molecules in the fibers of the material...
, ironing/combing (for hair-on),
glazing
Glazing
Glazing, which derives from the Middle English for 'glass', is a part of a wall or window, made of glass. Glazing also describes the work done by a professional "glazier"...
, and tumbling.
Environmental impact
Leather is a product with high environmental impact, most notably due to:
the impact of livestock
the heavy use of polluting chemicals in the tanning process
air pollution due to the transformation process (hydrogen sulfide

Hydrogen sulfide

Hydrogen sulfide is the chemical compound with the formula . It is a colorless, very poisonous, flammable gas with the characteristic foul odor of expired eggs perceptible at concentrations as low as 0.00047 parts per million...


during dehairing and ammonia

Ammonia

Ammonia is a compound of nitrogen and hydrogen with the formula . It is a colourless gas with a characteristic pungent odour. Ammonia contributes significantly to the nutritional needs of terrestrial organisms by serving as a precursor to food and fertilizers. Ammonia, either directly or...


during deliming, solvent vapors).
Leather biodegrades slowly; it takes 25–40 years to decompose.
One tonne of hide or skin generally leads to the production of 20 to 80 m
3
of wastewater including chromium levels of 100–400 mg/L, sulfide levels of
200–800 mg/L and high levels of fat and other solid wastes, as well as notable pathogen contamination. Pesticides are also often added for hide conservation during transport. With solid wastes representing up to 70% of the wet weight of the original hides, the tanning process comes at a considerable strain on water treatment installations.
Tanning is especially polluting in countries where environmental regulations are lax, such as in India, the world's third-largest producer and exporter of leather. To give an example of an efficient pollution prevention system, chromium loads per produced tonne are generally abated from 8 kg to 1.5 kg. VOC emissions are typically reduced from 30 kg/t to 2 kg/t in a properly managed facility. A review of the total pollution load decrease achievable according to the
United Nations Industrial Development Organization
United Nations Industrial Development Organization
The United Nations Industrial Development Organization , French/Spanish acronym ONUDI, is a specialized agency in the United Nations system, headquartered in Vienna, Austria...
posts precise data on the abatement achievable through industrially proven low-waste advanced methods, while noting that "even though the chrome pollution load can be decreased by 94% on introducing advanced technologies, the minimum residual load 0.15 kg/t raw hide can still cause difficulties when using landfills and composting sludge from wastewater treatment on account of the regulations currently in force in some countries."
In
Kanpur
, the self-proclaimed "Leather City of World" and a city of 3 million people on the banks of the river Ganges, pollution levels were so high that despite an industry crisis, the pollution control board has decided to seal 49 high-polluting tanneries out of 404 in July 2009. In 2003 for instance, the main tanneries' effluent disposal unit was dumping 22 tonnes of chromium-laden solid waste per day in the open. Scientists at the Central Leather Research Institute in India have developed biological methods for pretanning as well as
better chromium management
Kalarical Janardhanan Sreeram
Kalarical Janardhanan Sreeram , is a scientist at the Central Leather Research Institute...
.
The higher cost associated to the treatment of effluents that to untreated effluent discharging leads to illegal dumping to save on costs. For instance, in
Croatia
Croatia
Croatia , officially the Republic of Croatia , is a unitary democratic parliamentary republic in Europe at the crossroads of the Mitteleuropa, the Balkans, and the Mediterranean. Its capital and largest city is Zagreb. The country is divided into 20 counties and the city of Zagreb. Croatia covers ...
in 2001, proper pollution abatement cost 70-100 USD/t of raw hides processed against 43 USD/t for irresponsible behavior.
No general study seems to exist but the current news is rife with documented examples. In November 2009 for instance, it was discovered that one of Uganda's main leather producing companies directly dumped its waste water in a wetland adjacent to
Lake Victoria
Lake Victoria
Lake Victoria is one of the African Great Lakes. The lake was named for Queen Victoria of the United Kingdom, by John Hanning Speke, the first European to discover this lake....
.
Role of enzymes
Enzymes like proteases, lipases, and amylases have an important role in the soaking, dehairing, degreasing, and bating operations of leather manufacturing.
Proteases are the most commonly used enzymes in leather production. The enzyme used should not damage or dissolve
collagen
Collagen
Collagen is a group of naturally occurring proteins found in animals, especially in the flesh and connective tissues of mammals. It is the main component of connective tissue, and is the most abundant protein in mammals, making up about 25% to 35% of the whole-body protein content...
or
keratin
Keratin
Keratin refers to a family of fibrous structural proteins. Keratin is the key of structural material making up the outer layer of human skin. It is also the key structural component of hair and nails...
, but should be able to hydrolyze
casein
Casein
Casein is the name for a family of related phosphoprotein proteins . These proteins are commonly found in mammalian milk, making up 80% of the proteins in cow milk and between 60% and 65% of the proteins in human milk....
,
elastin
Elastin
Elastin is a protein in connective tissue that is elastic and allows many tissues in the body to resume their shape after stretching or contracting. Elastin helps skin to return to its original position when it is poked or pinched. Elastin is also an important load-bearing tissue in the bodies of...
,
albumin
Albumin
Albumin refers generally to any protein that is water soluble, which is moderately soluble in concentrated salt solutions, and experiences heat denaturation. They are commonly found in blood plasma, and are unique to other blood proteins in that they are not glycosylated...
, and
globulin
Globulin
Globulin is one of the three types of serum proteins, the others being albumin and fibrinogen. Some globulins are produced in the liver, while others are made by the immune system. The term globulin encompasses a heterogeneous group of proteins with typical high molecular weight, and both...
-like proteins, as well as non-structured proteins which are not essential for leather making. This process is called bating.
Lipases are used in the degreasing operation to hydrolyze fat particles embedded in the skin.
Amylases are used to soften skin, to bring out the grain, and to impart strength and flexibility to the skin. These enzymes are rarely used.
Preservation and conditioning
The natural fibers of leather will break down with the passage of time. Acidic leathers are particularly vulnerable to
red rot
Red rot (leather)
Red rot is a degradation process found in vegetable-tanned leather.Red rot is caused by prolonged storage or exposure to high relative humidity, environmental pollution, and high temperature. In particular, red rot occurs at pH values of 4.2 to 4.5. Sulfur dioxide converts to sulfuric acid which...
, which causes powdering of the surface and a change in consistency. Damage from red rot is aggravated by high temperatures and relative humidities and is irreversible.
Exposure to long periods of low relative humidities (below 40%) can cause leather to become desiccated, irreversibly changing the fibrous structure of the leather.
Various treatments are available such as
conditioner
Conditioner
A conditioner is something that improves the quality of another material. See:* Conditioner * Hair conditioner* Air conditioner* Conditioner * Fabric conditioner* Yarn conditioner* Power conditioner* Condition number...
s, but these are not recommended by conservators since they impregnate the structure of the leather artifact with active chemicals, are sticky, and attract stains.
Book binding
Leather used in book binding has many of the same preservation needs: protection from high temperatures, high relative humidity, low relative humidity, fluctuations in relative humidity, light exposure, dust buildup, pollution, mold, and bug infestation.
For books with red rot, acid-free phase boxes and/or polyester dust jackets (Dupont Mylar Type D or ICI Mellinex 516) are recommended to protect the leather from further handling damage and as well as to prevent the residues from getting on hands, clothes, the text block, and nearby books.
The debate on the use of dressings for preservation of book bindings has spanned several decades as research and experimental evidence have slowly accumulated. The main argument is that, done incorrectly, there are multiple disadvantages and that, done correctly, there is little to no preservation advantage. Pamphlets and guidelines give numerous downsides to dressings use, including: the dressing becoming increasingly acidic and will discolor and stain the leather, oxidize (penetration and expansion of oils including displacement and weakening of fibers) and stiffen, leave a sticky surface, collect dust, wick into adjacent materials, form unstable surface spews, encourage biological deterioration and mold growth, block surface porosity, impede further treatment, wet and swell the leather, affect surface finishes, and desiccate or dry out the leather. Meanwhile, scientific experiments have shown no substantial benefits. The main authorities on the subject therefore discourage it, with a caveat for special cases done under the direction of a conservator.
Leathercrafting
Leather can be decorated by a variety of methods, including
pyrography
Pyrography
Pyrography is the art of decorating wood or other materials with burn marks resulting from the controlled application of a heated object such as a poker. It is also known as pokerwork or wood burning....
and beading.
Cordwain, "Cordovan" or "Spanish leather"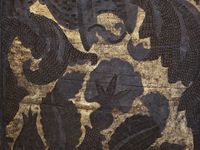 Cordwain, once a synonym of cordovan (through
Old French
Old French
Old French was the Romance dialect continuum spoken in territories that span roughly the northern half of modern France and parts of modern Belgium and Switzerland from the 9th century to the 14th century...
cordewan
) meaning "from
Córdoba
Córdoba, Spain
-History:The first trace of human presence in the area are remains of a Neanderthal Man, dating to c. 32,000 BC. In the 8th century BC, during the ancient Tartessos period, a pre-urban settlement existed. The population gradually learned copper and silver metallurgy...
" describes painted or
gilded
Gilding
The term gilding covers a number of decorative techniques for applying fine gold leaf or powder to solid surfaces such as wood, stone, or metal to give a thin coating of gold. A gilded object is described as "gilt"...
embossed leather hangings manufactured in panels and assembled for covering walls as an alternative to
tapestry
Tapestry
Tapestry is a form of textile art, traditionally woven on a vertical loom, however it can also be woven on a floor loom as well. It is composed of two sets of interlaced threads, those running parallel to the length and those parallel to the width ; the warp threads are set up under tension on a...
. Such "Cordovan leathers" were a north African style that was introduced to
Spain
Spain
Spain , officially the Kingdom of Spain languages]] under the European Charter for Regional or Minority Languages. In each of these, Spain's official name is as follows:;;;;;;), is a country and member state of the European Union located in southwestern Europe on the Iberian Peninsula...
in the ninth century (hence it is sometimes referred to as 'Spanish leather'); in Spain such embossed leather hangings were known as
guadamecí
or guadamecil, from the
Libya
Libya
Libya is an African country in the Maghreb region of North Africa bordered by the Mediterranean Sea to the north, Egypt to the east, Sudan to the southeast, Chad and Niger to the south, and Algeria and Tunisia to the west....
n town of
Ghadames
Ghadames
Ghadames or Ghadamis is an oasis town in the Nalut District of the Fezzan region in southwestern Libya.-Geography:Ghadames lies roughly to the southwest of Tripoli, near the borders with Algeria and Tunisia. Ghadames borders Illizi Province, Algeria and Tataouine Governorate, Tunisia.The oasis...
, while
cordobanes
signified soft goat leather. Leather was even more protection against draughts and dampness than tapestry and unaffected by
insects
Vermin
Vermin is a term applied to various animal species regarded by some as pests or nuisances and especially to those associated with the carrying of disease. Since the term is defined in relation to human activities, which species are included will vary from area to area and even person to person...
. From the fourteenth century, the technique in which panels of wet leather were shaped over wooden moulds, painted, then oil-gilded and lacquered, reached
Flanders
County of Flanders
The County of Flanders was one of the territories constituting the Low Countries. The county existed from 862 to 1795. It was one of the original secular fiefs of France and for centuries was one of the most affluent regions in Europe....
and
Brabant
Duchy of Brabant
The Duchy of Brabant was a historical region in the Low Countries. Its territory consisted essentially of the three modern-day Belgian provinces of Flemish Brabant, Walloon Brabant and Antwerp, the Brussels-Capital Region and most of the present-day Dutch province of North Brabant.The Flag of...
in the
Low Countries
Low Countries
The Low Countries are the historical lands around the low-lying delta of the Rhine, Scheldt, and Meuse rivers, including the modern countries of Belgium, the Netherlands, Luxembourg and parts of northern France and western Germany....
. Though there were
craftsmen
Artisan
An artisan is a skilled manual worker who makes items that may be functional or strictly decorative, including furniture, clothing, jewellery, household items, and tools...
in several cities (such as
Antwerp
,
Brussels
Brussels
Brussels , officially the Brussels Region or Brussels-Capital Region , is the capital of Belgium and the de facto capital of the European Union...
, and
Ghent
Ghent
Ghent is a city and a municipality located in the Flemish region of Belgium. It is the capital and biggest city of the East Flanders province. The city started as a settlement at the confluence of the Rivers Scheldt and Lys and in the Middle Ages became one of the largest and richest cities of...
), the major
handicraft
Handicraft
Handicraft, more precisely expressed as artisanic handicraft, sometimes also called artisanry, is a type of work where useful and decorative devices are made completely by hand or by using only simple tools. It is a traditional main sector of craft. Usually the term is applied to traditional means...
center for this
cordwain
was
Mechelen
Mechelen
Mechelen Footnote: Mechelen became known in English as 'Mechlin' from which the adjective 'Mechlinian' is derived...
, where it was mentioned as early as 1504.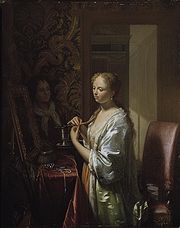 Patterns for these panels followed fashions in
silk damask
Damask
Damask is a reversible figured fabric of silk, wool, linen, cotton, or synthetic fibers, with a pattern formed by weaving. Damasks are woven with one warp yarn and one weft yarn, usually with the pattern in warp-faced satin weave and the ground in weft-faced or sateen weave...
, at some lag in time, since the high-relief wooden moulds were laborious to make. After the second half of the 18th century, this luxurious
artisan
Artisan
An artisan is a skilled manual worker who makes items that may be functional or strictly decorative, including furniture, clothing, jewellery, household items, and tools...
product was no longer made, its place taken in part by
chintz
Chintz
Chintz is glazed calico cloth printed with flowers and other patterns in different colours. Unglazed calico is called "cretonne". The word Calico is derived from the name of the Indian city Calicut to which it had a manufacturing association.-History:Chintz was originally a woodblock printed,...
hangings and printed
wallpaper
Wallpaper
Wallpaper is a kind of material used to cover and decorate the interior walls of homes, offices, and other buildings; it is one aspect of interior decoration. It is usually sold in rolls and is put onto a wall using wallpaper paste...
s.
Cordwainer
is still used to describe someone in the profession of
shoemaking
Shoemaking
Shoemaking is the process of making footwear. Originally, shoes were made one at a time by hand. Traditional handicraft shoemaking has now been largely superseded in volume of shoes produced by industrial mass production of footwear, but not necessarily in quality, attention to detail, or...
.
In modern culture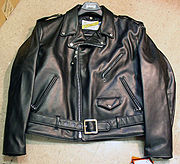 Due to its excellent resistance to abrasion and wind, leather found a use in rugged occupations. The enduring image of a
cowboy
Cowboy
A cowboy is an animal herder who tends cattle on ranches in North America, traditionally on horseback, and often performs a multitude of other ranch-related tasks. The historic American cowboy of the late 19th century arose from the vaquero traditions of northern Mexico and became a figure of...
in leather
chaps
Chaps
Chaps are sturdy coverings for the legs consisting of leggings and a belt. They are buckled on over trousers with the chaps' integrated belt, but unlike trousers they have no seat and are not joined at the crotch. They are designed to provide protection for the legs and are usually made of leather...
gave way to the leather-jacketed and leather-helmeted
aviator
Aviator
An aviator is a person who flies an aircraft. The first recorded use of the term was in 1887, as a variation of 'aviation', from the Latin avis , coined in 1863 by G. de la Landelle in Aviation Ou Navigation Aérienne...
. When motorcycles were invented, some riders took to wearing heavy leather jackets to protect from
road rash
Road rash
Road rash is a colloquial term for skin and bone injury caused by abrasion with road surfaces, usually as a consequence of cycling and motorcycling accidents. The term may be applied to both a fresh injury and the scar tissue left by an old one...
and wind blast; some also wear chaps or full leather pants to protect the lower body. Top-quality motorcycle leather is superior to any practical man-made fabric for abrasion protection and is still used in racing. Many sports still use leather to help in playing the game or protecting players; its flexibility allows it to be formed and flexed.
The term
leathering
is sometimes used in the sense of a
physical punishment
Physical punishment
Physical punishment is any form of penalty in a judicial, educational or domestic setting that takes a physical form, by the infliction on the offender of pain, injury, discomfort or humiliation...
(such as a severe
spanking
Spanking
Spanking refers to the act of striking the buttocks of another person to cause temporary pain without producing physical injury. It generally involves one person striking the buttocks of another person with an open hand. When an open hand is used, spanking is referred to in some countries as...
) applied with a leather
whip
Whip
A whip is a tool traditionally used by humans to exert control over animals or other people, through pain compliance or fear of pain, although in some activities whips can be used without use of pain, such as an additional pressure aid in dressage...
,
martinet
Martinet
The martinet is a punitive device traditionally used in France and other parts of Europe. The word also has other usages . It is also a term for a type of hammer in French, a diminutive of marteau , "hammer".-Object:...
, etc.
Leather fetishism is the name popularly used to describe a
fetishistic
Sexual fetishism
Sexual fetishism, or erotic fetishism, is the sexual arousal a person receives from a physical object, or from a specific situation. The object or situation of interest is called the fetish, the person a fetishist who has a fetish for that object/situation. Sexual fetishism may be regarded, e.g...
attraction to people wearing leather, or in certain cases, to the garments themselves.
Many rock groups (particularly
heavy metal
Heavy metal music
Heavy metal is a genre of rock music that developed in the late 1960s and early 1970s, largely in the Midlands of the United Kingdom and the United States...
and
punk
Punk subculture
The punk subculture includes a diverse array of ideologies, and forms of expression, including fashion, visual art, dance, literature, and film, which grew out of punk rock.-History:...
groups in the 1980s) are well known for wearing leather clothing. Leather clothing, particularly jackets, are common in the heavy metal and Punk subculture.
Extreme metal
Extreme metal
Extreme metal is a loosely defined umbrella term for a number of related heavy metal music subgenres that have developed since the early 1980s. The term usually refers to a more abrasive, harsher, underground, non-commercialized style or sound nearly always associated with genres like black metal,...
bands (especially
black metal
Black metal
Black metal is an extreme subgenre of heavy metal music. Common traits include fast tempos, shrieked vocals, highly distorted guitars played with tremolo picking, blast beat drumming, raw recording, and unconventional song structure....
bands) and Goth rock groups have extensive leather clothing, i.e. leather pants, accessories, etc.
Many cars and trucks come with optional or standard "leather" seating. This can range from cheap
vinyl
Vinyl
A vinyl compound is any organic compound that contains a vinyl group ,which are derivatives of ethene, CH2=CH2, with one hydrogen atom replaced with some other group...
imitation leather, found on some low cost vehicles, to real Napa leather, found on luxury car brands like
Mercedes-Benz
Mercedes-Benz
Mercedes-Benz is a German manufacturer of automobiles, buses, coaches, and trucks. Mercedes-Benz is a division of its parent company, Daimler AG...
,
BMW
BMW
Bayerische Motoren Werke AG is a German automobile, motorcycle and engine manufacturing company founded in 1916. It also owns and produces the Mini marque, and is the parent company of Rolls-Royce Motor Cars. BMW produces motorcycles under BMW Motorrad and Husqvarna brands...
, and
Audi
Audi
Audi AG is a German automobile manufacturer, from supermini to crossover SUVs in various body styles and price ranges that are marketed under the Audi brand , positioned as the premium brand within the Volkswagen Group....
.
Leather is used exclusively by publishers like The
Easton Press
Easton Press
Easton Press, a division of MBI Inc., based in Norwalk, Connecticut, is a publisher specializing in high-quality leather-bound books. In addition to canonical classics, poetry and art books, they publish a large library of science fiction and popular literature as well.Some of Easton Press's...
to bind books, for both practical and aesthetic purposes.
Religious sensitivities
In religiously diverse countries, leather vendors are typically careful to clarify the kinds of leather used in their products. For example, leather shoes will bear a label identifying the animal from which the leather was taken. In this way, a
Muslim
Muslim
A Muslim, also spelled Moslem, is an adherent of Islam, a monotheistic, Abrahamic religion based on the Quran, which Muslims consider the verbatim word of God as revealed to prophet Muhammad. "Muslim" is the Arabic term for "submitter" .Muslims believe that God is one and incomparable...
would not accidentally purchase
pigskin
Pigskin
Pigskin may refer to:*Leather made from a pig's skin*Football *Pork rinds*Pigskin 621 A.D., an arcade game...
leather, and a
Hindu
Hindu
Hindu refers to an identity associated with the philosophical, religious and cultural systems that are indigenous to the Indian subcontinent. As used in the Constitution of India, the word "Hindu" is also attributed to all persons professing any Indian religion...
could avoid cow leather. Many Hindus who are vegetarians will not use any kind of leather.
Such taboos increase the demand for religiously neutral leathers like
ostrich
Ostrich
The Ostrich is one or two species of large flightless birds native to Africa, the only living member of the genus Struthio. Some analyses indicate that the Somali Ostrich may be better considered a full species apart from the Common Ostrich, but most taxonomists consider it to be a...
and
deer
Deer
Deer are the ruminant mammals forming the family Cervidae. Species in the Cervidae family include white-tailed deer, elk, moose, red deer, reindeer, fallow deer, roe deer and chital. Male deer of all species and female reindeer grow and shed new antlers each year...
.
Judaism
Judaism
Judaism ) is the "religion, philosophy, and way of life" of the Jewish people...
forbids the comfort of wearing shoes made with leather on
Yom Kippur
Yom Kippur
Yom Kippur , also known as Day of Atonement, is the holiest and most solemn day of the year for the Jews. Its central themes are atonement and repentance. Jews traditionally observe this holy day with a 25-hour period of fasting and intensive prayer, often spending most of the day in synagogue...
,
Tisha B'Av
Tisha B'Av
|Av]],") is an annual fast day in Judaism, named for the ninth day of the month of Av in the Hebrew calendar. The fast commemorates the destruction of both the First Temple and Second Temple in Jerusalem, which occurred about 655 years apart, but on the same Hebrew calendar date...
, and during mourning.
Jainism
Jainism
Jainism is an Indian religion that prescribes a path of non-violence towards all living beings. Its philosophy and practice emphasize the necessity of self-effort to move the soul towards divine consciousness and liberation. Any soul that has conquered its own inner enemies and achieved the state...
prohibits the use of leather since it is obtained by killing animals.
Alternatives
Vegans and
animal rights
Animal rights
Animal rights, also known as animal liberation, is the idea that the most basic interests of non-human animals should be afforded the same consideration as the similar interests of human beings...
activists
boycott
Boycott
A boycott is an act of voluntarily abstaining from using, buying, or dealing with a person, organization, or country as an expression of protest, usually for political reasons...
the use of all items made from leather, believing the practice of wearing animal hides to be unnecessary and cruel in today's society. Animal rights groups such as
PETA
Peta
Peta can refer to:* peta-, an SI prefix denoting a factor of 1015* Peta, Greece, a town in Greece* Peta, the Pāli word for a Preta, or hungry ghost in Buddhism* Peta Wilson, an Australian actress and model* Peta Todd, English glamour model...
have called for boycotts and encourage the use of alternative materials such as
synthetic leathers
Artificial leather
Artificial leather is a fabric or finish intended to substitute for leather in fields such as upholstery, clothing and fabrics, and other uses where a leather-like finish is required but the actual material is cost-prohibitive or unsuitable....
.
Many pseudo-leather materials have been developed, allowing those who wish to wear leather-like garments to do so without actually wearing leather. One example of this is vegan
microfiber
Microfiber
Microfiber or microfibre refers to synthetic fibers that measure less than one denier. The most common types of microfibers are made from polyesters, polyamides , and or a conjugation of polyester and polyamide.Microfiber is used to make non-woven, woven and knitted textiles...
, which claims to be stronger than leather when manufactured with strength in mind. Vinyl materials, pleather,
Naugahyde
Naugahyde
Naugahyde is an American brand of artificial leather . Naugahyde is a composite of a knit fabric backing and polyvinyl chloride plastic coating. It was developed by United States Rubber Company, and is now manufactured and sold by the Uniroyal Engineered Products division of Michelin...
, Durabuck, NuSuede, Hydrolite, and other alternatives exist, providing some features similar to leather.
See also
Types
Aniline leather

Aniline leather

Aniline leather is a type of leather dyed exclusively with soluble dyes without covering the surface with a topcoat paint or insoluble pigments. The resulting product retains the hide's natural surface with the 'grain', i.e. visible pores, scars etc. of the complete original animal's skin...


, a leather treated with aniline as a dye
Boiled leather

Boiled leather

Boiled leather, sometimes called cuir bouilli, was a historical construction material for armour. It consists of thick leather, boiled in water . The boiling causes the leather to be harder but more brittle...


, a historical construction material
Bonded Leather

Bonded Leather

Bonded leather or reconstituted leather is a material made of varying degrees of genuine leather combined with other substances to give the appearance of leather at reduced cost. Bonded leather can be found in furniture, bookbinding, and various fashion accessories...


, man-made material composed of leather fibers
Chamois leather

Chamois leather

Chamois leather , sometimes known as a shammy, is a type of porous leather that is favored for its gentle, non-abrasive composition and exceptional absorption properties...


, leather made from the skin of the mountain antelope or Chamois
Composition leather

Composition leather

Composition leather is made from recycled leather off-cuts, trimmings and shavings that would normally be sent by the leather industry to landfill. The type of leather specifically used in the manufacture of composition leather is called 'wet blue'. This raw material, which is duck-egg blue in...


, man-made leather made from recycled leather offcuts, trimmings, or shavings
Corinthian leather

Corinthian leather

Corinthian leather is a term coined by the advertising agency Bozell to describe the upholstery used in certain Chrysler luxury vehicles beginning in 1974. Although the term suggests that the product has a relationship to or origination from Corinth, there is no relationship; the term is a...


, a marketing term used by Chrysler in the 1970s
Crocodile leather

Alligator farm

An alligator farm or crocodile farm is an establishment for breeding and raising of crocodilians in order to produce meat, leather, and other goods...


, leather from a crocodile
Morocco leather

Morocco leather

Morocco leather is a leather made from goatskin, dyed red on the grain side and then tanned by hand to bring up the grain in a bird's-eye pattern....


, a type of goatskin dyed red
Napa leather, a full-grain leather
Ostrich leather

Ostrich leather

Ostrich leather is the result of tanning skins taken from African ostriches farmed for their feathers, skin and meat. The leather is distinctive for its pattern of bumps or vacant quill follicles, ranged across a smooth field in varying densities...


, leather from an ostrich
Patent leather

Patent leather

Patent leather is a type of japanned leather that has been given a high gloss, shiny finish. The process was brought to the United States and improved by Newark-based inventor Seth Boyden in 1818, with commercial manufacture beginning September 20, 1819. Boyden's process, which he never patented,...


, leather with a high gloss and shiny finish
Substitutes
Artificial leather

Artificial leather

Artificial leather is a fabric or finish intended to substitute for leather in fields such as upholstery, clothing and fabrics, and other uses where a leather-like finish is required but the actual material is cost-prohibitive or unsuitable....


, a fabric of finish intended to substitute for leather
Bicast leather

Bicast leather

Bicast leather is a split leather with a layer of polyurethane applied to the surface and then embossed. Bycast was originally made for the shoe industry for glossy shoes, and recently was adopted by the furniture industry...


, a synthetic upholstery product
Pleather, a term for artificial leather
Poromeric imitation leather, a group of synthetic leather substitutes
Vegan leather, an artificial alternative to traditional leather
Fabrication
Other