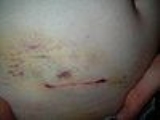 Road rash

Road rash
is a colloquial term for skin and bone
injury
Injury
-By cause:*Traumatic injury, a body wound or shock produced by sudden physical injury, as from violence or accident*Other injuries from external physical causes, such as radiation injury, burn injury or frostbite*Injury from infection...
caused by abrasion with road surfaces, usually as a consequence of
cycling
Bicycle
A bicycle, also known as a bike, pushbike or cycle, is a human-powered, pedal-driven, single-track vehicle, having two wheels attached to a frame, one behind the other. A person who rides a bicycle is called a cyclist, or bicyclist....
and
motorcycling
Motorcycle
A motorcycle is a single-track, two-wheeled motor vehicle. Motorcycles vary considerably depending on the task for which they are designed, such as long distance travel, navigating congested urban traffic, cruising, sport and racing, or off-road conditions.Motorcycles are one of the most...
accidents. The term may be applied to both a fresh injury and the scar tissue left by an old one. The term is sometimes applied to
longboarding
Longboarding
Longboarding is the act of riding on a longboard.Longboarding is an offshoot of street skating, but, like all board sports, its roots lie in surfing. Developed as a single sport on the west coast in the 1950s, by the 1990s, Longboards and Skateboards branched off into their respective disciplines...
,
skateboarding
Skateboarding
Skateboarding is an action sport which involves riding and performing tricks using a skateboard.Skateboarding can be a recreational activity, an art form, a job, or a method of transportation. Skateboarding has been shaped and influenced by many skateboarders throughout the years. A 2002 report...
, and
roller skating
Roller skating
Roller skating is the traveling on smooth surfaces with roller skates. It is a form of recreation as well as a sport, and can also be a form of transportation. Skates generally come in two basic varieties: quad roller skates and inline skates or blades, though some have experimented with a...
abrasion accidents, especially those caused at high speeds (as in longboarding).
Motorcyclists can reduce the risks of road rash by wearing the appropriate motorcycle personal protective equipment such as a
full face helmet
Motorcycle helmet
A motorcycle helmet is a type of protective headgear used by motorcycle riders. The primary goal of a motorcycle helmet is motorcycle safety - to protect the rider's head during impact, thus preventing or reducing head injury or saving the rider's life...
, protective clothing, gloves and
boots
Motorcycle boot
Motorcycle boots are associated with motorcycle riders and range from above ankle to below knee boots They have an outside of a typical boot but a low heel to control the motorcycle....
.
External links